I'm a PC too… touché
September 22nd, 2008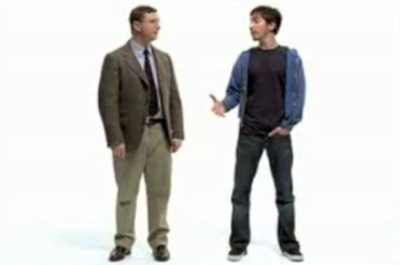 Daniel Eran Dilger
In its efforts to hijack Apple's Get a Mac ads and embrace and extend their message to suit itself, Microsoft apparently forgot to actually watch Apple's clips. User Sigma902 remixed the two for comical effect (well, probably not so funny to Microsoft after it spent $300 million brainstorming it all), but his post managed to get waylaid in my spam filter. So here it is in full glory.
Microsoft $300 Million Ads
Microsoft's Mojave Attempts to Wet Vista's Desert
Microsoft's Mojave Experiment Exposes Serious Vista Problems
Paul Thurrott calls Apple "the Bad Guys" of Microsoft's $300 Million Ads
Gates, Seinfeld and the $300 Million Ad to Nowhere
Microsoft's $300 million ad campaign tumbles with new PC ads
Microsoft's "Windows vs Walls" Ad Tries to Think Different, Fails
Microsoft's "I'm a PC" Millions Actually Promoting the Mac
Microsoft's 'I'm a PC' Campaign Keeps Getting Stranger (With Videos
I'm a PC too… touché
.

Did you like this article? Let me know. Comment here, in the Forum, or email me with your ideas.

Like reading RoughlyDrafted? Share articles with your friends, link from your blog, and subscribe to my podcast (oh wait, I have to fix that first). It's also cool to submit my articles to Digg, Reddit, or Slashdot where more people will see them. Consider making a small donation supporting this site. Thanks!