Microsoft's "I'm a PC" Millions Actually Promoting the Mac
September 21st, 2008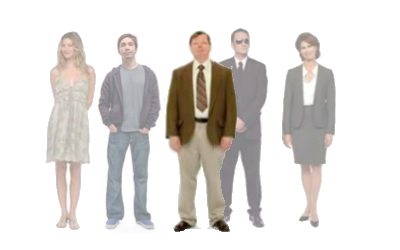 Daniel Eran Dilger
Poor Microsoft. In its efforts to 'embrace and extend' Apple's Get a Mac advertising for its own purposes, it has only managed to funnel $300 million into Mac brand awareness. Here's why Microsoft's latest "I'm a PC" campaign is such an epic fail.
Microsoft $300 Million Ads
Microsoft's Mojave Attempts to Wet Vista's Desert
Microsoft's Mojave Experiment Exposes Serious Vista Problems
Paul Thurrott calls Apple "the Bad Guys" of Microsoft's $300 Million Ads
Gates, Seinfeld and the $300 Million Ad to Nowhere
Microsoft's $300 million ad campaign tumbles with new PC ads
Microsoft's "Windows vs Walls" Ad Tries to Think Different, Fails
Microsoft's "I'm a PC" Millions Actually Promoting the Mac
Microsoft's 'I'm a PC' Campaign Keeps Getting Stranger (With Videos)
I'm a PC too… touché
.
Compare Apple's Ads

Brand advertising can have a number of goals. Apple's Think Different campaign didn't even show the company's products, but associated Apple with the freethinking, trailblazing individuals the ads profiled.
Apple desperately needed to run the Think Different ads because its image throughout the decade of the 90s had slipped from PowerBook innovator to a second rate platform that couldn't even keep up with its own Mac OS cloner licensees.
Think Different signaled a departure from Apple's existing muddled strategies to emulate Microsoft's software licensing business model to a new one where the company would compete with hardware products worthy of attention. The Switch and Get a Mac campaigns reinforced that intent with invitations to try Apple products.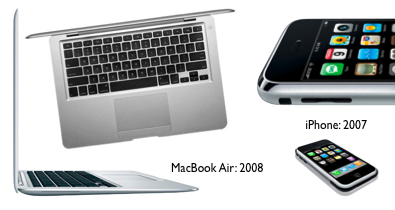 Two Decades of Portable Macs: 1989 – 2009
Gates, Seinfeld and the $300 Million Ad to Nowhere
Microsoft's Forgettable Ad Copy Copy.
Quick, name a Microsoft ad campaign. You probably can't. The company has pooped out a series of forgettable campaigns, but none of them mattered or even needed to because the company doesn't have to advertise the PC or even Windows. It's the default option, and Microsoft has held a monopoly position for so long that it's never really had to compete in a free and open market.
The company is currently advertising "Windows vs Walls," an attempt to use uplifting prose to signal the company's mission, but a striking failure compared to the Think Different text its attempts to copy. Microsoft also copied the Switcher ads, promoting "confessions of a Mac to PC convert" before admitting that the woman being portrayed was just a stock photography image paired with invented ad copy relating experiences that never happened.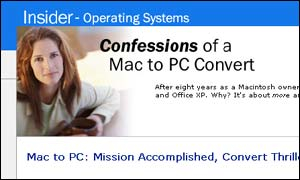 Now the company is copying Get A Mac. But rather than advertising Microsoft's own products as a superior alternatives to its competitors as Apple is, Microsoft comes across as belligerently defensive about its image, demanding conformity, and really only draws more attention to Apple.
Microsoft's "Windows vs Walls" Ad Tries to Think Different, Fails
iPod vs Zune: Microsoft's Slippery Astroturf
Microsoft's Defensive Advertising

Lately, Microsoft has been forced to advertise defensively. It has worked diligently to attack Linux in an effort to portray free server software as more expensive than its own very expensive server software.
Faced with a failing brand value, Microsoft also attempted to create the impression that bloggers were interested in chatting about Microsoft's nebulous strategies with the "People Ready" campaign, which really said nothing but handed out bloggers money to repeat the "people ready" catch phrase in an attempt to turn it into a valuable brand slogan. After being exposed, Microsoft slinked away from the "pay to say" People Ready campaign.
After Vista went on sale, Microsoft blew out an expensive "Wow" campaign that fell as flat on its face as Vista itself. Now that Apple has been advertising its Mac in comparison with the generic PC, Microsoft has jumped first to defend Vista with the Mojave Experiment, then to defend Bill Gates' "cool" with the Seinfeld ads, and now to the defense of the PC, which Microsoft calls "stereotyped."
Defense is reactionary. Microsoft isn't aiming for where the puck is going to be, it's demanding that everyone recognize that it once owned the puck and wouldn't let anyone else in the game. This isn't a very interesting message anymore, and advertising it doesn't do anything for Microsoft.
Daniel Lyons Cries Wolf: The Real Bill Gates Behind the Fake Steve Jobs: People Ready
Gates, Seinfeld and the $300 Million Ad to Nowhere
The Epic Failure of 'I'm a PC' Ads.

The primary problem with Microsoft taking Apple's ad slogan and attempting to turn it into its own proprietary self serving message is that Apple and Microsoft aren't competing against each other to sell widgets. Apple sells premium PCs it calls Macs, while Microsoft sells an invisible software license installed on most new PCs, software that most users aren't even really aware of when they make a computer purchase.
Nobody really buys a PC to get Windows. Today, most consumers buy a new PC to use email and the web, things that don't even require Windows at all. There are now prominent PC products from Dell and Acer that don't even include Windows, and that trend is just getting started.
By stealing Apple's advertising line, Microsoft has unwittingly poured money into advertising "the computer" rather than its own software. It doesn't (and can't) mention Macs directly or make any direct comparisons, as doing so would only bring additional attention toward Apple as the generic PC's minority competitor.
However, by prominently saying "I'm a PC" and dressing up like Apple's John Hodgman, Microsoft is spending its $300 million to reinforce the idea of Apple's ads. When you see and hear "I'm a PC," you think "where's the 'I'm a Mac' guy? Oh right, it's not an Apple commercial, it's about the PC that is competing with Apple."
Streisand Effect Advertising.

Rather than providing any competitive reason to not use a Mac, the "I'm a PC" ads only defensively attempt to shout down an unflattering comparison, subsequently draw attention to that comparison instead. This is similar the Streisand Effect, named after Barbra Streisand's $50 million lawsuit aimed at stopping distribution of photos of her house. All of the resulting publicity just caused Streisand's otherwise uninteresting photos to be plastered all over the Internet.
Similarly, Microsoft's multimillion dollar efforts to hijack the "conversation about Windows" only has people talking about how the PC ads compare to Apple's Mac ads, and therefore serve Apple's goals more than Microsoft's. After all, Microsoft doesn't really need to promote the use of the PC. It needs to promote Vista and its other products. Rather than having anyone talk about Vista, the ads direct attention to the Mac and discussion about how effective they were compared to their obvious target.
Anyone searching for "I'm a PC" will see Google results of Microsoft's ads being compared to Apple's, a link to Apple's Get a Mac Ads, a spoof of Apple's ads, more links to Apple's ads, and Apple's site explaining why "Why your next PC should be a Mac."
In YouTube, where many users go to check the ads out, they're similarly bunched up with Get a Mac ads, and of course Get a Mac parodies. The I'm a PC ad is really itself a Get a Mac parody.
Isn't Apple Advertising the PC Back?

Apple's Get a Mac ads contrast the Mac with a generic PC. Apple doesn't call attention to Dell or HP or other specific vendors, nor does it talk a lot about Windows, apart from mentioning problems with Vista.
That makes Apple's ad effective; it's comparing the experience of a PC with that of a Mac. Microsoft's talk about users 'being a PC' does the opposite, aligning users as either being PC or not PC. Because Microsoft isn't even bothering to promote Windows, the people in the ad could just as well be Mac users, as Macs are premium PCs.
Notable is the fact that Microsoft can't promote users as saying they 'are Vista PCs,' as most users couldn't identify with that, nor would they associate 'being Vista' with a good thing.
The next segment will look at additional I'm a PC segments, which, believe it or not, only get worse.
Microsoft's 'I'm a PC' Campaign Keeps Getting Stranger (With Videos)
Did you like this article? Let me know. Comment here, in the Forum, or email me with your ideas.

Like reading RoughlyDrafted? Share articles with your friends, link from your blog, and subscribe to my podcast (oh wait, I have to fix that first). It's also cool to submit my articles to Digg, Reddit, or Slashdot where more people will see them. Consider making a small donation supporting this site. Thanks!