The Big Fannie Mae & Freddie Mac Attack
September 20th, 2008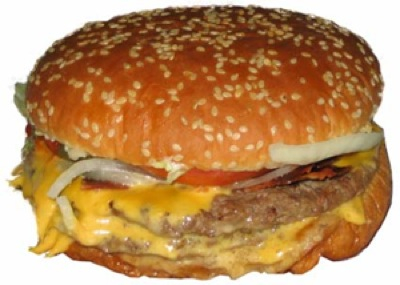 Daniel Eran Dilger
Over the last century, a pattern of exaggerated economic downturns related to corruption and fraud in the market and in banking has repeated at regular intervals. Here's the historical context of what's happening today with Fannie Mae & Freddie Mac.
.
Roaring to a Crash.

In the Roaring 1920s, cheap credit accelerated growth while creating new levels of debt for consumers and businesses. As in any game, without any regulation governing the market to keep things fair, participants were motivated by wild profits to cheat the market, selling worthless stock in sham companies, willfully exaggerating the prospects of real companies to investors, and encouraging the purchase of securities using overextended debt with with the assurance that the market wouldn't ever go down.
The realization of how much debt was behind bad stock caused both consumers and businesses to scale back their purchasing plans. That created slack demand that resulted in deflation. When stock prices fell with everything else, indebted stockholders ended up owning worthless paper they still owed money for. Defaults on loans resulted in bank failures, so that even people who had invested in relatively safe financial institutions lost their money. Cheaters had played the game until it failed, and everyone else lost out.
The Introduction of New Regulation

As credit collapsed, panicked consumers stopped buying and businesses scaled back, firing workers, which helped to amplify the feedback loop of slow consumer spending, resulting in years of the Great Depression. President Franklin Roosevelt introduced the New Deal to socialize economic risk and police the markets from fraud.
In the early 30s, the New Deal set up measures to regulate the market and banking, including the FDIC to insure bank depositors against bank failures, new banking regulations that limited how banks could lend money, and the creation the SEC to police securities fraud. Among other things, the SEC required public companies to publish regular, detailed accounting reports so that investors could make informed decisions.
Savings & Loan institutions, which had functioned as local savings and mortgage institutions, lacked the same regulation as banks but were also limited from many of the activities of banks.
Money Supply and Demand.

Over the following four decades, regular up and down market cycles occurred without repeating the absolute bust of the Depression. Economists created models that contrasted inflation with economic growth. The consensus was that as prices rise, businesses will invest in expansion, creating jobs that will result in new spending, causing prices to rise. Limited inflation would help stoke economic growth.
Governments attempted to regulate inflation and growth by balancing supply and demand in monetary policy, keeping inflation in balance with the growth of the economy. Print new money (add to the money supply) and inflation starts to take off as the money in circulation becomes worth increasingly less; raise interest rates (depress the money supply) and inflation should scale back.
In the 70s however, high oil prices from the Middle East resulted in uncontrollable inflation that outstripped economic growth; prices began to rise due to high fuel costs even as the economy began to stagnate, resulting in a strange new beast called stagflation, a phenomenon that couldn't be steered out of by printing money or by loosening credit.
Lots of things were tried to shake off the ugly anchor of stagflation. President Nixon tried to fix prices, while under President Carter rules were relaxed on S&Ls in order to make them more competitive. S&Ls ended up with many of the same rights as banks and gained full Federal insurance on deposits, but were not put under the same regulations as banks.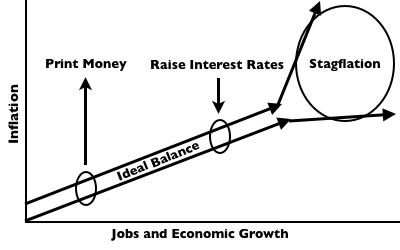 Reagan's Socialism for the Rich.
Under President Reagan in the 80s, the economic problems of the prior decade were blamed on the economic regulations that attempted to keep the market functional and honest since the New Deal, rather than upon US dependance upon foreign oil, an essential commodity with a price set by a cartel.
Rather than seeking to free the US from enslavement to foreign oil, Reagan oversaw the removal of regulatory oversight, allowing market professionals to rapidly syphon wealth from the market. This created new wealth and prosperity for the well connected, while creating exaggerated economic risk that would end up being thrown upon taxpayers.
Reagan Era deregulation particularly manipulated the S&L industry, which was now backed up by full Federal insurance on deposits while being free from the regulatory oversight on regular banks.
Rather than being free market economics that trickled down to the poor, Reagan-era deregulation set up a socialist elite system where members of the elite class got a free, insured ride to profit from high risk investments while the rest of the nation was expected to suffer the brunt of the high risk revolution without complaint and only gain any benefit from their labor that might trickle down out of the excess of profits from high above.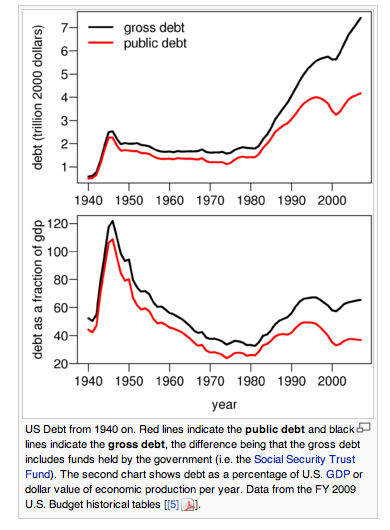 United States public debt – Wikipedia
A Third Political Party.

This worked so well for the rich that it converted a large segment of affluent liberal democrats into "NeoConservatives," who began to believe that fantasy was better than reality, that rules should only apply to little people, and that government should only socialize the cost of things that benefit the affluent elite class, leaving the working class without education, healthcare and other opportunities that had, up until Reagan, been celebrated facets of the American Dream for everyone.
Previously, conservative thought was associated with small government and fiscal responsibility. Under Reagan, US public debt exploded (above) as the government increasingly worked to socialize the costs of serving corporations overseas and policing their interests. Regan waged an expensive war against an imagined enemy in the USSR, which had been in diplomatic talks with the US since Nixon. By focusing the nation on war talk, Reagan could perpetuate socialism for the elite while dismantling consumer protection and abandoning rules that protected honesty in the market.
The American Dream was replaced with nightmarish fear around anything that might benefit the working or even the middle class. The country was satiated with "anti-socialist" messages while promoting pure socialist fantasy for the affluent, privileged elite. American was on the road to fascism, the very direction of the country before World War II demonstrated how dangerous that could be. The rich would get richer while the poor would be called upon to assume all their risk. This sham would fall apart before Reagan even left office.

The S&L Deregulation Scandal.
Charles Keating of the Lincoln S&L of California took the lead in making increasingly risky investments in junk bonds and real estate investments, where the risk of failure was socialized by Federal insurance in case of default, but where the potential for profits were unrestricted by the regulations that controlled the banking industry. This "socialism for the rich through deregulation" plan was pushed forward by Senator Phil Gramm, a Democrat turned Republican under Reagan.
When regulators at the Federal Home Loan Bank Board began to push for new rules to limit risky S&L investments being made under Federal insurance, Keating called for support from five Senators who he had bathed in campaign contributions and perks, and insisted they stop regulators from controlling his ability to make windfall profits with zero risk.
As the S&L profiteering on Federally insured, high risk investments began to fall out of control, an investigation into the "Keating 5" Senators began in the late 80s. Details weren't revealed to taxpayers and voters until Reagan's successor, President George H W Bush, was elected. Then the S&Ls collapsed, leaving the Federal government to pay for the damages.
Keating went to jail and the political careers of all but two of the Keating 5 Senators ended: John Glenn and John McCain were merely criticized in the investigation for using bad judgement; the rest were charged with interfering with federal oversight of Keating's S&L activities.
Energy and Banking Deregulation Scandals.

The impact of the government paying out $150 billion to prop up depositors of the 747 failed S&Ls resulted in budget deficits and a drag on the economy that caused the 1990 recession. It also disgraced President Bush and ushered in the Clinton administration, which subsequently presided over the longest peacetime expansion of US history. In the Senate however, Gramm continued his efforts to deregulate banking and energy under "reform" laws that stripped away Depression Era regulations.
The Commodity Futures Modernization Act of 2000 ("the Enron loophole") deregulated the energy industry, giving the elite the ability to profiteer in energy markets isolated from risk or accountability, just like the S&Ls in the 80s. Artful deregulation laws resulted "special purpose entities" being used to create accounting fallacies that made energy companies such as Enron appear to have profits that didn't really exist, while its accountants hit its debt. Enron's fraud-based failure wiped out billions in investor wealth and helped contribute to the dotcom recession.
Under President George W Bush, Gramm's efforts to deregulate banking continued to have impacts on the mortgage industry.
The Secondary Mortgage Industry.
Fannie Mae, an entity set up during the New Deal to create liquidity in the mortgage market, had been spun off in 1968 to become a private corporation. Freddie Mac was created two years later by Congress to end Fannie Mae's monopoly over the secondary mortgage market by creating competition.
Both functioned to hold mortgages made by banks, allowing the bank to service the mortgage through those entities while handing it off to the Fannie Mae and Freddie Mac in exchange for new capital that could be used to grant additional mortgages. While the mortgages handled by both are explicitly not Federally insured, it is in the interests of the US government to prevent a full collapse of the two companies that hold roughly half of the nation's $12 trillion in mortgages.
This month, the Federal government took over both under conservatorship, which dismissed their CEOs and board members and installed new directors. The two entities also distributed new shares of common stock to the government. In order to pay for this massive expansion of Federal government into the secondary mortgage industry, the government's debt ceiling was increased to $10.7 trillion. Taxpayers could end up with tens of billions in liabilities to cover, equivalent to a few months' of spending on the Iraq war.
Leadership or Political Attacks.
Neither candidate for president has outlined neatly articulated answers for how to solve the complex problem of Federally protected socialist markets that allow investors to get rich on investment gaming and false accounting and then leave taxpayers soaked when their risks turn sour, as happened with S&Ls in the 80s, Enron in the 90s, and today's Fannie Mae and Freddie Mac.
On the day of the takeover, Obama told reporters "Any action we take must be focused not on the whims of lobbyists and special interests worried about their bonuses and hourly fees, but on whether it will strengthen our economy and help struggling homeowners. But we must not allow government intervention to protect investors and speculators who relied on the government to reap massive profits."
McCain, who is served directly by Phil Gramm and calls himself "fundamentally a deregulator," announced "today we're looking at a federal bailout of our home loan agencies," while his running mate said a "McCain-Palin administration will make them smaller and smarter and more effective for homeowners who need them," clearly out of touch with what the two entities even are.
Neither McCain nor Obama drew parallels between the failure of Fannie Mae and Freddie Mac and McCain's involvement in the Keating 5 push to prevent regulation in the S&L industry up until it fell apart at the Federal government's expense.
Obama announced yesterday that he would fully support the Bush administration's efforts to turn the economy around, and in a presentation flanked by Federal Reserve Chairman Paul Volcker and Clinton administration officials, announced, "As president, I would say to (Treasury) Secretary (Henry) Paulson and (Federal Reserve Chairman Ben) Bernanke, 'Do what's required to make sure that people's money market accounts are protected. Do what's required to make sure that small businesses have credit lines to allow them to make payroll. Do what's required to make sure that the economy is running and that ordinary people are able to go about what they do every single day, which is work hard and support their families.'"
McCain fell into Obama's trap by releasing a series of political attacks against Obama, seeking to link him to the "do nothing" Congress and accusing him of ties to Fannie Mae; in return, Obama pointed to the former Fannie Mae lobbyists running McCain's campaign, and the DNC was quick to contrast Obama's bipartisan efforts to lead with McCain's unprepared and overreaching political attacks.
Obama, McCain weigh in on financial crisis
Obama on the Mortgage Crisis.

Obama's web position paper on the mortgage crisis notes that "Over the past several years, ten of the country's largest mortgage lenders were spending more than $185 million lobbying Washington to let them get away with aggressively selling loosely-regulated, high-risk mortgages." It also outlines four steps for taking action to stop mortgage fraud and protect homeowners:
1. "Many middle class Americans do not receive the existing mortgage interest tax deduction because they do not itemize their taxes. As a result, primarily wealthy Americans benefit from this homeownership tax incentive. Obama and Biden will ensure that middle-class Americans get the financial assistance they need to purchase or keep their own home by creating a 10 percent universal mortgage credit that give tax relief to Americans who have a home mortgage."
2. Obama "introduced comprehensive legislation nearly two years ago to fight mortgage fraud and protect consumers against abusive lending practices. Obama's STOP FRAUD Act provides the first federal definition of mortgage fraud, increases funding for federal and state law enforcement programs, creates new criminal penalties for mortgage professionals found guilty of fraud, and requires industry insiders to report suspicious activity."
3. "Obama and Biden will create a Homeowner Obligation Made Explicit (HOME) score, which will provide potential borrowers with a simplified, standardized borrower metric (similar to APR) for home mortgages. The HOME score will allow Americans to easily compare various mortgage products and understand the full cost of the loan."
4. "The 2005 bankruptcy bill, which Barack Obama opposed, is expected to have serious effects on low and middle-income borrowers of subprime mortgages. While investors who own multiple homes and people with vacation homes can renegotiate those mortgages in bankruptcy, current Chapter 13 law requires ordinary families to stick with the original terms of their home loans—regardless of whether the loan was predatory or unfair. Obama and Biden will repeal this provision so that ordinary families do not suffer this unfair treatment."
Barack Obama and Joe Biden: The Change We Need | Economy
Obama Calls on the Bush Administration to Guarantee Taxpayers Do Not Pay Fannie Mae and Freddie Mac CEO Severance Packages | U.S. Senator Barack Obama
McCain on Solving the Mortgage Crisis

In a brief series of overview bullets that don't outline any specific action, McCain's website says "No taxpayer money should bail out real estate speculators or financial market participants who failed to perform due diligence in assessing credit risks. Any assistance for borrowers should be focused solely on homeowners and any government assistance to the banking system should be based solely on preventing systemic risk."
"Any policy of financial assistance should be accompanied by reforms that promote greater transparency and accountability to ensure we never face this problem again."
McCain also outlines a plan where "every deserving American family or homeowner will be afforded the opportunity to trade a burdensome mortgage for a manageable loan that reflects their home's market value."
JohnMcCain.com – McCain-Palin 2008
Other articles on current events:
Imagine Steve Jobs for President
The Big Fannie Mae & Freddie Mac Attack
Osama Bin Laden's Dream of US Economic Collapse
You Know the Drill?
Ten Striking Parallels Between Microsoft and John McCain
Obama's Apple, McCain's Microsoft: the Politics of Tech
Did you like this article? Let me know. Comment here, in the Forum, or email me with your ideas.

Like reading RoughlyDrafted? Share articles with your friends, link from your blog, and subscribe to my podcast (oh wait, I have to fix that first). It's also cool to submit my articles to Digg, Reddit, or Slashdot where more people will see them. Consider making a small donation supporting this site. Thanks!