Microsoft's 'I'm a PC' Ads Created On Macs
September 19th, 2008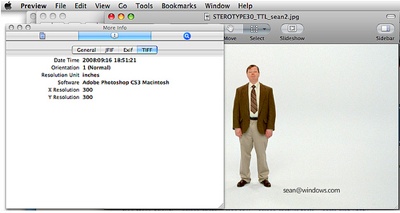 Daniel Eran Dilger
After dumping its $10 million contract with Jerry Seinfeld after just three ads (only two of which even aired) Microsoft has created new ad copy where regular people and a few celebrities say, "I'm a PC!" One problem with the campaign's credibility: the ad work was created using Macs.
Microsoft $300 Million Ads
Microsoft's Mojave Attempts to Wet Vista's Desert
Microsoft's Mojave Experiment Exposes Serious Vista Problems
Paul Thurrott calls Apple "the Bad Guys" of Microsoft's $300 Million Ads
Gates, Seinfeld and the $300 Million Ad to Nowhere
Microsoft's $300 million ad campaign tumbles with new PC ads
Microsoft's "Windows vs Walls" Ad Tries to Think Different, Fails
Microsoft's "I'm a PC" Millions Actually Promoting the Mac
Microsoft's 'I'm a PC' Campaign Keeps Getting Stranger (With Videos)
I'm a PC too… touché
.
Flickr user LuisDS found that metadata on the creative copy of the "stereotyped PC user" and other photos appearing on Microsoft's "I'm a PC" website revealed that they were produced using Macs running Adobe Creative Suite 3. One might expect that Microsoft would use Windows PCs running its own Microsoft Expression Studio software, which as the company advertises, "takes your creative possibilities to a new level."
Apparently, neither Windows PCs nor Expression Studio are up to the task of taking on Apple and destroying its globe enshrouding "Get a Mac" campaign. The image of John Hodgman as a troubled PC struggling with Vista-related problems has pushed Microsoft to defend itself with a $300 million campaign to take control of the "conversation about Windows," using Macs as needed to get the message produced.
When LuisDS checked on the photos again this morning after publishing the metadata details on Flickr last night, he found that Microsoft has scrubbed the revealing details from the work, an effort that also resulted in the 272 KB photo ballooning to 852 KB.

[Update: "the ads were also audio mixed on Macs" according to an unnamed source.]
You Paid $300 Million For What?
Microsoft has previously taken heat for its Mojave Experiment and got blank stares from users blown away by the Seinfield ads about nothing, which portrayed Bill Gates as a spendthrift billionaire who complains about leftovers served by his host as he struggles to get "in touch with ordinary American life" and turns out "to be an unimpressive tipper," according to the work featured on the Windows ad site.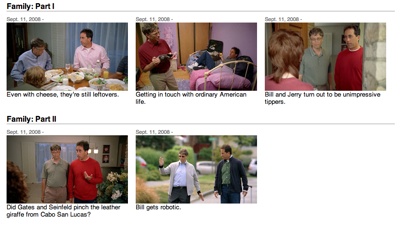 Microsoft's Mojave Attempts to Wet Vista's Desert
Microsoft's Mojave Experiment Exposes Serious Vista Problems
Paul Thurrott calls Apple "the Bad Guys" of Microsoft's $300 Million Ads
Gates, Seinfeld and the $300 Million Ad to Nowhere
Microsoft's $300 million ad campaign tumbles with new PC ads
No CP+B, That's a Little Too Much Like 'Get a Mac.'
Once it was revealed that Microsoft's marketing company for the ads, Crispin Porter + Bogusky, was profiled on Apple's Pro site as an enthusiastic user of Macs, the profile was pulled from Apple Canada's website. Here's the original profile:
Crispin Porter + Bogusky: A Crash Course in Taxi Driving

By Barbara Gibson
Watching the gypsy cab — a shiny black Volkswagen Rabbit with checkerboard side stripes — pull onto Fifth Avenue, you probably wouldn't know that its driver, Steve from Colorado, had never driven in New York City. Or, in fact, ever been to New York.
But in a reality-video experiment called the Gypsy Cab Project, Steve cruised the streets of Manhattan for 14 days, offering perfect strangers free taxi rides in an effort to demonstrate the Rabbit's ability to negotiate extreme city traffic.
The brainchild of Crispin Porter + Bogusky in Miami, the Gypsy Cab project documented, via spy cameras, Steve's efforts explaining the project and getting 100 people to trust him to take them where they wanted to go — in spite of traffic jams, fire trucks, garbage trucks, delivery trucks, bicycle messengers, oblivious pedestrians, and 12,187 other cabbies.
CP+B captured the digital video using four Mac minis stored in the Rabbit's wheel well, then broadcast the footage — first raw and later edited — on the Gypsy Cab website.
It's No Accident
"One of our logistical challenges with Gypsy Cab was to find a way to mount four cameras in the vehicle and record everything so we could edit it later," says interactive producer Marcelino Alvarez.
Working with technical director Scott Prindle and system architect Adam Heathcott, Alvarez suggested the Mac minis. "Most of the company works on Macs and I knew we'd be editing on Final Cut Pro systems," Alvarez says. "The easiest way for me to approach this was, get the footage already digitized, give it to our editors in a format they can use, and just feed everything up.
"Besides, with regular tapes," Alvarez adds, "we would have needed four tape decks. They only have about an hour to record, so we would have spent all our time switching out tapes, labeling the tapes, digitizing the tapes and probably missing some good footage when a fare ran over an hour. With the Mac minis, we could record over 10 hours continuously."
Rookie on View
Alvarez also set up a wireless network in the back of the Rabbit and added an amplifier to the wireless signal. "We had a MacBook Pro in the chase vehicle so we could monitor the video and control the recording on each camera using Apple Remote Desktop," Alvarez says. "Steve also had an earpiece so we could talk to him from the chase car."
One fare Steve picked up, a producer for a major network news show, asked, "So where are your big chase vehicles?"
Steve: "Everyone's running everything from a laptop in the car behind us."
"You only have one car? You don't have four?"
"When the news producer does shows, he has four chase vehicles and microwave technology, and everything's beamed somewhere else," Alvarez explains. "We had everything stored in the back of the Rabbit. Those are the really cool, key moments when you can step back and look at what you're doing and you say, 'Wow, this is kind of ahead of the curve, and it's working.'"
Unifying Theory
For compression and editing, Alvarez and Prindle set up seven Power Mac G5s in a New York apartment. "We decided to go with the G5s with quad processors because we wanted to compress the footage and post it to the website within 24 hours," says Alvarez.
Two editors matched the video to real-time GPS data the Gypsy Cab collected, then compressed and uploaded the raw footage. Two others worked in Final Cut Pro to create edited versions of Steve's Favorite Fares.
Even Prindle was impressed by the video the production team was able to compress and upload in such a short period of time. "One of the producers who worked with us on the Gypsy Cab project had also worked on 'Taxi Cab Confessions' for HBO," Prindle says. "He told us that it took them more than a month of shooting before they could fill an hour time slot on the show.
"We were turning video around left and right. Here we had these Mac Minis buried down in a wheel well, underneath people's luggage, and we could count on them being dependable and reliable throughout the process."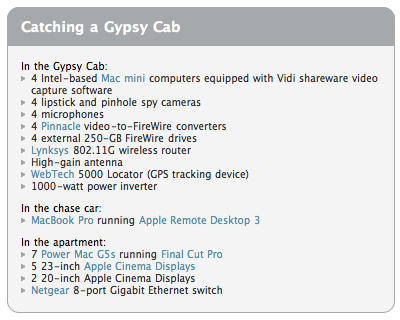 Microsoft's Meanest Envy.
The new "I'm a PC" ads portray a Hodgman lookalike as a stereotype, making it unclear if Microsoft is trying to portray the PC character as an unrealistic and unflattering attack by Apple (which the rest of the ad underscores), or if the company is trying to hijack Apple's character as the "kind person you would rather have a beer with," the message being presented by Windows Enthusiast pundits ever since the Get a Mac ads began playing.
That idea of the everyman PC is subtly hinted to in the sean@windows.com email address that appears in the Mac-created photos. Is it there to tempt readers into sending love letters to the stereotypical PC character? Why isn't it bill@windows.com? Why doesn't it credit Apple?
The solo PC character creates an immediate association with Apple's ads, which probably wasn't the best way to spend $300 million, but certainly no worse than Mojave or the 'Antisocial Gates' short films. Where was Mac? Apparently, he was iding behind the scenes to produce everything.

Macs at Microsoft.
In 2003, Microsoft fired an employee who posted a photo of new PowerMac G5 systems being delivered to the company onto his blog.
At the same time, the company has no problem showing the vast numbers of Macs it buys to test builds of Office for Mac within the MacBU. Microsoft is apparently still the largest Mac developer outside of Apple.
eclecticism » Even Microsoft wants G5s
David Weiss: A Tour of Microsoft's Mac Lab
Next: Microsoft's "Windows vs Walls" Ad Tries to Think Different, Fails
Did you like this article? Let me know. Comment here, in the Forum, or email me with your ideas.

Like reading RoughlyDrafted? Share articles with your friends, link from your blog, and subscribe to my podcast (oh wait, I have to fix that first). It's also cool to submit my articles to Digg, Reddit, or Slashdot where more people will see them. Consider making a small donation supporting this site. Thanks!