The iPhone Monopoly Myth
September 18th, 2008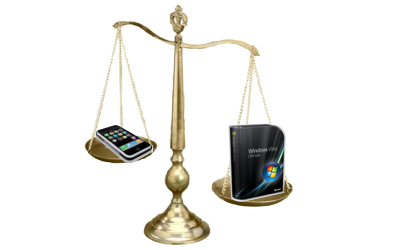 Daniel Eran Dilger
After initially dismissing the notion that Apple could ever break its way past entrenched rivals and make any significant impact on the smartphone industry, tech pundits are now aghast that Apple is running its business the way its executives see fit. Critics charge that the iPhone and its mobile software store amount to a monopoly and a restriction of free trade. They're wrong, here's why.
Apple and the New Software Market
How Apple Is Changing the PC Software World… Back
iPhone Apps Store Growing Twice as Fast as iTunes Music
The Other iPhone Apps Store
SDK 3.3.3: The iPhone Podcaster Surprise Myth
Banned iPhone Apps and the John Gruber Podcaster Defense
The iPhone Monopoly Myth
.
The iPhone Launch Critics.

I usually spend to much time recounting historical context. But since the iPhone was only announced just short of two years ago, I shouldn't have to spend too much time reminding anyone of the condescending laughs all around that came when Apple announced its intention to deliver the iPhone. John Dvorak said it was "trending against what people are really liking," while Palm's CEO Ed Colligan famously said Apple was "not going to just figure this out. They're not going to just walk in" and become successful in the smartphone segment.
Why Dan Frommer and Scott Moritz Are Wrong on iPhone Sales
That continued throughout the six month waiting period from the iPhone's announcement to its release, with Dvorak comparing the iPhone to Hitler, insisting that Apple pull the plug on it, and saying that its battery would only work for 40 minutes, while Rob Enderle called it "damned" and 'not a good phone' before even having seen it, and imagined a series of scenarios where kids would be killed and women would be raped if users ever dared to use an iPhone. Everyone from Gartner to the gadget blogs were all down on the iPhone's prospects and encouraged users to not buy it or even boycott it on ideological grounds.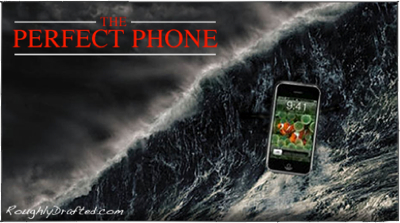 Secret iPhone Details Lost in a Sea of Hype and Hate
Hot on the heels of attempting to manufacture Zune excitement headlines for Microsoft, ABI Research jumped at the chance to announce that it had decided the iPhone wasn't a smartphone because it couldn't run third party software, such as the $444 in top Windows Mobile software that I profiled, all of which is either unnecessary on the iPhone or was already bundled on it.
More Absurd iPhone Myths: Third Party Software Panic
Enderle even told San Jose Mercury News spin doctor Troy Wolverton that 2007 "will be a difficult year for Apple, and the iPhone could be more of a drag on earnings than a help." Wolverton, who had long predicted that iPod sales would amount to the death of the Mac, started imagining that that iPhone would subsequently kill Apple's iPod business, since every other iPod killer hadn't lived up to the task.
Troy Wolverton Digs Up Rob Enderle In Desperate Apple Attack
No Mr. iPhone, I Expect You To Die!

In the second half of 2007, The Street and other market manipulation outlets began accusing Apple of covering up a miserable launch failure, saying that the company planned to sell a million iPhones in its opening weekend, despite the fact that Apple didn't even put a million units on shelves for weeks after the launch. It also presented "five reasons to not buy the iPhone," along with an explanation of why the iPhone would really cost users $17,670.
Unraveling Anti-Apple Panic: the iPhone Launch Success
The Street's Flaccid Campaign Against the iPhone
Toni Sacconaghi of Bernstein Research, Barron blogger Eric Savitz, and Rex Crumb, a colleague of Dvorak at MarketWatch, all published and rehashed the story of how Apple faced a possible demand shortage problem complicated by excessive worldwide demand in markets where Apple hasn't yet established an exclusive partner. It wouldn't sell enough while selling too many!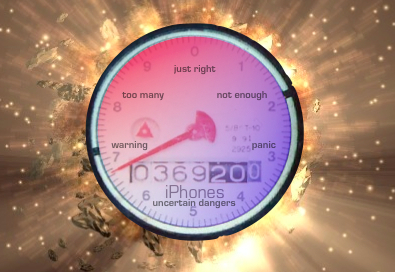 Toni Sacconaghi Alert: Excessive iPhone Demand Reason to Panic
Nomura financial analyst Richard Windsor published a research note in the fall of 2007 suggesting that the iPhone would likely suffer problems due to a faulty industrial design using "a chemical deposition to provide touch sensitivity based on heat," and said Apple might have to recall millions of faulty units. Windsor repeated the same prediction a year later with the iPhone 3G, this time referencing imagined problems in the phone's Infeneon chips.
Inside the iPhone 3G dropped call complaints
Success Despite Massive Lies.

With the nonstop lies and over the top criticism, it's hard to imagine how the iPhone was ever able to break through the smoke and mirrors to become the top selling phone model in the US in its debut quarter. It muscled the entire Palm and Windows Mobile markets out of the way to become the second place smartphone platform in North America after RIM, despite only being sold in one market and on only one provider.
With the launch of the iPhone 3G, Apple's smartphone business jumped into overdrive, selling millions of units in its first quarter, and apparently pushing ahead of Windows Mobile in market share world wide to boot. The new phone was released alongside the new App Store, which like the iPhone itself, has sent competitors scrambling to copy it.
Apple's market power has not only kicked the shallow breath of air out of rival mobile smartphone platforms, but has also breathed life into Apple own vibrant marketplace, which delivered over 100 million downloads within just two months, which represents growth four times as fast as song sales in iTunes.
The iPhone App Store enabled 18 year old Bryan Henry, the developer of Equivalence, to earn $8,000 in his first month as a casual student developer, and significant new revenues for professional developers. All this success has Apple's critics fuming. The same people who said the iPhone would never take off are now trying to suggest that the iPhone is a monopoly that restricts trade.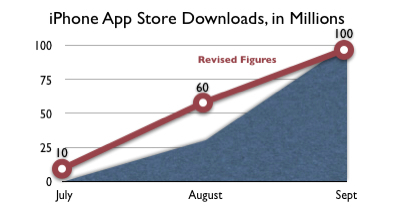 iPhone Apps Store Growing Twice as Fast as iTunes Music
App Store Downloads Top 100 Million Worldwide
The iPhone Monopoly Fallacy.

How is it that those who were skeptical that the iPhone would take off, or even hopeful that it wouldn't, are now taking the position that Apple shouldn't be allowed to chart its own destiny, but should instead be run by the community of pundit opinion that tried to destroy it?
That question is too difficult to answer, but I can dismantle their argument. It goes something like this: Apple's market power has now reached equivalence with Microsoft's in the 90s, when that company began using its monopoly position to prevent competitors from entering the market, stomped out rivals using illegal practices, and after agreeing with the court to stop then violated its consent decree to continue its efforts to restrain trade and abuse its monopoly position.
Microsoft had a monopoly position over the PC market due to its deal with IBM to retain the rights to DOS back in 1981. IBM apparently didn't realize that its hardware wouldn't be very useful with DOS, since there were no other platforms that could run on early PCs due to IBM's own market power that helped destroy CP/M, the original basis of DOS. IBM would go on to handle much of the updates to DOS itself while Microsoft took money for it.
Had this relationship continued, the PC would have existed as combination product from two suppliers. However, Microsoft also licensed DOS out to PC clone makers such as Compaq, and subsequently to a wide number of "PC compatible" hardware vendors. IBM's own hardware sales fell in a heap with just a few years, and its attempts to deliver a new generation of advanced Microchannel PS/2 hardware was thwarted by a PC cloner rebellion, resulting in the PC lagging behind the state of the art in hardware technology while Microsoft continued to rake in profits.
1985-1990: 16-bit Graphical Computing
SCO, Linux, and Microsoft in the History of OS: 1980s
Microsoft's Monopoly Abuse.

As the 90s began, Microsoft began to wield so much power that it could dictate to PC makers how to build their systems, and what software they could install on them. It forbade PC makers from selling alternative operating systems, including IBM's OS/2. By the middle of the decade, it had forced them all to add Microsoft logos to their keyboards (apart from IBM) and killed the growing alternative DOS market by tying DOS into Windows.
It then tied productivity apps into Windows PC sales, and in the second half of the decade worked diligently to kill Netscape as an alternative web platform, Java as a competing web app API, OpenGL as a threatening interoperability layer for 3D, QuickTime as a media platform, AOL as an online service, and so on.
This wasn't free market competition, because Microsoft wasn't competing against rivals in an open market. Microsoft had established a monopoly over hardware sales from every PC maker and was leveraging its software monopoly as a weapon in threatening to destroy any manufacturer who might challenge it by partnering with a competitor. When Apple struck a deal to parter with Compaq to bundle QuickTime on its PCs, court testimony reveals that Microsoft quashed the deal.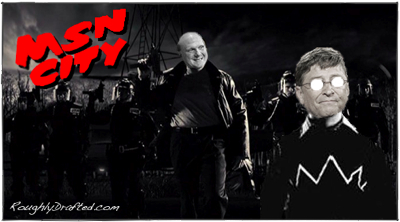 Microsoft's Plot to Kill QuickTime
SCO, Linux, and Microsoft in the History of OS: 1990s
Office Wars 3 – How Microsoft Got Its Office Monopoly
Apple's Assault on the Microsoft Monopoly.

The only undoing of Microsoft's monopoly power came from Apple, which refused to cooperate with Microsoft's bullying in the late 90s. The only reasons Apple had for standing up to Microsoft were that Apple owned its own Mac platform independent of Windows, and that Microsoft was guilty of stealing code from QuickTime.
After Steve Jobs returned to Apple in 1997, he stuck this to Microsoft in a leveraged deal that demanded a show of public support and continued development of Office for Mac. Apple continued developing QuickTime and obliterated Microsoft's own attempts to produce any competing technology. QuickTime went on to become the the core file wrapper technology of MPEG-4, including AAC audio and H.264 video, relegating Microsoft to the sidelines in media.
After successfully defending QuickTime, Apple parleyed it into further success with iTunes, which served to support iPod sales, which served to ignite media sales in Apple's iTunes Store. After establishing the iPod and iTunes against Microsoft's attempts to lock down all media sales and media players under the same Windows-branded monopoly as the PC, Apple released the iPhone and crushed Microsoft's weak efforts to monopolize smartphones under Windows-branded software.
Apple has proven that by writing its own software, it can produce better products that the consumer market prefers to the hardware designs dictated by Microsoft to the hardware makers who are enslaved to Microsoft's monopoly run software business. Apple can't possibly erect a monopoly in MP3 players, phones, or PCs until it copies what Microsoft did in licensing its software across the industry. Apple has shown no interest in doing that.
How Microsoft Pushed QuickTime's Final Cut
Apple and Competitive Markets.

The only remaining way Apple could monopolize any of those markets is to simply outsell everyone else until all of its PC and consumer electronics rivals go out of business. This isn't likely to ever happen.
In a free market with competition, monopolies rarely last because more efficient competitors will always deliver greater innovation or lower prices, preventing any entity from simply taking over entirely or retaining complete control for any period of time.
Microsoft's PC monopoly existed over the last two decades because it subverted the market by preventing anyone from competing with it, and contractually obligated its partners from competing with it directly or indirectly. The primary "competitors" to Windows and Office on the PC are free applications written by volunteers: Linux and OpenOffice. That's not a functional market.
In contrast, Apple competes against much larger companies in the US and worldwide PC markets, and much larger and more powerful companies in consumer electronics, from Sony to Samsung to Nokia. Apple will never outsell all of these companies out of business entirely. So speaking of Apple as having a monopoly among iPods or iPhones is ridiculous. The situation is not similar to Microsoft at all.
Apple's Product Control.

As a competing hardware maker, Apple does control its own products. It does not license out the iPod or iPhone operating system to cloners. It chooses not to license or support competing software platforms, such as Microsoft's WMP or Adobe's Flash or Sun Java ME. It also exercises control over its App Store, refusing to carry titles that it deems as unprofessional, those that fail to meet its user interface guidelines, and any that work against its business model.
Apple's decisions are certainly objectionable to Microsoft, which desperately wanted to embrace and extend the iPod into a WMP PlaysForSure tool and take over Apple's success in the same way it swallowed down Java and OpenGL and burped up cleaned bones and its own proprietary alternatives.
It's also unnerving to Adobe, which has never cared enough to deliver a decent version of Flash Player for the Mac, but now desperately wants to get in on the iPhone because Apple has caused the mobile web to overwhelming become Flash-free. It's also a pain to developers who want to march onto Apple's platform and rope off reserved access to competition-free application development.
Gone in a Flash: More on Apple's iPhone Web Plans
Flash Wars: Adobe in the History and Future of Flash
Apple Independence.

I think it's clear Apple will continue to use its success to leverage its control over its own platforms. When I said a year ago that Apple would use the iPhone to kill Flash, everyone scoffed and said Apple would have to whip up some sort of magical layer to run desktop Flash applets on the iPhone (a technical impossibility without some major changes to all the Flash apps out there).
Windows Enthusiasts whined that Apple had some sort of duty to allow Windows Media DRM to work on the iPod because it was technically possible. Today's tech media complains that Apple owes small developers the right to develop apps that compete with the company.
The reality is that Apple has earned its success, not by being granted a monopoly by fate that it turned around as a weapon to stop competition, but by actually competing to deliver a better product.
Why Apple Doesn't Owe the World a Living.

Apple's ability to compete rests upon its making decisions that allow it continue to erode into Microsoft's monopoly position on PCs and Nokia's dominant position in smartphones. It can't do either by being a timid pacifier for every weeping individual and small company on the planet that wants to eat at the table without contending for a seat.
Daniel Lyons, the Fake Steve Jobs who went to Newsweek to write up absurdities about how Apple is like Microsoft because Vudo is going out of business because Apple sells movies in iTunes, is a great example of why the tech media needs to educate itself on the difference between successful competition in a functional market, and Microsoft's abuse of its monopoly position to prevent competition. At Forbes, Lyons praised Microsoft's media center products after the company shipped him free stuff to fawn over, so perhaps his problem isn't ignorance so much as disingenuous hypocrisy.
In any event, BMW isn't obligated to license its car designs out to Chinese manufactures, nor does it have to sell the car radios of every manufacturer who wants to ship their product with new BMWs. Similarly, Apple doesn't have a moral obligation to grant other companies success. It's already provided them an example of how to attack monopolists and win. If they can't compete, that's their problem.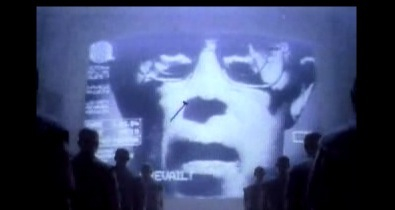 Forbes' Fake Steve Jobs Is Also Fake On Apple
Did you like this article? Let me know. Comment here, in the Forum, or email me with your ideas.

Like reading RoughlyDrafted? Share articles with your friends, link from your blog, and subscribe to my podcast (oh wait, I have to fix that first). It's also cool to submit my articles to Digg, Reddit, or Slashdot where more people will see them. Consider making a small donation supporting this site. Thanks!