You Know the Drill?
September 16th, 2008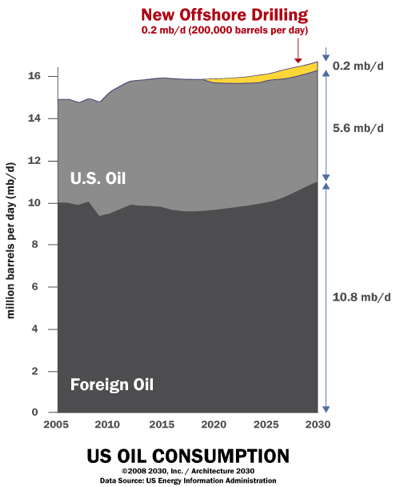 Daniel Eran Dilger
There's a mantra being repeated in the US: "Drill here, drill now, get oil prices lower and then invest the money in alternative energy!" The problem: drilling in the US will have no meaningful impact on oil prices, and oil companies have no vested interest in changing anything.
Architecture 2030 E-news
.
Investing in alternative energy is supposedly what the oil companies have been doing. They say they are. But in reality, they're just looking for new places to drill, and as long as oil is priced high, they'll profitably keep finding new ways to only nearly meet demand, never enabling oil prices to actually go down. Problematically, there's also not enough new oil in the US to have any impact on oil prices, and not just immediately but well out into the future.
Do oil companies have any motivation to either lower prices or pursue alternative energy sources where they'd be exposed to competition? The US is addicted to oil. We don't have enough to stay high at home, so we have to find shady dealers elsewhere. They have no interest in either lowering the price of each hit, or in weaning us off the dependance.
Drilling in the US sounds like an easy fix, but there's not enough oil. Those who chant "drill drill!" as the solution are not looking at the reality that they might as well be demanding more crack on the corner. Just enough more to not have to make any changes in their lifestyle. And guess what? The dealers are raising the prices for the drug that we'll have to pay any price to get.
It was a mistake to allow an oil-backed administration to disassemble promising alternative energy projects while parading around an impractical hydrogen plan as a diversion eight years ago, and it is a mistake to repeat those same failed strategies today with a new oil-backed administration that wants to provide massive tax breaks to its oil industry partners now reeling in insane profits on high oil prices.
Both sides are talking about change and alternative energy and using a variety of sources to diversify the nation's energy needs, but only one side is profit-motivated to keep things exactly the way they are for another four years of the same.
Other articles on current events:
Imagine Steve Jobs for President
The Big Fannie Mae & Freddie Mac Attack
Osama Bin Laden's Dream of US Economic Collapse
You Know the Drill?
Ten Striking Parallels Between Microsoft and John McCain
Obama's Apple, McCain's Microsoft: the Politics of Tech