Banned iPhone Apps and the John Gruber Podcaster Defense
September 16th, 2008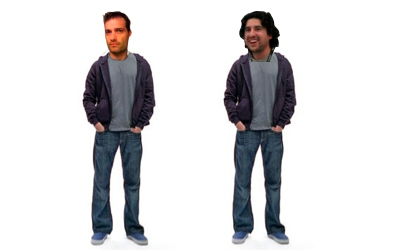 Daniel Eran Dilger
John Gruber's Daring Fireball says the clearly articulated iPhone SDK limitations are completely unrelated to the the circumstances of the Podcaster app being denied from the iPhone App Store, and that it is therefore really no different than Evernote or AOL Radio. He's wrong, here's why.
Apple and the New Software Market
How Apple Is Changing the PC Software World… Back
iPhone Apps Store Growing Twice as Fast as iTunes Music
The Other iPhone Apps Store
SDK 3.3.3: The iPhone Podcaster Surprise Myth
Banned iPhone Apps and the John Gruber Podcaster Defense
The iPhone Monopoly Myth
.
Gruber certainly knows a lot of things I don't, and I usually agree with at least as much of what he writes as those few things I take exception to. In the realm of opinion, having a difference sometimes comes down to a simple matter of viewpoint, making argument pointless.
In this case however, he's actually factually wrong in a number of areas that need to be clarified.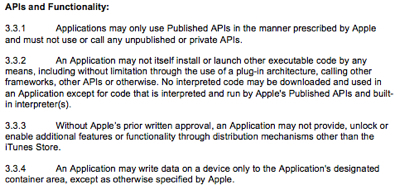 SDK 3.3.3: The iPhone Podcaster Surprise Myth
Features Through a Distribution Mechanism other than iTunes.
I cited section 3.3.3 of the iPhone SDK as the most basic reason why Apple denied the Podcaster app from App Store distribution. Gruber disagreed, saying, "This section of the agreement is clearly not about content distribution. It's about application distribution. It's a way of saying that you can't distribute your app through the App Store as a free demo and then charge to unlock the full version using a non-iTunes service such as PayPal or Kagi. Podcast downloads are neither 'additional features' nor 'functionality'."
The great thing about the Constitution is that you can take it to mean nearly whatever you want. The same applies to the legalese of the iPhone SDK. And certainly, 3.3.3 does address the scenario Gruber describes. Apple doesn't want any apps that require users to go to a website and pay money in order to unlock or enhance them. Apple wants all revenues flowing through the App Store, where it can get its cut.
However, while Gruber dismisses Podcaster's content distribution as neither features nor functionality, he seems to be unaware that the entire point of Podcaster is to download podcasts rather than stream them in realtime. That is a feature provided through a distribution mechanism that is other than iTunes.
Keeping the Pod in Podcasts.

Apple wants to be the central repository for podcasts. It doesn't make any money on podcasts, but spends time and money building the infrastructure in iTunes to accommodate the RSS feeds, the upload tools for podcasters, and the iTunes podcast management tools for users. The reason Apple provides podcast tools is to establish iTunes as that "farmer's market" of content that draws people to iTunes and subsequently, Apple hardware sales.
What happens if podcast distribution is run around iTunes? At some point, podcasters would stop listing their feeds in iTunes, or perhaps migrate toward proprietary codecs or metadata that was incompatible with iTunes and iPods and Macs. Apple is extremely defensive of what it has built in iTunes, and is not about to risk disassembling things when it has the power to keep podcast users satisfied within iTunes.
Remember that actual podcast content is served up by its source, not iTunes. Podcaster's downloads are bypassing Apple, preventing the company from being able to track popularity and trends such as interest in audio or video or certain subjects. Refusing to allow Podcaster to bypass iTunes is pretty straightforwardly an obvious defense of the relevance and prominence of iTunes among podcasters.
If Podcaster were primarily a way to browse Apple's iTunes podcast listings and subscribe to them directly, this would be less of a direct threat to Apple. But it's not, it's an alternative to iTunes podcasts that provides a download feature through a distribution mechanism that is other than iTunes.
iPhone Apps Store Growing Twice as Fast as iTunes Music
How Apple Is Changing the PC Software World… Back
False Comparisons.

Gruber wrote that if content were a feature, then Pandora and AOL Radio would be in trouble. For starters, we don't know if AOL or Pandora got "prior written consent" to do their apps, so this is entirely irrelevant to contravening 3.3.3. We know Apple knew about AOL Radio well in advance because it was demonstrated and awarded at WWDC before the App Store had even opened.
Had Podcaster sought written consent prior to building a "download feature through a distribution mechanism that is other than iTunes," Apple may have worked out some sort of deal with the developer. But delivering an app that is expressly designed to erode Apple's podcasting infrastructure and then being surprised to find a lack of support from the company for it is beyond naive.
On top of that however, radio and podcasts are entirely different. iTunes provides the ability to listen to radio feeds almost as an afterthought, but these aren't tracked in the iTunes Store; they're not promoted in the manner of podcasts; and Apple doesn't provide any way to move radio feeds from iTunes to the iPhone in the way that it allows users to manage podcasts on their mobile players. There's nothing really in common here.
Gruber also mentions FileMagnet and Air Sharing, which allow users to put files on their iPhone and then view them on the device. Again, neither of these provide any attack upon Apple's iTunes business model, nor do they amount to a "feature through a distribution mechanism that is other than iTunes," because iTunes doesn't distribute document files (or radio feeds) to mobile devices.
Any developer wanting to set up some sort of app that might act as a "distribution mechanism other than iTunes," for example an alternative to MobileMe for data sync or a way to share or sell media files, would definitely want to pursue prior written consent. Apple has approved of a number of things that do compete with its business, from its own Exchange Server support to YouTube and Flicker and other integrations in its products.
Things That Podcaster's Rejection From the App Store Is Not About
Bandwidth.

While also mostly irrelevant, Gruber also dismisses concerns about the restriction against whatever Apple might judge to be apps that "excessively use or unduly burden network capacity or bandwidth," and cites YouTube, MLB At Bat, and AOL Radio as examples that stream audio or video non-stop when in use.
The problem is that those apps are all only using the network when the user is actively using them. Podcaster is designed to queue up huge podcast data files and truck them over the network nonstop in the background. With YouTube, you're only pulling data over the network when you're actually watching a clip.
Sure you can watch whatever clips you like, but nobody sits on their phone for hours watching YouTube nonstop. Similarly, while AOL radio pulls audio feeds over the network for potentially long periods of time, that level of traffic is nothing compared to a queued up tool that exists to download podcasts as a "feature through a distribution mechanism that is other than iTunes," using the full bandwidth available.
You can also already watch audio and video podcast streams live from the podcaster by hitting their RSS feed in Safari. But Podcaster is designed to download huge files in the range of gigabytes (video podcasts can be gigantic) back to back for later viewing.
Having a hundred users on a network segment who kick of a storm of automated downloading would be disastrously unmanageable to any carrier. It's the difference between somebody using their Internet account to watch HD video on occasion, and a user who has their PC working 24/7 to pull down torrents.
Gruber recommends that the app could be made WiFi only, but it was not. This is all really immaterial however, because first and foremost, Podcaster was declined because it provides a downloads as "feature through a distribution mechanism that is other than iTunes."
User Confusion.

Apart from bandwidth, another reason supporting why Apple wouldn't want Podcaster offering downloads as "feature through a distribution mechanism that is other than iTunes" is user confusion. As reader LuniticSX noted in the comments earlier:
Now, one of the major problems with [the jailbreak app] MobileCast is that it doesn't (can't) access the podcasts stored on my iPhone that were uploaded via iTunes. As a result, the listened/not listened state and playback positions of my podcasts would get out of synch between the ones downloaded via MobileCast and the ones loaded via iTunes. The only solution I had for that was to stop downloading via iTunes at all, and only use MobileCast.
Podcaster has this same problem.
Podcaster's functionality is really close to the functionality of iTunes. Yet, it can't access the same data on the device, leading to the synchronization problems I mentioned above. I can see how this could prove to be VERY confusing to end users. 'I just loaded this podcast in Podcaster, so why isn't it showing up the the iPod area of my device?' 'I just finished listening to this podcast in Podcatcher, yet when I synch my device with iTunes it didn't mark it as read, AND it downloaded another copy! What gives??'"
Whaa.

Gruber concedes that "the point isn't about what Apple can do but what they should do," but only after suggesting that Apple's SDK limitations amount to a religious authority with the phrase, "thou shalt not hurt Apple's music revenue stream."
Seriously, no shit sherlock.
Can anyone read the iPhone SDK and not get the sense that Apple wrote it, not to fill out a bunch of wordy pointless nonsense, but as a legal agreement with developers in order to protect its own interests? Sure, a lot of the restrictions also protect users, Apple's partners, and really even developers, but Apple is a corporation in business to make money.
It has to protect its "revenue stream," not because it is an oppressive authority voicing its demands in King James' English, but because it has a financial responsibility to its shareholders to earn an honest return and to prevent itself from being sued over copyright issues or being exploited by its non-altruistic partners, including third party developers who similarly only act in their own best interests.
Shared Self Interest vs Shared Wealth.

I shouldn't have to remind users that the last major platforms Steve Jobs has released have been destroyed or damaged by developers acting in their own interests. The original Macintosh shipped without a Lisa Office suite of productivity apps because third party developers demanded that Apple provide them with a competition-free market to make money in.
Apple's primary developer, Microsoft, then grabbed its Mac Office apps, created Windows on the PC and ported them over using Apple's own intellectual property efforts, and then abandoned Apple. Other partners, such as Adobe, also eagerly abandoned Apple for Windows.
Office Wars 3 – How Microsoft Got Its Office Monopoly
Microsoft refused to support NeXTSTEP because it wasn't in its own best interests, and NeXT desperately tried and failed to find much support among other major developers. Nobody supported WebObjects just because, or even just becuse it was technically superior at the time, particularly not Dell after Apple bought NeXT.
Why OS X is on the iPhone, but not the PC
Microsoft worked pointedly to destroy Apple's QuickTime after lifting Apple's code to create its own rival product on Windows. Third party developers didn't make any altruistic efforts to support QuickTime out of friendship with Apple.
Microsoft's Plot to Kill QuickTime
With Mac OS X, Microsoft, Adobe, Quark and others certainly didn't go out of their way to support Apple's interests. It wasn't until the market demanded them to that they even provided nominal support for Apple's new OS. Along the way, the Yellow Box and Rhapsody platforms died and Apple had to do a bunch of extra work to develop Carbon.
Cocoa and the Death of Yellow Box and Rhapsody
In the last few years however, Apple's renaissance has attracted lots of new interest from developers to its platforms, from IBM's Lotus Notes to video game companies to independent mobile developers. That's not because they are friends of Apple, but because all those companies like to make money.
iPhone 2.0 SDK: Video Games to Rival Nintendo DS, Sony PSP

Gruber and the Trappings of Apple's Moral Obligations.

Well guess what? Apple similarly doesn't have a moral obligation to make developers rich or to cede them its business whenever they invent ways to potentially screw the company over. Apple is a business, just like very other hardware and software company, and just like every third party developer. All companies do what is in their own best interest.
In Apple's case, its own best interests are often aligned with those of the consumer, because smart products, elegant design, and competitive innovation are things that benefit both. Developers benefit by catching the wave of Apple's surging popularity.
For decades, Mac writers have been blaming Apple with "moral transgressions" for not providing third party developers a welfare handout for being smaller. This is inappropriate when addressing any rational, intelligent adult audience. Talking about what Apple "should do" is just more of the same.
Gruber said the original article was "such bullshit it hurts my head." If he wasn't so wrong on this issue, his simplistic morality play tirade would be easier to laugh at.
Did you like this article? Let me know. Comment here, in the Forum, or email me with your ideas.

Like reading RoughlyDrafted? Share articles with your friends, link from your blog, and subscribe to my podcast (oh wait, I have to fix that first). It's also cool to submit my articles to Digg, Reddit, or Slashdot where more people will see them. Consider making a small donation supporting this site. Thanks!