Ten Striking Parallels Between Microsoft and John McCain
September 15th, 2008

Daniel Eran Dilger
While Microsoft and the John McCain presidential campaign might not share many political views, there are striking similarities on how both advertise and promote their respective products. Here's ten parallels between the two that demand attention.
.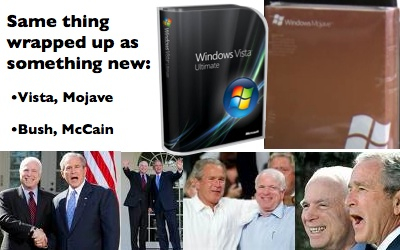 1) Trying to trick unsatisfied buyers by promoting the exact same thing under a new name.
Microsoft's Mojave Experiment attempted to trick users unsatisfied with Windows Vista by showing them a brief demo of a "new operating system" that was in fact, Vista in a brown box labeled Windows Mojave. Microsoft carefully avoided drawing any attention to the real problems in Vista that users are actually complaining about.
The McCain "change" campaign insists it will shake up Washington by promoting new wars, doing nothing to protect American jobs, and only lowering taxes on the ultra rich. That's what Bush did, resulting in massive debt related to an unnecessary war, corporate loopholes that encourage businesses to take jobs outside of the US, and economic crisis for the majority of working and middle class Americans.

Microsoft's Mojave Attempts to Wet Vista's Desert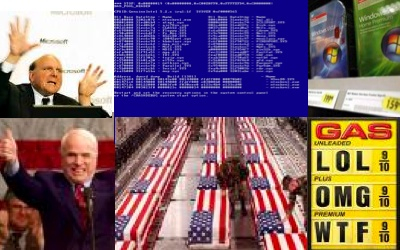 2) Claiming to compete well against itself.
Microsoft promoted Windows XP as being safe and reliable, despite its security malware crisis. Windows Vista was introduced as being much more safe and reliable than Windows XP, which Microsoft now describes as having serious problems. The company is now beginning to promote Windows 7, due around 2010, as being the solution to serious problems in Vista. Each is described as a "major rewrite."
In 2000, Bush campaigned on a morality platform. In 2004, Bush campaigned on a platform of keeping the US safe after starting a war on false premise and failing to track down and capture 9/11 mastermind Osama Bin Laden. Now, in 2008, McCain is campaigning to start new wars and solve serious problems that involve a "major rewrite" of Washington politics, without articulating how doing the same things will solve past problems or change anything.
Microsoft's Zune, Vista, and Windows Mobile 7 Strategy vs the iPhone
Windows Vista, 7, and Singularity: The New Copland, Gershwin Taligent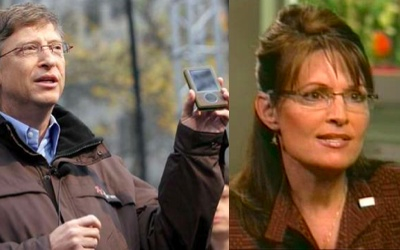 3) Presenting a media darling that can't do more than recite "me too" promises.
After Microsoft's PlaysForSure was badly humiliated by the iPod, Microsoft pulled out a copycat device and assured pundits that the new device would challenge Apple's market share. However, while the new product gained a disproportional amount of media attention because it came from Microsoft, it fell short on specifics and users weren't told about its actual features until it started shipping. Disappointed users were assured it would improve, but it really never did, and tanked in the market.
After McCain's campaign was badly humiliated by Barack Obama, McCain pulled out a copycat device and assured pundits that his pick for Vice President would challenge Obama's popularity. However, while Sarah Palin gained a disproportional amount of media attention, she has fell short on specifics and citizens haven't been told about her actual positions. They are assured she will improve, but there's really no reason for thinking she won't tank, as a candidate, a potential vice president, or in the role of president of the US.
Zune Sales Still In the Toilet
Zune vs. iPhone: Five Phases of Media Coverage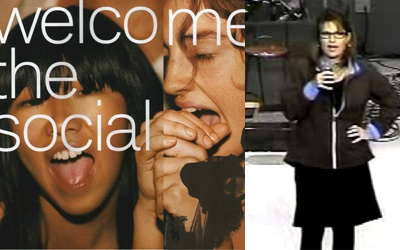 4) Pretending to play the role of an underdog outsider while actually being an authority with monopoly control

While Microsoft exercises monopoly control over the PC market and has so little effective competition that it can charge whatever it wants for its software, it portrays itself as a scrappy underdog in markets it still trying to monopolize, including video games, music DRM, mobile phones, and audio players. Both PlaysForSure and its new solo MP3 player were marketed as "alternative choice" products that did their own thing, despite really being more of the same failed Microsoft Windows Media DRM.
While the Republicans exercise enough control over the three branches of US Government and have so little effective competition that they can change whatever they want, McCain portrays his party's campaign as a scrappy underdog in a race to hold onto executive power. Both Bush and the new McCain have been marketed as "alternative choice" candidates who do their own thing despite pushing more of the same failed strategies for a government that only serves foreign interests and the ultra rich.
5) Childishly pretending to be offended by the truth …

Microsoft's executives have come unglued in phony outrage about Apple's "Get a Mac" campaigns, which accurately portray Vista as having issues related to hardware and software compatibility, malware problems, and poor performance.
McCain's campaign has come unglued in phony outrage about Obama's comment that McCain's policies amounted to "lipstick on a pig" or "old fish in a piece of paper called change," claiming that Obama was referencing his running mate, who had earlier referred to herself as a pitbull wearing lipstick. McCain used the same expression in criticizing Hillary Clinton's healthcare plan.
Gates, Seinfeld and the $300 Million Ad to Nowhere
6) … while shamelessly advertising misinformation and outright lies.

Microsoft has frequently cited false comparisons of Mac OS X Leopard's vulnerability statistics with numbers for Windows Vista, while being fully aware that those numbers do not reflect reality and do not even serve to compare similar code. Microsoft's executives have also flat out lied about the company's market share, with CEO Steve Ballmer casually citing 20% to 25% of the market for its failed MP3 player, a product that really grabbed less than 5% of the market.
McCain has frequently cited false comparisons of Obama's policies, implying his opponent wants to teach explicit sex to kindergarten classes. McCain flat out lied in misrepresenting Obama's tax proposals as raising taxes, when in fact they would lower taxes for the majority of Americans, and only increase taxes for those making more than a quarter million annually. Obama would actually lower more taxes for more Americans more significantly than McCain.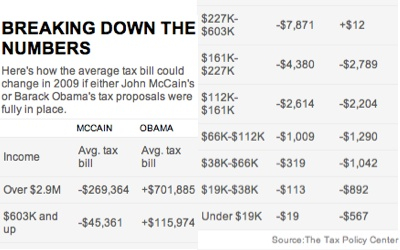 Paul Thurrott calls Apple "the Bad Guys" of Microsoft's $300 Ads

7) Appeals to uninformed audiences who don't even realize that what they're celebrating is not in their own best interests.

Microsoft promotes its products to the enterprise and tech enthusiasts, the very people who suffer the most from picking a platform saturated in security flaws and indifferent to their needs. Yet these victims of Microsoft's monopoly control wholeheartedly support the company and willfully submit to a tech monoculture because they are duped by a company who does not share their interests.
McCain promotes his campaign to soccer moms and rural audiences, the very people who will suffer the most from picking a platform that really only represents the needs of the ultra rich. McCain says he will lower taxes, but in reality, "the McCain plan would predominantly benefit the most fortunate taxpayers, offering two new massive tax cuts for corporations and delivering 58 percent of its benefits to the top 1 percent of taxpayers. The Bush tax cuts provide 31 percent of their benefits to the top 1 percent of taxpayers."
8) Calls opponents "elitist and expensive," while being far more elitist and expensive.

Microsoft says Macs are expensive without pointing out that Macs save users wasted time cleaning up problems and money spent on anti-malware cleanup. Ballmer described the iPhone as being the most expensive phone ever, despite the far more expensive Windows Mobile models. And the company calls Linux expensive in total cost of ownership and a socialist "cancer" that hurts businesses, despite the fact that Linux actually helps get the most expensive spending under control by pulling expensive software licensing out of the server room.
McCain says Obama will raise taxes without pointing out that Obama will actually cut takes for most Americans apart from the most wealthy. McCain refers to liberals as big spenders, despite the vast spending of his own party that has sent the nation into massive debt, and the trail of massive debt that his running mate left behind as small town mayor. He says Obama's plans will be expensive and McCain's supporters describe them as a socialist cancer that hurts business, but Obama will actually help get the most expensive spending under control by pulling the military out of occupation of Iraq, a nation with a huge cash surplus to defend itself.
Microsoft's Unwinnable War on Linux and Open Source
Soviet Microsoft: How Resistance to Free Markets and Open Ideas Will Unravel the Software Superpower
9) Can't function on the web.
Microsoft's efforts on desktop email and web have been plagued with security problems, and it has been unable to deliver usable mobile web and email products. In just a few months, Apple's new iPhone surpassed the entire installed base of a half decade of Windows Mobile devices in actual web browser use.

McCain's efforts with desktop email and web have been plagued with a lack of interest in learning how to use modern communication and information tools. His campaign was surpassed by Obama, who raised grassroots support for his campaign from individuals, rather than corporate sources who will demand favors in return.
Canalys, Symbian: Apple iPhone Already Leads Windows Mobile in US
10) Writing off an individual who wants to change the world as being a "celebrity…"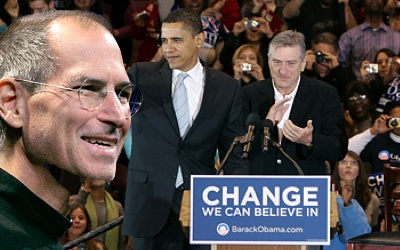 …then attempting to become a celebrity without changing anything.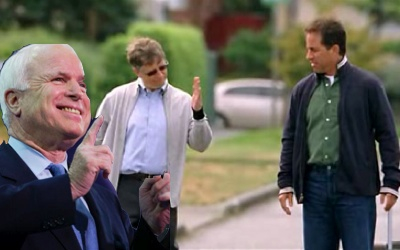 Microsoft and McCain: More of the Same.
Note that this compairson is not meant to suggest Microsoft agrees with McCain in political issues. Microsoft has actually pulled its funding from the Republicans it has been primarily courting since 2000, and has recently been putting its cash almost exclusively behind Democrats, no doubt because it sees Obama winning.
It also shouldn't be taken to suggest approval of Microsoft by McCain's campaign, nor disapproval of Linux or Apple products by McCain. In fact, readers have forwarded in evidence that McCain's campaign uses Macs and Apple's Keynote software to publish its presentations.
The only real commonality is that neither Microsoft nor McCain is served by telling the truth, because they really have nothing to offer. And so they desperately try to copy those who are successful, downplay reality with distractions, and outright attack the truth with blatant lies.
They can only get away with it if Americans keep buying it.
Obama's Apple, McCain's Microsoft: the Politics of Tech
What You Expected, What You Got
This is now:


That was then:


Don't let it happen again.

Did you like this article? Let me know. Comment here, in the Forum, or email me with your ideas.

Like reading RoughlyDrafted? Share articles with your friends, link from your blog, and subscribe to my podcast (oh wait, I have to fix that first). It's also cool to submit my articles to Digg, Reddit, or Slashdot where more people will see them. Consider making a small donation supporting this site. Thanks!