Report: Mac Spending Up Despite Poor Outlook for Consumer Electronics
September 14th, 2008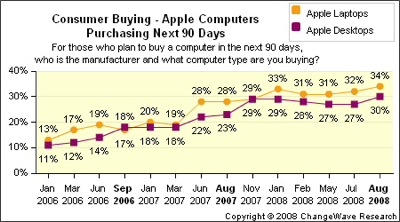 Prince McLean, Apple Insider
Changewave's latest customer surveys report that general consumer electronic spending is low and trending lower, but that Apple's Mac sales are up and rising by a significant margin.
The group surveyed 4,416 participants in August to find that only 15% report plans to spend more on electronics over the next 90 days, while 34% plan to spend less. Changewave's surveys are held monthly and serve as an accurate overall barometer of future spending.
AppleInsider | Report: Mac Spending Up Despite Poor Outlook for Consumer Electronics