Maxillofacial Blues or Dead Chins Don't Talk
September 14th, 2008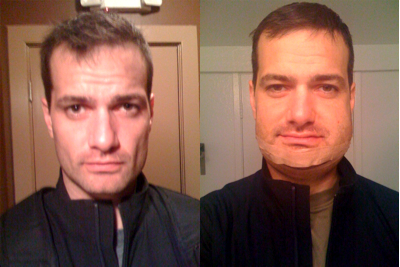 Daniel Eran Dilger
I certainly learn more when I'm under pressure. I can drift along comfortably for days without any epiphanies, but introduce some chaos, trauma, challenge, and threat, and I'll discover all sorts of new things about the world around me. Having my jaw busted up and rewired together has been one of those events that get me thinking.
.
So I'm not recommending elective maxillofacial surgery as a creative muse, but it seems like I should share some of my discoveries, given that most people won't ever have the opportunity to spend a couple weeks in puree heaven.
The great thing about having your lower jaw cut open is that there is one major nerve that runs within your jaw, the same one dentists target when you're having any teeth worked on. The surgery stretches that nerve, killing pretty much all pain to your entire lower jaw, which is handy because if it were live, I'd have to be chained to a morphine machine.
I'm also fortunate to have had a great doctor who is really experienced in what he does; his team does something like 350 surgeries every year. The day he did mine, he had already done one and was moving on to somebody else afterward. Precision is nice, because it means faster healing and ideally less trauma to that nerve. If he stretches it too much, I'll lose any feeling in my face and not get it back. As much as I want to ignore it right now, I do want the feeling to come back at some point when everything else has healed up.
Not being able to feel my chin, on top of it being in a new place, results in a curious phenomenon where I can hold a glass to drink, and feel my lip, but I have the clear sense the whole time that my lip is really at my chin and my mouth is wide open, when that isn't the case at all.
Also odd is struggling to get a shirt on around my huge giggidy giggidy chin. I've also become acutely aware of fluid dynamics in my body and tension relationships between every muscle than I rarely ever contemplated before. Bending over sends a rush of blood into my face, and leaning back to wash my hair in the shower puts tension across my face in ways that require me to hold my head in place using my hand. It's amazing how much we do without thinking about it when everything is working normally.
There Are Some Things Money Can't Buy
Wednesday.
When you're in the hospital, you have to ask for pain meds or they think you don't need them. I'd gotten 3ml of morphine after surgery, and they gave me another 2 ml when I asked for it. When I broke my arm, I was getting 4ml every fifteen minutes, but I was also in more pain. The problem with asking for more is that they won't let you go home for an hour or so after, and I decided that going home was better than getting my money's worth of narcotics.
Morphine in your IV is so much nicer than anything you can swallow. I actually don't like taking narcotics by mouth, whether vicodin or codeine, in part because it stops the GI train and I prefer that to arrive at the station on time. Plus, I'm not really into being stupid, at least not the kind of stupid that comes from narcotics.
After getting driven home from the hospital, I forced down a pint of milk and a Super Protein Odwalla and a quarter bottle of V8 fruit juice, barely 700 calories of the 2500 I'm supposed to get down. I went to sleep kind of late and woke up after dreaming about what crisis might befall were I to rip my teeth apart on accident.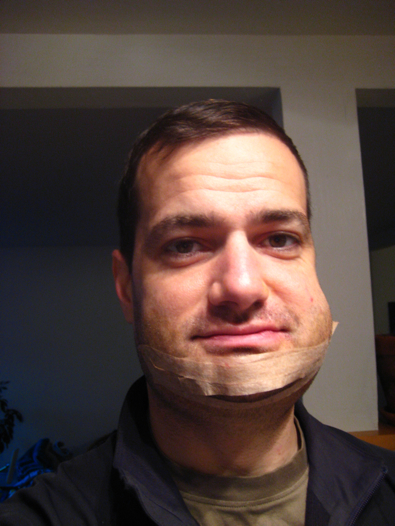 Thursday.
I woke up on day two even fatter faced than before. I ate all of the same things, but added a quart of yogurt drink that supplied another 760 calories. Plus my friend Jon brought over a Jamba Juice which I drank a little bit of before putting it in the freezer. My big accomplishment of the day was ordering groceries for delivery from Safeway.
I was just beginning to realize how different life is when you can't open your mouth. No yawns, no coughing, no spitting, and anything you put in your mouth has to go down or be wiped off your shirt a tiny little bit at a time. Anything that gets past your teeth has got to go down too, or risk being forced back through your teeth in a process that is really involved and unpleasant, particularly given the fact that you can only feel about half of what's going on. I eat most meals in from of the bathroom sink just in case things get messy, but so far I haven't yacked, which is really great and amazing and unusual.
I also found that the doctor had apparently cut into my chin, something that wasn't in the plan as far as I knew. Apparently, my chin was too far out or whatever, and so he shoved a file down the inside of my face and did whatever his executive decision called for. I'm glad he didn't wake me up to ask for permission, but that extra bit also means that I have to wear some paper tape around my chin for five days. I can only guess it's there to hold my chin skin against my chin until things stitch back together, so I don't grow together all sloppy like.
I suppose that means I'll lose my chin cleft, along with the prominent flavor saver valley that has so strongly defined the line between my lower lip and my chin. At this point, I could Botox my bizarre accordion forehead away and pretty much look generically computer animated, although I do retain plenty of identity in childhood scars on my lip that resulted from some sort of shield action reflex I did that always sent my mouth at any incoming sources of trauma.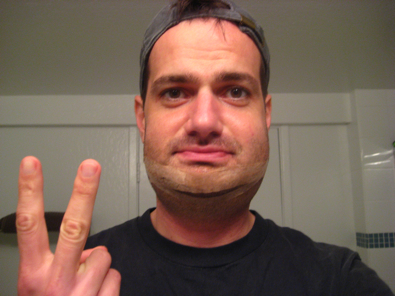 Friday.
Another day of the same food, where I use the term food loosely. Safeway delivered my stuff, but substituted some of my soda for diet. I explained in huffing breaths between my teeth that the only reason I'd ordered soda was for some easy calories, and that diet wasn't going to work out, and could they take it back. They were out of the prune juice I wanted, so in protest I went on a poop strike for a few more days. At some point, I'm going to have to rig up some sort of vacuum attachment, because that can't be a good thing.
I have only rarely taken my codeine syrup, usually only at night before I go to bed. I've also been pretty good at keeping ice bags on my face. The ones they gave me at the hospital are absurd, as they're made out of cloth paper that is too stretchy to stay in place. It's really only good for humiliation. I looked like the love child of Droopy Dog and Colonel Sanders.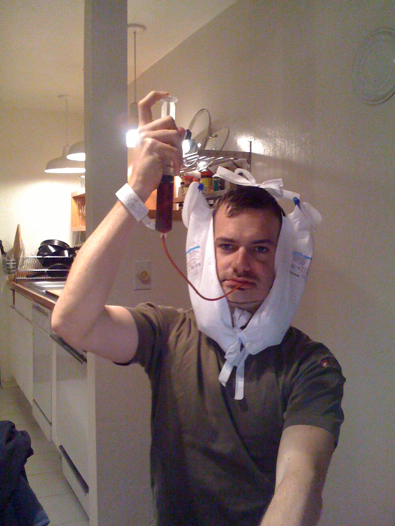 I managed to construct a better way to pack ice against my face that involved putting an ice pack on a kitchen towel, wearing a cap backwards, and tying the towel on like a wild west handkerchief around the brim of the cap.
This worked awesomely enough to allow me to leave the house Michael Jackson style and go for a walk to the park, although I was regularly tempted to pull the thing off and scare small children. Nobody gave me much attention on the street, as by San Francisco standards, I was only looking mildly eccentric.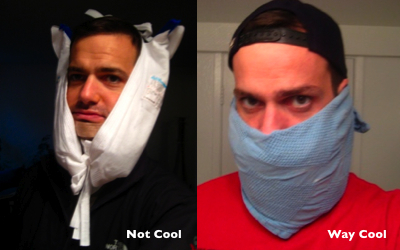 My other experiment was blendering food. After failing to strain out all the stuff in some miso soup the night before and being tasked with picking green bits out of my wires for longer than I enjoyed drinking it down, I decided it was time puree stuff. I decided my show should be "Will It Blend, and Then Can I Drink It?"
The first candidate was Campbell's Vegetable Beef soup. Yes it blends, and no it's not too bad to get down, but no it doesn't blend enough to not make a huge mess. Not even well blendered Hydrolyzed Beef bits can fit through my teeth. So rather than trying to drink it down sippy cup style, I loaded it into my giant syringe and forced the tube on the end to the back of my teeth and tried my best to force it directly into my mouth.
That's what I was doing (albeit with juice) when my friend took the surprise photo above just as I looked up from my puter the first day (I still had my hospital band on). While this syringe is giant as far as syringes go, it only holds two ounces, which turns an Odwalla into an eight step process.
I never thought of getting food down as such a challenge. My best days, I get 1800 calories down of my 2500 target. I'm not supposed to lose weight, because when you body goes into starvation mode, you stop healing and focus your efforts on finding food. In my case, I already have a problem with forgetting to eat until I'm tired and realize that I'm starving myself.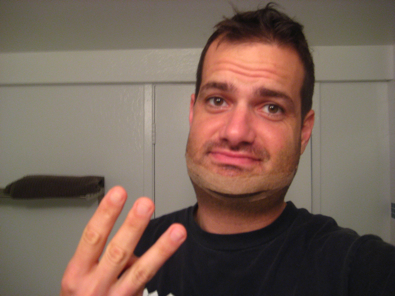 Saturday.
I successfully blended some frozen Jamba with a banana, a bit of apple sauce, and some milk. I credited myself with 600 calories for that. I've also been cutting my Ensure with even fatter chocolate milk, and kicking myself for having bought 2% milk.
I grew up in Montana drinking raw whole milk from a dairy. We'd get gallon jars with two inches of really heavy cream on top (the kind that sticks to the wall in one glob if you threw it, slight exaggeration), which would be mostly skimmed off and used for mom and dad's coffee. The rest of the cream would get stirred in to the milk (repeatedly, as it never got homogenized), resulting in something that was probably 10% milkfat. I remember "store bought milk" tasking like water when I was a kid, and that was "whole" milk, something like 3%.
Since then, I've weaned myself down to 2%, and now whole milk from the store tastes like butter. I can't imagine going back to drinking real milk from the cow. I also don't know how I was such a skinny kid growing up, drinking as much freaking super whole milk as I did. In any event, milk is super full of fat even when you take most of it off, so I'm relying on milk to make up most of my calories.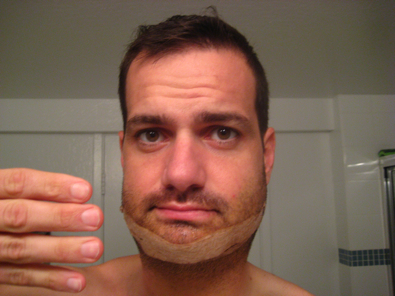 Well, that and Odwalla. I feel like I'm at WWDC, where all there is to eat is all the 400 calorie bottles of sickly sweet juice that you can force down. Apart from my walk to the park on Friday, I've been sitting around the house. The lack of air and movement is kind of killing me. I'll have to force myself out tomorrow.
The nurses said girls tend to heal faster than guys because they talk more, and moving your face gets things moving and healing faster. I've made some efforts to talk, but it's kind of hard when its not necessary, and I can't get across much anyway. I thought it would be comical to start podcasting now, as it would be both exercise and really gross in a darkly funny sort of way. I'd constantly be throwing in "Putting on the Ritz!" from Young Frankenstein.
The other aspect of moving things around relates to how your body deals with all the dead fluids that were incurred in the trauma. I learned something new about myself as I watched all the dead junk drain from my face into my torso, leaving a necklace of black death on my chest, surrounding a yellow bit of dead. It was like the part of my face that died was searching for an exit via gravity.
The photo doesn't show it as dark as it looks in real life. It also doesn't indicate that it hurts. The shadow of death does look a bit like an evil alien face, or perhaps a mushroom cloud.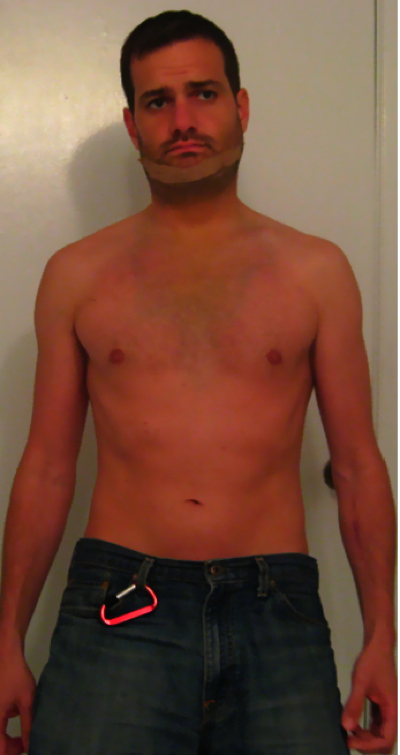 You can also see the huge scar on my skinny left arm (on the right in the photo), from my last surgery. Oddly enough, the scar is exactly as long as an iPhone.
Tomorrow is day five, which should allow me to take off the chin strap and even shave if I can pull myself to do it. Being that it's Sunday, I might just gug down some codeine instead and leave the whole chinstrap removal and shaving till Monday.
In the meantime, I've discovered why the iPhone theme has been off on RDM, and why articles haven't been hitting Twitter. Apparently somebody had enough time to break into my WordPress server and mess with things, leaving me a personally addressed note about how WordPress "sucks."
Okay teenage genius, I concede that your aptitude at exploiting open software is really amazing, but I'm too freaking lazy to deal with crap right now, so please take your skills somewhere they might serve you or society or maybe someone in need. That is all.
In my day, we targeted corporations with our pranks, and actually risked getting caught, not just being a pain to individuals. Oh the 80s. Kids nowadays, I tell you.
Dan