The Other iPhone Apps Store
September 13th, 2008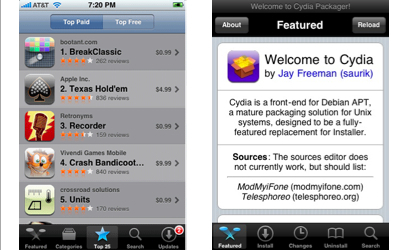 Daniel Eran Dilger
Pundits are worried that Apple may excessively restrict developers in the iPhone Apps Store. Google is promising mobile developers more freedom in Android Market, and Windows Mobile and even the Palm OS are claiming less restrictions and more variety and options in mobile software than what is available on the iPhone. Absent from all this panic is any consideration of the iPhone's other apps store: the wide open market for jailbreak apps.
Apple and the New Software Market
How Apple Is Changing the PC Software World… Back
iPhone Apps Store Growing Twice as Fast as iTunes Music
The Other iPhone Apps Store
SDK 3.3.3: The iPhone Podcaster Surprise Myth
Banned iPhone Apps and the John Gruber Podcaster Defense
The iPhone Monopoly Myth
.
Jailbreaking the iPhone.

Prior to Apple's launch of mobile software in iTunes, developers built their own tools for creating unofficial iPhone apps. Using those "jailbreak" apps required exploiting a security flaw on the phone to break in and install the unofficial software.
Apple's efforts to address the iPhone's security flaws have regularly closed those exploited holes, forcing the unofficial software market to discover new ways to bypass the iPhone's security model to allow unsigned, unofficial third party software. An increased understanding of how the iPhone works has made installing unofficial software easy enough for the community to release a jailbreak update within days of every new software update from Apple.
With the official launch of the Apps Store in iPhone 2.0, the jailbreak community has scaled down for two reasons: first, there was no longer a massive vacuum of unaddressed iPhone software demand to service, and second, there was now a financial motivation for developers to sell their work in Apple's store, rather than just giving it away.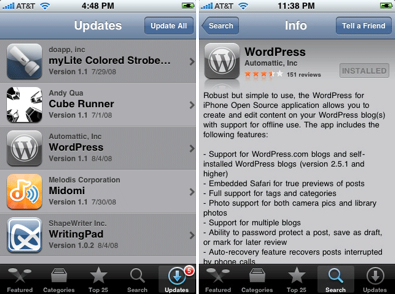 Inside iPhone 2.0: the new iPhone App Store
Reasons for Running Around the Apps Store.

At the same time, there are a number of limitations placed on developers by Apple in order to sell their work in the iTunes App Store; those limitations give some developers reason to continue to build unofficial applications, either for free, paid for by ads, or monetized through some independent mechanism the developer handles itself.
Performance Limitations: There are a number of behaviors Apple doesn't allow in order to keep battery life acceptable and to prevent overheating. These include limits on the kind of network polling apps can do, and a rule against setting up processes that run in the background. Some users may want to ignore these safeguards in order to do things they can't do with official third party software from the Apps Store.
Security Limitations: Apple requires that official apps be signed with a certificate, which prevents unknown apps from running and allows the company to remotely deactivate rogue apps after they have been distributed. Apple also sandboxes each app into its own area, so apps can't access each others' files. Apple also forbids plugins and other methods for running code outside of its security model.
Unofficial APIs: There are some areas of the iPhone that Apple doesn't expose to developers, including access to some low level hardware such as the dock connector (for a USB attached peripheral) or Bluetooth. In some cases, this is because the APIs aren't finished, but in other cases it is simply because Apple doesn't want developers doing certain things. Unofficial apps can use private APIs, but they will break once any significant changes are made on Apple's side, so Apple insists that developers not use them.
Competitive Limitations: Apple has clearly articulated that it doesn't want to host alternatives to iTunes' podcast listings, Adobe Flash, Sun Java, or other third party APIs on the iPhone, and it also won't support software that runs against its agreements with AT&T, such as tethering tools and VoIP software that works over mobile networks rather than WiFi.
Distribution Limitations: All of these factors are examples of distribution limitations, but in general, the Apps Store also prevents developers from distributing unfinished, DIY, work in progress code that is popular among open source projects. Nobody can release a half finished iPhone App in iTunes under the GPL and allow other developers to contribute toward it, although developers can share such code amongst themselves.
These factors all contribute toward a desire to break out of Apple's ecosystem and distribute software without having to deal with the limits Apple set up manage performance, security, maintainability, and its own competitive needs.
Second Hand Third Party Apps.

Users who want to play outside of the official App Store that Apple runs within iTunes can install Cydia, which functions as package manager, specifically a graphical front end for APT, the "Advanced Packaging Tool," used to automatically find and download software on Linux and other Unix-like operating systems.
Choice is a great thing. While Apple doesn't support the jailbreak community, the fact that it exists means that complaints about Apple's solitary control over iPhone apps is not valid. Google says its Android Market will offer more freedom to users of Android phones than users of the iPhone can experience, but that's not really true.
Android, Palm, Symbian, and Windows Mobile can claim to offer less restrictions than Apple itself, but not greater freedom than the iPhone jailbreak community. In fact, users of those other platforms can only get the kind of software that the jailbreak community can deliver. They can't benefit from Apple's tightly controlled iTunes App Store environment where security is paramount, prices are low, and quality is high. The iPhone delivers the freedom of both models, and lets users decide.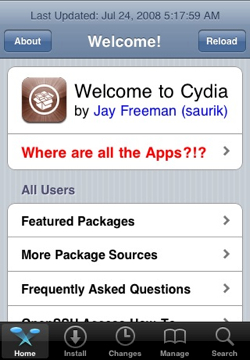 Will Google's Android Play DOS to Apple's iPhone?
Google's Android Market Guarantees Problems for Users
Mobile App Store Alternatives

Apple's own Apps Store involves a number of compromises to deliver workable mobile software for users, and some users and developers are chafing under those limitations. A number of existing mobile software platforms offer fewer limits, but that freedom also comes at a price.
Expense: Most commercial mobile software is far more expensive that the titles found in the Apps Store, in large part because of piracy. Developers know most users will not pay for their work, and therefore they have to price their titles high enough to get some revenues from the minority of users who will pay for it.
Apple's App Store has proven that DRM can act to lower prices, increase choice, and create a successful market that benefits everyone. Of course, DRM can also be used to exact high prices and limit choice as Microsoft demonstrated with PlaysForSure and the Zune. It's not DRM that is bad, it's the implementation.
DRM is certainly going to work better in the hands of a hardware vendor seeking to create a viable software market than in the hands of a software maker working to "monetize" other developers' work. However, developers who don't like DRM at all can distribute their iPhone software without it through the jailbreak community. The iPhone provides both choices, while competitors don't.
Quality: Most mobile software is terrible for two reasons: the first is related to piracy expense noted above; few developers can commit serious resources to developing titles that have little potential for return. The second is that other mobile platforms have archaic development tools and run using outdated operating systems that are stretched thin to support a wide variety of different kinds of phones.
Apple has tight control over the platforms running mobile software in the Apps Store. Currently there are two generations of iPod touch and two versions of the iPhone. This regulated, predictable platform makes it much easier for developers to take full advantage of innovative technologies such as accelerometer controls, which only appear on a few Windows Mobile phones and is optional on Android and Symbian phones as well.
Security: The opposite of security is convenience. It's great to not have to remember a password, and it's easier not to have to deal with signed software. Apart from the iPhone, no other mobile platforms have made authority-signed software mandatory across the board, although all are investigating ways to add this.
Many signing programs allow vendors to sign their own apps, which means users would get software that claims to be signed but without any authority actually backing it up. Of course, it isn't difficult for Chinese spammers and Nigerian scammers to sign their own software and distribute it, enabling users to install "signed" software that installs spyware or secretly bills users for paid SMS message fees. They can't do that through the iTunes Store however, because they'd have to register with Apple and risk having their certificate killed if they misused it.
Why Apple keeps its iPhone 2.0 SDK under NDA
iPhone 2.0 SDK: How Signing Certificates Work
Control Controversy Irrelevant to the iPhone
And so, while debates may rage between users who don't like paying a few dollars for software in the Apps Store and would rather collect the work of developers without payment; and among users who like the open software model of being able to distribute any code, where the user is responsible for vetting their own risks; and for unrestricted options that take full advantage of phone hardware without regard for future maintainability as the operating system changes, all of these factors have absolutely no relevance on the iPhone because Apple's App Store is only one way to load software onto the iPhone.
Users who want to risk their security outside of authoritative certificate signed software, dabble outside of Apple's quality control that prevents them from obtaining fart joke apps, and venture into the wide open world of apps without guardrails can certainly do that in the jailbreak community.
Other mobile platforms can only offer jailbreak-level software. As for me, I want both options, because sometimes I just want a $5 game that works and that won't install some trash in the background. I also want to know that alternative options are there for things that Apple hasn't yet addressed, including video recording. The iPhone is currently the only mobile platform that delivers both options.
The iPhone critics need to stop forgetting to tell that half of the story.
Did you like this article? Let me know. Comment here, in the Forum, or email me with your ideas.

Like reading RoughlyDrafted? Share articles with your friends, link from your blog, and subscribe to my podcast (oh wait, I have to fix that first). It's also cool to submit my articles to Digg, Reddit, or Slashdot where more people will see them. Consider making a small donation supporting this site. Thanks!