How Apple Is Changing the PC Software World… Back
September 11th, 2008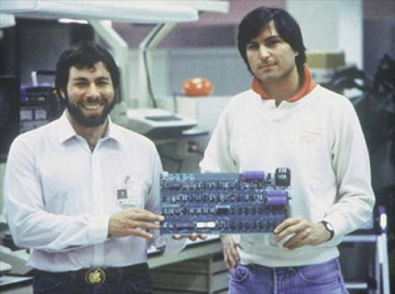 Daniel Eran Dilger
Despite Apple's current successes, it seems that nine out of ten pundits agree: Apple needs to change its hardware-centric business model to copy the software-oriented success that Microsoft saw in the 90s, or die trying. They're wrong, here's why.
Apple and the New Software Market
How Apple Is Changing the PC Software World… Back
iPhone Apps Store Growing Twice as Fast as iTunes Music
The Other iPhone Apps Store
SDK 3.3.3: The iPhone Podcaster Surprise Myth
Banned iPhone Apps and the John Gruber Podcaster Defense
The iPhone Monopoly Myth
.
The Software Surprise.

In the 80s, the early PC world was quite surprised to discover that software turned out to be more important than hardware. Everyone in the 80s (Apple, Atari, Commodore, IBM, NeXT, and all the PC makers) thought that building hardware was going to be the way to make money.
By the end of the 80s, we'd figured out that Bill Gates had happened to be in the right place at the right time to dominate the PC industry and lead it into a truly awful place, where everything was ugly and buggy and insecure and unstable, and we had to pay him to keep the system going.
However, Microsoft is now running into problems with its software-centric model, and Apple is demonstrating a new model that works better. It's actually the same model Apple pioneered in the 80s.
SCO, Linux, and Microsoft in the History of OS: 1980s
Office Wars 1 – Claris and the Origins of Apple iWork
Office Wars 3 – How Microsoft Got Its Office Monopoly
The Problem with Retail Software Profiteering.

Gates recognized early on that domination of the PC industry through retail software was not going to be sustainable. After selling Office for $500 for years, it's now competing against free alternatives that have hammered Microsoft's ability to extort vast sums of money in exchange for basic functionality.
Microsoft has been working frantically for decades to figure out the elusive trick of how to turn retail software sales into subscription sales, because all retail sales will eventually be eroded by competition as the market, even when battered by anti-competivie restraint of trade thugs, will eventually climb back up like the movie hero and act to correct things before the titles roll.
It's simply impossible to make huge margins on high retail prices and hold off competitors forever. Market forces will act to erect competition, driving prices down until consumers relax. At some point however, low prices can act as a barrier to competition, instilling the sort of market pressure WalMart has propagated: low prices, high volumes, and sustainable profits that are hard for others to match.
Microsoft's Barrier to Competition.

The closest Microsoft has come to setting up such a defendable retail model is its OEM deals. Every PC sold brings in revenue to Microsoft, and nobody else can muscle into the OEM game to compete against it because those contracts act as great barriers to entry. No functional market means no competition and no reduction in prices.
This has resulted in making Microsoft weak (as a lack of competition always does), but it still works because the correcting actions of market forces are denied through low prices and volume contracts. NeXT, OS/2, and BeOS couldn't match Microsoft's low, low prices in high volumes.
Apple can't today, and even the free Linux is finding it nearly impossible to compete against a product that is priced so low it appears to be free, while paradoxically being one of the highest priced components of the PC, and certainly the one that has historically resisted lowering its price the most: the Windows license.
Windows 95 and Vista: Why 2007 Won't Be Like 1995
Selling Hardware Through Software.

Two decades past the 80s, Apple is still a hardware company and makes the vast majority of its revenues selling iPhones, iPods, and Macs, not iTunes downloads or iLife or Mac OS X sales.
Pundits witnessing Microsoft's exploitation of the PC market seem to think there is room for multiple monopolists, and regularly invite Apple to fail in trying assume the impossible, nonsensical role of "monopolist number two" by launching the same software business that failed to work for the Palm OS, not to mention the classic Mac OS a decade ago.
However, what they haven't figured out is that Apple has a discovered a business model that works better than restraining trade in the software market through monopolized low OEM prices. Apple is using low software prices to return the software business to what we thought of it in the 80s: a lubricant for hardware sales in a vibrant competitive hardware market, not a viral layer of monopolizing control that prevents competition.
The Egregious Incompetence of Palm
Rewriting the Rules of Software.

Apple has set up three new markets for competitive hardware, lubricated by low cost software in the form of iTunes music, videos, and mobile software. Apple's iPods, iPhone, and Apple TV hardware all have a variety of competitors.
Interestingly however, they do not really seek to set up competitive software markets, as while there are alternative sources of audio and video content and even unofficial iPhone software, there is little room for competition in the low priced content market, too little to sustain PressPlay and Duet and PlaysForSure and most every other music store outside of certain niche markets.
Microsoft also can't climb into iTunes and dominate Apple's hardware sales with viral monopolizing, and its independent efforts to spread the Windows model to its own set of music players, mobile phones, and PDAs have all failed as well. Apparently the Windows model only works when you are handed a monopoly from the start by a gigantic outsider entering the market. Unfortunately for Microsoft, there really aren't any IBMs left.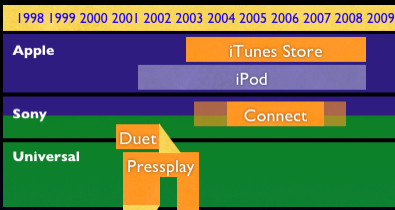 Rise of the iTunes Killers Myth
Is Number Two Amazon Rivaling iTunes in Music Sales? Haha No
Installing Competition Where Competition Failed.

Additional layers of apparent paradox appear in Apple's content business. iTunes' competitors, and particularly PlaysForSure, all largely failed to compete because there wasn't enough of a market to sustain multiple options for buying the same stuff.
In an attempt to replicate its Windows PC monopoly, Microsoft set up fake competition that pitted hardware makers and music stores against each other, while all of them were simply reselling Microsoft's designs and DRM. The PlaysForSure market was no more of a genuine market place than than various food kiosks at Disneyland.
Apple did just the opposite: it sells music, videos, and mobile software from a variety of producers, not to skim off all their profits in a fake market, but with the intent of creating ambiance and foot traffic.
Rather than running a bunch of seemingly differentiated Disneyland eateries like Microsoft's PlaysForSure, Apple's iTunes is run like a neighborhood farmers' market, where goods from a variety of participants are sold to consumers in one place with minimal overhead, not to make a killing, but to create a vibrant destination.
A farmers' market can't be turned into a vast profiteering enterprise without destroying it, nor can multiple farmers' markets compete to the death in the manner of big box retail stores. This has confused the pundits, who have sought to brand iTunes' success as a "monopoly," as that is the only world they know.
The iTunes Monopoly/Failure Myth
Evicting Microsoft from Monopoly Control.

In music, video, and mobile software, Apple has taken monopoly control away from Microsoft; it has forced competition into software, turning the tables on the PC model to make software the high volume, low priced commodity sale and hardware the necessary bit to run it.
In Apple's farmers' market model, the record labels, movie studios, and mobile software developers, just like the PC makers under Microsoft, are happy to play along because they're making far more money in iTunes than they were when there was no association governing the music, video, and mobile software downloads market.
Apple's iTunes has turned attention back to hardware. Apple will eventually bring this model back to the PC world and finish off Microsoft's monopoly there, too.
High Margin, Low Revenue vs Low Margin, High Revenue.

Microsoft's efforts to sell its software automatically with every new PC resulted in fat, high margin but low revenue sales. PC makers pay around $30 for an OEM Windows license on a new PC, but Microsoft's Windows margins are around 80% (81% last year).
Those sales were basically a subscription sale, as PC users would always buy another PC running Microsoft's software because there wasn't really any choice. Microsoft doesn't make any other significant money on PCs outside of Office sales and some accessories, both of which it has worked to tie into OEM sales to prevent competition from developing.
Apple's hardware sales (at a lower 35% margin, but on a $400 device or $1500 average computer sale) are recurring by user loyalty, not due to a lack of competition in the market. Even in markets where it dominates, there are plenty of viable alternatives. Apple is also getting a cut of music and mobile apps, although this is small and is really only intended to maintain self-sustainability.

Microsoft's Outrageous Office Profits

The Brittle PC Monopoly vs the Flexible Mac Market.

Apple's business model makes a lot more sense, particularly as it scales up. And it is scaling up. Microsoft has to own the entire PC market and can't lose any of it to competition because doing so will have a massive impact on its high volume, high margin, low revenue, low competition business. It will simply fall apart.
Change any of those factors apart from revenues (lower sales volumes or margins, or introduce competition), and everything goes south quickly. Microsoft's efforts to boost revenues by raising the price of Vista were also unsuccessful.
Apple's high volume, low margin, high revenue, high competition model is resistant to losing volume (competition is already there, with no visible impact on Apple's ability to grow), and resistant to losing revenue (because revenue is high with existing competition in place). And of course, if margins go up or competition goes down, that's certainly not a problem for Apple either.
Changing the Model of PC sales.

I believe Apple is changing the model of hardware and software sales to one that is resilient to competition, and therefore far stronger than the last two decades of Microsoft's software domination, which required attacking software competitors and destroying upstarts (Java, the web, Linux) before they could challenge Windows.
Apple's model is also far more profitable, as is obvious from the fact that Apple makes half the revenue and a quarter the profits of Microsoft while only servicing a market that is roughly 4% that of the entire worldwide Windows PC market.
As Apple doubles in size, it will eat up volume sales from Microsoft, converting $40 Windows OEM sales into a $1500 Apple hardware sale. Apple's margins on a $1500 PC might be around $450, ten times as much as Microsoft on a single sale.
Apple can also sell users a $99 MobileMe subscription, a $99 ProCare subscription and a roughly $99 annual AppleCare subscription, making each sale even more profitable. Incidentally, that's the subscription angle Microsoft couldn't figure out.
Apple doesn't have to cheat the system or to flout the law to beat Microsoft. It doesn't have to stifle competition or overcharge customers. In fact, if it does, Apple will simply lose sales to competitors. Competition has made Apple stronger; its direct competitors, the PC makers, are conveniently all tied to Microsoft's software anchor.
Apple also doesn't have to attack open source, interoperability, or open standards, as all those factors contribute to a competitive environment that helps erode Microsoft's monopoly and creates new opportunities for Apple. It certainly doesn't care if users install Linux on their Macs. Apple even assists users to install Windows. Apple isn't afraid of competition, it's only afraid of closed markets dominated through restraint of trade.
There's something else Apple is likely to do, and that's represented in the the iPhone Apps Store, which the next article looks at.
Microsoft's Unwinnable War on Linux and Open Source
Symbiotic: What Apple Does for Open Source
Did you like this article? Let me know. Comment here, in the Forum, or email me with your ideas.

Like reading RoughlyDrafted? Share articles with your friends, link from your blog, and subscribe to my podcast (oh wait, I have to fix that first). It's also cool to submit my articles to Digg, Reddit, or Slashdot where more people will see them. Consider making a small donation supporting this site. Thanks!