Gates, Seinfeld and the $300 Million Ad to Nowhere.
September 9th, 2008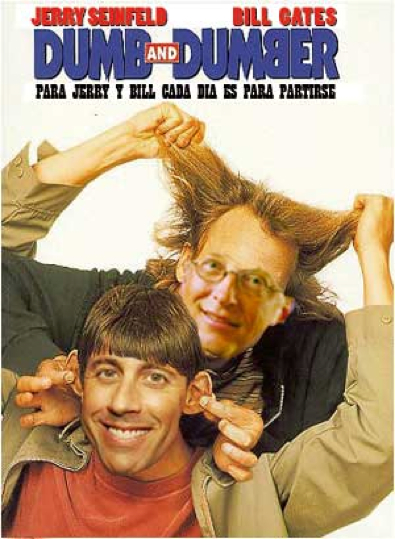 Daniel Eran Dilger
Paul Thurrott celebrated Microsoft's new $300 million ad campaign as a promising new attempt to stop "the bad guys" at Apple from further eroding Microsoft's monopoly grip on the desktop PC market. The problem is that the new ads don't accomplish what they set out to do. Here's why.
[Artwork contributed by Alf of faq-mac.com]
Microsoft $300 Million Ads
Microsoft's Mojave Attempts to Wet Vista's Desert
Microsoft's Mojave Experiment Exposes Serious Vista Problems
Paul Thurrott calls Apple "the Bad Guys" of Microsoft's $300 Million Ads
Gates, Seinfeld and the $300 Million Ad to Nowhere
Microsoft's $300 million ad campaign tumbles with new PC ads
Microsoft's "Windows vs Walls" Ad Tries to Think Different, Fails
Microsoft's "I'm a PC" Millions Actually Promoting the Mac
.
You Paid $300 Million for What?
Microsoft senior vice president Bill Veghte called the campaign "telling the story of Windows," a product that, as he wrote, "enables a billion people around the globe to do more with their lives daily."
Wait, Windows enables users to do more than what, not having an operating system? More than if they had not paid for a commercial operating system? More than if they were using another operating system?
This is the kind of meaningless corporate speech that Microsoft has been gushing for years. In reality, the "story of Windows" is really not something Microsoft can afford to tell.
Paul Thurrott calls Apple "the Bad Guys" of Microsoft's $300 Million Ads

The Story of Windows (a Tragedy).

Windows 1.0 to 3.0 began as an effort to rip off Apple by using access Microsoft had gained as an early Mac developer to leverage Apple's own technology against it.
It continued as an effort to stab IBM and Microsoft's own DOS developers in the back by floating Windows first as a part of OS/2, and then suddenly as a competitor, consolidating the Windows application business into Microsoft's OS monopoly.
Office Wars 3 – How Microsoft Got Its Office Monopoly
Office Wars 4 – Microsoft's Assault on Lotus and IBM
SCO, Linux, and Microsoft in the History of OS: 1980s
Under Bill Gates' 1991 Cairo vision, Windows became a vaporware promise throughout the 90s that only ever intended to match the late 80s technology of IBM, Novell, and NeXT.
1990-1995: Microsoft's Yellow Road to Cairo
The Windows story turned 4.0 with "NT" after Microsoft hired the developers behind Digital's VMS in the late 80s, but that new kernel code wasn't made available to consumers until 5.0: Windows 2000 and Windows XP in 2001; regular users suffered through years of new paid DOS-based Windows upgrades in the late 90s that got progressively worse until they exploded into a crisis of malware, adware and viral security problems, which went largely unaddressed until XP SP2 in late 2004.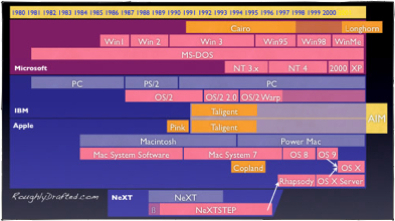 SCO, Linux, and Microsoft in the History of OS: 1990s
The latest chapter of the story of Windows is 6.0: Windows Vista. After six years of failures, pared down features, and efforts to clone technologies in Mac OS X, from a modern compositing graphics engine just like Apple's eight year old Quartz to interface features that aped the years-old Exposé and Spotlight, Vista finally shipped to users.
PC users have purposely ignored upgrading and instead have worked hard to remove Vista from their PCs and downgrade to XP in its place over the nearly two years since its launch.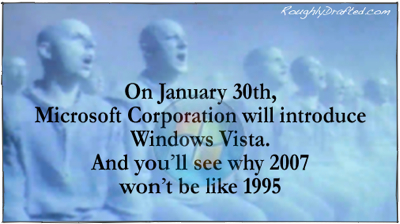 Windows 95 and Vista: Why 2007 Won't Be Like 1995
WYE, WYG: Windows Vista vs Mac OS X Leopard
Windows Vista, 7, and Singularity: The New Copland, Gershwin, Taligent

Of course, none of this is the story Microsoft will be telling, because the real story of Windows is all about incompetence, greed, and holding back technical progress to jack up consumer prices and stop competition.
Instead, Microsoft hopes to "engage consumers and spark a new conversation about Windows," more meaningless corporate speak that demonstrates an intent to change things without changing anything. Microsoft isn't even pretending to promise change in the future, it's just seeking to distort reality with a heavy dose of marketing.
Seinfeld with Special Billionaire Guest who Paid $300 Million.

That fake "story" involves Microsoft's new ads with Jerry Seinfeld and Gates, which Veghte said starts as "an icebreaker to reintroduce Microsoft to viewers in a consumer context."
That icebreaker came in the form of what appeared to be short Seinfeld episode with Gates making a cameo appearance. In typical Seinfeld style, it comically talks about nothing: shoes and churros and taking showers fully dressed.
Seinfeld asks Gates to "adjust his shorts" to signal whether Microsoft will ever deliver delicious edible computers. Softball question! Why not ask if Microsoft will deliver an operating system people will want to buy rather than go out of their way to avoid despite the few competitive options available, or if Microsoft will ever introduce original pioneering technologies that are usable rather than just trying to reactively copy real innovators? That would really adjust Gates' shorts.
The ad also presents a fantasy of how ironic it would be if one of the world's wealthiest men spent his time buying low priced shoes at a cheap mall store with a discount card sporting his 1977 mug shot from his "wilder" days of running stop signs and driving without a license. What a crazy maverick!
Brutally Ineffective Advertisement.
Never mind the ad was simply fiction; Gates doesn't shop for shoe deals at discount stores. The real problem is larger. Crispin Porter + Bogusky, the agency behind the "Creepy King" ads for Burger King, is good at getting people to talk, but not so good at getting people to relate positively to a subject.
However, Microsoft doesn't need brand recognition. It's a freaking global monopoly. Nor does it need to incite discussion. It already has an army of bloggers, astroturfers, and apologists who spend their lives thinking up excuses for why the company's criminal conduct and shoddy products are not really problems, while celebrating its bland mediocrity as if it were something truly impressive.
And while the ad succeeded in portraying Gates as being less wooden, whiney, and self-enraptured about his supposed engineering genius than he usually comes across as in person, Microsoft shouldn't need to spend $300 million to make over Gates' image when the guy isn't even running the company anymore.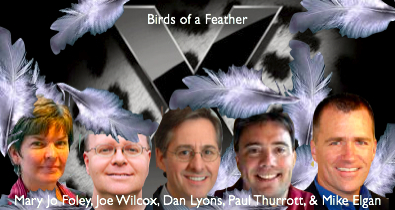 iPod vs Zune: Microsoft's Slippery Astroturf
Ten Myths of Leopard: 10 Leopard is a Vista Knockoff!
Removing the Mark of the Beast.

Perhaps the ads should have tried to remake CEO Steve Ballmer as being less violent and monstrous, and more honest, likable, and human. That might cost more than $300 million, but it's not like Microsoft couldn't afford it.
And really, if the company sees $300 million of value in polishing the tarnished image of its executives, why not just send them on Saturday Night Live and Oprah? Can you imagine any show rejecting Gates or even Ballmer, or demanding payment to host them as a proxy product placement?
Of course, it's hard to carefully script real people into a false persona without clever writing or editing. If Baller threw Oprah's couch in a fit of rage, Microsoft would need to manage another $300 million campaign to cover that up, too.
Simply put, without the smoke and mirrors used by the Mojave Experiment, you just can't rub the mark of the beast off of Windows 6, Windows Mobile 6, or Windows Server 6 because the devil is in the details. Before it tries to remove its corrupted reputation, Microsoft is going to have to release products that aren't as evil as the current 666 lineup.
Microsoft's Mojave Attempts to Wet Vista's Desert
Advertise Like Apple.

Microsoft might then take a page from Apple, the company it has long tried to emulate in other respects. In 1996, Apple was where Microsoft is today: a blighted brand, shot technical credibility, plagued with a long-in-the tooth operating system, poor product quality, a fading image as in innovator, and suffering an epic crisis in stock valuation.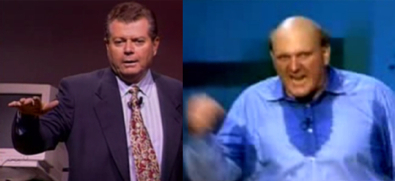 How Microsoft has become the Beleaguered Apple '96
Think Different.

In 1997, Steve Jobs had Apple began its "Think Different" campaign, which rather than portraying Apple's executives as being less bad, celebrated individuals who had made a positive impact on society and linked in Apple's own products as having the same intent.
"We make tools for these kinds of people," the ads said. "While some see them as the crazy ones, we see genius. Because the people who are crazy enough to think they can change the world, are the ones who do."
While the effectiveness of an ad campaign is difficult to measure, Think Different successfully presented Apple under a new banner of competence and focus that had been missing for years. It also accurately reflected the company's intent to not just advertise change, but actually affect change.
Between 1997 and 2002, Apple went from failing to sell beige boxes running System 7 at Sears to an entirely modernized product lineup running Mac OS X and sold through a new line of company-owned retail stores. Apple didn't just advertise a meaningless Think Different slogan, it was actually thinking differently.
Switch.

Apple followed with its Switch campaign in 2002, which presented real users (and a few celebrities) complaining about their experiences on Windows PCs and how they'd moved to the Mac. The commercials directed users toward Apple's web site, which dispelled myths about the Mac in order to make users feel more comfortable about using Apple's products.
While critics complain that that memorable ads didn't immediately cause a mass migration of users to the Mac platform, Apple steadily increased from selling 3 million Macs a year in 2002 to 5.3 million Macs in 2006 when it began its next ad campaign.
The Switch campaign not only kept Apple afloat, but it switched nearly as many new PC users to the Mac as Apple had started with four years prior. They were also memorable ads that invited parody and discussion about a brand many had written off as dead.
Get a Mac.

Apple's next campaign was the "Get a Mac" series, which presented Justin Long and John Hodgman as characters presenting Macs as easy to use and PCs as being plagued with various issues.
The ads primarily focus on benefits of the Mac platform, from innovations such as MagSafe plugs to the usability of iLife and Time Machine. They also portray Macs as being unaffected by common PC problems such as spyware, viruses and Vista's UAC annoyances.
The Get a Mac ads have had Windows Enthusiasts up in arms since they debuted, but it's hard to argue against their effectiveness in dispelling the entrenched myths that lock users to Windows PCs.
That has left Thurrott with a sad realization: cancel his credibility by portraying platform advocacy as an epic struggle between Good vs Evil, or allow users to see through his hypocrisy of maintaing a supposedly unbiased perspective as a user of Apple's products.
Did you like this article? Let me know. Comment here, in the Forum, or email me with your ideas.

Like reading RoughlyDrafted? Share articles with your friends, link from your blog, and subscribe to my podcast (oh wait, I have to fix that first). It's also cool to submit my articles to Digg, Reddit, or Slashdot where more people will see them. Consider making a small donation supporting this site. Thanks!