Video Report: Does Apple's History Bode Well For An iPod Touch Price Drop?
September 7th, 2008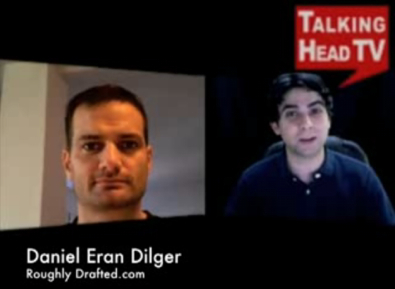 Daniel Eran Dilger
Part two of my interview with Talking Head TV, looking at the likelihood of an iPod touch price drop.

2008 iPod Event
What's Next from Apple: New iPods Sept 22, iPhone OS 2.1, iTunes 8.0
2007 iPod Event: The Beat Goes On
(3G Nano, iPod Touch; revised iPod software, iTunes ringtones, WiFi Music Store, Starbucks)
Curious Stuff About the New iPods
Winter 2007 Buyer's Guide: Microsoft Zune 8 vs iPod Nano
New iPod Reviews: 3G iPod nano, iPod classic, iPod touch
New 3G iPod Nano No Fatty
2006 iPod Event: It's Showtime
(2G Nano, new Shuffle; iTunes 7,iPod Games, higher resolution TV, movies; Apple TV preview)
Apple's New Dual Processor Game Console
How Apple's iTV Media Strategy Works
iTV: the Killer App for Wireless N
.

Did you like this article? Let me know. Comment here, in the Forum, or email me with your ideas.

Like reading RoughlyDrafted? Share articles with your friends, link from your blog, and subscribe to my podcast (oh wait, I have to fix that first). It's also cool to submit my articles to Digg, Reddit, or Slashdot where more people will see them. Consider making a small donation supporting this site. Thanks!