Why Google's GMail SSL Doesn't Really Protect Users From Spoofing
September 5th, 2008

Daniel Eran Dilger
Pundits have insisted that SSL email in MobileMe would prevent users from being hijacked to a different domain by elite hackers. However, both Gmail and MobileMe have presented enough spurious Vista UAC-like certificate warnings to users (not to mention other web sites and plugins) that nobody pays any attention anymore. Users will simply click it and forget it, turning Google's SSL Gmail feature into a false sense of security.
.
This is probably not the site you are looking for!

Google's new Chrome browser complains to users trying to access Gmail that they're being redirected to mail.google.com, warning, "this may be caused by a misconfiguration on the server or by something more serious. An attacker on your network could be trying to get you to visit a fake (and potentially harmful) version of gmail.com You should not proceed."
It offers two choices to the users quaking in fear under their desk: "Proceed anyway and "Back to safety." Who writes this stuff, the Fear Bureau of the Department of Homeland Security? In any case, it's about as useful as having grandma take her shoes off and walk through the million dollar poof machine.
The problem with all of this spurious wolf-crying certificate security panic that that users who are forced to live in a constant state of fear won't have any reaction to real problems anymore. Security comes from education, not from being frequently scared by false alarms. Users who are presented with understandable explanations of how things work can then be aware of the relative risk involved, and can behave appropriately.
That's why Apple should be telling users how MobileMe actually works and what limitations it has in encryption, rather than just putting it all under SSL and providing a false sense of security punctuated by a steady din of false alarms. This also cuts through the layer of hyperventilating panic asserted by masterful headline link baiters trying to describe MobileMe as being woefully dangerous and problematic.
MobileMe identity crisis.

That's not to say Apple hasn't delivered its own unnecessary warnings. Users of .Mac received a similar error message from Mail at the transition to MobileMe. The warning complains of an invalid security certificate because of a host name mismatch. While not worded in the same high fear panic of Chrome, Apple does warn that this could put "your confidential information at risk."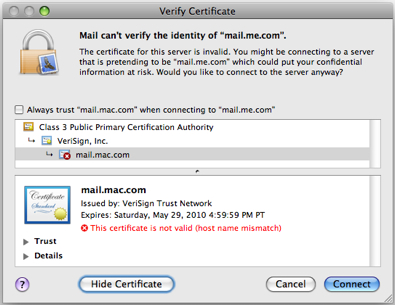 Even the Democrats recently sprang a scare warning recently. The Democratic National Convention website required a combination of Silverlight and Java plugin installations just to allow viewing of speakers' videos, with nary a hint that viewers could just as well watch them from YouTube without bothering with two plugins and the accompanying security warning they flashed up: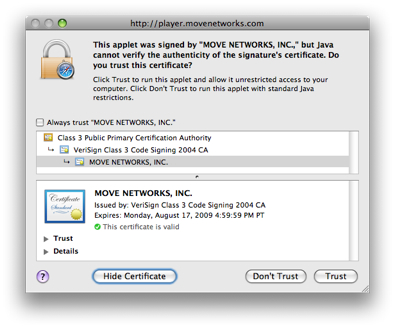 With users being hit by meaningless certificate warnings at a regular clip, would the users who are likely to be scammed by a man in the middle attack benefit from the browser throwing up an extra warning for them to click through without reading? Those trusting explicitly in SSL to do their thinking for them have come to a sad realization. The only way to protect yourself is to be aware of the relative dangers in what you're doing. SSL is only one element in that, and is fallible.
As Barack Obama said about "fulfilling America's promise," web security, "will require more than just money. It will require a renewed sense of responsibility from each of us." There is no easy fix for complex problems. Turning SSL into a jingo reason to fervently declare a populist war on MobileMe while ignoring the facts and the responsibility of users to know how to proactively safeguard themselves is just the kind of talk that confuses people rather than helping them navigate the web safely. What users should be told is how to manage their risk, not who to conveniently scapegoat.
Did you like this article? Let me know. Comment here, in the Forum, or email me with your ideas.

Like reading RoughlyDrafted? Share articles with your friends, link from your blog, and subscribe to my podcast (oh wait, I have to fix that first). It's also cool to submit my articles to Digg, Reddit, or Slashdot where more people will see them. Consider making a small donation supporting this site. Thanks!