The iPod Power Behind Apple's Big Mac Push
August 31st, 2008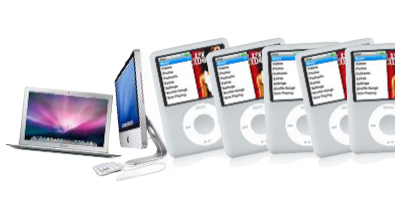 Daniel Eran Dilger
Combining the iPhone and the MacBook will create a peanut butter and chocolate combination for a company that's already well regarded in both areas separately. Apple's stellar MacBook sales combined with the worldwide phenomenon of the iPhone will drive a new kind of differentiation on multiple levels that rivals will be unable to match. Here's why.
Articles in this Series:
What's Next from Apple: New iPods Sept 22, iPhone OS 2.1, iTunes 8.0
Two Decades of Portable Macs: 1989 – 2009
The iPod Power Behind Apple's Big Mac Push
A Product Transition: Giving MacBooks the iPhone Touch
.
The Power of the Market versus Market Power.

Apple is selling iPhones by the millions, giving it the buying power to drive down its component costs in the same way blockbuster sales of the iPod gave Apple access to cheap Flash RAM. Rather than using its iPod market power to extort high prices, Apple aggressively dropped iPod prices so rapidly that competitors couldn't keep up. That in turn sold more iPods and granted Apple even more favorable RAM pricing.
Steve Jobs had originally intended to pursue a similar strategy with the mid 80's Macintosh, but Apple's conservative leadership wanted to stay the course with high prices and a protracted legal war that ran the company out of resources, prevented it from staying competitive as the environment began to heat up, and failed to care for the health of the Mac platform.
After resuming control of Apple, Jobs was tasked with rebuilding the damage done over the previous eight years of tragic leadership, ending its ineffectual ideological wars with rivals, reducing Apple's dependence on foreign software resources, investing in critically needed infrastructure, and restoring the company's reputation internationally and at home.
Since being returned to its former position, Apple under Jobs has been able to do with the iPod and the iPhone what John Sculley's obstructionism didn't allow Jobs do with the Mac during his previous term: put his planned policies in place and sell it.
Steve Jobs and 20 Years of Apple Servers
Leveraging CE against the PC.
While Apple has ratcheted up sales to drive down its iPod and iPhone component pricing, the larger volumes of PC sales from rivals such as HP and Dell no doubt prevent Apple from obtaining PC components at the same kinds of prices.
Between 1991 and 1995, Dell, HP, and Compaq together only sold about 60% more computers than Apple. By the second half of the 90s, they were selling nearly eight times as many, and between 2001 and 2005, they were selling 15.3 times as many computers as Apple. Gartner estimated that factor would drop to around 13 times for the second half of the current decade. Still, that's a big difference in sales volumes.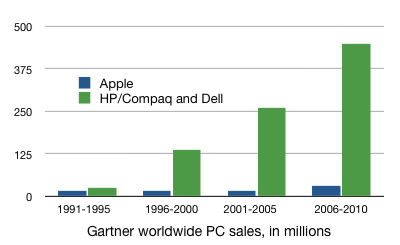 In comparison, Apple sold sixty million iPods and iPhones over the last year, a number that dwarfs the entire PDA, MP3, and smartphone business of every other US manufacturer and equals roughly a sixth of the entire world's production of similar devices, four times Apple's market share in the PC world.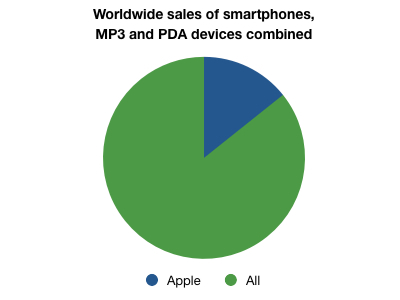 Just Getting Started.

While pundits insisted that Apple would be distracted by its massive new market power in consumer electronics and simply let go of the Mac, Apple has instead used its retail and marketing power to drive Mac sales. Computers now account for more than half of its revenues, and Mac sales are on an impressive climb.
Apple has applied its design and integration expertise into reinvigorating the dying PC industry now limping along at relatively flat overall growth, selling users on style with differentiated hardware and software. Apple's Mac business is growing at 34 to 40% year over year. Rivals are just now discovering that Apple's status among PC makers is about where the company was with the iPod among music players in 2004. The real growth hasn't even happened yet.
This year's MacBook Air was essentiality the iPod Nano of laptops, both from a design perspective and a marketing angle. What's next will be the iPhone of laptops, which will likely enable Apple to double its market share and installed base and triple its revenues, as the following article will present.
Did you like this article? Let me know. Comment here, in the Forum, or email me with your ideas.
Like reading RoughlyDrafted? Share articles with your friends, link from your blog, and subscribe to my podcast (oh wait, I have to fix that first). It's also cool to submit my articles to Digg, Reddit, or Slashdot where more people will see them. Consider making a small donation supporting this site. Thanks!