Two Decades of Portable Macs: 1989 – 2009
August 30th, 2008

Daniel Eran Dilger
What does Apple have in store for the next MacBooks? Knowing where Apple's been helps point out where it's going. Here's a look at the company's past, leading up to what's on the horizon this fall.
Articles in this Series:
What's Next from Apple: New iPods Sept 22, iPhone OS 2.1, iTunes 8.0
Two Decades of Portable Macs: 1989 – 2009
The iPod Power Behind Apple's Big Mac Push
A Product Transition: Giving MacBooks the iPhone Touch
.
The Macintosh Portable and Outbound.
Apple's first mobile-centric computer, the 1989 Macintosh Portable, was a huge heavy monster with a lead acid battery just like your car (okay, a bit smaller). It trailed the emergence of competing PC laptops starting with the $8,000 GRiD in 1982 (originally running a proprietary OS, not DOS), and only arrived to market after third parties had started hacking together their own laptops from the guts of old Macs.
[Update: readers pointed out that the Dynamic Dynamac deserved mention. The $4,000 to $8,000, 18 to 24 pound laptops were a repackaged Mac Plus or SE with a 9" 640×400 backlit amber electroluminescent or gas plasma screen. Dynamic acted as an official Value Added Reseller for Apple. Like other laptops of the day, there was no integrated pointing device (none needed for DOS!), so users had to attach an external mouse. So the Mac Portable was rather innovative in that it included a trackball.]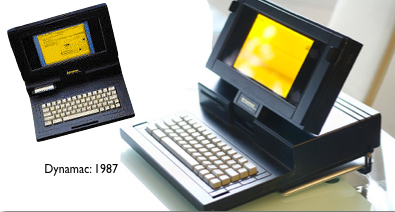 Dynamac Specs @ EveryMac.com
THE EXECUTIVE COMPUTER; For Mac Owners With Wanderlust – New York Times
Escapable Logic » Dynamac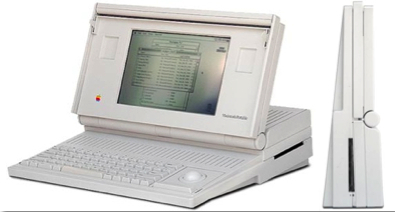 Macintosh Portable: oldcomputers.net
Unofficial Mac cloner Outbound made a luggable Mac-compatible laptop the same year as Apple, followed by a notebook version. Both earned their Mac compatibility by taking the ROM chips from dead Macs, and both took their design cues from conventional DOS PC laptops of the time, which all pretty much looked the same despite lots of technology improvements throughout the 80s.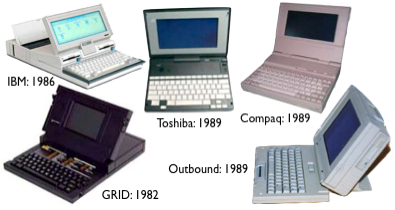 Outbound: www.applefritter.com
The New PowerBook Redefines Laptop for the 90s.

However, Apple destroyed the market for portable Mac clones and dictated a new form factor for the laptop when it partnered with Sony to design the entirely original PowerBook in 1991.
Its revolutionary design drew gasps from the industry; it not only moved the keyboard from the "obvious" front edge toward the screen to create a palm rest with a perfectly positioned trackball, but also debuted a slim new stylish case that came in a distinctive chocolate black, combining Sony's flair for hardware with Apple's Mac software and design savvy.
Outbound was quickly left behind, but nearly every other laptop since has copied the PowerBook design, because Apple didn't patent its novel concepts. Apple also poured money into the PDA with the Newton, but the company largely gave away those advances as well.
The PowerBook series also debuted SCSI Disk Mode, later called HD Target Mode, which allowed PowerBooks booted with the T key held down to be used as an external hard drive. This feature would eventually become Firewire Target Mode and become available to both desktops and laptops. It remains a feature unique to Macs.
The original PowerBook 100 series captured 40% of the laptop market. Mismanagement at Apple resulted in much of its PowerBook team leaving for Compaq and taking most of Apple's portable design expertise with them.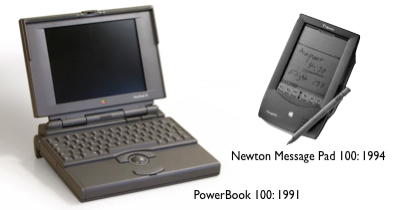 Newton Lessons for Apple's New Platform
The Egregious Incompetence of Palm
Newton Rising: Is the Next iPhone Device a G3 MessagePad?
PowerBook Duo, Duo Dock, PenLite, and eMate.

Readers also wanted me to include mention of the 1992 PowerBook Duo 200 series, which delivered a light, 1.4" laptop that lacked any connectors apart from a serial printer port, an an optional modem card, and a Processor Direct Slot. It was intended to be paired with the $500 Duo Dock desktop docking station, which supplied a floppy, an additional hard drive, NuBus expansion slots, and additional VRAM for driving a larger monitor. There was also a simpler Mini Dock that served as a basic port expander, and a highly portable version called the Micro Dock.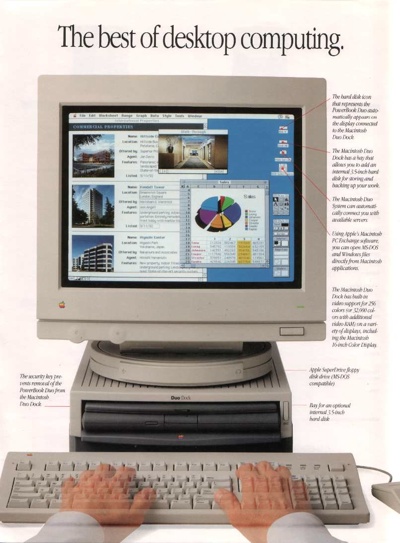 Apple also delivered a 1993 prototype for a PowerBook Duo Tablet, designed to be compatible with the same docks, under the code name "PenLite", but the project was canceled due to its functional overlap with the soon to be released 1994 Newton Message Pad. The stylus driven PenLite would have run the classic Mac OS.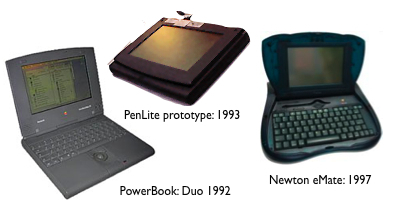 And of course, there was also the Newton eMate 300, a mini laptop form factor of the Newton introduced in March 1997. It was intended for use in education, and was originally only available to schools, although Apple later made some half-hearted attempts to allow individuals to buy them, too.
PenLite: the Apple Museum | Prototypes
PowerBook 500, 2000, and 5000 Series: Innovation and Crisis

Apple attempted to reinvigorate its stalling laptop line with the 1994 PowerBook 500. It was first laptop to use a trackpad rather than a trackball (which had also been introduced by Apple in its 1989 Mac Portable). The 500 was also the first laptop to include a PCMCIA (PC Card) expansion slot, 16-bit stereo audio with stereo speakers and the first use of intelligent NiMH batteries using an onboard processor to monitor charge level. It also supplied pioneering built-in Ethernet, SCSI, and ADB.
Foreshadowing future laptop problems that would unfold with the PowerPC G4, Motorola's early 90s 68040 CPU was becoming too hot for use in a portable, making it difficult for Apple to compete against 486-based PC laptops. In 1995, Apple delivered a snap in upgrade for the 500 series that supplied a 100MHz PowerPC 603e processor to replace the 25 or 33 MHz 040.
The 1995 PowerBook 5000 and Duo 2000 lines were the first to ship with PowerPC CPUs. The PowerBook 5000 introduced hot-swappable expansion modules that could accept a floppy or Zip drive, or be used to store two batteries. It also introduced the lithium ion battery, although the flaming failure of those early batteries in tests resulted in a recall and a replacement of NiMH batteries. Together with other reliability problems, the model became regarded as one of the worst products Apple ever shipped.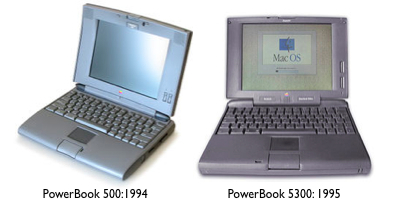 A Bland Recovery: PowerBook 1400, 2400, 3400.

Starting in October 1996, Apple recovered its laptop reputation somewhat with the release of a series of new PowerBooks, including the entry level 1400, which was the first PowerBook to ever ship with a CD drive, and among the first laptops from any maker to support CD drives; a slim 2400 with a 10.4" screen designed to replace the Duo line (but incompatible with its Duo Docks); and the higher end 3400, which used a PCI architecture and fast EDO RAM which helped make the 240 MHz PPC 603ev machine the fastest laptop available.
While still leading the industry in a number of areas and bundling in a variety of features that few other PC laptops included, Apple's PowerBook line began rapidly falling behind other PC makers in both technology innovation and design. The company's increasingly shrinking market share and the economies of scale behind x86 CPUs conspired to make in difficult for Apple to remain competitive, let alone lead the industry.
The PowerBook G3.

During the company's struggle to survive in the mid 90s, the PowerBooks were often Apple's most popular product. The company frequently couldn't manage to keep enough in inventory despite weak sales elsewhere, in part due to the confusing array of product model numbers.
When Steve Jobs returned in 1997, one of the first new products to be released was the new PowerBook G3, which again melded technology with an original design to create a standout product that endured for three years.
The new PowerBook G3 replaced the three existing models. [It was originally slated to become the 3500, but Jobs canceled the Duo and entry level products and made the high end 12.1" model (which became the new title holder of the world's fastest laptop) Apple's mainstream, single choice under a more familiar "G3" brand. The original PowerBook G3 "Kanga" would become the only G3 Mac unable to officially run Mac OS X when it was released three years later.]
A new Newton Message Pad 2000 series also shipped in 1997, but the entire PDA line, including the eMate, was canceled early the next year after sales failed to take off.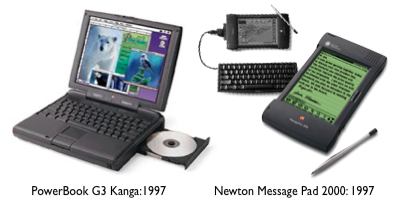 Bold New Design and a Return to Innovation: New G3s and the iBook.
In 1998, the PowerBook G3 "Wallstreet" was given a sleek new redesign and a larger 13.3" or 14.1" display. It also supplied hardware for DVD playback at a time when software wasn't fast enough to decode play DVD MPEG-2 video. It would be the last Mac model to sport a rainbow Apple icon.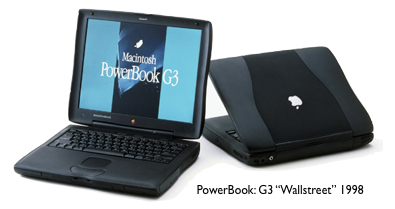 In 1999, the PowerBook was given a significant internal update with the New World ROM architecture first launched with the iMac a year earlier. That new model, called the PowerBook G3 "Lombard," was also thinner and lighter using a new case design that made it incompatible with the Wallstreet's batteries and drive bays.
A year later in 1999, Apple added a consumer laptop under the new iBook brand. The brightly colored "toilet seat" design of the original 12.1" iBook was reminiscent of the translucent clamshell of the eMate 300; it was similarly targeted toward education users, although it was also clearly aimed at mainstream consumers. It was also the first laptop to offer integrated support for WiFI wireless networking, signaling a return to industry-leading innovation following the company's rebuilding of its laptop foundation.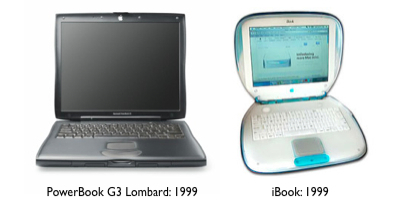 PowerBook G4 Titanium.

Jobs introduced the thin new 15" titanium PowerBook G4 in 2001, a product that helped the company survive the crash of the dot com bubble and frequently served as an advertisement for Apple's distinctive blend of technology and design expertise that helped sustain the still-struggling company over the model's three year lifespan, during which the same design was given faster processors, Gigabit Ethernet, and other incremental advances.
In 2000, two members of Apple's Titanium PowerBook G4 team, Jory Bell and Nick Merz, left to form OQO after a struggle within Apple to develop prototype designs for a new micro-sized laptop. Their new company produced a tiny Windows XP device by 2004 using the Transmeta Crusoe processor.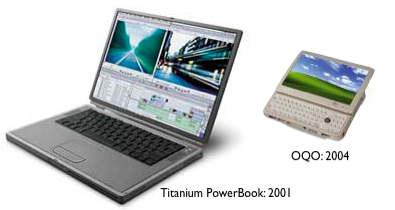 Toned Down Design: the white iBook G3 and Aluminum PowerBook.
In 2001, Apple responded to the collapse of the dot com boom by toning down the bright colors and whimsical kid-proof design of the iBook to deliver a simpler entry level machine with broad appeal and practical functionality. The slot loading iBook G4 was released in the fall of 2003.
At the beginning of 2003, Apple had started selling a line of well-regarded but conservatively designed aluminum PowerBook G4 laptops, starting with new 12" and 17" models. A matching 15" aluminum model replaced the titanium PowerBook G4 in the fall. Once again, Apple ran into a problem with the pace of Motorola's chip development, and the G4 processor increasingly fell behind the progress in the x86 world.
While IBM had delivered an impressive new 64-bit G5 in 2003, it was not designed for mobile use, and neither Motorola nor IBM had much interest in creating new mobile processors just for Apple. That left Apple with little room to impress on the high end, and little range to differentiate the iBook line from the professional PowerBook models.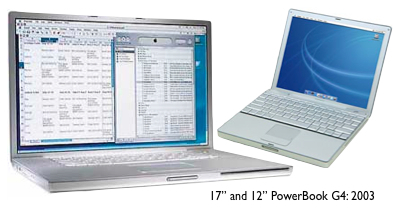 MacBook and the MacBook Pro.

Apple turned to Intel and found that the company had an impressive new roadmap for mobile processors that would reclaim the speed and efficiency crown from AMD, which had up to that point been embarrassing Intel in performance, power use, and 64-bit leadership. Starting in 2006, Apple launched new 15" and 17" professional laptops under under the MacBook Pro name using Intel's new Core Solo and Core Duo processors, followed by a 13.3" consumer MacBook mid year.
The entire line of Intel-based laptops got Toslink optical digital audio, MagSafe power adapters, and built-in iSight cameras. The MacBook is differentiated by its simpler integrated graphics and plastic case with easy access to its hard drive and RAM through the battery compartment. The MacBook Pros largely followed the existing Aluminum PowerBook design.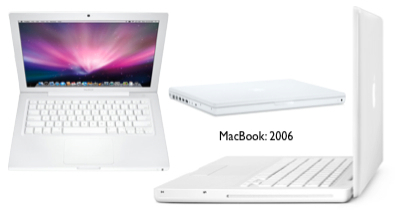 By the end of the year, all models were shipping with the 64-bit Core 2 Duo processor, although both retained a 32-bit memory bus. This means that all MacBook models with a Core 2 Duo but prior to the Santa Rosa chipset can run 64-bit EM64T instructions (execute 64-bit code) and can handle a large 64-bit virtual address space but can not address more than 3.2GB of physical RAM, due to limitations in their chipsets outside of the CPU.
The MacBook Pro received the Santa Rosa chipset in June 2007 along with new LED backlighting and NVIDIA GeForce 8600M GT graphics, while the MacBook's chipset was upgraded in November 2007 along with improved Intel GMA X3100 graphics. Laptops with the Santa Rosa chipset can now make use of the entire 4GB of RAM installed. Starting in 2007, both models also gained official support for faster WiFi 802.11n wireless networking.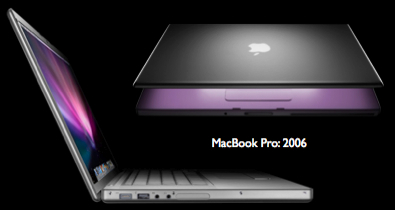 Road to Mac OS X 10.6 Snow Leopard: 64-Bits
The iPhone and the MacBook Air.

Earlier this year, Apple shook up its laptop line with the MacBook Air, a higher end system designed to be light and thin but still powerful, with a full sized display and keyboard and a processor competitive with the high end of ultra mobile laptops.
Apple again gave it distinctive lines and introduced new technologies designed to set it apart, including software to minimize the need for an external optical drive and a multitouch trackpad that could respond to more complex gestures to pinch, rotate, and swipe similar to the iPhone.
How the MacBook Air stacks up against other ultra-light notebooks
Is the MacBook Air Another Cube?
Just prior to that, Apple had delivered the iPhone with a sophisticated new minimal interface that allowed users to control a full computing environment without any need for a stylus: there were no drop down menus nor any window controls.
A highly simplified text entry system with correction features removed complexity to open up usability. It was also designed to look great and behave realistically, with physics that bounce and jiggle elements in the interface to create natural associations with real objects.
The obvious next step is to put the iPhone into the MacBook. The next article will look at how that will happen, starting with The iPod Power Behind Apple's Big Mac Push.
Did you like this article? Let me know. Comment here, in the Forum, or email me with your ideas.

Like reading RoughlyDrafted? Share articles with your friends, link from your blog, and subscribe to my podcast (oh wait, I have to fix that first). It's also cool to submit my articles to Digg, Reddit, or Slashdot where more people will see them. Consider making a small donation supporting this site. Thanks!