Google's Android Market Guarantees Problems for Users
August 29th, 2008
Pages in this article: 1 2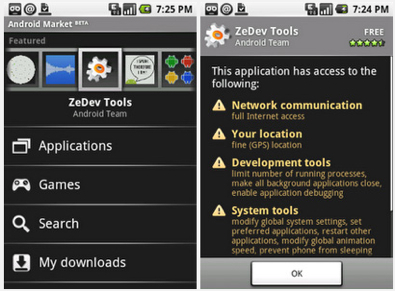 Daniel Eran Dilger
It's great news that Google is planning to deliver a market for mobile software with its own centralized "Android Market." It should give Apple's iPhone Apps Store competitive pressure to continue to innovate, and provide a safety net for smartphone users if Apple fails to deliver progress fast enough. If Apple and Google both fail, users will be stuck with the failed third party software models related to Microsoft's Windows Mobile and Nokia's Symbian. Those high stakes make it all the more disappointing to find that the Android Market fails to answer the tough issues correctly.
iPhone App Store vs Android Market.

There's no doubt that there will be apps that make it into Google's Android store that aren't currently available from Apple, likely including WiFi tethering (for using your mobile's data plan to give your laptop Internet access on the road), a feature Apple forced NullRiver's NetShare to remove from the iPhone store. That was apparently at the behest of AT&T, which staunchly refuses to support tethering without charging an expensive additional fee.
AT&T's 3G network is already strained to carry relatively light-duty mobile traffic; unrestricted amounts of data being dumped on the network from far more demanding desktop apps by millions of users is currently just infeasible to accommodate. Other providers have 3G EVDO bandwidth to spare, but will cut you off just as quickly when you reach their finite definition of "unlimited" data access.
Finite bandwidth is not a problem Google's 'free and open' software market can solve, because Google is not the only link in the chain in providing mobile apps. AT&T isn't going to allow tethering from Android phones either, regardless of Google's intended store policies. And Verizon Wireless likely isn't going to allow WiFi on Android phones at all. So it's a joke to say Android will transcend every problem in ways that Apple hasn't. This isn't a case of Google acting like Netflix to offer unlimited content to rival Blockbuster's censorship; instead, Google is simply making great sounding campaign promises it won't be able to deliver.
AppleInsider | Google reveals open Android Market to rival iPhone's App Store
Will Google's Android Play DOS to Apple's iPhone?
Why Apple Plays God with the iPhone SDK
But Wait, There's More (And Less).

The Android Market will also deliver lots of problems Apple isn't, including a way to distribute malware that can't be remotely killed, or untraceable spyware that professes to be on the up-and-up when you install it, but then works behind your back and phones home sensitive data to a rogue developer's servers. Remember all the speculation last year about the possibility of developers being able to hack the iPhone open and install their own malicious tools to watch what you're doing? Under the iPhone SDK, access to that dangerous path is simply forbidden. Under Android, there's not so much as a handrail for users.
Apple has already reprimanded iPhone developers who provided inadequate protection of their users' data, and then forced them to fix their problems immediately. With Google advertising its "see no evil, hear no evil" policy for its self-policing development community, Google won't even know if there's a problem. It will also lack any way to stop or reverse problems, and having renounced any accountability for protecting users with regulatory controls, Google will lack the leverage to push malicious or possibly just incompetent developers to take any action once it does discover problems.
Malware and junkware on the PC is a big problem, but on a smartphone it is orders of magnitude more serious of an issue. Having to run spyware cleanup on a PC is a nusance. Having your phone subverted into a tool for advertisers or identity thieves could easily result in issues on the level of life safety. If you thought it was embarrassing to have Outlook send out spam in your name in 2001, wait until Android starts drunk dialing all your contacts to tell them about special offers, attaching your GPS location and perhaps a recent photo from your album so they know they can trust you about it.
Google seems to think it can simply ignore security problems by asking developers not to take advantage of its users. This is absurdly ridiculous in our modern context. Google may as well be building unvented fireplaces in a tornado alley trailer park.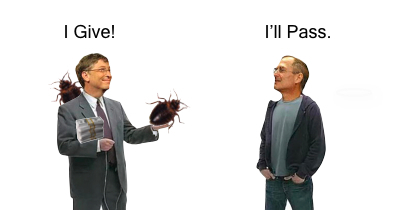 Ten Myths of Leopard: 9 Apple is Spying on Users!
The Unavoidable Malware Myth: Why Apple Won't Inherit Microsoft's Malware Crown
Wired's Grotesquely Rank Hypocrisy in Mobile Security.

Where did all of those mobile phone security experts from last fall run away to? They were abuzz about the imagined catastrophe that might befall the "can't even run any software" iPhone, but none have stepped forward to posit an opinion on why Android's exposed spinning blades in a dark room might result in the world's next Windows XP.
Wired, which led the witch hunt against the iPhone last fall, published an article this summer titled "Google's Open Source Android OS Will Free the Wireless Web," which went on breathlessly for days about how Android would solve the industry's problems with giddy can-do chutzpah. Nowhere did the article even suggest a criticism of its wide open, security-free business model.
Instead, the author announced, "Engineers who write for just about any mobile operating system today have to spend time and cash obtaining security keys and code-signing certificates. Android would allow any application to be installed and run, no questions asked." If you're waiting for the other shoe to drop, don't bother. It ended right there on the "time and money savings" of not having any security model. Microsoft saved a lot of money by ignoring security, too, as long as you don't count the $11 billion malware industry. Shame on Wired for continuing its descent into hopelessly unplugged irrelevance.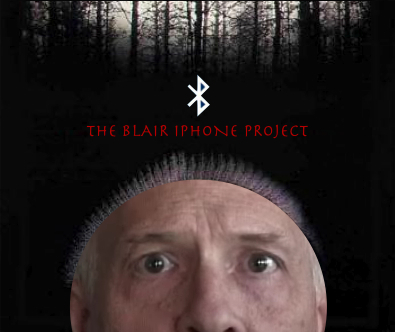 UnWired! Rick Farrow, Metasploit, and My iPhone Security Interview
Kim Zetter and the iPhone Root Security Myth
Continues on page 2 below.
Pages in this article: 1 2