Will Google's Android Play DOS to Apple's iPhone?
August 25th, 2008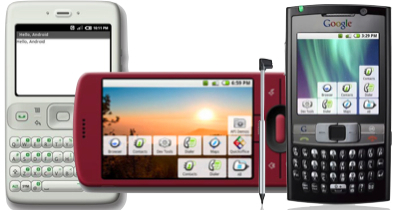 Daniel Eran Dilger
Today's broad array of smartphone operating system contenders are offering lots of potential answers to a problem that only requires one. It appears the market has two options ahead: either pool generic hardware makers behind a single operating system and deliver a smartphone marketplace that resembles the Windows PC market, or watch them fall to a dominant leader and have a smartphone market that resembles Apple's iPod ecosystem.
This decision isn't going to be made by a class of intellectual elite, or by government mandate. it's going to be made by the market itself. Here are the factors that will influence the outcome, either marginalizing Apple's iPhone into a niche as the company has twice experienced previously at the hands of DOS in 1981 and Windows in 1991, or positioning it as the dominant leader as Apple has achieved for itself with the iPod since 2001.

The third segment in this series looks at Google's Android and the Open Handset Alliance as a possible "DOS-attack" against Apple's iPhone. Subsequent segments will look at Nokia's newly opened Symbian and other mobile contenders challenging the iPhone.
Will the iPhone Meet its Match from a Modern Day DOS?
Will Windows Mobile Play DOS to Apple's iPhone?
Will Google's Android Play DOS to Apple's iPhone?
Will Symbian Play DOS to Apple's iPhone?
Google Acquires Android.

In 2005, Google purchased a startup named Android, which had been in business for nearly two years. The secretive startup was known only to be working on software for mobile phones. It was being run by a who's who of mobile industry veterans, including Andy Rubin, the founder of Danger.
Rubin had earlier worked at WebTV along with Chris White and Andy McFadden, both of whom had also joined Android. Richard Miner of Orange and Nick Sears of Tmobile also brought their mobile provider experience to Android.
At the time of the acquisition, Google didn't announce any plans for Android and instead only told BusinessWeek, "We acquired Android because of the talented engineers and great technology. We're thrilled to have them here." It appeared that Google was only going to be expanding its search services for mobile phone users, along the lines of the Google SMS answer system it had recently released.
Google Buys Android for Its Mobile Arsenal – BusinessWeek
Windows XP Media Center Edition vs Apple TV: The Fall of WebTV

The GPhone Myth.

As reports began to leak out about talks between Google and hardware makers throughout 2007, rumors began to fly about "the GPhone," a competitive offering that was supposed to take on the iPhone. Some phone enthusiasts hoped Google would jump in to rescue the struggling OpenMoko project and turn it into a viable project that could attack Apple's new smartphone.
In October 2007, I printed the Great Google GPhone Myth, taking apart the idea that Google would be directly competing against the iPhone, and describing that Google was really working on a free alternative to Windows Mobile as a conduit for getting its search and related services on a broader variety of mobiles. Google's services were already on the iPhone.
In November, Google played its hand: it had organized a consortium of companies called the Open Handset Alliance to develop open standards for mobiles. The first product from the group would be Android, a mobile operating system built on the Linux kernel.
Google wasn't getting into the phone handset business at all; it was only making sure that its mobile search products would not risk being marginalized by the threat of Windows Mobile on phones in the same way Microsoft had been working to leverage its PC monopoly to push Google search off the Windows desktop.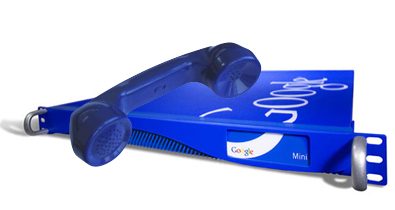 The Great Google gPhone Myth

Introducing Android: Leader of Linux.
Two weeks later, Google released an early version of the Android software. On top of a Linux kernel, Android uses a specialized version of a Java Virtual Machine that takes Java language code and turns it into what Google calls "Dalvik bytecode" rather than Java bytecode as a standard JVM would. This allows Google to leverage existing and familiar Java language tools without paying Sun for a Java license.
Like Mac OS X and its fraternal iPhone OS, Android includes a variety of open source libraries, including SQLite and WebKit. On top of that, Google developed a series of frameworks that handle the tasks Cocoa Touch does on the iPhone. Android also bundles a set of applications.
While Apple adapted its existing Mac OS X to work in a mobile environment to create the iPhone OS, Android is more like a customized Java environment running on a specialized mobile Linux variant: elements of maturity in an otherwise experimental new platform.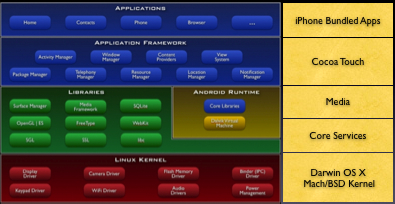 What is Android? -Google

Android was by no means the first mobile OS using Linux. Both Palm and its amputated ACCESS software arm have Linux-based mobile platforms. Nokia has Maemo, which it uses in its Internet Tablets, and also recently acquired Trolltech and its Qtopia mobile Linux platform. Motorola has teamed up with MontaVista Software to use its Mobilinux. Intel created the Moblin project for mobile Linux, aimed at Internet devices.
Google's OHA also isn't the first consortium to attempt to standardize a mobile Linux platform. The OSDL started the Mobile Linux Initiative to define requirements for hardware; the Consumer Electronics Linux Forum (CELF) then worked to define various phone profiles aimed at the Japanese market; the Linux Phone Standard (LiPS) Forum tried to do the same thing in Europe. In 2007, LiPS was folded into the new LiMo Foundation, along with the OSDL. All of these committees have had some overlap and some complementary features.
Several of Google's OHA partners are also LiMo members, including NTT DoCoMo, Wind River, and Motorola. So why didn't Google just join LiMo? "LiMo, very candidly, wasn't moving fast enough," OHA board member John Bruggeman told CNET. Google hopes to herd the Linux cats into a progressive, structured platform that can battle against Symbian and Windows Mobile to succeed as the new DOS of smartphones.
Will Google fracture or unify mobile Linux?
The Presumption of the Necessity of DOS.
The previous segment examining Windows Mobile pointed out how the PC industry as a whole assumed that Microsoft's desktop Windows monopoly would easily take over dominance in the MP3 player market, pushing Apple into a niche position. This was expected because DOS had pushed Apple's early computers into a reduced role starting in 1981, and Microsoft had repeated this again in 1991 when the DOS world migrated to Windows, effectively pruning Apple's Macintosh into a Bonsai platform.
The inability of one company to dominate any product category has been frequently repeated by PC industry pundits as a given, despite the fact that history is full of examples of this happening. Sony dominated personal music players for two decades under the Walkman brand even while equally large competitors tried to push it from this position; Nintendo has similarly owned handheld gaming despite ill-fated efforts to grab a piece of its pie by products running a generic platform such as Microsoft's WinCE (Gizmondo), Linux (GP32), and Symbian (N-Gage).
In fact, outside of the Windows/DOS PC, there are actually few examples of a generic platform taking over an industry. Nearly every other consumer-facing product uses proprietary platforms: car makers, stereo equipment, appliances and so on typically all use designs custom to their maker.
The paradox of the Windows PC market has been that Microsoft's broadly licensed software supposedly saves hardware makers from investing in software development while ensuring compatibility, when in reality it adds significant costs to PC makers while limiting their ability to differentiate themselves. That explains why PC makers have been perpetually merging together and going out of business while Microosft has rolled in money over the last two decades.
Parallel efforts to copy Microsoft in broadly licensing an operating system have regularly failed: IBM's OS/2, Apple's Mac OS, Palm's PDA OS, even Microsoft's own efforts to duplicate Windows dominance in other markets, from copy machines to PDAs to smartphones to SPOT watches to music players. The closest copy may be Symbian, but its customers are partners, not simply consumers of a generic third party's operating system as Windows licensees are.
That indicates it is not necessary to duplicate the dominance exercised by Microsoft over the PC industry in the smartphone market. Google's Android and Symbian exist more as technology sharing pacts among manufacturers, but both aspire to take Microsoft's DOS role among smartphones. However, the idea that Apple's iPhone must be dethroned by a modern-day DOS, whether Windows Mobile, Android, or Symbian, is not just debatable, but does not sync with the reality of more recent events. Apple's recent history of the iPod further refutes the idea that a software analog to Microsoft is needed.
The iPod Emergence: Apple & Pixo vs IBM & Microsoft.

Apple's iPod in 2001 made no effort to clone the DOS business model; it actually did the opposite. When Apple entered the market, there were a number of existing MP3 devices using custom software, hardware designs, and DRM codecs. The iPod used off the shelf components to deliver a custom MP3 player using third party software, but Apple also added its own technologies: easy to use sync with iTunes, a fast Firewire interface that made uploading music far faster than the prevailing USB 1.0, and an attractive industrial design.
With the iPod, Apple played the role of IBM in 1981, using Pixo's embedded operating system to enter the market quickly, just as IBM had used DOS. The difference was that Apple didn't direct any market attention toward Pixo and added a lot of value on top of that core embedded OS. A modern day Compaq couldn't simply clone the hardware and license Pixo to run on it in order to compete against the iPod, because the iPod was much more than just generic hardware running Pixo software. As the iPod developed, Pixo's role diminished and was eventually displaced.
Just like IBM, Apple jumped into a new market just as demand was beginning to explode. Apple made MP3 players far more attractive to a general audience by delivering greater playback capacity than most entry level devices offered, along with an ease of use that encouraged buyers to jump in at the higher end of the market. That left Apple with not only the lion's share of the market, but also by far the most profitable segments of the market. Two decades prior, IBM badly fumbled its play with the early PC and ended up irrelevant in the PC world by the late 80s, sideswiped by Microsoft's DOS and the cloners who were licensing it in parallel, notably Compaq and later HP and Dell.
Steve Jobs had witnessed that happen, and was determined to not let it happen again to Apple. Rather than being manipulated by a software middleware vendor as IBM had, Apple worked to incrementally develop the iPod market itself. After consuming the hard drive-based player market, Apple took on the Flash RAM-based market with a tiny hard drive system used in the iPod Mini, and followed up with Flash-based devices of its own in the Nano and Shuffle. This allowed Apple to progressively serve an increasingly wider market, incrementally growing upon an established foundation. With the iPod, Apple became, in effect, an IBM with its own internal Microsoft.
Microsoft's Failure Despite Features.

In contrast, Microsoft entered the music player market by promoting music player hardware reference designs around WinCE. However, it was unable to ship a finished design until the iPod had become firmly established around 2005. Later branded as PlaysForSure, the devices were sold by various hardware makers and all purported to support the same DRM and the same music subscription services while also offering a broader array of hardware that presented video before the iPod did, supported wireless before the iPod, and so on. Despite these unique features, all of those PFS designs still failed.
Microsoft blamed the failure of PFS upon its music store and hardware partners and decided to take Apple on itself in 2006. It relaunched a Toshiba PFS player as its own device under the Zune brand, adding WiFi music sharing features and a larger display than the current Pods had. It failed dramatically as well. Did Microsoft's attempts to float a new DOS among music players fail because of Apple's success, or due to Microsoft's own problems? The failure of the Zune, which followed the iPod model rather than the DOS model, seems to suggest that Microsoft itself was to blame.

Consider too that Microsoft's Windows Mobile phones, which use the same underlying operating system as its failed PlaysForSure music players and the Zune, had similarly flopped even before Apple could release a charismatic phone equivalent to the iPod.
Of course, when the iPhone was released, it hit Windows Mobile hardest. The iPhone made Windows Mobile Smartphones look ridiculous and underpowered, and made Windows Mobile Pocket PC phones look clumsy and awkward, despite the fact that they both supported a variety of features the iPhone didn't, including the ability to edit documents, capture video, send MMS, and so on. Simply adding on features did not enable Microsoft to compete against Apple.
The only conclusion that can be drawn from all this is that competing against Apple requires more than just having a feature arsenal. Microsoft's failures in themselves do not necessarily mean that Google's Android will fail in its attempts to float its own smartphone platform.
Why Microsoft's Zune is Still Failing
Microsoft's Zune, Vista, and Windows Mobile 7 Strategy vs the iPhone
Will Google Succeed where Microsoft Failed?
Microsoft's demonstrated inability to successfully enter consumer markets for MP3 players and smartphones has given observers little faith that the company will somehow turn things around in late 2009 when its next generation of devices are expected to be released. However, prior to that the first fruits of Google's efforts to build its own smartphone operating environment will arrive. Will Google's Android take over Microsoft's crown as the "DOS vendor" among smartphones?
Supporters of Google's Android project point to some parallels between Android for smartphones and Windows on the PC: Android will allow hardware makers to differentiate in ways that can offer features Apple can't (or doesn't want to); it should allow software developers to offer features Apple does not allow on the iPhone; it embraces open, hobbyist experimentation in ways that Apple currently isn't; and it opens the potential for content providers that Apple is not interested in allowing. Openness is Android's key competitive feature.
Will all this openness allow Google to unseat the iPhone to become the primary platform developers want to participate in, and subsequently soak up the market for third party hardware makers that Windows Mobile serves? While Google currently has no market share due to the fact that no Android phones have yet shipped, it does have broad vocal support from a variety of the same kinds of hardware manufacturers that supported DOS and Windows and helped to make those platforms successful in the desktop PC market.
HTC and Android.

The first Android phone is expected to be the HTC Dream; Taiwan's HTC (High Tech Computer) also manufactures Palm's Treo Pro phone as well as many of the most visible Windows Mobile devices. In addition to models produced under its own name, HTC also sells Windows Mobile devices under the Dopod brand, as well as no-name phones branded by providers, such as AT&T, Orange, Sprint, T-Mobile, Verizon Wireless, Vodafone, and others. HTC will also be building the XPERIA X1 Windows Mobile phone for Sony Ericsson.
HTC was quick to throw its support behind Android despite its long term alliance with Windows Mobile. Why would it so enthusiastically support an unproven platform from a company that has no experience in consumer hardware platforms? One can only assume that HTC is not happy with the current state of Windows Mobile, and desperately wants another "DOS" to succeed where Microsoft's has so spectacularly failed.
As an Original Design Manufacturer for Palm, HTC watched as Palm adopted Windows Mobile in place of the Palm OS and subsequently fell even deeper into crisis. Palm's only successful phone since has been its Palm OS-based Centro. HTC undoubtedly sees Android as its ticket to becoming the next Dell, but without a similar dependance upon Microsoft. Android for mobile phones is essentially playing the role of Linux for PCs, except that it has the backing of a major company behind it.
Can Android Take on the iPhone with Openness as its Feature?

As great as this sounds, it's important to consider that Linux on the desktop has made no significant progress in eating into Windows dominance after a decade of trying. Being open, free, flexible, and decentralized hasn't been enough of an advantage to get consumers to migrate from Windows to Linux in any fraction of significance.
Similarly, in the music business, Linux-based MP3 players have had no impact on the iPod, despite offering more features, flexibility, support for additional codecs, and so on. In the mobile phone area, Linux enjoys a sizable portion of the smartphone market, but this is almost entirely due to phones sold by Motorola in China, where the advantages of Linux' openness are void. Motorola's Linux phones offer nothing to users in terms of openness or flexibility, and are really no different in terms of features than other appliance 'feature phones' based upon closed operating systems.
And again, a key problem with assaulting Apple in a feature war is that neither the iPod nor the iPhone became popular by being "highly featured." They both delivered perhaps 80% of the functionality found in all other devices in the market. Rather than trying to match every feature and cater to every niche as Microsoft had with Windows Mobile, Apple's devices did a few things very well at launch, and incrementally developed into full featured devices that still lack some of the more unique features of their competitors.
Further, in terms of openness, the demographic that embraces Linux' characteristic freedoms is not the same as the demographic that buys smartphones in quantity and then pays for data service. This is a critical fact to consider because a big part of the iPhone's success stems from the fact that it is being pushed by mobile providers who want to capture the cream of the market willing to pay a premium for data services.
The Frankenphone.

Combining the fractured aesthetic of HTC's Windows Mobile phone hardware with Android's software, based upon Linux' perpetually unfinished DIY openness and Google's Java-like development platform, will not result in a product similar to the iPhone. Instead, it will look a lot like phones that have already failed in the market.
Apple's advantage comes from slick hardware designs with a close attention to detail, combined with software that purposely does less so that it can do what it does better. Even Apple's own conservative attempts to broaden its software capabilities with iPhone 2.0 have resulted in instability problems that can be blamed upon both Apple's early releases of its phone operating system and software from inexperienced third party developers new to the platform.
Would the current frustrations with iPhone 2.0 be somehow mitigated by additional openness that also embraced all kinds of variables from different hardware makers with less quality control than Apple, a loose committee of additional cooks working to serve up operating system features targeted at every possible conceived need, and a wider third party software group with fewer constraints on illegal behaviors?
The Failure of Open.

While it is politically unpopular to criticize the well meaning efforts of open source contributors, the failure of Linux on the desktop, the failure of the vaporware Indrema game console, and the failure of the OpenMoko project to deliver a workable phone within a year of its deadline all underline the serious problems open development faces in the world of consumer oriented devices. Open has simply failed to deliver on its promises in the world of consumer hardware.
OpenMoko was supposed to release its first mobile phone to consumers for $250 several months in advance of the iPhone. When the iPhone shipped, the group then announced new plans to get its phone out by the end of 2007. Instead, this spring the group announced new plans to move to an entirely different development platform, and ship its phone mid year for $400 with limited functionality and incomplete software outside of basic GSM phone features.
Linux's notable successes, from Motorola's Linux phones to the Tivo DVR to Linksys Routers, have often come without any associated openness or freedom, and were instead delivered simply to provide their manufacturer with a free kernel to build upon. This indicates that while Linux may find its way into an increasing number of smartphones, it will likely not be accompanied by the glorious freedom of an open development environment Google has said it would offer with Android.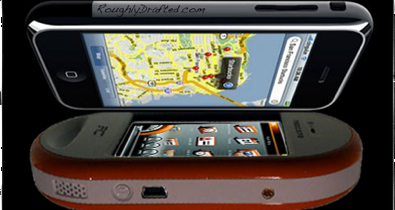 Apple iPhone vs the FIC Neo1973 OpenMoko Linux Smartphone
Can Google Succeed Where Open Has Previously Failed?

Despite "openness" being Android's strongest competitive feature compared to Apple's iPhone, Google recently revealed that its wide-open development model is intentionally gravitating towards a closed association of top tier partners due to practical considerations. In July, Google accidentally sent out a notice that revealed that it had been seeding private SDK updates to only a subset of its contributors, angering those who believed that Android would be as open as Linux on the desktop or the OpenMoko project.
Further, Google has restricted initial development to higher level APIs just as Apple did, further indicating that Google itself realizes that being wildly open to impress a minority of hobbyists will not result in the commercial success of its new platform. That serves to neuter Android's primary advantage over the iPhone. Without delivering on the premise of being wide open, Android is really just a less mature set of Java libraries used to create a specialized binary that runs on a Linux foundation.
Unlike Apple's iPhone, Android phones won't have a slick user interface developed by professional artists, nor the iPhone's legacy of mature software development frameworks crafted over the last thirty years, nor the iPhone's tightly integrated hardware with award winning industrial design, nor its marketing power tied into the iPod and Apple's retail stores. Android won't be an open iPhone, it will only be a Windows Mobile phone with a better kernel that runs specialized Java software instead of Win32 or .NET code. Don't expect consumers to be impressed by that.
The Biggest Missing Feature.

There is one remaining factor that strangles to death any last remaining hope that Android might assassinate the iPhone and assume the crown of the "DOS of smartphones." That is: Android delivers zero price advantage to consumers.
In 1981 and 1991, consumers who wanted Apple computers faced the sticker shock of a somewhat arrogant price tag. Apple sold its computers, as it still does, at the higher end of the market, but there was simply far more range in prices available.
In 1981, that meant the Apple II was $2600 and the new Apple III was $3500, even before you added a monitor. On the low end, Commodore sold its far less powerful, but "still a computer" Vic-20 for $300, while IBM entered the market with the IBM PC at $3000. Over the next few years, Apple focused on delivering additional sophistication at the same price, releasing the $10,000 Lisa and then the $2,500 Macintosh. IBM continued selling PCs in the same $3,000 to $10,000 range, but other DOS PC vendors began selling machines at prices that ranged as low as $1500. That left Apple with a roughly $1000 price premium over low end PCs. The products weren't really comparable, but consumers only saw the huge price difference.
In 1991, Apple was still selling moderate to high-end Macintoshes for $3,800 to $10,000; the crippled Mac LC was $2500, and obsolete-at-birth Mac Classic ranged from $999 to $1500. Windows allowed PC makers to ship a functional $1500 PC and claim a rough approximation to Apple's $2500 entry level system, maintaining that apparent $1000 price premium.
Today, pundits are lucky to find a Dell or HP system that is even a couple hundred dollars less than a comparable Mac. However, in the smartphone business, the iPhone 3G is now the same price, if not less, than generic competing phones on the market. Even more significant is the fact that the price of the phone hardware is nearly nothing compared to the cost of the service plan. This fact simply eases any price premium that could cause buyers to flock to a smartphone running a generic operating system over buying the iPhone 3G, regardless of whether it runs Windows Mobile or Android.
1990-1995: Planting Software Seeds
Android Partners Have Already Failed.

That same pricing principle similarly prevented buyers from considering many of the alternatives to the iPod. While Apple's original iPod models were more expensive than many of the first MP3 players on the market, they were price competitive with models offering similar features. By 2004, it was Apple who was undercutting MP3 competitors on price. Microsoft offered zero price advantage when it began selling the Zune, a major factor in its failure, but Microsoft simply couldn't out-price the iPod; it was already losing money offering the Zune at the same price as the iPod.
Apple now has tremendous market power in buying RAM and other components that will prevent any competitors from being able to offer a huge discount over the iPhone's $199 price tag. Even if competitors were to give their phones away, they would only offer a $200 discount to users who would then still need to pay the same mobile fees to use the phone.
Android's other partners, including Samsung and LG, have already failed to capture any significant market share in the music player market. Are they going to maintain their position as smartphone makers now that they face similar competition from Apple, its iPod ecosystem, its iTunes Music and Apps Store, Apple's retail store experience, and other factors that are pushing the iPhone? If they can, it is not obvious how partnering with Android will help.
Other Problems for Android.

Android was announced in early November 2007 and was followed with an early preview SDK within a couple weeks, a month ahead of Apple's initial announcement of the iPhone 2.0 SDK. However, between March and July 2008, Apple delivered nine progressive releases of its SDK, opened its App Store, and sold 60 million apps, raising $30 million to support iPhone software development in just the first month. It has since released three more SDK updates to developers related to iPhone 2.1, which is expected next month.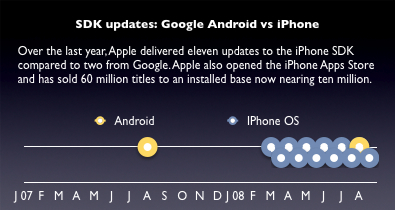 Android just published its first open SDK beta update earlier this week, warning developers that "applications developed with it may not quite be compatible with devices running the final Android 1.0." Additionally, Android still has no phones available. By the time the HTC Dream is expected to launch, Apple will have an installed base of around ten million iPhone (and iPod touch) users supporting software development through iTunes.
The business model for selling Android apps is no better than that for selling jailbreak iPhone apps: there is no iTunes Apps Store to promote them, so users will have to track them down on their own. Android developers also have no real freedom that jailbreak iPhone developers lack. The only difference is that there are ten million iPhones to sell jailbreak apps to, and currently zero Android phones.
If selling a jailbreak iPhone app sounds like more trouble than its worth, imagine trying to sell Android apps to a non-existant audience. Now add the official iPhone App Store into the mix, where publicity, promotion and profits are booming. What platform is going to have the most applications? How many users will flock to a smartphone platform with no apps? The wisdom of releasing a desirable phone and achieving a significant installed base before releasing an SDK makes a lot more sense in retrospect.
Additionally, while Apple has a decade of experience in shipping regular updates to Mac OS X and its Xcode developer tools, Google has only shipped a random assortment of web-oriented SDKs (a number of which have been abandoned) as a tangent to its core business of selling advertisements. When the Android SDK 1.0 is finished later this year, developers will not only lack an installed base to sell their apps to, but will also have no high profile market for selling their apps in, and subsequently no financial incentive to develop applications that add value to the Android platform, just like Linux on the PC desktop.
Around the same time, possibly within the next month, Apple will be shipping its second major OS release: iPhone 2.1. Apple will also be upgrading its entire user base to the new software so that developers will have a cohesive platform to target. This mirrors the efforts Apple has taken to upgrade its Mac OS X users to the same reference release. Mobile developers will be seeing money pouring in via iTunes while crickets chirp in the Android section of various mobile online stores.
Apple's iPhone Vs. Other Mobile Hardware Makers: 5 Revenue Engines
Same Same, But Different: DOS Model Problems.

Android developers will also have a series of other problems to manage. Like Windows Mobile, Android is intended to support everything, from BlackBerry-style keypad phones with a small touchscreen to the simple Windows Mobile Smartphone form factor lacking a touch screen to iPhone-like full size touch screens. Also like Windows Mobile, Android phone makers will have the option to leave off Bluetooth, WiFi, GPS location services, graphics hardware acceleration, and so on.
Each Android phone will also have unique camera hardware, support for different video and audio codecs, and varied support for other differentiating proprietary services demanded by mobile operators. This will force developers to to make complex decisions regarding the lowest common denominator they choose to support.
So while the iPhone will have a cohesive feature set, a managed software environment, and a functional market, Android will be a loose federation of hardware makers selling the same random features found on Windows Mobile today, with a chaotic development environment that lacks any central market for users or developers. And it will be run as an experiment by a company with no experience in consumer hardware or platform development.
The Missing Tap.

One specific example of the "DOS model problem" is that Android currently does not support multitouch. It's not touched on in the API, and Google quietly tap dances around its omission. Why no multitouch? Because multitouch screens are expensive, and most OHA hardware members are more interested in making a profit in a competitive phone market rather than impressing consumers as Apple did with the iPhone.
Most existing smartphones, even those trying to directly rival the iPhone, use a stylus driven, pressure sensitive tap screen or a simpler, cheaper touch technology that lacks support for sensing multitouch. The iPhone's screen can actually sense up to five fingers at once, but the primary feature multitouch offers on the iPhone is the two fingered tapping and the pinching effects everyone associates with it.
Android could certainly support multitouch if there were a demand for it, but that's the point: Google knows that its hardware partners are cheap and unlikely to put out hardware that actually competes with the iPhone. Instead of using expensive technologies that deliver clever yet largely invisible functionality, OHA members, just like PC makers, are far more likely to add flashy, impractical gadgety fluff that's cheap to tack on, such as slide out keyboards, neon tubes, and scratch and sniff stickers. That's how you impress gullible nerds on the cheap.
Google itself is blowing smoke and erecting mirrors to distract from the reality that it being a "DOS vendor" means supporting bargain basement hardware from penny pinching duplicators. Android has been demonstrating some "wow" features such as a Street Maps app that pans around based on an internal compass in the demonstration phone.
The problem is that that kind of thing only makes for a fun demo. Nobody needs to twirl around their phone in the air to see a view of the other side of the street, but everyone who has used an iPhone will wonder why they can't pinch to zoom out. Even worse, most Android phones aren't going to have a compass built into them, so Google is demonstrating features most Android users won't be able to use.
That Sounds Like Microsoft…
Google's design decisions are beginning to look a lot like Windows Vista; rather than actually working to make laptops boot faster, Microsoft came up with the idea of adding a small screen to the back of Vista laptops so users could check their email without having to wake the system up. But this was a stupid idea for a number of reasons, the most obvious being that most users just want a laptop that boots up quickly.
Few laptops got the mini screen, but every user who tries Vista on their laptop will wonder why it doesn't boot up as fast as Mac OS X Leopard. In the same way, Google is advertising features for Android that most users won't ever see in their actual phones while ignoring things people will expect based on their exposure to the iPhone. Android is simply selecting the wrong features.
Android will offer the advantages of supporting MMS, recording video, and the list of other features Windows Mobile already supplies. Those features didn't stop Apple from firing past Microsoft in the smartphone arena however, just as the Zune's highly touted WiFi and screen didn't phase iPod buyers. Incidentally, just months after the Zune, Apple had not only demonstrated a larger display but a higher definition multitouch screen, and not only WiFi, but functional WiFi that could be used to browse the web or check email.
This suggests that Apple, with its faster release schedule, won't stay behind any of the leading features potentially offered by Android for very long. Android partners, however, will find it as difficult to catch up with Apple's unique features, just as Microsoft has been stymied to keep up with Mac OS X, the iPod, and the iPhone. The underlying reason: both Google and Microosft are tasked with maintaining support for a huge variety of hardware options demanded by all their partners. Apple has the unique circumstances to do only what it needs to do itself.
Android in Windows Mobile's Shoes.

Like Windows Mobile, Android faces a difficult market. In the US, it competes against the popular BlackBerry in corporate markets and the iPhone among consumers. Worldwide, it competes against entrenched market leader Nokia. The difference is that Google, unlike Microsoft, has no in.
Windows Mobile was adopted by Windows-bound IT shops despite its weaknesses. Nobody has any preexisting reason to try an Android phone apart from hobbyists and open software enthusiasts, a demographic that has done little to move Linux on the PC desktop. Google also lacks Microsoft's installed base; it's starting from zero.
The smartphone industry initially doubted Apple's chances of making much progress with the iPhone, despite the company having the Mac platform, the iPod, retail stores, platform development experience, marketing savvy, industrial design prowess, and so on. Google doesn't have any of those things.
Mobile Providers vs Android.

Apple also started with an exclusive partnership with AT&T, a three legged race that demanded effort from both. Google is hoping that hardware makers handle the hardware details and that mobile providers will be excited to sell its Android phones. While hardware makers such as HTC clearly appreciate having found a free alternative to Windows Mobile, it's not obvious why providers would be excited about Android, as it promises an openness that most mobile providers strongly oppose.
AT&T took a big risk in getting behind the iPhone, as the phone encouraged users to use email rather than fee-based SMS and MMS, it supported WiFi for data access, and it bypassed AT&T's MEdia Net services to plug into iTunes instead. Verizon refused to parter with Apple and grant it those kinds of concessions. Is AT&T going to take a similar risk to partner with a phone that is not exclusive to it, and is Verizon now going to open its arms to support phones that do not exclusively support BREW, VCast and its other proprietary services?
While Android may well eat into Microsoft's Windows Mobile business by stealing away its hardware makers, it seems unlikely that Android will ever serve as more than free alternative to Windows Mobile in a market where Windows Mobile is increasingly irrelevant. Android may have the dubious distinction of swallowing Microsoft's mobile business the same way Microsoft ate up the Palm OS, but even if it accomplishes that goal, Google will likely find itself unsustainably hungry immediately afterward. It will also find itself swimming in a shark tank of hungry rivals, including Nokia's Symbian, RIM's BlackBerry, and Apple's iPhone.
Symbian is the final generic platform vying for the opportunity to play DOS in the smartphone market. The next article will examine Nokia's chances in its bid to match Microsoft's PC dominance in the mobile market while setting out in a new venture to copy Android's open software model.

Did you like this article? Let me know. Comment here, in the Forum, or email me with your ideas.
Like reading RoughlyDrafted? Share articles with your friends, link from your blog, and subscribe to my podcast (oh wait, I have to fix that first). It's also cool to submit my articles to Digg, Reddit, or Slashdot where more people will see them. Consider making a small donation supporting this site. Thanks!