Will Windows Mobile Play DOS to Apple's iPhone?
August 20th, 2008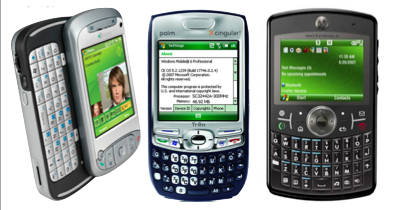 Daniel Eran Dilger
Today's broad array of smartphone operating system contenders are offering lots of potential answers to a problem that only requires one. It appears the market has two options ahead: either pool generic hardware makers behind a single operating system and deliver a smartphone marketplace that resembles the Windows PC market, or watch them fall to a dominant leader and have a smartphone market that resembles Apple's iPod ecosystem.
This decision isn't going to be made by a class of intellectual elite, or by government mandate. it's going to be made by the market itself. Here are the factors that will influence the outcome, either marginalizing Apple's iPhone into a niche as the company has twice experienced previously at the hands of DOS in 1981 and Windows in 1991, or positioning it as the dominant leader as Apple has achieved for itself with the iPod since 2001.

The second segment in this series looks at Microsoft's Windows Mobile's attempts to "DOS-attack" Apple's iPhone. Subsequent segments look at Google's Android and Nokia's newly opened Symbian and other mobile contenders challenging the iPhone.
Will the iPhone Meet its Match from a Modern Day DOS?
Will Windows Mobile Play DOS to Apple's iPhone?
Will Google's Android Play DOS to Apple's iPhone?
Will Symbian Play DOS to Apple's iPhone?This All Happened Before… But Things Have Changed.
It's easy to try to predict the future with the help of hindsight. However, while we know history keeps repeating, events always do so in slightly different ways that keep us surprised, as anyone who has tried to salvage fashion and wear it again a generation later has found. In this case, we have two historical events serving as potential foreshadowing events. Which will win out: a DOS model or the iPod model?
Windows Enthusiasts had been confidently praying for Microsoft's Windows Media platform to save them from the iPod ever since Apple released its music player. When the PlaysForSure world came crashing down, they rushed to support Microsoft's own solo attempt to compete against the iPod with Zune.
Things really got ugly when the iPhone arrived. Meditative prayers for deliverance from the iPod turned into incessant voodoo chanting against the iPhone, accompanied by spirited dancing around the truth and needling attacks.
Philip Solis of ABI Research shifted his attention from conducting interviews that suggested a mass Zune migration to issuing reports denying that the iPhone was a smartphone at all by his own definition.
Rob Enderle jumped from hopeful optimism for the Zune ("Microsoft is trying to encompass Apple and turn them into a bit player. The strategy is brilliant, but the question is can they execute?") to angry condemnation of the iPhone, calling it "damned" and "not a good phone" months before he had ever even touched one. Enderle is now serving as a consultant to Dell's plans to resurrect its failed "DJ Ditty," and offering up opinions on how to compete with the iPod, despite having no experience in guiding companies into competition apart from a long career of cheerleading Microsoft's monopoly position, which was devoid of any functional competitors.
Mike Elgan initially wrote that the Zune "scares Apple to the core," and was confident that Microsoft would "leverage the collective power of Windows XP, Windows Vista, Soapbox (Microsoft's new "YouTube killer") and the Xbox 360" to kill Apple's iPod business. After the Zune failed and the iPhone took off, Elgan complained that Apple was "arrogant" and "the new Microsoft" and needed to be stopped. Since then, Microsoft has canceled XP, Vista has floundered, Soapbox went nowhere, an the Xbox 360 has done nothing to advance Zune sales.
Paul Thurrott similarly called iTunes a dangerous monopoly despite the wide open market for iPod alternatives, and warned "Apple should be stopped before the abuses get too great and harm too many consumers." However, Thurrott himself has chosen to bravely negotiate those dangers and use iTunes, iPods, the iPhone, and pays for MobileMe. He celebrates his use of Apple products in front of Mac users, and then bad mouths them in his Windows-oriented blogs. Lately he has been increasingly unable to find anything good to say about the Zune or Windows Mobile either, however.
More Absurd iPhone Myths: Third Party Software Panic
Mac OS X vs Linux: Third Party Software and Security
Arrogance Unleashed: The Foul Stench of Computerworld's Mike Elgan
Forrester Research: Epic Terror of iTunes and Apple TV
Windows Mobile is Not the DOS You're Looking For.
Even the most devoted, hardcore fans of the Zune and Windows Mobile are having a hard time praising their current incarnations. The next version of each, both of which promise to address their huge gap in functionality compared to the iPhone and iPod touch, is scheduled for late 2009 or 2010. That is an eternity away, particularly considering that the iPhone went from rumor to 2.0 over the same period of time. A year and a half from now, the iPhone will be splitting atoms and curing cancer (so to speak).
While Apple has received some appropriate criticism for releasing iPhone 2.0 with considerably less stability and polish than the original iPhone 1.x software, updates improving the situation have been released regularly, with two just in the last month. Windows Mobile users are lucky if they get a minor bug fix once a year, and many users have to wait months after an update is released before their hardware manufacture or mobile provider approves the update for download.
The original iPhone also had some teething problems that were quickly addressed in a series of regular updates over its first six months on the market. In comparison, Windows Mobile has been out for over half a decade. It has not only rarely received updates, but has never performed admirably. It is known for poor battery life, rampant instability, and a poor development architecture that is well behind the iPhone's Cocoa Touch frameworks.
Over the last two years, Apple delivered eleven updates to the iPhone OS compared to two from Microsoft, despite the fact that Apple only sold the iPhone over three fourths of that period. Over the next two years, Apple will likely ship another dozen updates while Microsoft only plans to ship one: Windows Mobile 7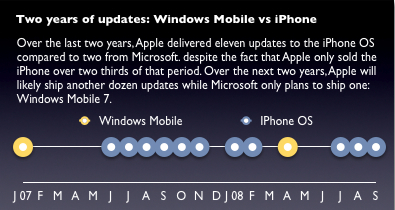 DOS Model Problems.

In addition to the faults of Windows Mobile that can be directly blamed upon Microsoft, there are also serious flaws within the model for selling a universal operating system across a number of hardware devices. The "DOS model" has demonstrated problems for PC makers, but in a mobile device, those problems have even greater significance.
Microsoft is troubled with having to support a wide range of Windows Mobile phones that all support different features. PDA-style "Pocket PC" Windows Mobile devices use a larger stylus tap screen, while "Windows Mobile Smartphones" such as the Motorola Q, only provide a tiny screen with no touchscreen capacity. Also, only a few Windows Mobile phones have an accelerometer, or WiFi, or GPS, and the camera in each is unique. These hardware differences complicate developers' ability to release software that takes advantage of the features of each phone appropriately.
Should a game provide accelerometer controls that only work on a few Windows Mobile phones? Should a document viewer application attempt to take advantage of a larger, interactive tap screen or try to cram into a tiny screen driven only by hardware buttons? The iPhone has one screen interface and a single set of hardware features for developers to target.
While new iPhone models will eventually broaden those features, Apple will be managing the transition, and has the power to deliver software that abstracts different abilities seamlessly, just as it has on the Mac. For example, location services on the iPhone 3G works identically to those on the original iPhone apart from lacking GPS, and the iPod touch works the same way despite only being able to use WiFi to find its location. Developers don't have write to a specific profile, they simply ask the device for a location and the software uses the hardware available. Supporting devices from different manufactures all trying to differentiate themselves is simply far more difficult.
Wait, Stop, Come Back.

Microsoft's core inability to deliver a decent mobile operating system after a decade of trying, on top of the fact that supporting a wide variety of hardware is simply more difficult to pull off compared to Apple's integrated model, makes it simply hard to make the case that Microsoft will float out a third generic platform to overtake the smartphone industry following its DOS and Windows for the PC, both of which were actually more the product of fortunate positioning and existing market power.
In reality, while Microsoft talks up its plans to take over the smartphone market, Windows Mobile has been dramatically losing market share among smartphones despite having taken over the software reigns at Palm and snuffing out the Palm OS to take its position as heir to the Treo dynasty. The Windows desktop monopoly has done nothing to shore up Windows Mobile's declining market share, which according to Canalys has slipped from 23% in 2004 to around 12% today.
Instead, Apple rose to match and then exceed Microsoft's market share among smartphones in the US within just three months of sales. It not only maintained its lead in the US, but with the release of the iPhone 3G appears to have caught up to Microsoft's entire worldwide shipments across all of its providers in its first weeks on going on sale.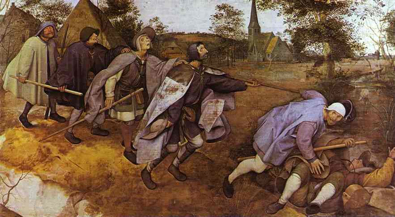 Microsoft's Zune, Vista, and Windows Mobile 7 Strategy vs the iPhone
DOS and Windows Then…

When Apple released its Macintosh in 1984, the IBM DOS PC had already captivated the market and was widely established. The majority of PCs being sold had already migrated away from CP/M and other DOS competitors, leaving Apple to compete against a strongly entrenched platform led by the much larger IBM, which had monopolized business machines for decades prior to entering the new personal computing market.
Apple also had a severe price premium to overcome when selling against DOS PCs (most of which were sold with a fraction of the RAM or graphics capabilities of the Mac), and Apple itself was doing a poor job of marketing the Mac, with CEO John Sculley choosing to promote "Apple II forever" while Jean-Luis Gassée pulled plans to push Macs in business and targeted the high end desktop publishing niche instead.
When Microsoft began successfully promoting Windows in 1991, it was selling to that same DOS PC audience, which had only become further entrenched over the last eight years. The Mac was already hammered into a tight niche and Apple had done little to advance its technological lead over the PC. On top of all that, Apple had handed Microsoft a wide open license to use its Mac interface conventions, and then embroiled itself in unsuccessful litigation to undo the damage. By the time Windows began shipping broadly, Sculley was focused on his political career while Gassée was getting ready to start his own company.
Mac Office, $150 Million, and the Story Nobody Covered
Jean-Louis Gassée Returns from Obscurity… to Talk About MobileMe
… and the iPhone Now.

Today, the circumstances are wildly different. Windows Mobile does not enjoy any dominant position in the US (where RIM is far ahead) or worldwide (where Nokia is leading by a dramatic margin). Competition between Windows Mobile and other alternatives has left Microsoft's product looking unattractive outside of a few niche markets among Microsoft IT shops, many of whom are now considering the iPhone instead.
The iPhone has broad appeal leveraging Apple's iPod, Mac, and retail store successes. Apple is actually marketing its products effectively now through its own retail stores. AT&T and other mobile partners are also working to sell the iPhone because it generates more money for them; ten years ago, Apple could barely get retailers to stock its products, let alone market them.
Not only are Apple's sales outpacing those of Windows Mobile devices, but users are now browsing the web four times more frequently from the iPhone than from Windows Mobile. Apple not only has a huge mindshare and technical lead, but has a co-development platform spanning the Mac desktop and the iPod touch handheld that shares technology with the iPhone. While Microsoft sells some Pocket PC PDAs lacking mobile service that are not counted in its smartphone market share, Apple sells a vast number of iPod touch devices that likely outnumber sales of the iPhone by a wide margin, and those are similarly not counted in Apple's smartphone market share.
Considering the entire WinCE platform, which includes Windows Mobile Smartphones, Pocket PC (mobile and non-mobile), Zune, and other PlaysForSure licensed Portable Media Center devices, Microsoft's influence over handheld devices is insignificant compared to Apple's with the iPod and iPhone, despite the fact that the iPhone and the iPod touch are barely a year old. In the US, where Apple sold the majority of its iPhones in 2007, it outflanked all Windows Mobile sales in its first quarter of sales.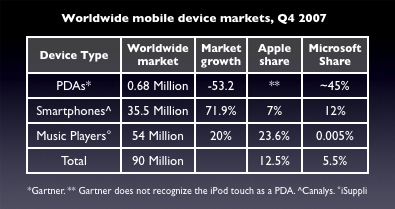 A Better DOS than MS-DOS.

Who will pick up the torch Microsoft has dropped? The most likely contender may be Google's Android. Microsoft's leading Windows Mobile partner HTC certainly thinks so, as it is hedging its bets to become a member of Android's Open Handset Alliance. Can Android play DOS to the iPhone for commodity smartphone hardware manufacturers, and will Google end up with a Microsoft-like role among phone makers? The next article will take a look.

Did you like this article? Let me know. Comment here, in the Forum, or email me with your ideas.
Like reading RoughlyDrafted? Share articles with your friends, link from your blog, and subscribe to my podcast (oh wait, I have to fix that first). It's also cool to submit my articles to Digg, Reddit, or Slashdot where more people will see them. Consider making a small donation supporting this site. Thanks!