Will the iPhone Meet its Match from a Modern Day DOS?
August 18th, 2008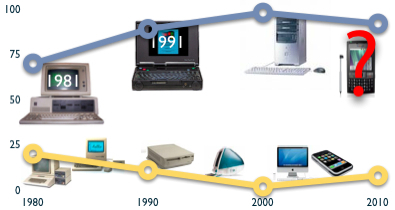 Daniel Eran Dilger
The smartphone industry is preparing for explosive growth in the sales of sophisticated mobiles. Every other phone on the market is currently being compared to Apple's iPhone, setting up a close parallel with the PC market in the 80s and 90s. Will Apple again lose its to early technical lead to a generic platform like DOS?
Will the iPhone Meet its Match from a Modern Day DOS?
Will Windows Mobile Play DOS to Apple's iPhone?
Will Google's Android Play DOS to Apple's iPhone?
Will Symbian Play DOS to Apple's iPhone?
DOS in the Early PC Market.
Apple was founded at the birth of the personal computer in 1976, and it rapidly gained prominence and household name recognition by selling easy to use computers. In the early 80s, Apple invested its early profits into developing a new graphical computing platform, and ended up well ahead of other PC companies in delivering sophisticated software to unlock the usability of its hardware.
Having a head start didn't keep it ahead however. When the much larger IBM entered the market in 1981 with its DOS PC, Apple's fledgling efforts to leverage its software and hardware sophistication were trampled by IBM's market power and a blossom of other PC clones also running DOS. That pushed Apple from a position of selling around a sixth of the world's personal computers in 1980 (15.8% according to Gartner) into a specialized niche of around 11% of the overall PC market by 1990. Apple's unit sales of new computers had kept increasing, but it was outpaced by even faster growth in the overall DOS PC market.
Ten years later, while IBM had fallen out of the picture, the market power behind the DOS PC again returned for a second assault, this time led by DOS vendor Microsoft, which had tacked a graphical environment on top of DOS and was selling it as Windows.
Windows had the same appeal to generic PC makers as DOS had the decade earlier; it allowed them to compete against Apple's integrated model without investing the resources into building their own software. Apple's share of the market rapidly shrunk down to 2% even as the company continued to build more Macs because the overall Windows PC market rapidly grew around it throughout the 90s.
Office Wars 1 – Claris and the Origins of Apple iWork
How Apple Keyboards Lost a Logo and Windows PCs Gained One
1990-1995: The Rise of Windows NT & Fall of OS/2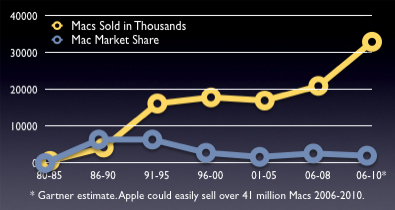 SCO, Linux, and Microsoft in the History of OS: 1970s
SCO, Linux, and Microsoft in the History of OS: 1980s
SCO, Linux, and Microsoft in the History of OS: 1990s
SCO, Linux, and Microsoft in the History of OS: 2000s
The Tables Turn.
Apple's infusion of new technology and leadership from NeXT enabled the company to turn things around over the following decade, however. Apple built its own retail stores, developed its own professional and consumer software titles, and delivered rapid technological advances in its operating system software that has enabled the company to reach and sustain 35 to 40% annual growth within the PC industry, which itself has slowed down to a mature crawl of around 4% overall.
Apple's market share has begun ratcheting back up from less than 2% to its current standing of around 3.5% of all the PCs and servers sold worldwide. Every percentage of increase is significant because it represents an additional proportional share of an increasingly larger pie. One percent share of the PC market in the early 90s equated to around 400,000 units; today it amounts to 2.5 million. The company's growth in specific, highly profitable markets is even more impressive, as it has 8% of the US market, and among retail PCs over $1000, Apple has over 66% market share.
At the same time, Apple also invested in consumer products with the iPod, and rapidly developed its MP3 player brand to consume the vast majority of that market. Despite DOS-like attempts by Microsoft to deliver a reference platform of MP3 and video playing hardware and software under the Portable Media Center and PlaysForSure brands, Apple not only held onto more than a 70% share of the market, but also developed the music player market out into a more sophisticated ecosystem that involved billions of dollars of music and media sales, a multi-million dollar accessories business, and most recently a WiFi web and mobile software platform.
Observers who had witnessed Apple fall twice in as many decades to "the DOS attack" of a generic platform have been predicting a hat trick ever since the iPod appeared. They confidently assured users that Apple's leadership with the iPod was doomed to fall to a more generic successor, initially assumed to be Microsoft. But when PlaysForSure and Windows Media failed miserably, a random assortment of devices from Creative, Samsung, SanDisk, Sony, and others (including Microsoft itself with the Zune) were handed "iPod Killer" armor by media pundits and sent into the front lines of retail stores. None returned to claim victory.
Market Share vs Installed Base: iPod vs Zune, Mac vs PC
Microsoft's Zune, Vista, and Windows Mobile 7 Strategy vs the iPhone
iPod 2: The Smartphone.
The next hopeful for unseating the iPod dynasty was identified to be the MP3-playing smartphone. However, by the iPod's fifth anniversary there were still no standout smartphone vendors or platforms that could realistically claim to rival the iPod as a music player. Most smartphone users continued to use an iPod in addition to their phone, a fact reflected in strong iPod sales and the overwhelming popularity of iTunes among online music buyers.
When Apple announced plans to release its own smartphone, the mobile industry largely scoffed. Microsoft CEO Steve Ballmer insisted, "There's no chance that the iPhone is going to get any significant market share. No chance. […] I'd prefer to have our software in 60% or 70% or 80% of them, than I would to have 2% or 3%, which is what Apple might get." In reality though, Microsoft had seen its own share of the smartphone market tumble from 23% in 2004 down to 12% in 2006.
In the smartphone business, Microsoft had been continuously losing share even while increasing its unit shipments, just as Apple had within the PC market in 1981 and again 1991. Shipments of Windows Mobile phones have grown rapidly, but not nearly as fast as the industry in general. Nokia uses its own Symbian OS to power its smartphones, while RIM has similarly experienced its own rapid growth in enterprise markets using its own custom smartphone OS. In its first year, Apple added 6.1 million iPhones running OS X into the market, more than a third as many as all of Microsoft's worldwide partners combined had sold in the same period.
Apple's iPhone Vs. Other Mobile Hardware Makers: 5 Revenue Engines
Apple's iPhone vs Smartphone Software Makers
Can There Be Only One?
The smartphone industry isn't congealing behind a generic operating system as the PC market did in 1981 and 1991. Instead, additional competitors are entering the fray. Google's Android and a number of other Linux-based platforms advanced by ACCESS, MontaVista, and others have all struggled to find attention in the market.
However, this wild proliferation of platforms also occurred in the PC market prior to the mass market adoption of DOS and Windows; before IBM got behind DOS in 1981, there were a variety of PC makers using CP/M, as well as unique platforms being advanced by Acorn, Apple, Commodore, Tandy and others. And prior to Windows taking the lead in 1991, the Macintosh had been joined by the Acorn Archimedes, Amiga, Atari ST, NeXT, and other graphical computing systems.
At both events, the diversity of platforms caused problems for users. There simply wasn't enough critical mass behind any of the more superior technologies to advance them, and so the PC world ended up twice falling in line behind a third rate platform that eventually gained the traction of the QWERTY keyboard at which time it couldn't be replaced.
Is the current vibrant competition in the smartphone industry about to collapse behind a single, pedestrian DOS-like vendor as the PC world did in 1981 an 1991? Or will Apple continue its current growth with the iPhone and expand at the expense of existing and new smartphone rivals, as it did to Archos, Creative, Cowon, Diamond Rio, iRiver, M-Pio, Microsoft, Pioneer, Samsung, Sony, and others with the iPod? The next article will take a look, but you can register your own ideas in advance, in the comments below.
Rise of the iTunes Killers Myth
Secret iPhone Details Lost in a Sea of Hype and Hate
Did you like this article? Let me know. Comment here, in the Forum, or email me with your ideas.
Like reading RoughlyDrafted? Share articles with your friends, link from your blog, and subscribe to my podcast (oh wait, I have to fix that first). It's also cool to submit my articles to Digg, Reddit, or Slashdot where more people will see them. Consider making a small donation supporting this site. Thanks!