Verizon V Cast Music with Rhapsody: We LG Dare You To Hate It!
August 15th, 2008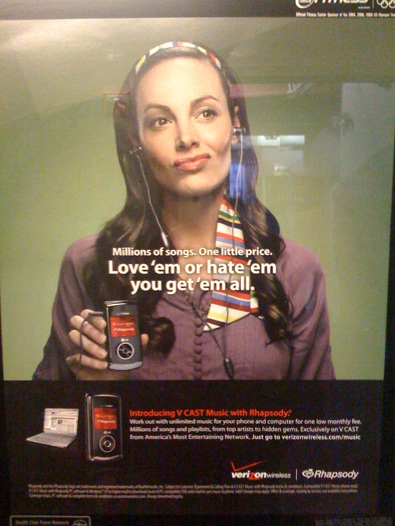 Daniel Eran Dilger
Quick, what's wrong with this ad for Verizon Wireless' Rhapsody music subscription service? Well first off, subscription music is already unpopular enough without promoting it as a service with "a lot of song you'll hate, but you can dig through to find others you wont." Oh, but there's much more wrong with "America's Most Entertaining Network."
The Lucky Goldstar Phone
The phone being promoted in the ad is an LG Chocolate 3. This is the phone LG originally modified for the US market to look like an iPod using a fake click wheel. The latest version now looks like an iPod running Front Row (below) with Apple's iTunes tune icon, an iCal calendar, and an Image Capture camera. At least LG had the decency to copy the Adobe Photoshop Elements daisy icon rather than ripping off the iPhoto palm tree.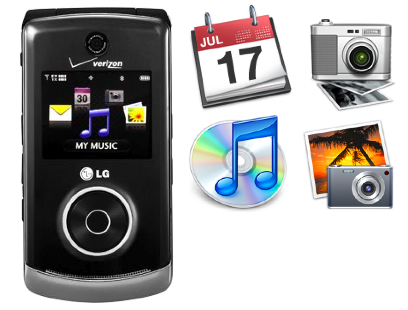 Incidentally, LG is the same company that loudly accused Apple of copying its Prada phone with the iPhone, as if Apple whipped up the iPhone's design in three months based entirely on LG's long since forgotten Flash Lite-based "luxury phone" that did nothing special. At least they both were rectangular and black. Oh wait, the iPhone was actually rounded with chrome frame and a silver back, and didn't look like a Sony product from the late 80s.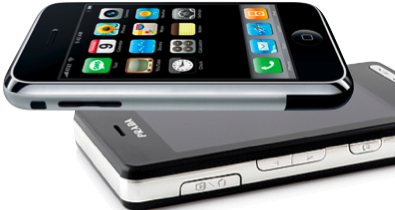 And then there was the user interface of the Prada, which nobody paid much attention to because there wasn't much to talk about. And while everyone wept bitterly about the original iPhone's lack of 3G service in the US, the LG Prada phone was being sold as a $700 GSM phone in Europe (and only Europe), where 3G UMTS was already well established and considered a bigger factor among buyers. Unlike the iPhone, the Prada had no redeeming user interface polish or web browser savvy to make up for its technical limitations.
Apple iPhone vs LG Prada KE850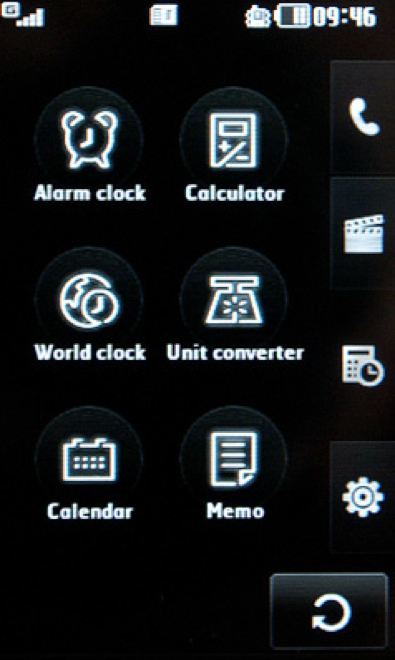 Verizon has just gotten its hands on the Prada phone under the new LG Dare branding (it has also been sold by AT&T as the Vu and in Europe as the Viewty), and its seen some significant updates in the meantime: a better camera than the iPhone with video capture, CDMA-style 3G, and it now has a 3.5mm headphone jack like the iPhone debuted with.
However, the Dare is still a Flash Lite clunker with an unusable toy web browser, a smaller, lower resolution display with less color depth that uses a "fingernail mash" pressure tap screen rather than a responsive, multitouch capacitance screen like the iPhone. And it even lacks WiFi, thanks to Verizon, which also charges users an extra $10 a month to use its GPS maps feature.
The Dare "feature phone" isn't setting any sales records, so Verizon is associating its Rhapsody music ads with the cheaper and even less smart Chocolate 3. In the ad, Verizon replaced its screen with a blank placeholder, but as long as they're Photoshopping the thing to polish away the ugly truth, how about also de-emphasizing the fact that the headphone cable moronically pokes out of the side of the unit, making it clumsy to throw in your pocket like a real iPod?
And how about at least moving that huge Soviet-looking plastic bulge on the headphone cord out of the shot, and printing the ad titles over the top of the cheap looking mic/switch? And do the earbuds really project that far out of your ears when listening to music you hate?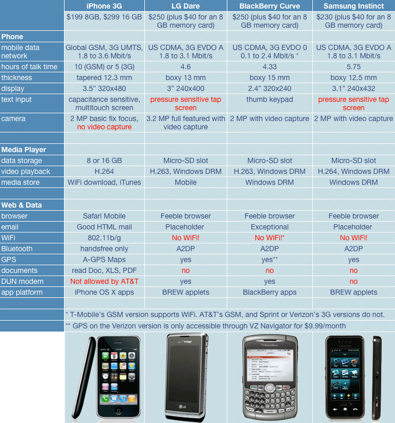 Inside iPhone 2.0: iPhone 3G vs. other smartphones
Rhapsody on a Mac?
Also comical is the fact that the ad is promoting Rhapsody's Windows Media-based subscription music service on a MacBook Pro. If you go to the Rhapsody site, clicking on their software download button doesn't even ask what platform you have, or inform you that its Windows only; it simply shoves a .EXE at you in a "take my wife… please!" sort of way.
Is Verizon now kicking itself for rebuffing Apple's original attempts to partner with it to deliver the iPhone? At least it can still use a Mac laptop and an iPod-mimicing cell phone to promote a brain dead music service as being "a lot of crap you wont like, but maybe some you will!"
Rise of the iTunes Killers Myth
Is Number Two Amazon Rivaling iTunes in Music Sales? Haha No
Microsoft's Zune, Vista, and Windows Mobile 7 Strategy vs the iPhone
Did you like this article? Let me know. Comment here, in the Forum, or email me with your ideas.
Like reading RoughlyDrafted? Share articles with your friends, link from your blog, and subscribe to my podcast (oh wait, I have to fix that first). It's also cool to submit my articles to Digg, Reddit, or Slashdot where more people will see them. Consider making a small donation supporting this site. Thanks!