Microsoft's Zune, Vista, and Windows Mobile 7 Strategy vs the iPhone
August 12th, 2008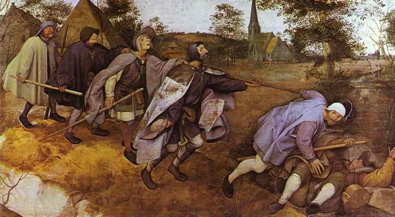 Daniel Eran Dilger
What secret partner has Microsoft discovered to bail water from the deck of Zune and its Zune Marketplace music store in a last ditch attempt to take on Apple's iTunes, the iPod, and iPhone? Microsoft's own Windows Mobile, of course, with some help from Windows Vista!
Who Else Will Help Zune?
Certainly not Nokia, as one Zune fansite tried to suggest last week. Nokia has nothing to gain by promoting the Zune. A more credible sounding rumor, as long as we're inventing stuff, would be to instead suggest that it could be Sony Ericsson that is interested in putting the Zune software on its new phones. At least Sony has already demonstrated its complete failure at selling music on its own, and actually has a Windows Mobile phone in the works.
The simpler reality is that Sony Ericsson may have no choice in the matter. Microsoft is clearly out to wed the Zune with Windows Mobile in a effort to get the two failures to prop each other up in its "I'm not dead yet!" fight against the iPhone. Microsoft is likely to make inclusion of its Zune Marketplace a mandatory feature that its Windows Mobile partners will have to swallow, just as it forced its PC licensees to bundle its Internet Explorer browser and later Windows Media Player, while prohibiting them from seeking their own bundling deals with other companies. Microsoft took quick steps to block Compaq's licensing of QuickTime, for example.
Those deals were bad for HP, Compaq, Dell, and the other PC makers, bad for competition within the tech industry, and subsequently bad for consumers. However, they did enable Microsoft to use its powerful Windows monopoly position to push proprietary standards and or anti-interoperable technologies designed to expand its monopolized control, while making big money selling Windows in a market that lacked any alternatives.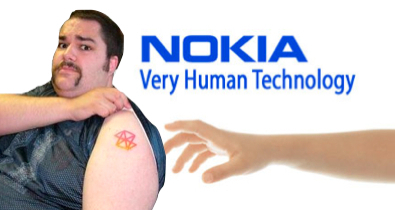 Will Nokia Rescue Microsoft's Zune? Haha No.
Apple in the Web Browser Wars: Netscape vs Internet Explorer
Microsoft's Plot to Kill QuickTime
A Lot Has Changed.
This time around however, all Microsoft has to leverage is Windows Mobile, a struggling platform with little respect in the industry, now in a distant third place. Further, the technology Microsoft is trying to push is essentially its Windows Media DRM, which has already been swept up and trashed by Apple's iTunes, QuickTime, and the iPod. The dismal fate of Windows Media was sealed with the failure of PlaysForSure. The Zune's new, albeit incompatible, reincarnation of Windows Media DRM never stood any chance of making any headway.
However, the most problematic part of Microsoft's strategy of pushing its Zune Marketplace store on its Windows Mobile partners is that music stores don't make money. Apple's iTunes Store is the biggest online music store on Earth, and does tremendous volumes of sales. Still, Apple reports minimal profits from the store. It recently warned its investors that it's now selling so much through iTunes that the low profit, high volume venture may have a negative impact on the company's overall profit margins.
As problems go, that's certainly a nice one to have. Apple is not at all worried about turning a big profit with iTunes because it runs the store exclusively with the intent of ensuring new content for the iPod, iPhone, and Mac. That in turn sells its hardware. However, Microsoft doesn't have hardware sales to nurture. It has barely sold two million Zune units, many at fire sale prices (compared to 150 million iPods, 93 million of which have been sold since the Zune's release). It now faces impossible odds in tilting against the momentum of iTunes' rapidly spinning windmills, with no possible upside in terms of eventual music store profitability.
There's simply no way that any amount of investment in the Zune Marketplace could deliver profits, because Microsoft is competing against Apple's non-profit motivation behind iTunes. Further, Windows Mobile is similarly a big loser with no potential because Microsoft has little ability to profitably license its mobile software. It's competition is the iPhone OS, which Apple develops for free to sell iPhone hardware (Microsoft does not sell its own phone hardware); RIM's mobile OS, which is also free for BlackBerry hardware; the Symbian OS, a partnership between hardware makers; and various mobile distributions of Linux, including Google's Android, all of which are also run as profitless ventures to support hardware sales (or in Google's case, service sales).
The Great Google gPhone Myth
Why Microsoft's Zune is Still Failing
10 FAS: 7 – Apple's Hardware and Dvorak's Microsoft Branded PC
Good Money After Bad.
All that unpleasant reality hasn't fazed Microsoft. Its executives haven't found a way to make money in consumer electronics yet, and the company's attempts just keep getting more and more expensive. Barron's recently featured the speculation of one Microsoft investor who hoped the company would spin off its hemorrhaging online services division as well as its profitless entertainment and devices unit, which includes the Zune, Xbox, and Windows Mobile.
The investor calculated the value of Microsoft's other businesses (its high profit Office, Windows, and server divisions) and decided that the market wasn't assigning any value at all to Microsoft's consumer electronics and services products divisions. No wonder; they're nothing but a huge drain on Microsoft!
Even so, the investor seemed to think there must be some value to obtain from selling off the black holes, citing the market value of the highly profitable Nintendo. The investor's real intent seemed to be finding a way to "discourage the company from overinvesting in the business." Microsoft's stock has only appreciated by 6.3% over the last decade. Apple has appreciated 1,822.6% in the same period. Microsoft is trying to develop new markets as Apple has, it's just failing to do so.
Microsoft's Outrageous Office Profits
Strength in Bundles.
Microsoft has always been interested in promoting its products by using strong ones to prop up weak ones. From the start, it bound its strong Mac apps to the rather weak Windows offering to invent the PC platform, and has since tied Word and Excel to a suite of otherwise fair to marginal apps under the Office banner.
Once Windows became established, the company tied in an unfinished, third-rate web browser and was able to rapidly build it into a strong competitor through market inertia. On the server side, Microsoft similarly ties in tragic products into package deals that often (but not always) enable the weak bits to gain some traction.
So Microsoft is again working to stitch together its various properties to support each other, but now most all of its recent products are in flames and desperately need reinforcement. There's only so much one failure can do to support another. Even worse, Microsoft's historic strengths are no longer working. The Windows monopoly was supposed to brace up Windows Media Players, Windows Media Center, Windows Mobile, Windows Live Search, Windows Live Soapbox, and a series of other cobranded products that haven't gone anywhere.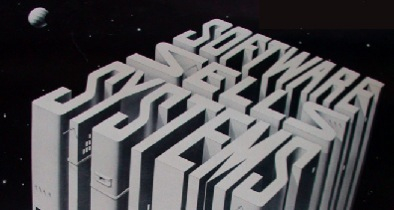 Office Wars 3 – How Microsoft Got Its Office Monopoly
Office Wars 4 – Microsoft's Assault on Lotus and IBM
Why Does Microsoft Really Want Yahoo?
Certifiable Failure.
Windows itself is now in the throes of crisis, as the failed launch of Vista nearly two years ago has signaled the undoing of Microsoft's ability to rely on its desktop monopoly to advance failures into strength. Is Vista going to put out the Zune's flames by beating with its own flame-engulfed wings? That's part of Microsoft's current strategy, which included rebranding PlaysForSure as 'Certified for Windows Vista.' The Zune is also Certified for Windows Vista, despite not being compatible with the Certified for Windows Vista PlaysForSure.
Confused? You needn't be for long, as the remnants of Microsoft's one-time strategy for creating an 'ecosystem of hardware, service, and software partners' to provide choice and freedom in the music industry is pretty much dead now. All of Microsoft's significant PlaysForSure store partners, including AOL MusicNow, MTV URGE, Musicmatch Jukebox, Wal-Mart Music, Yahoo Music, and Microsoft's own MSN Music have now unplugged their PlaysForSure stores, ironically making the brand among the least accurate names for a service ever.
The remaining stores making use of PlaysForSure music, principally Rhapsody and Napster, are now on death's door. PlaysForSure video stores such as CinemaNow, which once worked with Microsoft's PlaysForSure-certified Portable Media Players no longer do. Even Amazon's UnBox service, which is supposed to sync with some devices that are PlaysForSure-certified, has not bothered to get certified under Microsoft's program.
Incidentally, the failure of Yahoo Music and Microsoft's MSN Music (and the company's outrageous plan to simply unplug its customers from DRM authentication) caused CNET to wonder if Apple might be next in line to make users' music purchases unplayable, echoing the poorly conceived idea that Microsoft's Vista failure, its mobile platform incompetence, and desktop viral malware security crisis all somehow also predict a similar certain doom for Apple at some point in the future.
For some reason, CNET saw no connection between the failure of Yahoo and MSN (hint: PlaysForSure), and no reason to speculate about the future of other media stores facing actual failure and likely disbanding in the near future, including Rhapsody, Napster, UnBox and Microsoft's own Zune. Nearly all of the recent DRM deactivation controversies, including Major League Baseball's, have been related to Microsoft's software, although Google decided to similarly to dump users of its paid video when it pulled the plug on Google Video last fall.
Rise of the iTunes Killers Myth
Forrester Research: Epic Terror of iTunes and Apple TV
But Wait, What About This Ecosystem Failure Sounds Familiar?
The complete failure of Microsoft's PlaysForSure hardware and software licensing program paints a damning prophetic picture foreshadowing the fate of Windows Mobile. Pundits often dance around this fact by spewing Microsoft's talking points: Window Mobile has lined up scores of hardware partners! Windows Mobile has lots of software partners! Choice is good!
Oh wait, that's the same stuff they said about PlaysForSure in explaining why the iPod couldn't stand a chance once Microsoft could deliver its Windows Media Player reference designs and the Windows Media DRM that would enable PlaysForSure stores to open their doors. The only real difference between PlaysForSure and Windows Mobile is that the former was expected to prove that the Windows licensing model would work well among mobile devices, while the latter has already proven for some time now that it can't.
Windows Mobile has been a snowball of failure ever since it launched a half decade ago with clumsy-looking phones running buggy, poorly designed software with abysmal battery life that makes the iPhone 3G look exceptional in comparison. Windows Mobile simply shares too much in common with the PlaysForSure failure to escape the event horizon of its blackhole.
Pairing software from one vendor to hardware from another is problematic in the PC market, but completely untenable among highly integrated mobile devices. Microsoft tried to blame PlaysForSure incompatibilities on its music store and hardware partners, but the real problem was the model. Microsoft's own software problems didn't help either of course. The issue on Windows Mobile is even more significant because having functional mobile phone service is far more critical than being passively entertained by an MP3 player.
Unchecked diversity among the devices of a platform is a bug, not a feature. The mantra of choice and freedom, hailed among Windows enthusiasts and homebrew hackers alike, makes for a great mission statement but in reality delivers products that just don't work. It's great to be able to compile your own servers from free and open source software, but most consumers don't want the accountability that comes along with that freedom when trying to dial 911 from their phone. For that matter they don't even want to troubleshoot the installation of a firmware update, or deal with why software designed for a tall screen looks awful on a square screen.
With an integrated product like the iPhone, they can complain to Apple for a fix. With Windows Mobile, you get passed around by Microsoft from the mobile operator to the hardware maker to the third party software developer. Everyone is responsible but nobody is accountable.
The Spectacular Failure of WinCE and Windows Mobile
Count the Flames of Windows Mobile.
And so, in terms of failing platforms, Windows Mobile is closer to PlaysForSure on the flames meter than it is to the only smoldering Vista, which is a moderate success by comparison. If attaching the Zune, Microsoft's phoenix on fire, to Vista's train wreck didn't have any impact on the relative salvageability of either, what will Windows Mobile 7 do for Zune 3 a year and a few months from now in late 2009 at the earliest? That's Microsoft's current schedule, barring any customary delays.
By then, Apple will have had the iPhone in international distribution for more than a year, the App Store will be a year and a half old, and the WiFi iTunes Store will be more than two years old. What in Windows Mobile 7 will make a difference for smartphone buyers? According to Microsoft: copycat touch controls hobbled by an interface trying to look like Vista (below, and yes they did spell Internet Explorer wrong, as well as putting a space in ActiveSync), and no doubt a major new push to force Zune Marketplace media sales down the throats of Windows Mobile users in imitation of Apple.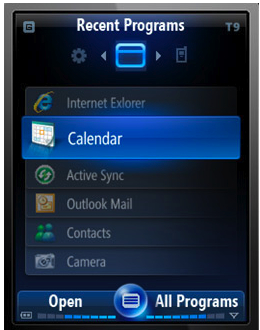 Microsoft is no Apple.
The problem of course, is that the market for Windows Mobile phones is almost exclusively among corporate IT users, who don't give a rats ass about downloading music from the Zune store. So there's really little potential for cross pollination between Windows Mobile and the Zune. In contrast, Apple originally marketed the iPod and iPhone to consumers, who do buy up music to the tune of billions of tracks every year.
Apple now has success to build upon, and has targeted its year-old iPhone platform toward the enterprise, with development tools, a software deployment infrastructure, and management utilities that in most cases meet or exceed what Microsoft has delivered over past decade on WinCE and Windows Mobile.
On top of that, the iPhone platform has a far superior, standards-based web browser, development frameworks recognized to be easier to use than Microsoft's mobile .NET, and a core OS that is simply more stable, not to mention a user interface that's designed to look good and be simple to use rather than to match the flashy branding of a failed desktop OS.
WWDC 2007: Kevin Hoffman Presents .Net vs. Cocoa
The Other Problem: Windows Mobile is Going Down.
Anyone banking on Microsoft's promises to deliver Windows Mobile 7 on time by the end of 2009 should also consider the company's track record in delivering Windows Mobile updates. The company initially intended to get Windows Mobile 5 out next to Longhorn [Vista] in mid to late 2004. Windows Mobile 5 was actually released in May 2005, and Vista finally popped out "officially" at the end of 2006, although one couldn't actually buy it until it was relaunched to consumers in early 2007.
Even after Microsoft "released" its subsequent Windows Mobile 6 nearly a year later (based upon the same underlying WinCE 5), it took six months or more for many of Microsoft's partners to approve it and set up distribution so that users could actually get the software on their phones. In contrast, Apple releases regular iPhone updates every month or two that are always available to users immediately after their release, directly from Apple.
Microsoft doesn't exactly have years of leisure at its disposal. Windows Mobile has already been hit hard by competition from the iPhone and from other rivals, including RIM in the enterprise market and Symbian internationally. That competition has resulted in Microsoft's mobile market share slipping year over year. This year, Microsoft failed to meet its frequently repeated goal of selling "more than 20 million units" through all of its various hardware partners, and instead only sold 18 million.
Microsoft senior vice president Andy Lees blew off the missed goal as a "rounding error." He cited numbers from IDC that indicated Windows Mobile had grown from 11% to just under 13% of the worldwide market for smartphones, growing faster than the overall market, and that unit sales of Windows Mobile phones have both outpaced sales of BlackBerry phones and outsold the iPhone by a factor of two.
Oops, Microsoft Fibbed a Bit There.
Canalys reports that Microsoft actually started out with a 23% share of the smartphone market in Q1 2004, which fell to 18% in Q1 2005, then down to 12% in Q1 2006, where it remained in its Q4 2007 figures. Apple ranked at 7% worldwide in Q4 2007, but that was based on sales in one market, of one model, and on one mobile provider, after only being on the market for six months.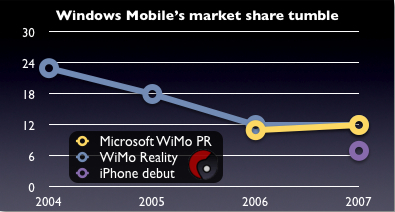 Smart mobile device shipments hit 118 million in 2007, up 53% on 2006 (Canalys press release: r2008021)
If the best Microsoft can do is to claim victory for selling twice as many phones as Apple, worldwide across all of its partners despite having a many years long head start and that great ecosystem of manufacturers behind it, then it should probably just not say anything. Incidentally, with the release of the iPhone 3G, AT&T is reporting having doubled its sales volumes, not to mention all of the other new markets the iPhone 3G is now being sold in worldwide, at half the price of the original model.
Within just the US smartphone market, which was Apple's only market last year and is also Microsoft's strongest market for Windows Mobile, the iPhone grabbed a 27% share in its debut third quarter of 2007, and maintained a 28% share in the fourth quarter 2007, behind RIM with 41%, but ahead of Palm at 9%. Adding up all of the Windows Mobile manufacturers selling in the US, Microsoft could only claim to have its software on 21% of the phones sold, a significant step behind Apple.
Canalys, Symbian: Apple iPhone Already Leads Windows Mobile in US Market Share, Q3 2007
iPhone Grabs 27% of US Smartphone Market
Also, all of these figures bundle in all of the "convergence" Pocket PC mobile devices sold by Microsoft's partners, but none of the iPod touch units Apple sells, which are likely to be in well in excess of its iPhone sales. So Apple's mobile WiFi platform is actually far larger and growing much faster than market statistics companies report under their smartphone category. Anyone hoping that Windows Mobile 7 to going to reverse that trend when it arrives over a year from now is seriously delusional.
Did you like this article? Let me know. Comment here, in the Forum, or email me with your ideas.
Like reading RoughlyDrafted? Share articles with your friends, link from your blog, and subscribe to my podcast (oh wait, I have to fix that first). It's also cool to submit my articles to Digg, Reddit, or Slashdot where more people will see them. Consider making a small donation supporting this site. Thanks!