Will Nokia Rescue Microsoft's Zune? Haha No.
August 9th, 2008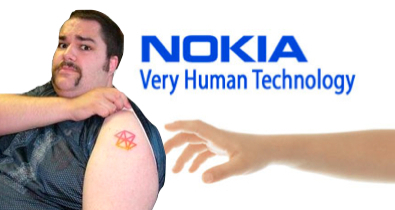 Daniel Eran Dilger
Windows enthusiast blogs are atwitter with the news that mobile giant Nokia is considering a partnership with Microsoft to install the Zune Marketplace software on its phones, a move they hope will pull Microsoft's MP3 player out of its doldrums and make it a contender that can rival the iPod. There's a few bricks missing from this load however.
Make. Believe.
The reports all hinge on a post made by Zune fansite Zunescene, which cited an anonymous, "well placed source within Microsoft" as the basis for its suggestion that Nokia was not just considering a partnership, but already working with the Zune team to get Microsoft's Zune-only music storefront working on its mobile phones.
Neither Microsoft nor Nokia have officially made any comment on the idea, and the Zunescene site has never before presented any credible insider information from Microsoft employees. Cited comments from the source sounded suspiciously like a Magic 8 Ball. The development timeline? "It's too soon to say!"
The main problem with this story is that Microsoft doesn't exactly keep secrets. The original Zune was unveiled many months before it was made available; the industry knew it was going to be a rewarmed Toshiba Gigabeat long before it hit the shelf. Details of the second model were also leaked out months in advance, as was its new software features, which were leaked so forcefully that there wasn't much left in the can once it actually appeared.
The simple fact is that Microsoft and Apple have completely opposite strategies for launching their new products. Apple uses the media to build anticipation through secrecy, while Microsoft uses the press to blow out vapor to hide reality. Microsoft doesn't have secrets, it has optimistic roadmaps enshrouded in nebulous clouds of vapor.
Apple is to Secrets as Microsoft is to Vapor.
Apple characteristically refuses to provide any advance details on new products and then creates dramatic launch hype by pulling the curtain off products that exceed most observers' expectations. That's why Apple has earned a reputation as being cantankerous and antagonistic with rumor sites; Apple sues to stop advanced leaks because they destroy its ability to launch surprise attacks. When details leak, critics can feign being wholly unimpressed by what they knew to be in the pipeline, and simply reset their expectations to something well beyond unreasonable.
In stark contrast, Microsoft typically floats vaporware concepts for new products months or years in advance of their actual launch. These often suggest capabilities that will not actually be delivered. It then allows and encourages its sprawling 'burbs of pundits to make giddy predictions about the low, low price and amazing features this new promised concept will bring to the market.
Once the obscuring power of the vapor is completely exhausted, Microsoft typically rolls out an imitative, expensive, unfinished product that the pundits then have to make excuses for until it either suffocates the competition (as its new products often did in the 90s) or falls out of sight and into oblivion (as about half of its products did in the 90s, and as most do today).
Microsoft's Cloud isn't Servers.
For a list of examples of Microsoft's vapor-billowing train to oblivion, look no further than the last several years of CES announcements:
2000: Microsoft TV, WinCE smartphone
2001: Xbox, Ultimate TV, and Windows Powered, an umbrella term for various WinCE devices
2002: Mira Windows Powered Smart Displays and Freestyle (aka Windows XP Media Center PCs)
2003: Media Center PC, Tablet PC, SPOT watches; the "Video iPod" Media2Go is delayed until mid 2004
2004: Windows XP Media Center Edition 2004, and Portable Media Center devices announced the previous year
2005: Digital Entertainment Anywhere vapor
2006: Xbox 360, Windows Mobile-based Portable Media Center devices
2007: Windows Vista, Windows Home Server
2008: HD-DVD (scrubbed last minute), Surface, Zune, more Windows Home Server.

CES: Fear and Loathing in Las Vegas
Scratching the Surface of Microsoft's New Table PC
Lessons from the Death of HD-DVD
Origins of the Blu-ray vs HD-DVD War
The Spectacular Failure of WinCE and Windows Mobile

Searching for Success
The only successful product that can be salvaged from Microsoft's consumer shipwreck of the last decade has been the Xbox line, which has cost Microsoft many billions every year, and is now approaching obsolescence and a sharp downturn in sales before it can even turn any profit.
There's no evidence of secrets anywhere, just lots of vaporware concepts that either never made it into the real world (Mira), roam the earth as undead zombies (Windows Mobile, Windows Media Center, WHS, Vista), died after being exposed to realities the market (Microsoft TV, SPOT, HD-DVD), or linger on as incomplete vaporware ghosts (Surface).
One can also make lists of Microsoft's abandoned software offerings and service plans, most of which were imitations of the competition. Microsoft pulled the plug on its Live Search Books and Live Search Academic programs (copycats of Google's Book Search) in May after scanning millions of works. And of course it did something similar after finding out it couldn't earn a quick return on its efforts to clone Apple's QuickTime with ActiveMovie, Surround Video, DirectShow, and then Active Authoring Format.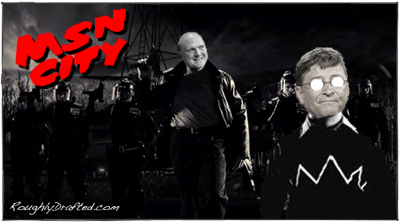 Microsoft's Plot to Kill QuickTime
Video Game Consoles 2007: Wii, PS3 and the Death of Microsoft's Xbox 360
Behold: the Apple clone two years behind.
The Apple-rumor report on Microsoft's supposed partnership with Nokia is ridiculous simply for the fact that if Microsoft had any sort of announcements that might possibly create any glimpse of good news for its stillborn Zune music player, it wouldn't be holding them back. Microsoft desperately needs some distractive vapor to obscure the fact that it has been trailing Apple by at least two years at every step of the game.
Games: Microsoft advertised the concept of Zune gaming well over a year ago, and there's still nothing to show. Apple launched iPod games in 2006. It's now offering console games downloadable over the air from major developers on its mobile WiFi platform. If Microsoft released gaming today, it would already be more than two years behind. But it hasn't.
Podcasting: Microsoft released its Zune podcast listings so late in the game it had to call them… podcasts. That term was invented in 2004 by publishing pioneers, and the technology was added to iTunes in 2005. Apple announced it had no trademark claim on the term in late 2006, and Microsoft launched its own podcast directory for the Zune in November 2007. Two years behind (and some change).
Partnerships: Apple pioneered links with Nike, Starbucks, Audible, all the major music labels and movie studios, indie distributors, and hardware accessory makers, even including MP3 rival Creative. Microsoft has yet to forge any significant partnerships with the Zune. And who'd want to marry a cad who formerly beat up its PlaysForSure wives and left them for dead (including Creative)? That was just two years ago!
WiFi Music Store: Back in March, Francois Ruault, directeur de la division grand public of Microsoft France, was unashamed in leaking to the press the story that Microsoft would release its third generation Zune player in Europe at the end of 2009, along with a WiFi music store like Apple's. That's two years behind, and frankly, WTF?
Video: Apple's fourth generation iPod gained the ability to do video output in 2004, and the subsequent model could actually play back full motion video on screen. The original Zune, released a year later with a larger screen purportedly intended for watching video, lacked the ability play most standard video formats, requiring an ages-long transcoding process first. The following year, Microsoft's new flash based Zune was released without video output at all, driving Microsoft years back into the past compared to the video Nano that shipped at the same time.
Touch: Microsoft's enthusiast minions tried to equate the $10,000 Surface bathtub of scanners and projectors with the consumer-priced, handheld iPhone last year, but Microsoft is only officially promising to copy some of the iPhone's software features in its Windows Mobile 7, also scheduled for the end of 2009. That's well beyond two years behind.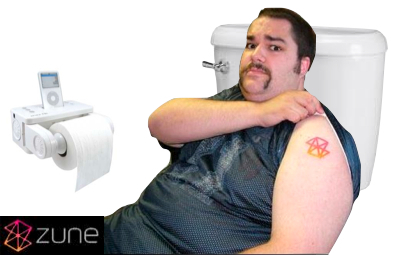 Zune Sales Still In the Toilet
Why Microsoft's Zune is Still Failing
From Vista to Zune: Why Microsoft Can't Sell to Consumers
Microsoft : vers un portail de contenus mobiles Zune
But I Digress!
Is it perchance possible that Microsoft could leverage Nokia's dominance of the international phone market to get its Zune Marketplace running in more places than Apple's WiFi iTunes Store, and subsequently pole vault its Zune failure and its iPhone-humbled Windows Mobile platform into a premier spot? Apart from being too tasty of a concept for Microsoft to keep under wraps, there's additional reason for laughing at the idea.
The most obvious is that Nokia is a Microsoft competitor! Yes, sometimes companies do deals with their seeming arch-rivals. Apple and Microsoft have forged agreements and partnerships on Office, OOXML, and Exchange ActiveSync. Microsoft licensed Adobe's Flash for Windows Mobile, a direct competitor to its own (albeit unfinished) Silverlight. And Nokia is already joined at the hip with rival Sony Ericsson in the Symbian software partnership. However, each of those partnerships is an example of a give and take deal.
Nokia is already trying to establish its own Ovi portal as a mobile music store. It needs Microsoft's Zune Marketplace as much as it needs another Symbian virus. Not only is the Zune Marketplace a sleepy, deserted mall with no customers and scant merchandise, but it has absolutely zero traction (or attraction) in Europe or other markets where Nokia sells its phones. The Zune is only sold in the US, where Nokia has minimal uptake. Adding the Zune Marketplace to its phones would do nothing for Nokia apart from making its own store look sidelined and associating the company with another megafailure brand. Nokia already has NGage for that.
Further, Nokia's Symbian OS is a direct competitor to Microsoft's Windows Mobile, and there is no love lost between them. Nokia can only be irate over Sony Ericsson's jumping into bed with Windows Mobile in an attempt to deliver the XPERIA X1 as its heir to take on the iPhone. Nokia itself has also taken clear steps away from Symbian, but in the direction of Linux, not Microsoft. So why would Nokia be at all interested in promoting Microsoft's rival mobile operating system at its own expense, with nothing to show in return apart from some embarrassment?
It isn't of course. There is however, another mobile platform that is interested in teaming up with Microsoft's Zune to advance the prospects of both. The next article will take a look at this white knight, and whether it's likely to actually offer any help.
Did you like this article? Let me know. Comment here, in the Forum, or email me with your ideas.
Like reading RoughlyDrafted? Share articles with your friends, link from your blog, and subscribe to my podcast (oh wait, I have to fix that first). It's also cool to submit my articles to Digg, Reddit, or Slashdot where more people will see them. Consider making a small donation supporting this site. Thanks!