Inside iPhone 2.0: iPhone OS vs. other mobile platforms
August 5th, 2008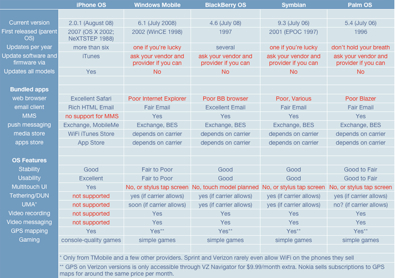 As described in the previous segment introducing iPhone 2.0 software, Apple's latest mobile operating system reference release delivered a range of major and minor new features, but not without failing to address some long standing issues. Even worse, the initial version of the new iPhone 2.0 has eroded away the facade of near flawlessness Apple rolled out with the original iPhone last year, resulting in a product that is simply harder to be unreservedly enthusiastic about. This segment will compare the features exposed and architecturally available in the iPhone OS, and how it stacks up against other smartphone platforms
Inside iPhone 2.0: the new iPhone 3G Hardware
Inside iPhone 2.0: iPhone 3G vs. other smartphones
Inside iPhone 2.0: the new iPhone 3G Software
Inside iPhone 2.0: iPhone OS vs. other mobile platforms
Inside iPhone 2.0: the new iPhone App Store
Inside iPhone 2.0: MobileMe Push Messaging
Inside iPhone 2.0: iPhone OS vs. other mobile platforms
Desperately seeking software updates
Despite the birthing pangs related to iPhone 2.0.0, there is good reason to believe that Apple will quickly deliver fixes for the feature omissions and stability problems in the iPhone 2.0 software, at no extra cost (although this can't come soon enough for the millions of existing users who are already using the software on a daily basis). The reason for this faith is the company's regular updates to iPhone 1.0 last year, which included six significant deliverables within the first eight months.
Apple released security update 1.0.1 within days of the initial late-June launch of the iPhone last year, and then followed up with the 1.0.2 bug fix release within two months toward the end of August. A month later in late September, Apple delivered 1.1.1, which addressed a variety of other issues and included several new features, from interface enhancements to support for the WiFi iTunes Store and video output. A month and a half later in mid November, Apple shipped 1.1.2, which fixed bugs and added international support. In mid January, it released 1.1.3, which added a location feature in Maps, allowed editing of the home icons and the addition of web links as icons, and several other features. In mid-February, 1.1.4 added a number of other minor enhancements.
Apple just released iPhone 2.0.1 as bug fix and stability release, and is working on an iPhone 2.1 feature update aimed for September. The second update is expected to deliver support for background notifications for third party apps, as well as significant improvements to GPS location services that should be able to provide reports on your current direction and speed, information required to provide turn-by-turn directions.
Updates on other smartphone platforms
This rapid pacing of Apple's free updates is unheard of on competing smartphone platforms. The Palm OS seemingly hasn't been updated since dinosaurs roamed the earth, and those that Palm did issue over the last half decade have largely been ignored by the developers and device makers who were supposed to take advantage of them.
The Symbian partnership has delivered four incremental updates to Symbian 9.0 since 2004, roughly one per year. These updates are often related to new hardware, and in many cases owners of Symbian phones simply can't upgrade to whatever the latest official version is.
RIM's BlackBerry OS update page similarly warns, "If you did not purchase BlackBerry software or smartphones directly from Research In Motion (RIM), please contact your service provider to determine if the software distributed by RIM is authorized for use with your smartphone." That highlights why Apple chose to only market the iPhone through mobile partners that would agree to allow Apple itself to deliver updates and support for all of its phones worldwide.
When Microsoft shipped Windows Mobile 5.0 in 2005, the update wouldn't even run on most existing WinCE phones because it required new hardware support for its persistent RAM architecture change. The following release of Windows Mobile 6.0 didn't ship until two years later in 2007, and Windows Mobile 6.1, a relatively minor update, took more than another year to shake loose from the bowels of Microsoft. Even after a Windows Mobile release "ships," owners of specific models might have to wait for many months before their mobile provider or software vendor allows them to install it, if they ever choose to do so.
Despite now being a decade old, the WinCE foundation of Windows Mobile is also still regarded as unstable, riddled with bugs, and poorly architected, with a horrific user interface, clumsy process management, and development tools that are a simple regurgitation of the archaic Win32 desktop API, lacking much optimization for mobile development. The next segment will compare how Windows Mobile software stacks up against the iPhone in terms of price and polish. This segment will focus on the basic foundation technologies provided by each smartphone platform.
Getting smartphone updates
Apple's ability to rapidly deliver software updates far faster than its rivals is not the only issue facing smartphone users however. In addition to operating system software updates, many phone manufacturers also issue firmware updates specific to certain models, but since most smartphones lack the smooth integration that Apple provides between hardware, software, online services, and its iTunes sync management tool, it's often problematic to find, download, and actually install all the appropriate updates that might be available.
Apple issues all of its updates, including operating system software enhancements and security patches, hardware related firmware and driver refinements, new and improved bundled apps, and even updates to third party apps all centrally through iTunes, something unmatched by other phone makers and platform developers. Other smartphone platforms are notorious for their poor integration between hardware and software development.
Back in 2002, Palm followed the pundits' longstanding advice for Apple and spilt itself into separate hardware and software subsidiaries. The idea was that newly independent PalmSource could license the Palm OS software to other hardware makers, such as Sony for use in its CLIÉ line. But what actually resulted was a mess of incompatibility and confusion that left end users stuck between trying to get OS updates from PalmSource but firmware updates and desktop sync software from either PalmOne, Sony, or some other hardware maker.
The hardware side of Palm (since renamed back to simply Palm again) later licensed Windows Mobile from Microsoft. However, that didn't improve things for Palm's Treo owners. Because Microsoft doesn't sell its own smartphone hardware, it only replaced PalmSource (now known as ACCESS) as "half of the whole" that supported Palm's hardware devices. Microsoft plays the same, incomplete role for other owners of Windows Mobile devices, such as those from HTC, Motorola, Samsung, and other manufacturers.
Microsoft's software-centric smartphone model
After initial attempts to sell Windows Mobile updates failed (in part because buying a new phone would be cheaper and make more sense than upgrading year-old hardware), Microsoft found that there is no profitable retail market for selling an OS to phone users. From the beginning, Apple gave its iPhone users free software updates as part of the subscription accounting model it set up for its hardware sales. In other words, Apple invests in new software to lubricate its hardware sales. It's software development efforts are planned specifically to add as much value as possible to end users.
Microsoft targets its operating system updates toward selling additional manufacturer licensees to build new Windows Mobile phones. Windows Mobile Smartphone users upgrade their OS just as the vast majority of Windows PC users do: by buying entirely new hardware. That means Microsoft's development plans typically cater to the needs of hardware makers rather than to end users.
Apple's hardware-centric Macintosh model appeared to fail back in the early 1990s as Windows PCs took off, but returned with a vengeance a decade later in the highly integrated iPod, which destroyed Microsoft's Windows Media plans and resisted duplication by the company's Zune. Similarly, the integrated iPhone humbled the already well entrenched Windows Mobile into third place within just three months of sales, causing Microsoft to scramble out the announcement of plans to copy iPhone features in its next OS version a year or so from now.
Apple's integrated Mac is similarly eating back into the PC world, with around four times the growth of PCs in general. The problem has grown significant enough for Microsoft to warn its investors about. In its 10-K SEC filings, the company anonymously described Apple's "competing vertically-integrated model, in which a single firm controls both the software and hardware elements of a product" as having "been successful with certain consumer products such as personal computers, mobile phones and digital music players." It also warned that will not be easy to copy Apple, as its own attempts to follow a similar strategy may result in higher "cost of sales" and "reduce operating margins" going forward.
Other software mobile platforms
Sun's Java ME in general, along with the closed alternative of Qualcomm's BREW (popular with Verizon Wireless), both offer rudimentary mobile software development tools that purport to be widely portable across different phones, but in most cases do not deliver on their 'write once, deploy everywhere' marketing. Both are used primarily to churn out overpriced game applets.
Adobe's Flash Lite can also be summarily dismissed as another attempt to dump out a "runs everywhere" mobile platform. Flash Lite typically runs on top of another platform, such as Java ME, BREW, or Windows Mobile. Adobe, Sun, and Qualcomm all aspire to be the Microsoft of mobiles, but are currently pulling in licensing revenue from mobile hardware makers without really delivering any interesting functionality for users as one might expect from a software platform.
Google has thrown its own hat into the ring with Android, primarily as an attempt to back open source mobile development and subsequently prevent itself from getting shut out of the potential mobile ads market by Microsoft's Windows Mobile. The premise of Android remains to seen, as the fickle open source community has splintered its efforts among a number of Linux-related efforts as well. Android uses the Linux kernel with, essentially, an original and incompatible implementation of the Java ME platform on top.
As is the case with Windows Mobile, software mobile platforms such as Java ME, BREW, Flash Lite, and Android all lack any tight integration between hardware and software development, resulting in an experience for mobile users that will be somewhere between Windows, Java, and Linux on the PC desktop. Unsurprisingly, the iPhone offers a more polished experience just like Apple's iPod and Mac. It should come as no surprise why Apple isn't making any efforts to bring Java ME, BREW, or Flash Lite support to the iPhone, because they offer so little on other phones already.
Mobile software platforms from hardware makers
RIM's BlackBerry OS, the Symbian OS, and (at one time) Palm OS were all developed by hardware companies with more similarities to Apple. Palm's own OS has now essentially been mothballed, but during its active development prior to 2004, Palm was able to build an active development platform and assemble an impressive third party ecosystem around it. It has since fallen off into obsolescent irrelevance as Palm shifted toward using Windows Mobile. Somewhat ironically, the only real success Palm has seen recently has been from its simple, Palm OS based Centro phone.
Symbian's hardware partners (including Nokia and Sony Ericsson) have also invested in continually developing the software that runs their phones, although its development tools and potential for future sophistication are limited by lots of early-90s legacy. Nokia has since began investing in other platforms, using Linux in its Internet Tablet and purchasing Linux platform developer TrollTech outright.
The iPhone spooked Sony Ericsson so badly that its executives jumped on a Windows Mobile backup plan called the XPERIA X1. The company plans to release the new phone in the third quarter, dripping with the advanced hardware features one could expect from a Sony product. However, if its CLIÉ PDAs and Vaio PC line are any indication, users can expect the same poor integration with its third party OS that has plagued every other collaborative Sony product.
The closest competitor to Apple's tight integration model is RIM, which licked up the US market for message-savvy phones and quickly became the darling vendor to corporate IT. RIM's strength comes from its highly regarded push messaging services tied to its BES (BlackBerry Enterprise Server), which requires a significant investment and ongoing fees of around $60 per month per user. Outside of that, RIM's OS platform (which is just a generic Java Mobile Edition implementation) is weak and limited, with little exceptional third party software, limited potential for that to ever change, and poor examples of bundled general purpose smartphone tools.
Apple's iPhone is weaker in messaging than the more mature BlackBerry platform, but stronger everywhere else, with a desktop class standards-based web browser (providing access to corporate IT web apps), advanced iPod media playback features, and an integrated store featuring everything from games to media to productivity apps. It will be much easier for Apple to match RIM's messaging features (particularly with the backing of Microsoft's far cheaper ActiveSync Exchange Server integration) than for RIM to clean up the rest of its OS, which currently just stinks.
Smartphone features the iPhone can't yet do (thanks to AT&T)
That having been noted, there are plenty of features that are currently supported by Palm, Symbian, RIM, and Windows Mobile that Apple hasn't yet released, or can't release due to its partnership with AT&T. Among them is support for tethering, or dial up networking, which would enable the iPhone to act as a modem for supplying a laptop with mobile Internet access. A third party app called NetShare has been released in the App Store that does accommodate using the iPhone to create a WiFi link with a computer to share its 3G or EDGE network access. Users may still be constrained from making unlimited use of their mobile network access however, a fact that also applies to other providers who do support tethering, even those that advertise "unlimited" data access. The NetShare app has already been removed from the international Apps Store twice (perhaps for good this time) due to its incompatibility with AT&T's service agreement contract in the US.
Another feature missing from iPhone 2.0 is UMA (unlicensed mobile access), which enables phones to use WiFi networking to place and receive phone calls. Apple has stated that it will allow developers to create VoIP apps that perform calls over WiFI but not AT&T's EDGE network (nor presumably its 3G service). Even so, without core operating system support for UMA, third party apps can't seamlessly transition between mobile and WiFi networking to place calls in the way TMobile has pioneered in the US (in large part to make up for its weak mobile network coverage), nor can they automatically route regular incoming calls to use WiFi VoIP. You'd have to sign up for an independent number and account, which is not nearly as useful.
Apple isn't the only company forced to bow to its mobile partners. Nokia's European N61 phone is revered for its fantastic WiFi and VoIP features, but here in the US it's only sold as the crippled N61i, with support for neither. That highlights the fact that phone makers can only offer so much in certain regions, because their product won't work without the blessing of the service companies that not only give it access to their mobile networks, but in many cases also act as the middleman in selling their product.
Apple recognized early on that the success of the iPhone would relate greatly to how much it was forced to concede to the mobile companies. Apple was famously rejected by Verizon Wireless as a potential partner because Apple wanted more control over the device than Verizon could agree to; Cingular however was in the midst of growing pains and desperately needed differentiation as it transitioned to using the AT&T name, so it was far more willing to give Apple the increased leeway it demanded. Still, Apple had to pick and choose its battles in negotiating with AT&T, and that required some compromises as well.
Additional common phone features iPhone still needs
While cowering to its mobile provider partners in failing to support tethering or UMA, Apple has also conversely taken a position against SMS and particularly MMS picture messaging, choosing instead to push users toward free, standard Internet email instead. That doesn't benefit users of other phones, who frequently can't receive email with photo attachments, and also precludes those users from sending MMS photos to iPhone users. The latter would not really be a problem if AT&T delivered a simple SMS URL hyperlink that opened MMS photos in Safari rather than providing clumsy instructions on how to manually access the photo. In the UK, O2 provides an iPhone web app that makes it easy to receive MMS photos. Apple should begin beating AT&T unmercifully until it can at least do the same.
Apple itself clearly isn't feeling any love for other phones or the archaic and expensive pay-per-message fees that mobile providers have invented in parallel to the free and open Internet. That being the case, why hasn't SMS been replaced by or at least augmented with a mobile iChat IM application from Apple, with support for AIM and Jabber accounts? Apple didn't rely on AOL to deliver instant messaging support in Mac OS X, but rather developed its own iChat app. So why has the company allowed AOL to deliver a buggy, third party IM app for the iPhone, one that can't even support open Jabber accounts such as Google Talk? Clearly, the company's resources must be stretched quite thin to concede such an important app to the clumsy neanderthals at America's LOL-ISP.
Google has released its own iPhone web app providing access to Google Talk IM, but the lack of native instant messenger support on the iPhone is a standout feature omission, particularly when considering the often pioneering efforts Apple has made in delivering low cost, high quality text, audio and video messaging services in iChat. Mac OS X Leopard's IM document sharing, as well as its Quick Look-based audio and video streaming may provide hints at what Apple will one day deliver for the iPhone, but until then the phone remains a half step behind the basic text messaging features available on other platforms.
For another missing feature, voice activated dialing, it appears AT&T could actually be helpful in contributing its own WATSON technology toward the problem. The company recently demonstrated a server-based iPhone app prototype for looking up phone and address listings from the Yellow Pages based on voice command. Apple has its own voice recognition technology, but may be holding back the run until it can crawl in order to prevent a Doonesbury-Newton style attack on the iPhone's ability to provide accurate results. In any case, given that far simpler phones can perform voice activated contact dialing, it would be nice to see this on the iPhone, too.
Microsoft prominently advertises Office document editing in Windows Mobile, although this feature is often impractical to use on tiny mobile screens (screen shot below; Windows Mobile Smartphones do not even have touchscreens!) and involves translating the document to a "mobile" version that can cause other problems when you attempt to use it again on a desktop computer. It seems likely that Microsoft itself will want to provide a mobile version of Office for the iPhone, and if it does not, expect third parties to take advantage of Cocoa Touch to beat it to the punch.
Incidentally, while the Apps Store is only three weeks old, it is interesting that neither Microsoft nor Google have delivered iPhone apps yet, although both have buns in the oven. Apple's maverick "mobile WiFi" software platform has done what Apple's pre-Mac OS X Rhapsody project was unable to do a decade ago: shift power from big developers toward a more democratic market that showcases the efforts of nimble entrepreneurs. That in itself is a huge difference between the iPhone OS and conventional mobile platforms.
Video embarrassed the QuickTime star
One last common smartphone feature missing on the iPhone is support for video conferencing and video recording, both of which are curious omissions considering that Apple helped pioneer adoption of 3GPP (Third Generation Partnership Project, the group the developed a variety of mobile standards related to 3G networking) video when it added support for the mobile optimized, MPEG standard to QuickTime back in 2003.
While Apple touts its Mobile (3G) technologies for creating, editing and delivering 3GPP content to other mobile phones, it does not even note that the iPhone can play back 3GPP video (commonly designated as .3gp). The mobile 3GPP video format uses H.264 video and AAC audio, which is right up the company's Infinite Loop alley (and despite its omission from the iPhone's tech specs page, the phone can play back .3gp video). Perhaps Apple just needs to discover a business model behind delivering video conferencing and video capture on the iPhone.
Unfortunately, third parties are currently unable to solve this problem for Apple, because the current iPhone SDK does not provide access to the lower level hardware required to support video capture. The phone hardware is capable of doing this however, as demonstrated by the unofficial jailbreak video recording software already available.
Now that third party app support, an Apps Store marketplace, and the BlackBerry's hallmark push messaging have been addressed as features, along with hardware support for the previously missing 3G networks and GPS, Apple's priorities should migrate down to other features and applications that are less critical to the company's bottom line but perhaps more flashy and exciting, such as improved photo and video features, voice recognition, Bluetooth peripheral support, and so on.
This feature intentionally left blank
There is also a bucket of other random features that most mobile platforms support but that the iPhone intentionally does not, often for the purpose of doing specific things well rather than trying to do everything on a checklist and ending up doing none of it admirably. For example, the lack of copy and paste appears to be the result of wanting to simplify the iPhone text-entry interface rather than just building a handheld system that works identically to a desktop and therefore requires a pointing device with the precision of a mouse.
Certainly the company that invented the Command X, C, and V shortcuts and brought graphical copy and paste into the mainstream didn't just overlook the concept accidentally when designing the iPhone. As users acclimate to the iPhone's environment and grow ready for additional sophistication, a usable form of copy and paste is likely to emerge from Apple. Greg Joswiak, the company's VP of iPhone and iPod marketing, has indicated that copy and paste just hasn't been at the top of Apple's to do list.
Critics also like to haul out Adobe Flash and Sun Java (and occasionally even Windows Media DRM, DIVX H.263, or Ogg playback) as missing features, but of course Apple would gladly dance at the death of all competing APIs and codecs. The company wants developers to exclusively use its own Cocoa Touch, as well as mainstream open standards such as HTML/JavaScript and the modern H.264/AAC codecs rather than pay its competitors to license their alternative technologies. Anyone harping for Flash in order to run Scrabulous or to experience web ads with the power to crash their browser need to be laughed off the stage.
Another example a "feature" Apple intentionally avoided is background third party apps. There are plenty of valid reasons for developers wanting to install daemons to lurk in the background or wanting their apps to remain running in the same way Apple's own apps continues to work in the background: Phone listens for new calls all the time and can maintain a call while other apps are in use; Mail can check for new messages on a schedule or respond to push updates with other apps in the foreground; SMS is also ready for new messages at all times; and iPod can play music in the background. Clearly, the iPhone has no architectural problem that prevents background apps from running.
Freedom's just another word for nothing left to lose
However, Apple clearly forbids background apps for good reason. The iPhone 3G can already run itself dead in a short few hours while playing a game, receiving push messages, remaining on phone and SMS standby, and playing background music. How many more background tasks could it be expected to run? There are also a long list of known and unknown "unknowns," from security issues to privacy-violating or adware-induced spyware scenarios that Apple simply doesn't want any developers to be able to exploit or accidentally expose.
Apple has already taken action against developers who have somewhat innocently attempted to communally message users' contacts or transmit users' sensitive data back to their own servers without encryption. Open to all possibilities also means open to all risks, and Apple doesn't want the iPhone to become the next Windows malware crisis or the next unfinished, DIY "at your own risk" Linux project.
It would simply be irresponsible for Apple to delegate away its role as a trusted platform manager to the wide open development community and then blame third party developers for intentionally or accidentally causing problems in the way Microsoft did with its desktop and mobile Windows platforms, or blame less savvy end users for allowing things to go awry in the manner that open source advocates do. Apple sells the iPhone as a device that "just works," and so it has to manage that environment to make sure it continues to do so. That often requires making unpopular decisions and setting policies that uninformed end users might not immediately understand the rationale behind.
Apple's efforts to protect users from themselves is also often a bone of contention for technically savvy users who want free reign to do anything and think they know better than to hang themselves with all that extra rope. However, those users are also a tiny minority that is virtually insignificant to Apple, and of course are among the first to complain after they do manage to hang themselves. These users were flashing the firmware of the original iPhone, only to bawl about being "bricked" after realizing that Apple wasn't interested in individually bailing them out from their own mess at its own expense.
Advantages in the iPhone platform
The company's forward thinking stewardship of its iPhone platform, combined with its more modern operating system foundation; more sophisticated and elegant development tools; its attractive and polished user interface; its consistent hardware support for multitouch screen, accelerometer input, resolution independence, and location services; and far better integration between its hardware, software, online services, and its iTunes sync software all combine to create a product that no amalgamation of hardware manufacturers, mobile providers, and other partners can hope to match anytime soon.
That's not to say rivals aren't trying. RIM's BlackBerry Thunder (which eschews the BlackBerry keyboard to emulate the iPhone as closely as possible) will attempt to partner with the Rhapsody music service and to deliver something for Verizon Wireless this fall that at least looks more like the iPhone. Verizon's current partnerships with the LG on the Prada/Vu, Voyager/Venus, and now Dare have failed to ape the iPhone close enough to fool many users.
Nokia similarly tried to create its own iTunes equivalent in Ovi, folding it its music store, GPS map sales, and NGage gaming efforts. A more recent rumor (from a non-reputable Zune fansite) suggests Nokia will now partner with Microsoft's Zune Marketplace. However, it makes little sense that Nokia would jump at the opportunity to funnel profits toward a rival mobile platform in order to clean out the cobwebs currently choking Microsoft's own iTunes copycat rather than just continuing with its own partnership with Universal. Either way, it appears Nokia will end up with a third rate rival to iTunes.
The iPod phone
It's also useful to point out that blockbuster sales of the iPod remained untouched despite worldwide efforts to copy it over the last half decade, from PC software platform giant Microsoft, to the existing former leaders in MP3 players such as Sony and Creative, to RAM component giants Samsung and SanDisk, to purported assaults on the device from phone leaders Nokia and LG. How are these companies now going to turn around and suddenly find the competency to duplicate Apple's far more sophisticated iPhone platform?
Incidentally, the iPod touch has already kicked Nokia's fledgling Internet Tablet in the face, and the iPhone itself matched sales volumes of Nokia's flagship N95 last year even while only being sold in the US. Things don't look good for the current industry titans, who are all trying to look calm while clearly demonstrating signs of desperation in their response to the iPhone.
Apple now has five revenue engines supporting its hardware sales, and lacks many of the issues facing rival mobile software platforms; Apple's rapid and significant updates to its software platform have quickly outpaced the slow advancement of its smartphone rivals. Another critically important aspect in the feature balance between Apple's new iPhone and the now decade or more old mobile platforms of Palm, RIM, Symbian, and Microsoft is the iPhone's new support for third party applications, which has already created an ecosystem that rivals will find hard to match. The next segment will look at Apple's SDK, Apps Store, and the third party apps that have been release in its first month, with further comparisons to the mobile software available for rival platforms.