Warning: Google Maps Walking directions are in Beta
August 1st, 2008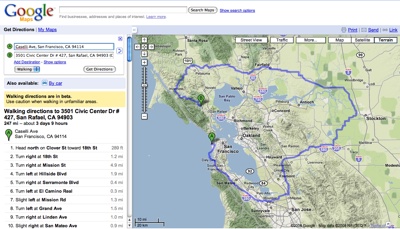 Daniel Eran Dilger
Okay folks, I know I need to get back to writing my essays on technology, but I had to post this because I split my sides while taking a look at Google's latest beta project: walking directions within Google Maps.

Typically, Google gives you car directions that are often comical if you're really on foot, say when you pull up instructions on your iPhone. In this case however, it told me the best way to walk to San Rafael from the City would be to stroll out into the Ocean near the George Bush Sewage Treatment Plant, then hike down through the peninsula through Milpitas and then out Altamont Pass into the boonies of Stockton near I-5 before cutting through Napa Valley and climbing over the top of Mount Tam on a 241 mile journey estimated to take three days and nine hours.
No wonder Americans drive everywhere. Click to enlarge!
The best part: "Walking directions are in beta. Use caution when walking in unfamiliar areas."