Myths of Snow Leopard 8: It's Just An OS.
July 10th, 2008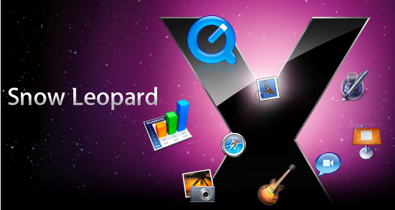 Daniel Eran Dilger
Apple's limited comments on Snow Leopard, the next version of Mac OS X due in about a year, have opened the playing field for rampant speculation. Here's a look at a series of myths that have developed around the upcoming release. The eighth myth of Snow Leopard:

Snow Leopard is Just an Operating System

Stretching the Meaning of OS.
The definition of "operating system" has grown dramatically throughout the history of personal computing. In the 70s, CP/M was little more than a boot loader. In the 80s, Apple's SOS, the "Sophisticated Operating System" developed for the ill-fated Apple III, introduced the novel idea of a modular driver architecture for printers, disks, and files systems. After the company returned to making Apple II models, much of SOS was salvaged in ProDOS.
Apple's parallel development of the Lisa not only delivered an operating system, but also a full suite of productivity apps as part of the included Lisa 7/7 Office System software, the first consumer office suite. It would be another half decade before Microsoft bundled its Word and Excel apps with its newly acquired PowerPoint to release Microsoft Office for the Macintosh, followed by a Windows version.
In a 1987 interview with Dave Ottalini, Andy Hertzfeld said, "I did the Macintosh Operating System and I was very familiar with the Apple /// and especially in the I/O system of the Macintosh, I was influenced by the Apple /// [SOS] operating system." The Mac's System Software in 1984 added in the concept of developer Toolbox that enabled applications to share one set of code for drawing window controls, managing print and file dialogs, and later dealing with multimedia.
Apple bundled fewer apps with the Mac than the Lisa due to complaints from third party developers. Instead, the company partnered with Microsoft to deliver the Mac's key productivity apps, a move that turned out to be Apple's worst decision ever.
In the late 80s, NeXTSTEP built upon the idea of the Mac Toolbox; NeXT delivered high level, object oriented frameworks and visual developer tools for rapidly building applications on top of a Unix foundation. Steve Jobs' new operating system went well beyond just booting up the machine. It included speech-enabled email messaging, DSP audio processing, PostScript color and transparency, a documentation reference library, dictionary, and even the complete works of Shakespeare.
Apple III FAQ File
Lisa GUI Prototypes
Office Wars 1 – Claris and the Origins of Apple iWork
Office Wars 3 – How Microsoft Got Its Office Monopoly
The Expanding OS at Microsoft.
Throughout the 80s and into the 90s, Microsoft continued to sell the simplistic DOS, largely based upon the 1970s CP/M. The company started to bundle DOS with a Mac-like environment it called Windows, which started to become popular with Windows 3.1 in 1991. Microsoft shipped Windows primarily to port its Macintosh apps to the IBM PC in order to abandon its software partnership with Apple on the Mac.
After similarly backing out of efforts to work with IBM on a DOS replacement called OS/2, Microsoft next attempted to deliver Windows NT as an entirely new operating system for PC users, based loosely upon concepts from AT&T Unix-rival VMS, after Microsoft acquired Digital's VMS developer team in the late 80s. Despite touting NT in the early 90s as the next Windows, Microsoft was unable to ship NT as a replacement to DOS for mainstream users until Windows XP 2001.
However, Microsoft's greatest contribution in expanding the definition of the OS came from its efforts to tie products together to leverage its monopoly DOS position in order to advance its applications business. Prior to transitioning DOS users to Windows, it told developers to target OS/2. That left a vacuum for Microsoft's own new Windows Office apps, which had not been wildly popular until then. By 1995, Microsoft was licensing Windows and Office together to PC makers as tightly integrated products, cutting out competition from third party apps.
Starting in 1996, as the Windows platform began to face the threat of the Netscape Navigator web browser paired with Sun's Java, Microsoft began to insist that its acquired Internet Explorer was an integrated part of the OS, enabling it to expand its monopoly and stifle any competitive pressure. It has since tied in the Windows Media DRM architecture, and has also tightly integrated Office and the Outlook Exchange client. While sold separately, both have become very close to being an extension of Windows.
The company is now working to sell Windows, Office, and the requisite OneCare security software updates as a $70 per year subscription package called "Equipt," basically making all consumer Microsoft software an über-OS for Windows PC users, and again shutting out the third party developers who have been flourishing in the vibrant niche of servicing Windows' malware, viruses, and other security problems.
1990-1995: Microsoft's Yellow Road to Cairo
Microsoft's Outrageous Office Profits
The Unavoidable Malware Myth: Why Apple Won't Inherit Microsoft's Malware Crown
Five Factors Shifting the Future of Malware and Platform Security
Enter Mac OS X.
By the time the Mac OS X beta emerged in 2000, a desktop operating system was expected to include everything from an email and web client to audio/video playback and Office functionality. In order to compete against Windows, Apple had needed to partner with Microsoft to deliver Internet Explorer, Outlook Express, and Office on the Mac.
As Mac OS X began reaching a mainstream audience in 2002, Microsoft pulled the plug on Mac development, putting Internet Explorer and Outlook Express into maintenance mode and making minimal advancement to the Mac version of Office apps. For Apple to keep up with Microsoft, it would need to develop its own applications.
Mac OS X's NeXSTEP legacy gave it a leg up on putting together an application portfolio. Apple had already adapted NeXTMail, a pioneering email client, into a decent email program simply called Mail, and shipped a central Address Book and later iCal scheduling client with Mac OS X. In 2003, Apple shipped Safari as its own standards-based web client. It later shipped iChat instant messaging and other supporting applications that rounded out the OS.
At the same time, Apple also began assembling a suite of multimedia apps in iLife: iTunes, iPhoto, iMovie, iDVD, and GarageBand. It has also put together an alternative to Office in iWork: Pages, Numbers, and Keynote. While both are sold separately from the OS, iLife ships for free on new Macs and iWork comes bundled as a trial that can be ordered online.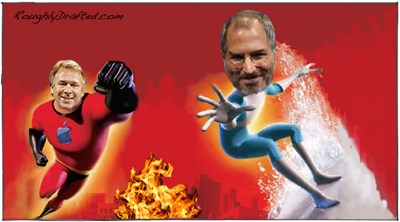 Why Apple Bounced Back
AppleInsider | Road to Mac OS X Leopard: Mail 3.0
The Future of the Web: Safari, Firefox and Internet Explorer
Mac OS X vs Mac Office?
The expansion of Mac OS X means something particularly interesting for Microsoft Office. Apple is describing Snow Leopard's key feature as being support for Exchange Server messaging, a role formerly delegated to Microsoft. That makes it the next step in the company's incremental independence from Microsoft's software on the Mac, following its banishment of IE, Outlook Express, Windows Media Player, and MSN.

Snow Leopard promises to obsolesce Entourage. That being the case, it would make sense for Apple to bundle its Exchange savvy, Snow Leopard version of Mail, iCal, and Address Book into the next version of iWork for sale to PowerPC Mac users and others who don't meet the minimum requirements for Snow Leopard. That move would also directly position iWork against Office and expand iWork's user base on the Mac platform.
Current Office users sometimes argue that Apple needs to allow Microsoft to maintain its monopoly position in Office to prevent Macs from being shut out of the corporate world. Businesses do prefer to train employees in one set of software; iWork does not work like Microsoft Office, forcing companies to settle on one or double their user training efforts.
However, Microsoft has already began work to ensure that Office on Windows does not work or look the same as its Mac version. The Windows edition was given a Ribbon UI for marketing reasons, with a Start Button-style user interface branding to tie it into Vista. That wouldn't work on the Mac side, so Microsoft gave Mac users an oddball, clownish user interface that is neither Mac-like nor immediately familiar to Office users.
Because iWork works like the rest of Mac OS X and is both consistent and intuitive, users will pick it up faster than having to learn the quirky, lipsticked pig that is Office 2008 for Mac. Even Windows users are likely to find iWork easier to figure out than Microsoft's Mac version of Office. Apple's iWork still has a ways to go in matching every feature of Office, but it offers a much stronger foundation to build upon than the current version of Mac Office.
Safari on Windows? Apple and the Origins of the Web
The Web Browser Renaissance: Firefox and Safari
Microsoft's Scorched Earth Office Policy.
Microsoft is radically changing the Office user interface on the Windows side to force companies to adopt Vista while also attempting to stave off the advance of the free OpenOffice productivity software, which is also sold by Sun as StarOffice and by IBM as Lotus Symphony.
OpenOffice (and other competing suites, including some online productivity offerings) have worked hard to copy the look and feel of Microsoft's Office to facilitate adoption by companies while requiring minimal new training. Microsoft's response is to take Office 2008 in a patented new direction that competitors can't follow, a trick it used to kill competition in the DOS market when it released Windows as a product that only appeared to work with MS-DOS, and subsequently Windows 95, a product that integrated MS-DOS.
With iWork, Apple didn't try to copy the old Office look and feel, which has made little progress since the late 90s. Instead, it has fleshed out its own productivity software interface with direct feedback Inspector panels; Mac OS X-native, customizable toolbars; and close integration with other OS features from advanced graphics compositing to media library browsing to native font and color selection panels.
Office Wars 4 – Microsoft's Assault on Lotus and IBM
This All Happened Before.
While Microsoft's strategy of driving Office into a unique, proprietary direction makes sense as a way to disrupt compatibility and familiarity with open software, it is also leaving the door wide open for Apple to enter. This is exactly what happened five years ago when Microsoft dropped Internet Explorer on the Mac, creating a vacuum that resulted in Safari, which is now teamed up with Firefox in an effort to eat into IE market share and break open Microsoft's proprietary hold over web development.
With advances in Javascript and HTML5-style sophisticated web applications, Safari is now helping to erode not only IE's control over the web, but also break up Windows' hegemony in application development. MobileMe demonstrates how rich, open web applications can provide familiar email, calendar, contacts, and other features using the cross platform web rather than a proprietary development platform.
While Apple hasn't announced plans to to deliver iWork apps on MobileMe yet, their current availability for the Mac not only makes up for the weaknesses of Microsoft's Mac Office 2008, but also directs attention to the Mac platform and its unique set of productivity apps.
By offering Snow Leopard and "iWork 2009" with Exchange 2007 support as well as integration with MobileMe and Snow Leopard Server's push messaging services, Apple will be able to aggressively push Mac OS X and the Mac into new territory long held hostage by Microsoft.
Myths of Snow Leopard 4: Exchange is the Only New Feature
Apple's Mobile Me Takes On Exchange, Mobile Mesh
Snow Leopard Server Takes on Exchange, SharePoint
Cocoa for Windows + Flash Killer = SproutCore
WWDC 2008: New in Mac OS X Snow Leopard
Myths of Snow Leopard 1: PowerPC Support — RoughlyDrafted Magazine
Myths of Snow Leopard 2: 32-bit Support
Myths of Snow Leopard 3: Mac Sidelined for iPhone
Myths of Snow Leopard 4: Exchange is the Only New Feature!
Myths of Snow Leopard 5: No Carbon!
Myths of Snow Leopard 6: Apple is Out of Ideas!
Myths of Snow Leopard 7: Free?!
Myths of Snow Leopard 8: It's Just An OS.
Cocoa for Windows + Flash Killer = SproutCore
Apple's other open secret: the LLVM Complier
Ten Big New Features in Mac OS X Snow Leopard
I really like to hear from readers. Comment in the Forum or email me with your ideas.
Like reading RoughlyDrafted? Share articles with your friends, link from your blog, and subscribe to my podcast! Submit to Reddit or Slashdot, or consider making a small donation supporting this site. Thanks!