Myths of Snow Leopard 6: Apple is Out of Ideas!
June 27th, 2008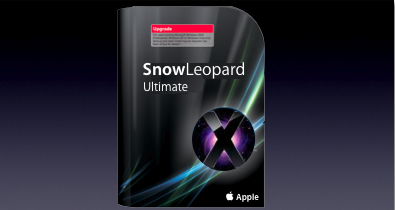 Daniel Eran Dilger
Apple's limited comments on Snow Leopard, the next version of Mac OS X due in about a year, have opened the playing field for rampant speculation. Here's a look at a series of myths that have developed around the upcoming release. The sixth myth of Snow Leopard:
Snow Leopard indicates Apple is out of ideas for new applications and features.

Windows Enthusiasts have worked hard to remain unimpressed with Apple. Despite selling a small minority of the entire world's sum total of servers, desktops, and laptop systems, the company has maintained a profile larger that it seemingly should. How is it that nobody knows much about new models from HP or Dell, or new software feature in Vista, but everyone hears about the latest products from Apple?
In part, it's because Apple more effectively markets its products. Critics argue that Apple is nothing but a smoke and mirrors marketing company. In ridicule of Mac users, those critics have appropriated the term "Reality Distortion Field," which was originally used by Bud Tribble in the early 80s to describe Steve Jobs' charismatic ability to inspire engineers to take on seemingly impossible tasks.
However, in the lexicon of Apple's critics, RDF is an evil mind control force field that causes people to desire products that are nothing special. Is that an accurate portrayal of reality, and is Snow Leopard yet another example of expertly marketed snake oil?
Folklore.org: Macintosh Stories: Reality Distortion Field
Reality Distortion, Distortion, Distortion.
Is Jobs bamboozling Mac users into buying an operating system that wastes their time with malware scans (and viral outbreaks) that exist because the software was designed without any regard for basic security? Has he hoodwinked the company's customers into buying poorly designed computers that appear to be cheap but only last for a year or two before becoming ewaste junk?
Has he led the "faithful" on a wild goose chase that made a lot of promises about technologies (such as, say, a database file system) that were never actually delivered? Has he championed a variety of worthless ideas for poorly conceived products that absorbed billions of dollars in development investments by outside companies, only to find those product visions meet with yawns in the market place?
Wait: malware, ewaste, vaporware, and atrocious products… that doesn't sound like Steve Jobs and Apple, but rather Bill Gates, Steve Ballmer, and Microsoft. What is particularly interesting is that Jobs hasn't been writing books where he outlines his grand view of the road ahead and gives himself credit for predictions through revision editing. Instead, Jobs has frequently diverted fawning attention from fans to his employees.
In his WWDC keynote this year, Jobs didn't announce that he had invented the iPhone 3G on his whiteboard as a solo effort. Instead he had Apple's iPhone engineers stand up for a round of applause. Earlier, Jobs described himself as being privileged to be able to see the rise of a series of pivotal platforms, from the original Apple II to the Macintosh to the iPhone.
And so, in addition to the RDF surrounding Jobs that results in the development of clever products, there is an equally strong RDF that protects Microsoft's naked emperor absurdity from being exposed and a third RDF that emanates from the tech media that suggests that Jobs' RDF and Microsoft's RDF are actually both reversed, making Jobs the charlatan and Microsoft the historical bastion of exceptional engineering.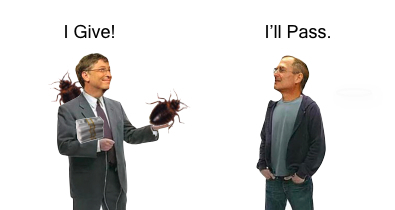 The Unavoidable Malware Myth: Why Apple Won't Inherit Microsoft's Malware Crown
Ten Myths of Leopard: 10 Leopard is a Vista Knockoff!
Windows Vista, 7, and Singularity: The New Copland, Gershwin & Taligent
1990-1995: Microsoft's Yellow Road to Cairo
CES: Fear and Loathing in Las Vegas
Is Jobs' Apple Out of Ideas?
Following his brush with cancer in 2003, Jobs is clearly happy to be alive and fully aware of his own fragility. That adversity appears to have emboldened Jobs to take big risks. Last fall, Apple could have kept prices higher on its iPhone and iPod touch, and would have likely seen robust sales and profits anyway. This year, Apple again targeted the wider market rather than continuing to sell the iPhone in the $400 and up range, where it certainly could have continued to sell.
Snow Leopard could have delivered a predictable set of fancifully named, customer facing features. Apple could have glossed over architectural problems with glitzy, egregious fluff in the same way Microsoft tried to skirt around major performance problems in Vista related to slow waking from sleep by creating a reference design for a secondary, small LCD display on the lid of PC laptops to provide difficult to navigate access to one's email and other information in place of just opening the laptop and using it as it should work.
But Apple isn't out of ideas. The company laid out a cohesive strategy for strengthening Snow Leopard's performance and its suitability for running the next generation of software on the next generation of hardware. Clearly, Apple is being led by engineers, not just clever marketers.
In fact, all of the advancements related to Snow Leopard, from the publicly advertised OpenCL and Grand Central to the open secrets of CUPS and LLVM to the fully secret, incremental advances that have not yet been published are all examples of strong, visionary, well-planned engineering.
The are not ideas that flowed directly from Jobs, they are the result of Apple's continuing investment in enabling technologies. When viewed within context of technology cross pollination with the iPhone, Apple's Pro Apps, its consumer app suites, and its expanding role in online subscription software, it's clear Apple is not running short of ideas. As for Snow Leopard, there's still a lot to be revealed.
WWDC 2008: New in Mac OS X Snow Leopard
Myths of Snow Leopard 1: PowerPC Support — RoughlyDrafted Magazine
Myths of Snow Leopard 2: 32-bit Support
Myths of Snow Leopard 3: Mac Sidelined for iPhone
Myths of Snow Leopard 4: Exchange is the Only New Feature!
Myths of Snow Leopard 5: No Carbon!
Myths of Snow Leopard 6: Apple is Out of Ideas!
Cocoa for Windows + Flash Killer = SproutCore
Apple's other open secret: the LLVM Complier
Ten Big New Features in Mac OS X Snow Leopard
If there aren't any major new marketing features in Snow Leopard, will Apple be forced to give it away for free? That's the next myth.
I really like to hear from readers. Comment in the Forum or email me with your ideas.
Like reading RoughlyDrafted? Share articles with your friends, link from your blog, and subscribe to my podcast! Submit to Reddit or Slashdot, or consider making a small donation supporting this site. Thanks!
Technorati Tags: Apple, History, Mac, Microsoft, Software, the Media