Myths of Snow Leopard 4: Exchange is the Only New Feature!
June 20th, 2008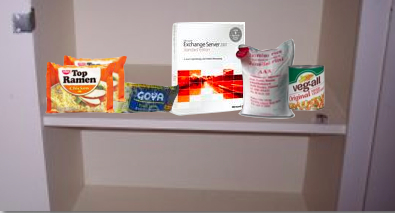 Daniel Eran Dilger
Apple's limited comments on Snow Leopard, the next version of Mac OS X due in about a year, have opened the playing field for rampant speculation. Here's a look at a series of myths that have developed around the upcoming release. The fourth myth of Snow Leopard:

Snow Leopard's only significant new feature will be Exchange Server support.
This myth has been invented by Apple itself, apparently to simplify its marketing. The company seemed quite pleased with its concept of Snow Leopard being a tight code refactoring that focuses on engineering fundamentals rather than marketing-driven bullet points. However, Apple can't help itself but add in a lot more than it is currently advertising.
That's good news for anyone who has no need for Exchange support and is worried that Snow Leopard won't offer anything else but a series of bug fixes. Prior to considering some of the new technologies in Snow Leopard, this article will consider why Apple is hyping the idea of "no new features" and promising an overall improvement in how Mac OS X works under the hood.

The Luxury of Code Refactoring.
Once software to perform some task is written, there are two ways to go about improving it. The first is to add features that make it do new things. The second is referred to as "code refactoring," a term that describes the practice of optimizing and improving code without changing what it actually does; it just does the same thing better.
Imagine a car maker releasing a new model year by adding tinted windows, a fancy sound system, and new colors and shapes for its sheet metal. That's adding features. An example of the idea of code refactoring in an automobile might be reworking its suspension for a better ride, tuning the performance of its engine to make it more efficient and powerful, and stress testing its seat belts to ensure they won't tear or break in an accident.
New features are nice, but refactoring the existing design is crucial to delivering a better product. The problem is that it's harder to sell "better" than "new," even though better is certainly, well, better.
Bill Gates Defined the Software Market with New, not Better.
As the founder of a marketing-driven rather than engineering-driven software company, Bill Gates recognized the shortcut of selling new over better early on. Back in 1995, Gates explained to Focus magazine why his company cared more about adding new features than refactoring code to fix bugs.
"The reason we come up with new versions is not to fix bugs," Gates said. "It's absolutely not. It's the stupidest reason to buy a new version I ever heard. When we do a new version we put in lots of new things that people are asking for. And so, in no sense, is stability a reason to move to a new version. It's never a reason."
Because new features were easier to sell to consumers than the concept of good software, Microsoft took the low road of selling the absolute bare minimum in code quality while touting (or at least promising) all sorts of new features. Consumers and even businesses fell for this hook, line, and sinker, enriching Microsoft while driving the software industry to embarrassingly low new depths.
1990-1995: Why the World Went Windows
How Microsoft has become the Beleaguered Apple '96
10 FAS: 10 – Apple's Mac and iPhone Security Crisis
You Can't Always Have What You Want.
Few software engineers have the privilege of writing whatever code they wish to write. Those that work for large companies are often pushed to add Microsoft-style, customer-facing features that will help sell the product. Even developers who run their own operation are often compelled to spend most of their time thinking up features to convince customers to buy their titles rather than being able to focus on building the best software they can.
The problem lies with the public perception of the value of software. Consumers happily pay for hardware, but hate having to buy software. They are well aware that the hardware they buy will soon be replaced by a faster model with more RAM at perhaps a lower price, but when it comes to software, every new release that "only" fixes bugs is regarded as something that "should have been" offered for free.
But why? It is typically much harder to track down and eliminate bugs than to simply tack on more new features. That should suggest that highly refined software should cost more than buggy software that has only been painted with a fresh coat of features. In the enterprise world, highly reliable, mission critical code does cost a lot. High quality software is very hard to find in the consumer market because consumers are typically too cheap to pay for it, thanks to a legacy of sloppy coding and apparent price undercutting perpetuated by Microsoft in the race to control markets rather than sell quality code.
1990-1995: Microsoft's Yellow Road to Cairo
Office Wars 3 – How Microsoft Got Its Office Monopoly
How to Escape the Trap of Bad Software.
Is it possible to sell quality to a population that has become complacent in consuming quantity on the cheap? Yes, it just requires adding some education to your marketing. Informed users will pay more for a better quality product, but only if they understand why it's better. Once it was discovered that consumers would pay more for higher quality food, efforts shifted toward selling organic, healthy alternatives to cheap junk food.
Apple has the luxury of taking on such a challenge because it isn't facing an immediate need to out-feature Windows Vista. The company has announced that Snow Leopard will involve a lot of code refactoring to tighten up performance, improve reliability, and slim down disk consumption. The only new feature, according to Apple, will be new support for push messaging with Exchange Server. That isn't exactly accurate however.
In some respects, many of the new features in Snow Leopard can be regarded as a form of code refactoring because they will only improve how things work, rather than adding extensive new features. But there will also be a lot of new features that are just plain new.

The next article presents Ten Big New Features in Mac OS X Snow Leopard.
WWDC 2008: New in Mac OS X Snow Leopard
Myths of Snow Leopard 1: PowerPC Support — RoughlyDrafted Magazine
Myths of Snow Leopard 2: 32-bit Support
Myths of Snow Leopard 3: Mac Sidelined for iPhone
Myths of Snow Leopard 4: Exchange is the Only New Feature!
Myths of Snow Leopard 5: No Carbon!
Cocoa for Windows + Flash Killer = SproutCore
Apple's other open secret: the LLVM Complier
Ten Big New Features in Mac OS X Snow Leopard


I really like to hear from readers. Comment in the Forum or email me with your ideas.
Like reading RoughlyDrafted? Share articles with your friends, link from your blog, and subscribe to my podcast! Submit to Reddit or Slashdot, or consider making a small donation supporting this site. Thanks!
Technorati Tags: Apple, Development, iPhone, Mac, Microsoft, Software