The Street: Steve Jobs Health Fears Key to Our Stock Manipulation Game
June 18th, 2008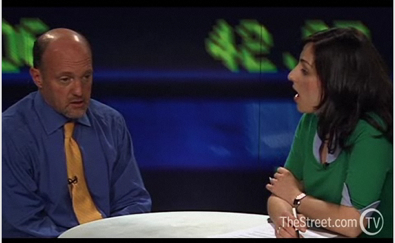 Daniel Eran Dilger
The Street's Jim Cramer, looking close to imminent death as colleague Farnoosh Torabi watched in concerned horror, recently talked about Steve Jobs' health in the context of Apple's future viability as a company. Torabi set up a clever stock manipulation scam conversation with Cramer entitled, "Without Steve Jobs, There is No Apple," where she introduced her boss by insisting that the iPhone 3G introduction was overshadowed by worries about Jobs' lack of obesity. "Most of the attention right now is going on the health of the founder and the CEO of Apple!" she intoned.

Cramer cited Eric Savitz, the blogger behind Barrons' Tech Trader Daily, as the linchpin source of his concerns that Jobs might possibly pose significant risks for Apple were his health to prevent him from performing his daily work. Savitz is best known as the carbon copy publisher of any negative sounding rumors about Apple, with one recent example being the regurgitation of Toni Sacconaghi's concerns that Apple was selling too many iPhones overseas, and therefore wouldn't be able to sell enough iPhones. Yes, that does make no sense.
On the subject of not making sense, Cramer said he hasn't even met Jobs, but insisted that "people that have seen him have said there is something wrong." There are also reports that Cramer himself is showing signs of advanced problems. In addition to looking worn out and tired (but not really thin), Cramer has also suffered a series of hysterical fits on camera ("they have NO IDEA, NO IDEA!") and speaks with more than a hint of dementia.
Cramer's rambling comments about Jobs' health leave some room for skepticism of his message. "This is a company that thrives on innovation, and the innovation is all being driven by one man." Cramer said of Apple. "That's okay, the one man is not a stock. I mean, you can't. The multiple of one person is zero. Well, one. But I would warn people that this company… I don't want to call it nothing without him, but it is not investible without him, because he is the driver of ideas. Now behind anybody there'll be other ideas, but I remember the original Apple, and it was all him, too." Cramer clearly has some bad soldering in his circuits.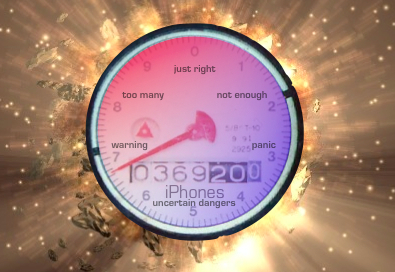 Toni Sacconaghi Alert: Excessive iPhone Demand Reason to Panic
Why Cramer's Remarks are Ridiculous.
There are a couple key problems with Cramers' rant, apart from the completely nonsensical bulk of his sputtering. Apple's innovation is not leaping fully formed from the forehead of Jobs. Certainly, Jobs has contributed an incredible vision and direction for Apple over the last decade. But as Jobs himself is quick to point out, he is the orchestrator of a lot of extremely talented people, not the main source of Apple's innovation.
The iPhone doesn't look nice because Jobs sketched it out from a midnight vision after being touched by God, but because he brought in Jonathan Ive as a talented lead designer who has himself hired artists to work on perfecting its design. It doesn't have an intuitive interface because Jobs sketched out an entire new HIG in his spare time, but because his executives and UI design team has invested in a tightly collaborative effort to define how to rethink the mobile interface.
Jobs' greatest contributions at Apple have likely been to kill or sideline a lot of good projects in order to focus the company's efforts and resources on only the most exceptional ones. In contrast, Bill Gates and Steve Ballmer have apparently thrown every product concept within Microsoft at the market to see which will make a splash. The result has been a sky-darkening volley of absurd failures from Redmond, and an impressive series of home runs from Cupertino.
CES: Fear and Loathing in Las Vegas
Innovation: Apple at Macworld vs Microsoft at CES
Early Apple Historical Revisionism.
Cramer said the original Apple was "all about Steve Jobs, too". Not according to anyone who was there, and certainly not according to Apple's management. Jobs was regarded as a pariah in the business community, a maverick that drove down profits to advance technology and the state of the art. Had Cramer been anything of note in the mid 80s, he would have been slamming Apple for not acting quicker to rid itself of Jobs.
It's easy to argue today that the Macintosh Office concept of targeting businesses that Jobs was working to advance within Apple in the mid 80s would have been a much better direction for the company than John Sculley's "Apple II Forever" talk and his musings about the Personal Digital Assistant. At NeXT, Jobs developed ideas into technologies that were far in advance of the market and nearly unpalatable to consumers until he was able to again pair them with Apple's brand over a decade later as Mac OS X.
Jobs has been quick to spot trends and recognize their value. He identified graphical computing and laser printing as strategic technologies for Apple; Unix, object oriented development frameworks, and visual programming at NeXT; and was again correct in keeping Apple a hardware company, killing clones, developing new software titles, promoting the iPod, and developing a new mobile platform. Apple has certainly enjoyed a tremendous track record under Jobs.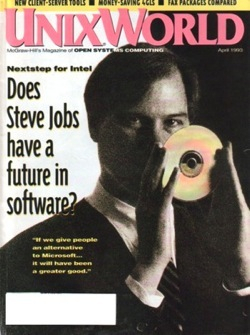 Steve Jobs and 20 Years of Apple Servers
SCO, Linux, and Microsoft in the History of OS: 1990s
The Old Apple without Jobs: 1986 to 1996.
At the same time, the old Apple continued along successfully (and initially quite profitably) on autopilot for nearly a decade after Jobs left. More than just surviving on autopilot, Apple actually had a series of rabid monkey CEOs jumping about the cockpit causing problems.
Speaking about his 1983 to 1993 tenure at Apple last year, Sculley admitted, "I'm a terrible manager." So why was he running the company? "When I went to Apple — and I take no credit for any of the vision at Apple, this was purely Steve Jobs' vision — my job," Sculley said, "was to help bring big brand marketing to Silicon Valley" and to get people to think of a computer as something they needed.
Sculley was a marketing man. His disastrous impact on Apple left it with ads that were more clever than its hardware, and a software portfolio that had made minimal progress, particularly in comparison to the software advances happening in parallel at NeXT. Sculley didn't push things forward, he worked to sell and brand Apple's existing products.
His replacement was an easily flustered operations manager, Michael Spindler, who thought Apple's best bet was to get bought out by another big corporation and get filed away as a technology portfolio. He was replaced by Gil Amelio, who was charged with cutting programs and firing unnecessary workers to stop the losses.
Recalling Apple's Early Days – Technology – redOrbit
An Apple with Jobs: 1997 to 2008.
When Jobs returned to Apple with the acquisition of NeXT, he didn't merely cut programs that weren't making money and spin off projects that were breaking even as Amelio was doing. Jobs had a real vision for what would work down the road. Newton appeared to be near profitability, but Jobs dissembled disassembled the group.
In its place, Jobs plotted out a device that would really sell, not just a device that could be sold and which required massive investment and maintenance. That enabled Apple to springboard with the iPod rather than being dragged down by Newton in the way that Microsoft was by its own imitative WinCE platform.
Jobs' Apple invested in promising, short term technologies that could be bound together to create value greater than the sum of its parts. He also invested in retail development to sell products and design that resurrected Apple's corporate stature and polished its brand. He also focused on fundamentals, hiring operational genius Tim Cook as one of his first priorities. Cook is now Jobs' right hand man and his obvious successor.
Apple's No. 2 Has Low Profile, High Impact – WSJ.com
Today's Apple Without Jobs.
So will Apple fall apart once Jobs moves on to other things? Apple is in a very different place today than it was in 1986. It has not just been broadsided by IBM and leached from by Microsoft. It isn't desperately trying to identify the right platform to market between the cheap Apple II and the expensive Macintosh. And it isn't growing into awkward adolescence in a relatively fresh and uncharted tech industry. It isn't waiting to see how its Look and Feel lawsuit pans out.
Today's Apple has been fiercely competing against Microsoft for twenty years, making increasing progress against its larger rival and demonstrating an ability to outpace, outmarket, and outdeliver Microsoft in a number of strategic areas from media to mobiles to hardware integration. It has clear platforms with stellar branding, from the Mac to the iPod to the iPhone. It is a mature company in a mature market. This isn't 1986.
Apple is not going to be handed off to an ad man by a board of directors fearful of the future. It won't be transformed into a think tank charged with creating (but not patenting) silly PDA products and raw technologies that can be used against it by its competitors. Its executives aren't trying to bail out in a sale to a larger corporation. This isn't 1994.
When asked about Jobs' continued leadership at Apple, the company has made it clear that considerations have already been made about how to keep Apple moving in the right direction. Apple could conservatively coast on its existing technologies for a decade with only incremental progress. But there's no reason to think that would happen, as the innovation in Apple isn't coming from one man as Cramer insists, but rather from many pools of very talented people.
Investors probe Apple's Jobs on successor, games, future products
Jobs without Apple.
If anything, Apple might benefit from taking a breather after being pushed relentlessly by Jobs to affect change in the state of the art. A number of employees have reported being burned out by Jobs' tenacious pacing and drive, and some have left the company primarily for that reason. Jobs himself might welcome a reduced role as his executive team assumes more of his regular functions. Over the last couple years, Jobs has even turned his keynotes into tag team presentations.
While frequently portrayed as the deified embodiment of Apple, Inc., Jobs has worked to avoid the limelight of personality cults and soap opera websites. At a Product (RED) party held last winter, ValleyWag reported a converstion between Jobs, charity chairman Bobby Shriver, and venture capitalist Steve Jurvetson.
On the subject of wearing TV makeup for interviews, Jobs said, "I have never worn makeup." Shriver replied, "Really?"
"I don't give a shit what I look like," Jobs responded. "But some people do," Shriver answered.
"Yeah, like Schwarzenegger," Jurvetson said. "Boy, does he layer it on. Have you ever seen him close up?"
Shriver laughed. "Have I ever seen him close up? I can't believe you asked me that."
Jobs' lack of preoccupation with his surface appearance has no doubt played into the recent media circus trying to portray him as deathly ill, and working to advance that as a reason to be fearful of Apple's market performance. If Jobs got too skinny to run Apple, would people stop flocking to the company's retail stores? Would they start buying Vista, solely because it ships from a company with a portly CEO? Would they dump their iPhones to buy less capable mobiles running a horrible interface in Flash Lite? That's all highly unlikely.
Would Jonathan Ive draw a complete blank on how to develop new designs? Would Tim Cook forget how to manage inventory? Would Phil Schiller start advertising like Microsoft? Would Apple's engineers and software developers be at a complete loss as to what to do next? Apple desperately needs Jobs like a blazing forest fire needs a match.
There's certainly a lot Jobs can still do for Apple because of who he is. He can pitch hardball deals and prioritize products, chart out new strategies and invest in totally new directions. But the Apple Jobs has created will continue long after he steps down, and may even benefit from growing in different ways under the unique vision of his successor.
Steve Jobs: "I don't give a s–t what I look like"
Cramers' Dirty Motives.
So why is the Street diligently advancing Jobs' health as a front running concern? It's because Cramer is working hard to set up an irrational variable he can manipulate to drive Apple's stock up and down and profit from the fears of misled investors.
Cramer made no bones about his willingness (and that of his hedge fund colleagues) to manipulate news to foment the market. That's illegal, but the SEC has shown no willingness to enforce the law, resulting in the American securities market being dominated in the media by Cramer's ridiculous trash TV style hysterics and angry clown act.
Something else to consider: has Cramer ever been right about Apple? He insisted that Apple would subsidize service for the iPhone to the tune of thousands of dollars per user. He was behind Scott Moritz' story that Apple had failed to meet its secret plans to sell a million iPhones in the first two days, a physical impossibility that did not correlate with Apple's inventory supply. He encouraged investors to sell Apple stock before it reported Q3 earnings last summer, advice that would have been expensive for anyone who listened.
Cramer and the Street are consistently wrong, not because they occasionally overstate facts or make minor errors, but because they knowingly state the opposite of the truth. It would be statistically impossible to be as consistently wrong as the Street is without purposely lying.
The Street's Flaccid Campaign Against the iPhone
10 FAS: 3 – Apple's iPhone Kickbacks vs RIM, and Verizon vs AT&T
Analysts, Investors Take Apple to Task For its Best Quarter Ever
Read My Lying Lips.
Cramer has even outlined how he intentionally seeds false information and speculation into the news. "You got to control the market. You can't let it lift," he said in a recorded segment in 2006. "This is actually blatantly illegal, but when you have six days and your company may be in doubt because you are down, I think it is really important to foment. If I were one of these guys, foment an impression that Research In Motion isn't any good, because Research In Motion is the key today. […] It's important to get people talking about it as if something is wrong with RIM."
Speaking about Apple prior to the release of the iPhone, Cramer said, "It is very important to spread the rumor that both Verizon and AT&T have decided they don't like the phone. It's a very easy one to do. You also want to spread the rumor that it's not going to be ready for Macworld [Expo]. And this is very easy, because the people who write about Apple want that story. And you can claim that it is credible because you spoke to someone at Apple, because Apple isn't in [a position to comment on unannounced products]. It is an ideal short."
Cramer is a proud liar. He intentionally seeds false information with the intent to mislead the market and profit from that. When he talks, he sometimes says things that sound good, and sometimes says things that sound scary, but it's almost always very calculated lies designed to manipulate his position as a media personality and deceive the public.
Having said that, I hope the guy is okay, because he looks terrible and sounds like he's gone completely bonkers.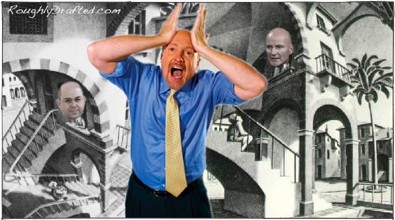 10 FAS: 3 – Apple's iPhone Kickbacks vs RIM, and Verizon vs AT&T
More on Scott Moritz and the Jim Cramer Street Misinformation Engine
I really like to hear from readers. Comment in the Forum or email me with your ideas.
Like reading RoughlyDrafted? Share articles with your friends, link from your blog, and subscribe to my podcast! Submit to Reddit or Slashdot, or consider making a small donation supporting this site. Thanks!