SproutCore Mailroom Managing Obama's Presidential Campaign
June 17th, 2008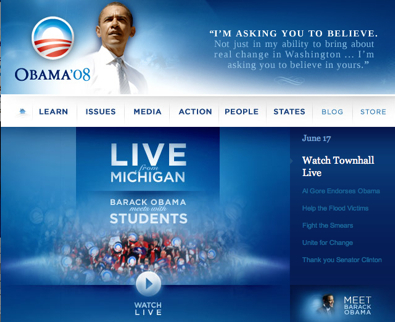 Daniel Eran Dilger
In response to my articles outlining the potential of the SproutCore framework in developing a new type of desktop class web applications, a number of critics have attacked the technology based on poking at some simple demos on the web from odd versions of Internet Explorer or the Camino browser. That forces me to point out that not only has Apple been using SproutCore to drive the slick .Mac Web Gallery for several months, but SproutIt has been using the framework in production in Mailroom, which has been used to manage email for the Obama 2008 presidential campaign.

Obama's campaign is known for its grassroots outreach to individuals, as opposed to the typical political campaigns catering to corporate lobbyists. It's therefore significant that such an Internet savvy, email centric campaign has used Mailroom in a production environment for months.
In a SproutIt blog entry from January, Chris reported, "About 1 year ago, we had a client that represented a new segment of users. It was the Obama 2008 Campaign (Sproutit was an initial vendor). As they continued to grow in popularity, so did the sheer number of emails that were receiving from curious , individuals, voters, and supporters."
"Gray Brooks, the head of their email correspondence said, 'This is my third major campaign and I have to say that I am very excited using Sproutit [Mailroom]. It's simply a big step forward from 4 years ago.'"
Sproutit was an initial vendor of the Obama campaign from its launch, helping them manage over 40 volunteers answering thousands of emails of the next several months. SproutIt reported that the campaign eventually outgrew the company's ability to scale its email infrastructure so it helped the campaign transition to another product focused on very large enterprises.
Sproutit – Hosted software for small business
Barack's Apple Gear.
If Barack Obama himself is accessing Mailroom, he's likely doing it using a MacBook. As noted in a Newsweek article in February, "To help bridge the physical distance between father and daughters, Michelle recently bought two MacBook laptops, one for Barack and one for the kids, so they could have video chats over the Internet."
Even if you don't like the man, you have to find it cool that he's taking time to do iChat videoconferencing with his kids, and that his wife knows that the easiest way to video conference is to buy a Mac. We also know he uses an iPhone.
Who Is Michelle Obama? | Newsweek Politics: Campaign 2008 | Newsweek.com
Barack Obama | Change We Can Believe In
Obama's Apple, McCain's Microsoft: the Politics of Tech
Is your RIA Platform Good Enough for the Next President?
That should help lay to rest the idea that SproutCore is just experimental or somehow not ready for prime time. It is sad to see pundits racing to defame themselves by putting up a sham dramatization of not being able to figure out how to view the simple demo apps, particularly when Web Gallery and Mailroom provide two strong examples of the type of MobileMe-style apps SproutCore can be used to deliver.
What's next? As Charles Jolley wrote, "I can't really tell you much more about who is using SproutCore or what they are doing with it, but I can point you to some great articles. This one is my favorite so far: Cocoa for Windows + Flash Killer = SproutCore."
Aw, thanks!
Update: SproutIt would be happy to sell their product to John McCain, too. However McCain himself reports that he does not use a computer.


Update 2: Reports indicate McCain's campaign staffers also use Mailroom.
I really like to hear from readers. Comment in the Forum or email me with your ideas.
Like reading RoughlyDrafted? Share articles with your friends, link from your blog, and subscribe to my podcast! Submit to Reddit or Slashdot, or consider making a small donation supporting this site. Thanks!
Technorati Tags: Apple, Bloggers, iPhone, Mac, Software, the Media