Snow Leopard Server Takes on Exchange, SharePoint
June 10th, 2008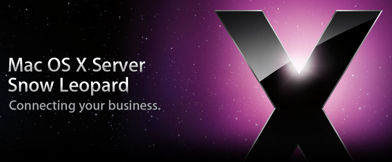 Daniel Eran Dilger
In addition to offering Mac and iPhone users the equivalent of a hosted, 20 GB Exchange Server mailbox with additional photo and video sharing features and better file management tools at a price far lower than any vendor could afford to offer hosted Exchange mailboxes, Apple is also building upon Mac OS X Server to deliver an Exchange and SharePoint alternative for companies who want to host their own messaging and collaboration services at a far lower cost than Microsoft charges.

Exchange your Exchange Server for Snow Leopard Server.
Mac OS X Leopard Server already provides Mail and an open source calendar server based on the CalDAV standard. In Snow Leopard Server, Apple will improve upon its Mail offerings with push messaging, and also add:
iCal Server 2, with support for group and shared calendars, push event notification just like Mobile Me, and a similar web based calendar interface that stays in sync with clients using iCal on the desktop and the iPhone.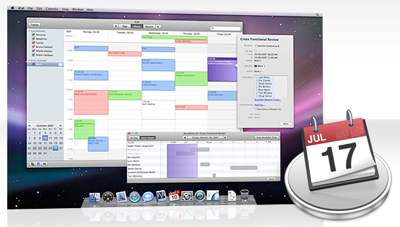 Address Book Server is a new contacts service based on the new CardDAV standard for sharing vCard contacts. It works similar to how iCal Server currently shares iCalendar events. The new service will allow users to upload their local contacts to the corporate server for sharing with others. It also provides company address books that can be shared across groups. The new desktop Address Book can reference contacts served up by any number of server shared address book collections, and apps that look up contacts from Address Book will automatically gain access to remote contacts as if they were local.
Wiki Collaboration in Mac OS X Server will also see refinements, with a new iPhone-centric display served up by Snow Leopard Server that provides mobile users with a tailored interface to the hosted wikis, blogs, mailing lists, and RSS feeds on the server (below).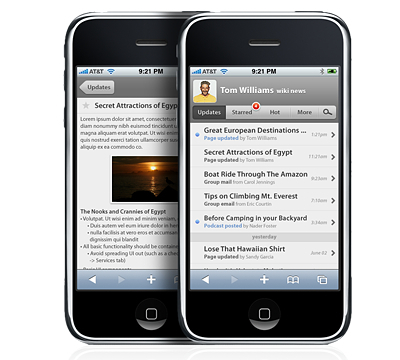 The revamped Wiki server will also support cross enterprise searching, Quick Look file previews, and a My Page feature that draws together company wide notifications and updates into a single interface. That's a clear shot at Microsoft's Share Point, which it sells independent of Exchange.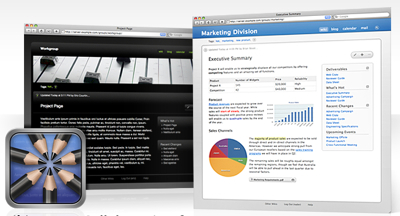 So while Apple is promoting Exchange support in the iPhone and Snow Leopard, it's also working hard to compete against it both in the business server side and as a consumer-friendly hosted service available by subscription. Both products will force Microsoft work harder to maintain its high pricing for Exchange Server.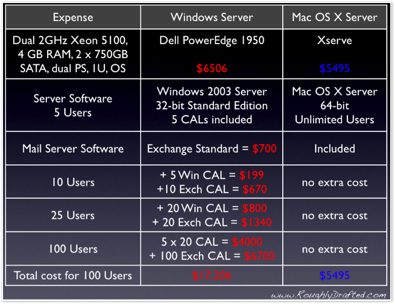 iPhone 2.0: Exchange vs Leopard Server
Apple – Server – Mac OS X Leopard – Snow Leopard
All Part of the Plan.
Apple isn't just taking wild stabs in various desperate directions. Both Mobile Me and Mac OS X Server share a lot of the same technologies, and build upon the same client side efforts to support push messaging on both the Mac desktop and the iPhone. In other words, rather than just adding Exchange support to the iPhone and the desktop's Mail, iCal and Address Book, Apple is also making all of them push savvy by using open standards, with the result of being able to offer Exchange-like services itself and in a server product that allows companies to host this locally.
Apple is also opening up various components of its push strategy to allow other platforms (that means Linux users) to benefit from the work it has already done. The Linux community is currently trying to just copy Microsoft. The main alternatives to Exchange Server in the open source world have been Yahoo's Zimbra and Novell's Ximian Evolution, both of which are Exchange clones.
By offering its standards based CalDAV calendar server as open source under the Apache 2.0 license, Apple hopes to give Linux users a free head start to move away from simply cloning Microsoft's proprietary, unwieldy centralized database design and instead adopt a standards-based strategy built upon WebDAV; essentially, iCal Server is a specialized web server that distributes iCalendar events rather than HTML pages.
Apple is pursuing the same goal with its new Address Book Server (a web server that vends vCard contacts), and will similarly open source its standards-based web clients as well. This should entice the open source community (which includes heavyweights like IBM, Oracle, and Red Hat) to also invest in releasing Microsoft's proprietary near-monopoly grip on messaging services and in its place create an open market (that is, open source and open competition) similar to what's found in the existing web server arena.
Microsoft sells a web server, but it does not own that market. Incidentally, the web works a lot better than Exchange email does, and setting up a web server costs a whole lot less too.
WWDC 2008: New in Mac OS X Snow Leopard
Apple's Open Calendar Server vs Microsoft Exchange
Using iPhone: iCal, CalDAV Calendar Servers, and Mac OS X Leopard
Apple's Mobile Me Takes On Exchange, Mobile Mesh

I really like to hear from readers. Comment in the Forum or email me with your ideas.
Like reading RoughlyDrafted? Share articles with your friends, link from your blog, and subscribe to my podcast! Submit to Reddit or Slashdot, or consider making a small donation supporting this site. Thanks!
Technorati Tags: Apple, Development, iPhone, Mac, Microsoft, Software