WWDC 2008: iPhone G3 Revealed
June 9th, 2008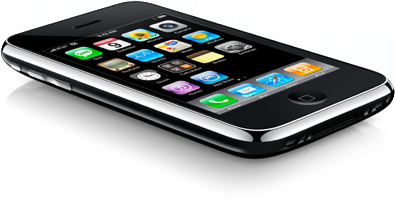 Daniel Eran Dilger
Apple did something nobody expected at WWDC: it managed to keep its new "iPhone 3G" design, features, and price under tight wraps up until Steve Jobs' keynote today, foiling the efforts of online spies trying to scoop the news on the sequel to the hottest product of 2007. While it was widely expected that Apple would deliver a 3G version of the Phone, the company managed to roll in a couple of other significant surprises that should dramatically reconfigure the expectations of consumers and business users, dramatically expand Apple's mobile platform audience, and deliver a new wave of justifiable excitement before competitors can even catch up to last year's phone.

Developers, Developers, Developers! (No Sweat).
Steve Jobs repeated his now customary keynote role of being the lead speaker of a symposium presentation, assisted by Senior VP of iPhone Software Scott Forstall, who talked about technical developer issues, and Senior VP of Product Marketing Phil Schiller, who addressed the introduction of Mobile Me, Apple's new .Mac replacement, and how it will integrate with the iPhone.
While talking about third party developers, Jobs didn't jump around the stage all sweaty and out of breath, prompting aspiring tech soap opera site Valleywag to suggest Apple's CEO was "dangerously thin" for not being as obese as Microsoft's fearless leader. However, Jobs did highlight that the iPhone SDK saw 250,000 downloads by developers in 95 days, and that the company received 25,000 applicants for the paid developer certificate program, of which 4,000 have been admitted so far.
A number of developers also showed off applications for the iPhone that will be available at the launch of the Apps Store in iPhone 2.0 on July 11, or shortly afterward. That list included both existing Mac developers such as Pangea Software, which demoed two games ported from Mac OS X and adapted to the iPhone's multitouch and accelerometer features, as well as established games developers including Sega and Digital Legends Entertainment, both of which are new to Apple development.
Digital Legends said it had ported its 3D fighting game Kroll, originally released for the Nokia N-Gage platform, to the iPhone in just four days, using the balance of two weeks to add custom support for iPhone features such as its multitouch selection and accelerometer jump controls. Representative Xavier Costa described the iPhone platform as being a capable video game console rather than a basic mobile phone that can play games.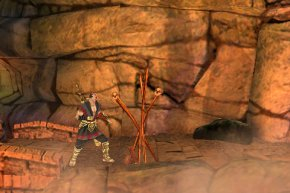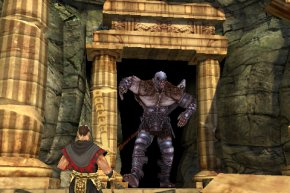 Apple also showcased new apps from Major League Baseball, eBay, the Associated Press, blogging support from Loopt and TypePad, the work of two established vendors of specialized medical imaging and educational tools on desktop, and an entirely new music app from a small developer in the UK, which turns the iPhone or iPod Touch into a variety of playable instruments with group jamming and recording capabilities.
iPhone 2.0 SDK: How Signing Certificates Work
iPhone 2.0 SDK: Video Games to Rival Nintendo DS, Sony PSP
Digital Legends Entertainment S.L.
3G, GPS AND Leading Battery Life.
One big surprise in the new iPhone 3G is GPS-based location services, which gives the new iPhone 3G better positioning accuracy using signals from orbiting satellite rather than just the combination of cellular and WiFi hotspot location tracking used in current models. While commonly cited as a competitive feature in other smartphones that the first generation iPhone lacked, many pundits did not expect that Apple would add GPS hardware support across the board in all new iPhone 3G models. Earlier reports did indicate the possible presence of GPS hardware.
In his keynote, Jobs demonstrated the improved accuracy offered by GPS by showing a map tracking the current position in real time as a moving dot, as opposed to the current location finding system that returns a large circle on the map encompassing the general location within a region the size of a city block or larger. The iPhone 3G's GPS also supports tracking features, highlighted in a video depicting the driver heading down San Francisco's famously twisty Lombard Street.
Last year, Jobs dismissed both faster 3G data service and GPS features as being too battery intensive to include in the iPhone, and readers with 3G phones agreed, one noting, "Using my Cingular 8525 with '3G' enabled eats away at the battery at an astounding rate." With the improved chipsets now available, Jobs indicated that the new model will provide up to 300 hours of standby, ten hours of 2G GSM talk time (up from 8 hours in the existing iPhone, 3G talk time of up to 5 hours (Jobs said most 3G phones only provide 3 to 3.5 hours), and 5 to 6 hours of high speed web browsing. Using it as an iPod, Apple claimed up to 7 hours of video and 24 hours of audio playback.
Jobs said the new iPhone's 3G data networking approached WiFi speeds, pitting it against both existing EDGE and WiFi to download the graphics heavy National Geographic website. With 3G, the page completely finished in 21 seconds, compared to a difficult to watch 59 second delay using EDGE. WiFi was four seconds faster than 3G, coming in at 17 seconds. Jobs also compared page load times for the Nokia N95 at 33 seconds, or 34 seconds on the Palm Treo 750, further pointing out that both competing smartphones display a small area of the web page rather than showing the whole page as the iPhone does, and thereby offering a much less impressive web experience than Mobile Safari.
Readers Write About iPhone, 3G Wireless Networks
It Costs How Much?
After reviewing the new enterprise business features, third party software support, and worldwide rollout plans of the new iPhone 3G, Jobs addressed affordability, noting that when the company asked people who didn't buy it why they chose not to, it found that price was the biggest factor. In response to that, Apple announced a second big surprise in that the iPhone 3G's new "maximum" price would be set at $199 worldwide for the 8 GB model and $299 for the 16 GB model. The new model will become available on July 11, 2008 in 22 countries as a simultaneous release.
Jobs said Apple had an original goal to ship the iPhone in 12 countries this year, with a "stretch goal" of 25. Early consumer interest allowed the company to actually reach "signed, sealed and delivered" distribution deals in 70 countries this year, including Canada and Mexico, 15 countries in Central and South America, 29 countries in Europe, and nine in Asia and Australia, including India and Japan. During the keynote, Jobs dramatically played out the number of new markets using an animation that placed colored tiles over the map for each new country highlighted while playing the song "It's a Small World," painting most of the globe red apart from the key markets of China and Russia.
Jobs also rolled out a new ad, featuring two guards escorting a steel shipping container through a high security corridor past video surveillance and passkey checkpoints. The voice over announced the arrival of "the first phone to beat the iPhone," which surfs the web twice as fast and costs half as much. The safe box is placed on a table and it robotically animates itself open to reveal "the new iPhone 3G." Jobs was so pleased with the commercial he played it twice.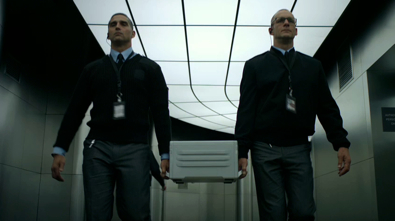 Apple – iPhone – Gallery – TV Ads
Same Same, But Different.
The new iPhone 3G sports a subtly refined shape that entirely escaped media spies. Several prominent fakes made an appearance prior to the event, but the actual model Apple showed looks very similar to the existing model, with slightly more beveled round edges that Jobs claimed "feels even better in your hand." The new model has a black plastic back, with the higher end 16 GB version also offering a white plastic back plate option.
The front of the new iPhone 3G looks the same, lacking the rumored front facing video conferencing camera. The camera remains in the back, although Jobs did not comment on whether it had been improved. There was also no note of whether the camera software would be enhanced to support additional options or video capture.
The new model now uses a more standard flush headphone jack, making it more broadly compatible with a wider range of headphones, including those with an angled jack. Jobs said a new speaker design would also result in "dramatically improved audio." The new model is reported going to be offered as a free upgrade to recent iPhone buyers and will require in store activation to curtail the grey market smuggling iPhone out of the US for unlocking and resale scalping in foreign markets.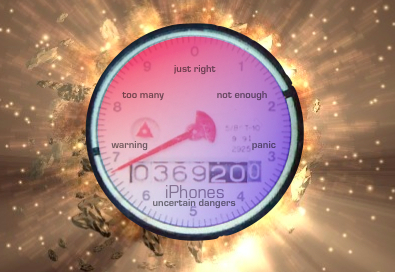 Toni Sacconaghi Alert: Excessive iPhone Demand Reason to Panic
I really like to hear from readers. Comment in the Forum or email me with your ideas.
Like reading RoughlyDrafted? Share articles with your friends, link from your blog, and subscribe to my podcast! Submit to Reddit or Slashdot, or consider making a small donation supporting this site. Thanks!