Apple's Mobile Me Takes On Exchange, Mobile Mesh
June 9th, 2008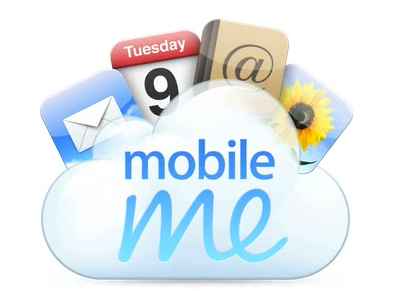 Daniel Eran Dilger
Coyly billed as "Exchange for the rest of us," Apple's new Mobile Me targets consumers with a subscription service that offers a suite of web apps paired with push web services to keep users in sync between their computers and mobile devices. It's the new .Mac, and offers something Microsoft has yet to match in its plans for Live Mesh.
Mobilize Me.
Apple is offering Mobile Me as the first of its two Exchange Server alternatives. Mobile Me will appear first later this year as a subscription based web service that serves as the next generation of .Mac. Subscribers to the $99 plan (and current .Mac members) will get 20 GB of online storage, 200 GB of data transfer, and access to a suite of online, AJAX-powered web apps paired with matching "direct from the cloud" push services vended from the new me.com domain:
Mail: an online version of OS X's desktop Mail client, offers drag and drop email sorting, a quick reply feature (below), automatic address completion, and delivers mobile push email to the iPhone and iPod touch. Just as existing .Mac accounts, it will also be accessible from and kept in sync (both items and mailbox folders) on standard desktop clients including Apple's Mail and Windows' Outlook on the PC.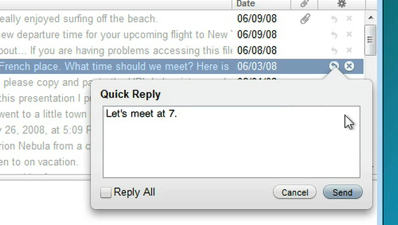 Contacts: the online version of Address Book, keeps online contacts updated with photos and addresses that pop up a Google Map location finder. Just as with Mobile Me email, online contacts will sync over the air (rather than only through iTunes) with the iPhone and iPod Touch, so changes made in either location will be updated everywhere within seconds. It also syncs with the desktop Address Book and Windows' Outlook/Outlook Express or the Windows Contacts equivalent in Vista.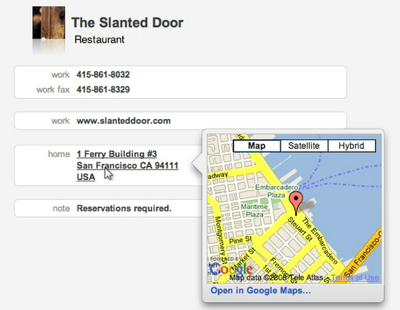 Calendar: an online version of iCal entirely missing from .Mac, this allows users to schedule items or create invitations online that are kept up to date on mobile and desktop systems, including support for multiple, color coded calendars, another feature currently missing on the iPhone (which currently only supports viewing a single calendar). The online calendar client appears to be based on the one developed for Mac OS X Leopard Server, using the same drag and drop event creation and editing used by its Wiki / iCal Server powered web calendar. Again, mobile push updates are all over the air rather than requiring an iTunes sync via the the iPhone or iPod dock. Desktop sync works with both iCal and Outlook.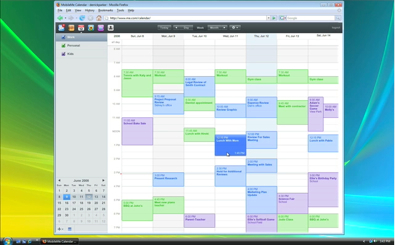 Gallery: the new incarnation of .Mac's Web Gallery, this element of the Mobile Me web app suite works as a basic, online version of iPhoto for viewing photos and movies. Once photos are uploaded directly using the web, from iPhoto 08, or from the iPhone, they are instantly viewable from the web. Friends and family can scrub albums for previews, view home movies online in better than DVD quality, download printable versions of photos, upload their own shots into an album, or view Gallery albums using Apple TV (just as they can right now with the low profile .Mac Web Gallery).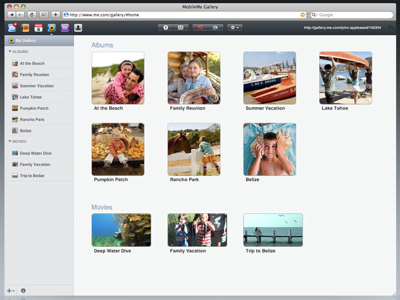 iDisk: rounding out the Mobile Me apps is a "personal hard disk online," based on the existing iDisk but offering a new web app interface that makes uploading and downloading files easy. Files are presented in a Mac OS X Finder-like environment with both column and Mac OS style list views, both of which support drag and drop folder organization and file preview.
"You can share a file that's too big to email," Apple explains online, with a demonstration showing how to send an email notification of a file posted to iDisk so that the recipient can download it, optionally using password protection and/or an expiring temporary URL.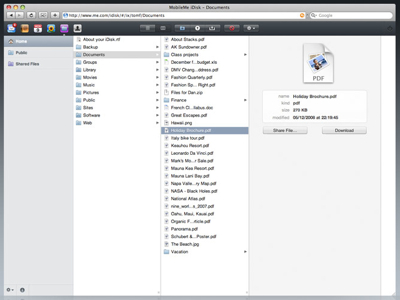 The profile of all these web applications is raised by a shared toolbar, which finally makes the value of .Mac more obvious to users confused as to why they'd pay for online disk storage and email available elsewhere for free, albeit littered with ads. There is no online advertising in Mobile Me, outside of the fact that the now very cross platform friendly service clearly promotes the Mac OS X interface.
I'd like to Exchange this Live Mesh, It's Small and Ugly.
In addition to one upping the features of Exchange Server, a product Microsoft does currently not even offer to consumers as a hosted subscription service, Mobile Me fires a cannon hole through the sails of Microsoft's recently announced Live Mesh service.
Live Mesh, currently in beta, intends to someday create a Ring of synced computers and mobile devices that work just like today's .Mac, except that it was announced as only offering half the online storage capacity (5 GB), relies heavily on a Windows-only client that must be installed separately, and offers a convolutedly byzantine, text heavy interface that only a devoted Windows Enthusiast could defend.
Mobile Me takes .Mac in the opposite direction, greatly simplifying its already functional features into a very visual suite of standard web apps that can be accessed from any standard browser while doubling its storage capacity at the same price as the existing .Mac and working across the Mac and Windows PC platforms. Mobile Me also ties in integration with the iPhone and iPod Touch, the mobile WiFi platform for which Microsoft has no rival in place.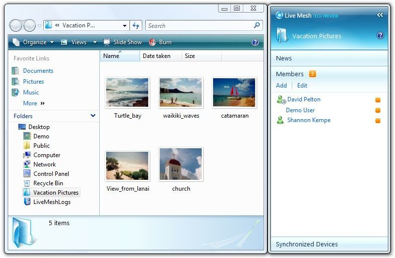 Today @ PC World Microsoft Live Mesh: A Closer Look in Pictures
No .Mac Community Features.
While Apple delivered upon the strategies that I described in relation to push email, contacts, calendar; graphics; and online file access, and has tied up .Mac with the iPhone in a bid to sell more subscriptions just as I surmised, the company didn't tap into any of the community features I conceived a couple years ago related to hyperblogging, reputation, user profiles, an online store, and iTunes tie-ins, among others.
Perhaps Apple has no interest in pushing out its own community networking features because that segment hasn't done much but churn fickle users over the last decade. The company has instead set out to create the most real value for consumers. Providing pioneering push email, contacts and calendar services on top of multiple-computer syncing and .Mac's other existing features will certainly make the new Mobile Me service far more attractive to the 27.5 million Mac OS X installed base and the 6 million current iPhone users interested in an easy to use data cloud of web services.
Apple isn't just confronting Exchange in the consumer market; it's also taking Microsoft on directly with the upcoming Snow Leopard Server, as the next article describes: Snow Leopard Server Takes on Exchange, SharePoint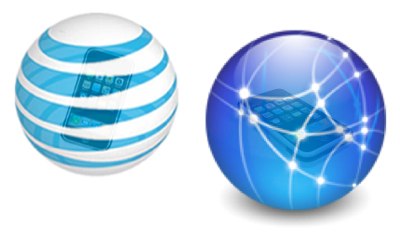 Filling the Unlocked iPhone Gap with .Mac
Apple – MobileMe

WWDC 2008: New in Mac OS X Snow Leopard
I really like to hear from readers. Comment in the Forum or email me with your ideas.
Like reading RoughlyDrafted? Share articles with your friends, link from your blog, and subscribe to my podcast! Submit to Reddit or Slashdot, or consider making a small donation supporting this site. Thanks!
Technorati Tags: Apple, Apple TV, Content, iPhone, iPod, Mac, Microsoft, Software