WWDC 2008: Future UI Designs in Mac OS X 10.6
June 6th, 2008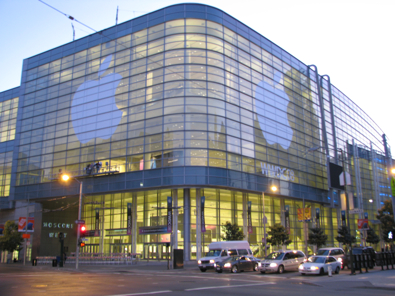 Daniel Eran Dilger
Following up on the previous segment, WWDC 2008: Predictions & What to Expect: Mac OS X 10.6, this article looks at how Apple differs from Microsoft in the hints it has dropped about the human interface concepts to be used in future versions of Mac OS X, and suggests some additional interface ideas for 10.6.

When Microsoft Zigs, Apple Zags.
A good rule of thumb for predicting Apple's next moves is to plot the opposite path from the one Microsoft is headed in. While Microsoft perpetually talks about features in the next Windows three years out, Apple focuses on its current release of Mac OS X. As Microsoft has tried to homogenize every product category (desktop, mobile, PMP, UMPC, etc.) with the same Start Button user interface, Apple has developed products that all have a custom designed interface suited for the task at hand. Apple TV, the iPhone, and the Mac desktop all run OS X, but each has an entirely unique design for interaction. Their commonality exudes Apple branding, but the interface details are all very different.
So what is Microsoft now doing that Apple won't? Consider Office 2007: Microsoft is developing an entirely different user interface for its desktop applications that breaks the human interface standard set by Apple in the mid 80s of consistent, system wide pull down menus. Microsoft isn't alone in this trend; Adobe is also similarly experimenting with putting toolbar buttons into the title bars of its upcoming Creative Suite applications. Users are howling in disgust. People hate new things, particularly when the advantages aren't obvious and the changes clash with everything else.
Why are Adobe and Microsoft doing this? Only new Adobe apps will have icons in the title bar, and only Office 2007 apps have Microsoft's odd new Ribbon UI (although other arms of the company are experimenting with rolling their own version of a similar idea, each being slightly different.) Microsoft and Adobe have similar motivations.
That's a clue that Apple will be doing exactly the opposite: Apple is going to refine the Mac OS X user interface to create a consistent set of advancements that benefit every app. That's because Apple doesn't have a monopoly in Office apps or in Creative apps to advance and differentiate. Apple has a platform to advance and differentiate, and its going to do that again in Mac OS X 10.6, just as it did in Leopard.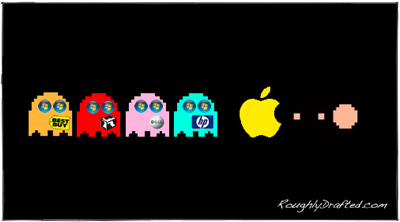 How Microsoft has become the Beleaguered Apple '96

The Road to a More Consistent UI is Paved with iTunes.
Apple's dominate market leading app is iTunes. The company certainly doesn't have a monopoly there; Windows Media is far more entrenched thanks to its tied bundling, and there are any number of alternative media apps and content stores people can use, from Amazon to Napster to eMusic. However, iTunes is Apple's UI bellwether, and regularly gets used to show off and advance new user interface concepts.
iTunes foreshadowed Leopard's Unified window design (used in the Finder and applied to other apps system wide), with its converged title and button bar, squared corners, source listing on the left, action buttons on the bottom of the window, upper right search field, Cover Flow visualizations, a darker and more neutral window frame, and other elements that make everything about Leopard familiar to users of iTunes. So what's next?
A Toned Down, Logical, Sun Dried Aqua: Based on the flat, "non-Aqua" scroll bars in the current version of iTunes, expect the next version of Mac OS X to lose its bright blue scroll bar bubbles, or at least tone them down dramatically. The iPhone and Apple TV both present their scroll bars as almost ghostly little black indicators that fade into the background rather than pulsating with an attention grabbing sheen.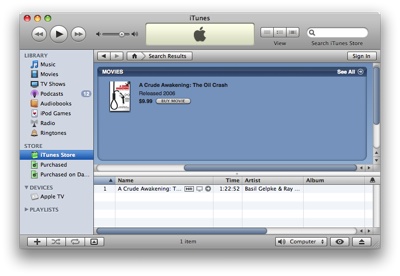 Apple representatives have also hinted that the "candy drop" close, minimize, and zoom buttons would go away in the next version of Mac OS X, replaced with more serious and professional looking ones. If that seems shocking, take a look at Logic Pro 8: the candy stoplight colors are already gone. Even active windows have grey scale windows controls.
Leopard already toned things down system wide somewhat slightly over Tiger's version, setting the colored buttons into the title bar like jewels rather than having them plopped out like sugary blobs on top of the surface. Along with candy plastic drawers and pinstripes, those interface conventions mirroring the translucent colored plastics of the late 90s iMacs are out in favor of neutral elements that reflect modern Mac's glass and aluminum construction.
Logic Pro 8 has also extended "Unified" windows, so that the joined title bar and Toolbar area (separated by a thin line in Logic Pro, as opposed to the solid Unified look applied to Apple's consumer apps such as iTunes) extends as a thin frame around the entire window. That thin peripheral frame also allows the user to resize the window down and to the right or left by grabbing and pulling.
Logic Pro's windows are also rounded on all four corners. The latest iTunes (and the Leopard Finder) is only slightly rounded (less than Tiger apps were) but its bottom corners are similarly rounded rather than squared off like Safari and most other apps.Like iTunes, Logic Pro also sports greyed-out scrollbars, although Logic's are a more dimensional "grey Aqua" while iTunes' are a flatter blue; further, the Logic Pro indicator has marked ends that act to scale the contents in the view. Pull on the ends of the scrollbar indicator and it becomes wider, compressing and zooming in on the contents of the music being displayed in the window.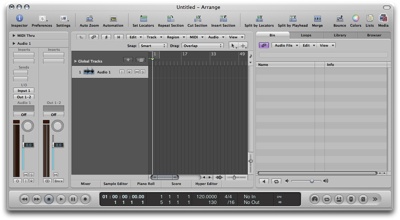 It's not necessarily the case that everything in Logic Pro will trickle down into system wide interface ideas in 10.6; it's a Pro App with a more serious audience. However, it does offer an iTunes-like view into how Apple is approaching the ideas of integrating complexity and sophistication into an intuitive, beautiful interface. Logic Pro silently screams futuristic, clean, functional, and subtle all at once.
The Next Dimension: Even Apple faces the contempt of proponents of conformity with the past; users howled in protest when the company unveiled Leopard's translucent menu bar and dimensional looking Dock with reflections and shadows. Expect more in this direction as Apple works to wean users toward an ever progressive advance to increasingly simple yet sophisticated interface concepts.
Time Machine also showed off Apple's readiness to experiment with bold new ideas for visualizing complex data in intuitive ways. Windows Enthusiasts who pounded their fists to demand equal coverage for Microsoft's invisible and far less capable Volume Shadow Copy feature completely failed to recognize that much of the value of Apple's new backup system came, not from implementing a conventional way to create restorable copies of information, but from making it easy for non technical users to browse those backups and easily recover lost items. They like to dismiss it as being "pretty," as if looks aren't a major reason for being wowed by a hot vehicle, sharp clothes, or any other well designed product. Remember, they're suffering Stockholm Syndrome as captives of Microsoft's horrific designs.
WWDC Secrets Paul Thurrott Hopes You Miss
Soviet Microsoft: Stockholm Syndrome Among Unswitchable Windows Users
Resolution Independence: this isn't new; Mac OS X began getting support for this back in Tiger, and Leopard advanced the underlying plumbing so developers could get started doing the work needed to support their applications on new systems where the screen density could become a variable. Resolution Independence allows the user or system to scale everything up or down to make icons and text usably large on higher resolution screens that pack more pixels into an inch.
The work needed to do this is largely upon third parties. Apple can already scale the Mac OS X desktop, but any apps that paint custom controls that were only designed to look good at the existing 1:1 ratio will look blocky and pixelated when scaled, and might fail to line up properly into the design grid of the window.
The iPhone already supports resolution independence technology, which is the magic that allows Mobile Safari to scale web page text and graphics smoothly. Apple didn't have to drag along a bunch of legacy apps on the iPhone, but it does have to do so on the Mac desktop. It has been working with developers to prepare them for this step for years; 10.6 will turn on scaling features by default.
Fix This, Apple!
Mac OS X's most desperate need seems to be how it presents menu options. In the past, the Mac's Menu Bar made lots of sense. Today, higher resolutions and subtle graphics effects make it easy to present more controls in the window itself. Microsoft's original Mac Office appeared to pioneer the idea of button bars; today's iWork and iLife apps both present a huge number of controls and settings right in the window itself, even though both suites do so in every different ways. iLife apps presents content; iWork presents documents.
Each delivers an interface suited for the task at hand, and both rely upon NeXT-style Inspector Palettes, which group together intuitive controls in a highly graphical setting. The latest iWork now presents what Apple calls the Format Bar, which puts context sensitive, graphical Inspector controls in a strip right under the standard Toolbar. I want to see that in every productivity application, but there are also more pressing issues. With the increasing complexity in applications and between applications, it would be great to see Apple address a number of menu related issues in a consistent, brilliantly simple manner. The problems:
1. Menu Bars are shrinking as displays get larger. This is particularly a problem for multiple monitor users. Why force them to transverse their screens to target drop down menus?
2. Copy / Paste features have been stuck in the middle 80s for twenty years now. Why don't we have multiple pasteboards as part of the system yet?
3. Services in NEXTSTEP solved a common problem: how can apps share data temporarily, piping text or graphics through a workflow to filter, count, or modify the item in some way and then return it to the current application? Services actually made it to Mac OS X, but few users even know its there. Select something, then go to the application menu and pull down to Services, and you can do all sorts of things with your selected item from the options automatically populated by system applications that advertise their abilities.
All three of the above issues are related. They all involve a degree of complexity that hides behind a textual interface. To use any of those menus, you have to leave the intensely visual desktop and its windows to transverse a bunch of lines of text in the menu bar. This needs to be fixed. There is a fine solution in two parts.
1. Popup Contextual Pies Menus and Piping: a convoluted name, but a necessary feature. Select something, then hit a hot key to pop up a contextual menu. Rather than presenting a conventional, mini version of a menu bar pull down with text to read, you'll get a highly graphical popup like the kind visual artists put in Star Trek and Minority Report, with obvious tasks that lead in diverging paths.
This is so freaking obvious I'm ashamed that neither Apple nor Microsoft has done it yet. Imagine the concept of the Start Menu, but done correctly, and where you want it rather than tied into the lower corner of the screen and the Windows Taskbar strip. In my mockup below, the idea is portrayed as a pie menu animated and labeled like the Dock.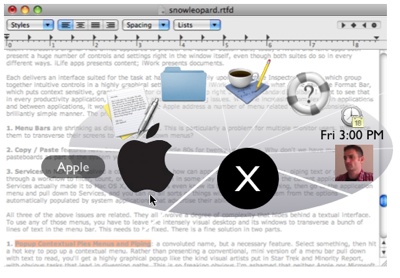 Menu Bars Plus: Want to access System related functions? Hit the Apple and get presented with options to select About this Mac, Software Update, System Preferences, open Recent Items, Shutdown, etc. The Apple Menu. Hit the application icon to bring up that menu, with About, Preferences, and Quit options. File, Edit, Window selection, Help, Clock, Logged in User, and other menu bar items also beg for the same instant access treatment that is visual rather than text heavy, and immediate rather than requiring mousing to hit a target on the top side of the main screen. We didn't have the processing capacity to rapidly draw menus like this ten years ago, but we sure do now.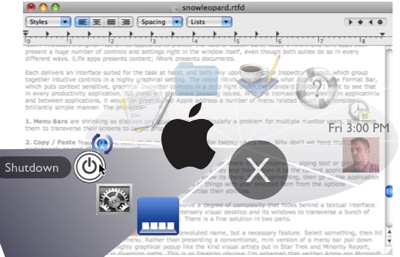 Copy / Paste Plus: Don't limit yourself to copy and pasting a single item. Third party utilities have been working to solve this problem in various ways for decades, but the system should really be doing this itself. Copy an item and drop it into a bucket organized just like Safari Bookmarks: visual, immediately searchable (!), and wildly flexible. Use Bonjour sharing and discovery to link computers together on the local network so that users can easily copy and paste data right over the network rather than sending emails, IMs, or the files themselves. Make the pasteboard syncable via .Mac so that anything you copy and paste into your scrapbook is available from any computer you use.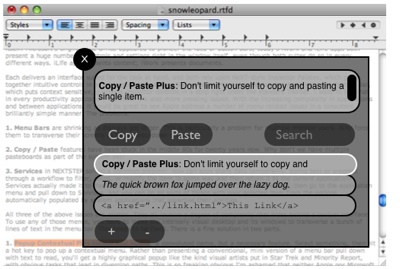 Services Plus: I hinted at this earlier under the clumsy name Serviceposé, as a play on Apple's visual window management tools. This would be an extension to Copy / Paste Plus, simply giving the system a visual way to take a selected item and send it through processing (tint a graphic, title case some text, verify a file), number it (get a word count, get metadata info on a file), or apply some other workflow that returns a desired result before dropping it back into the current application.
Hook up Automator Actions into it, extend it with AppleScript commands, use it to present Core Image filters, Core Audio Units, and Quartz Compositor filters and actions. Get Services out of hiding, and pair it with the latest technologies.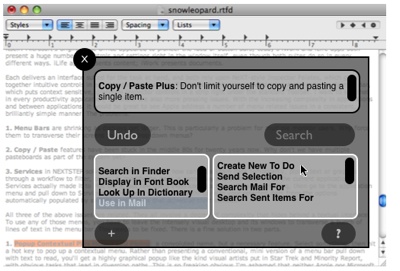 More Predictions for WWDC 2007: Solaris, Google, Surround
2. Multitouch Interaction: Of course, this all begs for the mother of all hot keys. Rather than only right clicking to get a pie menu that branches off into every action of your heart's content, make the interface touchy feely, driven by multitouch sensor pad gestures that would goose sales of new laptops and multitouch trackpads for desktops. That also gives Apple a hardware sales incentive to develop the software needed to push tired textual menus into the obvious future.
You Want it When?!
The Ars rumor echoed the widespread expectation that Apple would demonstrate Mac OS X 10.6 at WWDC next week, followed by a release next year. Ars targeted the obvious Macworld Expo in January. That makes more sense than some rumor critics have suggested. Apple had originally been pushing out reference releases of Mac OS X every year, a pace that was dizzying for developers and users both. A new goal was presented to land a reference release of Mac OS X every year and a half. Leopard ended up pushed back even further because of Apple's work on the iPhone, but counting out a year and a half after its release places 10.6 really close to Macworld 2009.
It makes a lot of sense that Apple could deliver the beta of a polished, refined, toned down, and yet dramatically enhanced new Mac OS X 10.6 at WWDC and then turn it around for sale in 2009. In fact, it would be unthinkable for 10.6 to slip much past the first quarter of 2009. Why? Apple sells every new OS reference release rapidly in the first quarter of its sales; by six months, unit sales have tapered down dramatically. Apple needs to augment software sales into its product lineup to keep margins where they are and fund the efforts to keep Mac hardware out front and distinguished.
The company has big plans for the future of Mac OS X, and is constantly working to push things forward. That requires targeting a regular new sales cycle to pay for those efforts. In the last few months since the release of Leopard, Apple has pushed out three significant free updates to Leopard. By the end of this year, Apple will likely have shipped another four, giving us something in the area of 10.5.7. In 2009, Apple will need to deliver major new features to support resolution independence and really push its multitouch interface.
That's Mac OS X 10.6, and it will need to be a full priced upgrade to cover the work Apple is doing to support existing users with regular updates. Ars could be right in suggesting that 10.6 will offer less new bundled application glitz and marketable new trademarked features; there are lots of existing apps in Mac OS X that could be refined and enhanced without adding many major new ones. Expect it to also coincide with a new iWork 09 version, which also takes full advantage of an enhanced multitouch input interface and a more cleanly professional overall interface design.
But what about Ars' ideas that Apple will abandon PowerPC users and Carbon apps in the next version of OS X? The next article will take a skeptical look at those claims. What do you think?
WWDC 2008: Is Mac OS X 10.6 the Death of Carbon?
WWDC 2008: New in Mac OS X Snow Leopard
I really like to hear from readers. Comment in the Forum or email me with your ideas.
Like reading RoughlyDrafted? Share articles with your friends, link from your blog, and subscribe to my podcast! Submit to Reddit or Slashdot, or consider making a small donation supporting this site. Thanks!
Technorati Tags: Apple, Development, Mac, Microsoft, Software