WWDC 2008: Moscone West Spy Shots!
June 5th, 2008

Daniel Eran Dilger
We sent spies to Moscone West to capture the secret banners being erected for WWDC. Here's what they brought back after being chased down the block by security. Yes we're exaggerating slightly, but only for dramatic effect.

If you miss the gigantic Apple logos being painted on either side of the building: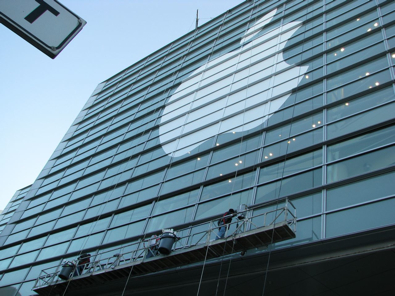 then the banners with the Apple TV-style light blue to purple gradients will let you know what's happening inside: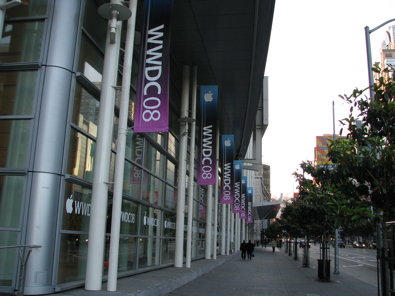 Moscone West is aglow with preparations for the big Apple developer convention: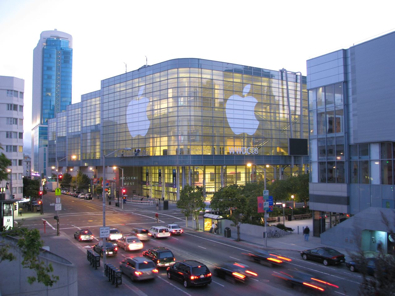 Inside, the back wall behind registration features the familiar universe of random Apple related icons. This year, there's a mingling of iPhone icons, but none having anything do to with Apple TV (click to enlarge):
Close up on the left reveals nothing unusual (click to enlarge):
and on the right, a new icon for Accelerometer, Cocoa Touch, and a blue version of the grey "High Technology" icon used on the iPhone website (click to enlarge):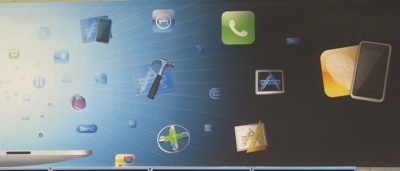 Does it mean something else on the poster?
The new accelerometer icon above is also featured on a hard to capture poster on the third floor (below). It appeared to say something like: "Add a new direction… to your apps." (click to enlarge)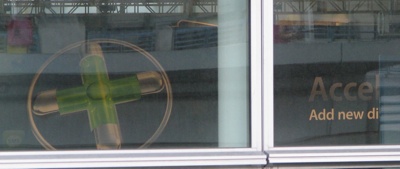 Also difficult to capture was the banner "iPhone SDK: Lets see what develops," with an open box releasing apps that already come on the phone, along with Interface Builder, a tool that will neither develop nor end up on the iPhone (click to enlarge). Alas, no other clues there.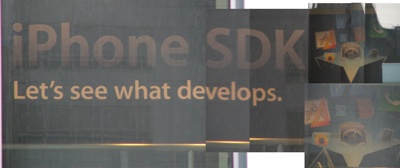 Easier to snag were the ground floor posters, which apply "OS X" to both the desktop Leopard and the iPhone. Last year, there was speculation that Apple was calling the desktop OS "Mac OS X" and the iPhone version "OS X," and since then Apple has been calling the phone version "iPhone OS." I said calling it different things was a mistake. Now it's clearly "OS X Leopard: the world's most advanced operating system," and "OS X iPhone: the world's most advanced mobile platform" (click to enlarge).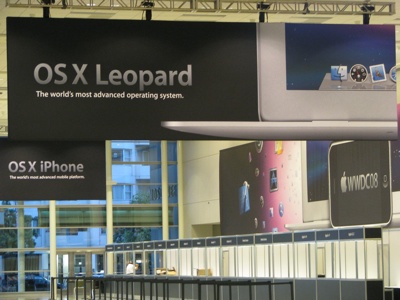 The iPhone poster also portrays The Future calling (click to enlarge). Interestingly, there's no mention of the iPod touch. Apparently it also runs "OS X iPhone."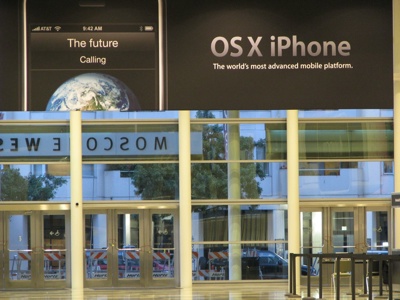 Squinting and zooming in, you can also see two more posters on the second and third floors. The first is "Xcode 3.0: Debug and conquer."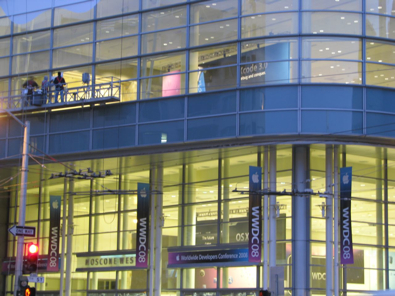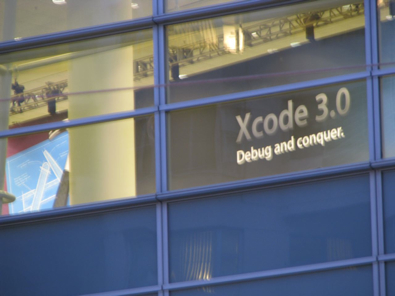 On the top floor, an iPhone "Apps Store: Now accepting applications"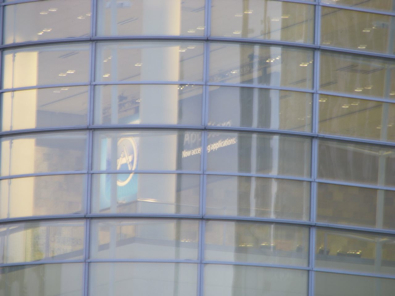 And "Interface Builder 3.0: Drag and jaw-drop"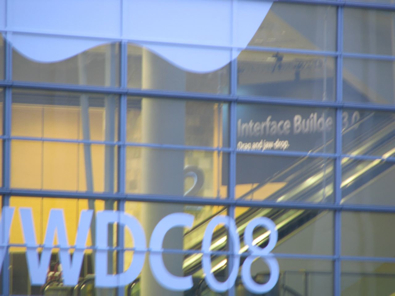 We're still recovering from our taser wounds (just kidding, we sent spies, remember?), but have seen enough to miss the rest of the event. Actually, we just can't afford to go this year, and there's no room left anyway. I will be in town of course, so if you want to meet up and say hi over a drink be sure to drop me an email. It's my birthday on June 10th, so you can even buy me a beer! But only if you are among the first few, as I'm pretty much a lightweight.
More pictures at:
AppleInsider | Apple's OS X iPhone, Leopard banners show OS split pre-WWDC
MacNN | WWDC 08: Early photos from Moscone West
WWDC 2008: Predictions & What to Expect: Mac OS X 10.6
WWDC 2008: Future UI Designs in Mac OS X 10.6
I really like to hear from readers. Comment in the Forum or email me with your ideas.
Like reading RoughlyDrafted? Share articles with your friends, link from your blog, and subscribe to my podcast! Submit to Reddit or Slashdot, or consider making a small donation supporting this site. Thanks!