Five Ways Steve Jobs Can Turn On Apple TV Sales
June 2nd, 2008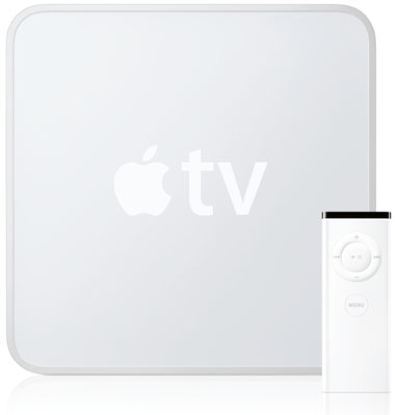 Daniel Eran Dilger
Apple hasn't done a lot to push sales of Apple TV apart from lining up HD movie rentals and sales and adding incremental feature advances included in the new Take Two software. The problem, as noted in the previous article, is that buyers are somewhat hesitant to shell out $229 for box that primarily rents movies. Of course, Apple TV does a lot of other things too, such as photo viewing, AirTunes audio streaming, YouTube, and podcasts. However, none of those things compare to five killer applications Apple could quite easily add to the box, turning it into a hot seller and subsequently driving iTunes media sales and rentals. Here's what they are.

Three Barriers Holding Up Apple TV

1. Add a Multitouch WiFi Remote: the iPod Touch/iPhone.
Ever since Steve Wozniak left Apple to create his CORE universal programmable remote control, home theater components have been getting increasingly fancier remotes. Microsoft's latest Media Center remote control sports a ridiculous number of buttons, and some third party replacements for it (which sell for $200) incorporate a small display so users can be guided through the astronomical complexity of menus without having to squint at the text on their TV display.

Apple TV has a tiny white remote, the same one that's bundled with most new Macs and costs $29 to replace (and perhaps $2.50 to build). However, Apple has also developed what could easily be the most sophisticated remote control on the planet: the iPhone and iPod touch. Now all it needs to do is create a background listener for Apple TV that allows users to manage the box directly from their WiFi handheld.
There's no need for that rumored Bluetooth full sized keyboard sporting a multitouch trackpad; Apple TV doesn't even have Bluetooth, so adding a $100 keyboard would also require plugging in a Bluetooth dongle. Most Apple TV users likely already have an iPhone or iPod touch however, and those that don't would certainly get one if they could use it to remotely control their Apple TV from anywhere within WiFi range. Remote control features would be done in software, making it a virtually cost-free enhancement for Apple TV.
Most remote controls use IR (as Apple's basic one does) to save on costs. Higher end models use UHF radio signals to work through walls, particularly in the case of older satellite receivers that might have needed to be located in another room. The iPhone already uses WiFi, which doesn't need to be pointed at a receiver as IR does; it also doesn't require any special setup, as Apple TV already uses WiFi for networking. Creating a standalone remote control with the features of the iPhone would be prohibitively expensive, but adding remote control features to the existing iPhone hardware would be cheap and trivial.
Adding a remote module for the iPhone and iPod touch would make it easy to add additional sophistication to the Apple TV menus, such as making it simple for users to arrange custom menus that reflect how they use their device, whether primarily for their own home videos, for movie rentals, for podcast content, or for photos.
It would also make the device an excellent home audio system, allowing iPhone users to change the volume and select music tracks from their handheld mobile screen rather than doing so from an iTunes computer running AirTunes or Apple TV itself. It could also convert Apple TV into the core of a home automation system, or be tied into home security systems as I described earlier under the concept name of Bonjour Ready.
Work required: minimal WiFi listening software on Apple TV, plus a basic iPhone app.
Value to users: a phenomenal killer app, unlocking lots of potential value for users while being difficult for competitors to duplicate at a reasonable cost.
Likelihood of happening: this is so simple and obvious that its hard to imagine why Jobs hasn't released it yet.
Ten Big Predictions for Apple in 2008

2. Send Apple TV on Safari.
Now that Apple TV has a powerful handheld remote control input system, the most obvious new thing Apple TV would need next is an HDTV version of the Safari web browser. Ever since Web TV, various groups have worked to develop a web browser box that works directly with a TV rather than requiring a full PC. The problem has historically been that high resolution graphics and small text look terrible on standard definition TVs, and alternative browsers did a poor job of rendering pages designed for PC screens (or Internet Explorer).
HDTVs still don't match the sharpness of most computer displays, but are quite adequate for presenting web pages. Apple TV has the power to present web pages and already requires a decent Internet connection, so adding web browsing to the living room makes a lot of sense. Apple has a huge leg up on competing web TV systems from the Wii to the Playstation 3 because the Safari browser already works well with most web pages; the Opera and Netfront browsers used on those game consoles offer a less attractive and less compatible experience.
Apple would need to simplify a few things about the browsing interface, but it already has a lot of experience in doing that for the iPhone. In fact, by simply porting the Mobile Safari version to Apple TV, it could use the handheld multitouch interface of the iPhone to directly manipulate web page views displayed on TV, making it very intuitive to use the web on a larger screen. Essentially, the iPhone would simply send the user's inputs to Apple TV, which would then render a larger scale version of the web pages on the user's HDTV.
This would result in an intuitive multitouch web browsing experience similar to what Microsoft has been trying to present with the $10,000 Surface bathtub and in Windows 7 vaporware, albeit with a far more sensible and compact input system rather than a bunch of projectors, mirrors, or digitizers that will result in repetitive stress strain as users reach out to touch the screen, and subsequently end up with a perpetually dirty display. Everyone already knows how to wipe the iPhone's screen clean.
By presenting the first web on TV product that actually works, Apple could sell craploads of Apple TV units paired with iPhones or iPod touch devices. That would also cement Apple's plans to force the web back to open standards, nailing dead Adobe Flash, Microsoft's Silverlight, and any other proprietary web add ons across another major market. Apple already owns the mobile web; by adding the living room web, it could decisively remove various forms of pollution from the web and instead encourage SVG, HTML5, and similar efforts to keep the web open.
Work required: a customized Mobile Safari version and an iPhone app for controlling it.
Value to users: a phenomenal killer app for selling Apple TV, difficult for competitors to duplicate at a reasonable cost.
Likelihood of happening: this is so simple and obvious that its hard to imagine why Jobs hasn't released it yet.
Scratching the Surface of Microsoft's New Table PC
Microsoft Surface: the Fine Clothes of a Naked Empire
3. Add Casual Gaming and an SDK for Interactive Apps.
Once you have a home web viewer, why not offer some other apps to go along with it? Because Apple TV is just a stripped down version of Mac OS X, developing custom application modules for it would be similar to creating iPhone apps or basic Mac apps. A new set of interface guidelines that bridge the gap between the iPhone's handheld screen and the conventional Mac desktop is needed, one customized for use with a ten foot display.
However, Apple TV would make an excellent platform for casual gaming and basic web enabled interactive applications, particularly when paired with iPhone or iPod touch units acting as WiFi remote controllers with accelerometers controls and multitouch screen displays. It would also make a great presentation kiosk system, allowing users to control a video presentation or Keynote slides from a slick WiFi remote displaying the next slide or offering other options and features on the handheld's screen.
By embracing Apple TV as a development platform, Apple could sell lots of additional boxes, creating a huge installed base that could not only sell a new section of apps and games from iTunes in the same model as the iPhone, but also generate a large volume of new media sales and rentals, a primary intent of Apple TV in the first place. Such a move would also extend Apple's Cocoa development tools to a broader audience outside of the Mac and iPhone markets.
Work required: a customized SDK and HIG for Apple TV, already in use internally at Apple.
Value to users: a phenomenal killer app for creating killer apps, difficult for competitors to duplicate at a reasonable cost.
Likelihood of happening: this is so simple and obvious that its hard to imagine why Jobs hasn't released it yet.
Five Ways Apple Will Change TV: 4 Interactive Content

4. Remote Disc / MacBook Air DVD Playback.
Apple has already developed wireless DVD sharing for the MacBook Air; unfortunately that doesn't work for remote playback of DVD movies. But the company also ships a slim USB DVD drive for the Air that would make a decent add on for Apple TV, and make the unit a one stop shop for users who have DVD collections or use DVD rental services such as Netflix. Apple TV is designed to replace the DVD, but an option for backwards compatibility with DVDs would make it a better gateway device for existing users.
Transcoding DVDs into QuickTime files is currently such a lengthy and complex task that simply playing DVDs as-is seems to make more sense than trying to help users convert their collections. The studios are also opposed to DVD ripping software, as even if Apple created a rip that were tied to the user's iTunes account using FairPlay, it would still result in the potential for huge libraries of DVDs to be dumped on the second hand market as users ripped their discs and then resold them. Rather than pursing DVD conversion, Apple should just offer a DVD playback option.
Since acquiring DVD Studio Pro and developing iDVD several years ago, Jobs has progressively downplayed DVD authoring in favor of Internet distribution, both in home movies with the .Mac Web Gallery and in commercial movies in the iTunes Store. The latest iDVD barely got a mention in last year's new iLife 08 release. Still, many consumers have DVDs and want to watch them, so adding that capacity to Apple TV would help bridge the present with the future Apple envisions for digital distribution.
Work required: Port DVD Player to Apple TV, and use the existing MacBook Air's external DVD player driver.
Value to users: makes Apple TV a better stepping stone from DVD to online iTunes media.
Likelihood of happening: seems like a simple and obvious option Apple should offer, but will it ever?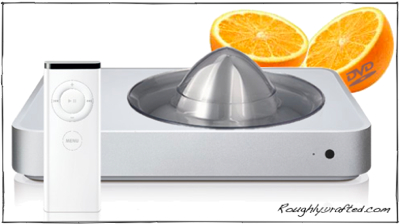 Apple TV: Using DVDs and other Video Sources

5. License Netflix Subscriptions or Partner with a Rival Service.
Netflix is scrambling to shore up its subscription DVD mailing business with an online Watch Instantly service. The online movies have only been viewable from a Windows PC running Internet Explorer and Microsoft's Windows Media DRM. However, Netflix has recently partnered with hardware maker Roku to sell a simple player box that allows users to stream and view a wide variety of older titles directly to their TV as part of their standard Netflix subscription. The company is also apparently working with other hardware manufacturers. Apple should partner with Netflix to complement the titles it offers in iTunes. If not Netflix, Apple could partner with Blockbuster's struggling online service plans or even develop its own streaming service, but Netflix would appear to be the best potential partner.
It might seem like Pepsi selling Coke, but an Apple partnership with Netflix would actually make a lot of sense, as the two services are more complementary than overlapping. Apple TV currently bests Netflix in offering more new titles and higher quality HD movies. However, iTunes' pay per view pricing might scare away some users who want to be able to watch a variety of content for less. Adding Netflix's wide range of Watch Instantly titles at a fixed subscription price would make Apple TV more attractive to a broader audience, including the millions of Netflix users who would pay a premium for Apple TV's hard drive catching capacity and its other PC integration features lacking in a device like Roku's inexpensive playback box.
While Watch Instantly titles on Apple TV would send revenue to Netflix that might otherwise go to buying or renting iTunes titles, Apple's profit margins are fairly minor on movie rentals and purchases. The company already promotes YouTube and Podcast content, both of which are served up at no profit to Apple. Some have even reported that iTunes is actually selling movie titles at a net loss. Apple offers iTunes content primarily to add value to the iPod, iPhone, and Mac in ensuring that commercial content for them is available, not to derive big profits from individual media sales. Offsetting any lost sales, Apple could earn commissions from selling Netflix subscriptions to its Apple TV users.
By bringing Netflix's streaming titles to Apple TV (and by extension, the Mac platform), Apple could kill two birds with one stone: expand the utility and audience of Apple TV while likely also convincing Netflix to adopt the standard H.264 codec over its existing use of Microsoft's VC-1 codec and Windows Media DRM, just as Apple did with Google in migrating its YouTube service from Flash Video to H.264. That would further curtail Microsoft's efforts to push DRM tied to Internet Explorer and Windows, while enabling Netflix to sell its subscription based services to a wider market.
Such a migration to H.264 would also make it possible to stream Netflix's Watch Instantly titles to the iPhone and iPod touch. Additionally, by selling Apple TV units to Netflix users, Apple could then offer to sell its iTunes music, music videos, and HD movies to a wider living room audience, all while avoiding the complication of offering both individual purchases and subscription-based services itself.
In my original exploration of how Apple could deliver movie rentals, I described a model patterned after Netflix; partnering with Netflix instead would expand Apple's audience while also offering a clear differentiation between iTunes' rentals and sale and Netflix's subscription model, allowing Apple to hedge its bets and serve different customers with unique needs.
• Work required: develop a Netflix player module Apple TV, sell Netflix on serving H.264 content.
• Value to users: expands the potential audience for Apple TV and broadens the content available.
• Likelihood of happening: win-win for both Apple and Netflix, allowing consumers to choose.
How Apple Could Deliver Workable iTunes Rentals
Five Times Better.
With a sophisticated remote control, web surfing, a slick custom app and games development platform, DVD playback, and support for Netflix's Watch Instantly titles, Apple TV would be far more valuable at a minimal additional cost in development efforts. Apple TV could subsequently become a very valuable home media computer without eating into Mac sales. Apple could also market the system as a low cost alternative to buying a PC just to browse the web and play back media.
Previous attempts to create an web appliance, from WebTV to Sony's BeOS-based eVilla to 3Com's Palm OS Audrey web appliance to Bandai's Pippin games console based on the Classic Mac OS, have typically suffered from boxes stripped down too far to be useful. Apple TV can already do far more than those devices offered, while also offering a wide open potential in third party apps. The best part is that most of the work needed to deliver these features is either already done or fairly simple to deliver.
The Unrealized Potential of Apple's Hybrid Platform: Mac, iPod, iPhone, and TV

I really like to hear from readers. Comment in the Forum or email me with your ideas.
Like reading RoughlyDrafted? Share articles with your friends, link from your blog, and subscribe to my podcast! Submit to Reddit or Slashdot, or consider making a small donation supporting this site. Thanks!
Technorati Tags: Apple, Apple TV, DRM, iPhone, Mac, Software