Three Barriers Holding Up Apple TV
May 30th, 2008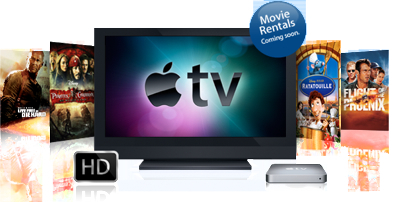 Daniel Eran Dilger
Compared to the high profile sales of iPhones, iPods, and Mac computers, shipments of Apple TV are barely registering. Pundits present rival media boxes as potential "Apple TV killers," but the entire market segment seems to have little life in it yet. Here's what's holding the market for downloadable videos back, leading up to what Apple can do to shake up the market and why it is unique in being able to disrupt how the world watches video.

Apple TV: The Hobby
Steve Jobs referred to Apple TV as being a hobby during the initial launch of the iPhone, pointing out that Apple's efforts were instead focused behind establishing the iPhone, maintaining iPod market dominance, and growing Mac sales. Jobs said Apple TV might become a "fourth leg" once the company has the free time to begin investing in it, and suggested that this year would see some new developments.
Given the profit margin estimates given for Apple TV hardware compared to the company's other products, that order of priorities made a lot of sense. Media sales can't do much to enhance those slim hardware margins, as Apple's iTunes cut largely only supports its site operations. In fact, it its latest earnings statements Apple pointed out that increasing sales in iTunes are actually causing a slight drag on the company's overall profit margins because iTunes is not run primarily to create direct profits.
Apple TV Promises to Take 2008
A Supporting Role.
Apple TV is not the classic economic razor and media sales are not the disposable blades; both are only minor product offerings that help support Apple's other businesses. Apple TV was created to allow Apple to get established in the emerging market for Internet movie rentals and purchases. Without it, the company would have had a tough time trying to sell the movie studios on its plans to market their movies exclusively on iPod and iPhone screens or for playback directly on PCs.
Apple TV plays a supporting role. Competing devices from Vudu to Microsoft's Media Center have similarly had a hard time making much progress. Unlike the iPod, there's no vast potential hardware profits to tap, and unlike the iPhone, there's no significant service revenues to earn. Apple TV is a slow growth device that requires a supporting ecosystem of iTunes and iPods to maintain it.
Apple has that but nobody else does. That will make it very hard to compete against Apple TV, even harder than the competitive efforts mounted to displace the iTunes Store, where small profits require large volumes of sales to break even. Apple is building a juggernaut of slow growth sales that support new product categories that couldn't exist on their own; Apple TV is a key example of that.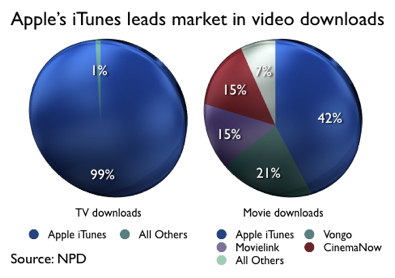 Apple TV Digital Disruption at Work: iTunes Takes 91% of Video Downloads
Three Problems for All Players.
Despite its advantages of being linked to iTunes and the iPod, Apple TV faces three difficult barriers that also affect every other comparable device on the market, including several products that have already failed while trying to sell movie downloads through a set top box.
Lower quality downloads don't look very good on HDTV sets. Apple did its best to work around this reality using H.264 to deliver the best standard definition video possible in small downloads. The company spent two years perfecting iTunes video, first with TV downloads, where quality is less critical, and then in presenting full length movies for sale and then rent. Apple also sells this video for use with mobile devices like the iPhone, where standard definition video looks fine.
Of all players, Apple was best suited to sell low def programming because of its iPod market power. It also integrated supporting features such as PC integration, music streaming, and photo sharing, which standalone devices like the Vudu lack.
However, Apple purposely resisted delivering Apple TV as a standard def device designed to work with today's composite TVs. Clearly, that was because the company planned to target an emerging market a year or two out rather than optimizing it for the TVs consumers are rapidly moving away from. Apple TV was intentionally a slow growth plan; the hardware actually can support older composite TVs, but that capacity is turned off. If Apple had only been interested in market share and unit shipments, targeting older TVs would be the way to accomplish that, but the company would have been losing money supporting the nearly profitless boxes.
Apple TV's accessory features, combined with the potential for HD downloads unlocked earlier this year, indicate that Apple's plan for the box went beyond a simple iPod model of shipping lots of devices. Instead, it was a strategic product designed to serve a different goal.
Studios want DVD-like profits from higher quality downloads. This year, Apple introduced HD rentals and then sales from Apple TV. These also benefit from H.264's encoding efficiency, but are somewhat restricted because the studios want to see $5 rentals or DVD-priced purchases for HD content. That makes it harder for Apple to rapidly push download sales to consumers, as existing movie rentals and services like Netflix can be considerably cheaper. HD BluRay discs can also offer a significantly higher end picture and sound than HD downloads can.
That leaves Apple and the other online media sellers with a narrow band of potential for differentiation in selling HD downloads. Apple wasn't first in offering HD content for download, but rapidly gained market share because of its strong existing position in selling low def video in iTunes.
It has also leveraged its market power in iTunes to negotiate media prices that are as low as possible; Apple even undercut Microsoft's TV pricing in the Xbox Live service, forcing it to match Apple's prices. Competitors hoping to sell hardware at a loss and make profits from reselling movies or subscription fees are feeling the heat of iTunes, which makes tiny profits on millions of sales.
Scott Woolley Attacks Apple TV in Forbes, Gets the Facts Wrong
Windows XP Media Center Edition vs Apple TV
Video downloads are big, and require fast network access to deliver. In order to use Apple TV to rent HD movies, buyers really need a better than 1.5 Mbit DSL Internet connection. In the US, that typically means cable Internet, but cable providers want to sell consumers on their own TV offerings.
The general lack of competition in US Internet access means than in order to use Apple TV optimally, users need to pay $40 to 50 monthly for fast Internet service. That sharply impacts the market for Apple TV and other similar devices, but Apple offers some additional attraction in its music, photos, podcasts, and other features outside of pay per view videos.
The Big Pipe Problem
Internet service cost is a problem Apple can't solve without getting into the Internet delivery business itself. Thanks to the past decade of the US government's support of big media consolidation, all of the big Internet providers are also big content sellers. AT&T, Comcast, and Verizon all want to sell their Internet subscribers a TV subscription, making it difficult to market systems that exist to sell content independently. Just ask Tivo, which is losing millions while finding it monumentally difficult to sell DVR features to cable subscribers that already have a DVR box from their cable company.
Tying Internet access to content subscriptions has stifled competition, resulting in the US trailing much of the developed world in broadband Internet penetration, speeds, and cost. Imagine how expensive it would be to drive around if the Interstate system had been built by a series of regional monopolies set up like the cable and telephone giants, each charging us monthly fees to access their roads.
America is now discussing Net Neutrality as if freedom of speech is a controversial idea. The real discussion should be much further ahead, instead discussing how we can induce companies to provide better, faster and cheaper Internet service as a matter of national security and competitiveness. Instead, the only political discussions are related to preserving copyright, because the media companies have the money to buy political capital.
This is unlikely to change until the government begins seeing the need to serve citizens rather than just making it easier for corporations to make money. This issue is key for consumers to contemplate, because the easiest way for corporations to profit is to move labor and assets out of the country while charging consumers more and giving them less. In a consolidation-friendly environment lacking any real competition, the market can't solve that problem by itself and needs government regulation.

Obama's Apple, McCain's Microsoft: the Politics of Tech
Working Outside the Pipe.
Since there's little Apple and its competitors can do to solve the pipe problem, they've all taken steps to work around it. Apple designed its box to download movies in the background, making it possible to eventually get a desired title even with slower Internet service. Vudu developed a peer to peer sharing system for serving up movies between clients, but this primarily only helps lessen Vudu's hosting costs; the size of the client's pipe doesn't get any bigger.
Netflix works around bandwidth limitations by only serving up low quality video. This works acceptably for some kinds of content when being watched directly from a PC, but will likely be hard to sell to consumers for use on a big screen TV from a dedicated box.

Challenged with dependance upon a fat pipe, Apple TV needs a compelling reason to push buyers into jumping on the $229 entry price of the box. The next article outlines Five Ways Steve Jobs Can Turn On Apple TV Sales.
I really like to hear from readers. Comment in the Forum or email me with your ideas.
Like reading RoughlyDrafted? Share articles with your friends, link from your blog, and subscribe to my podcast! Submit to Reddit or Slashdot, or consider making a small donation supporting this site. Thanks!