Mobile EEE PC, UMPC, and Internet Tablets vs the iPhone
May 20th, 2008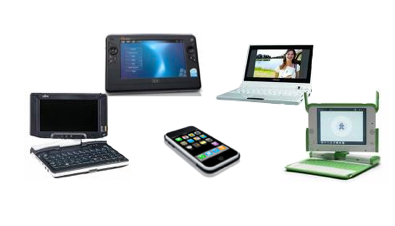 Daniel Eran Dilger
Throughout the 90s, Apple's increasingly precarious business was hobbled and complicated by the albatross of the Newton. As Apple abandoned the sophisticated but unfinished and ultimately unprofitable platform in early 1998, Palm began selling its wildly popular PDAs while PC makers struggled to copy that success in the mobile market with clumsy WinCE based devices.
Ten years later, PC makers are still failing to understand mobile devices as Apple launches its game changing WiFi mobile platform. Here's why PC makers will be similarly left behind in their fight against the iPhone in the market for low cost mobile devices.

Learning From the Past or Condemned to Repeat It.
While some pundits initially tried to portray the iPhone as another Newton MessagePad, fated to share in its failure, Apple applied lessons learned from the failure of the Newton platform and the success of the 3Com Palm Pilot afterward. Apple then spent six years gradually building up a strong iPod foundation for launching the iPhone.
The iPhone's potential success likely wasn't foreseen back in 2001 when Apple got into mobile devices with the iPod. However, a series of related technology development efforts have positioned it and the iPod touch as an ideal mobile platform, and one that will be very hard for competitors to duplicate.
Unlike Apple, PC makers learned very little from the failure of WinCE devices. Instead, they have started turning out new generation of mobile devices, whether running Linux or Windows XP/Vista, that are just as likely to flop as the successive generations of WinCE devices that fizzled over the past decade.
The Spectacular Failure of WinCE and Windows Mobile
Mobile Wars: Pick Your Product.
Last year, both Palm and WinCE smartphone and PDA devices were overshadowed by RIM's BlackBerry platform and then by the iPhone, which took second place in the US after only being on the market for a few months. Outside the smartphone market (and the now entirely insignificant market for PDAs), PC makers are now starting to release mini-laptops at a similar price target of around $300 to $400.
While offering divergent feature sets and designed for different intended purposes, these roughly $300 mini-laptop devices are vying for attention between cheap desktop PCs (now hovering around $700), sophisticated smartphones selling for $300 to $700, and other mobile products ranging from "Mobile Internet Devices" to UMPC tablets.
While HP, Dell, and other PC makers have tried to blow out a wide range of mobile products that match nearly every category available outside of smartphones (PDAs, MIDs, UMPCs, mini-laptops, and cheap PCs), Apple has focused its mobile efforts on one device that spans all those categories: the iPhone and the cellular-free iPod touch version. Which strategy will win? The history of the Newton, considered in the previous article, helps suggest why Apple is currently ahead of the game and likely to maintain its lead.
Newton Again: iPhone vs the Mini-Laptop
iPhone and the Newton.
The media and in particular Apple's harshest critics were quick to describe the iPhone as a sequel to the Newton, and many suggested that Apple would fail again for many of the same reasons that dogged the original MessagePad. They were wrong.
The iPhone wasn't a $700 – $1000 futuristic luxury toy with unfinished features and no clearly practical utility. Instead, it was delivered as an iPod, phone, and WiFi web browser "breakthrough Internet" device for $599, later reduced to $399 and then accompanied by a similarly priced iPod touch cousin lacking a cellular phone radio. Apple's new devices weren't priced like the Newton, they were priced like the popular Palm Pilot that cleaned up in the Newton's wake.
Also unlike the Newton, the iPhone appeared without a complex development toolkit that required learning entirely new concepts. Instead, it shipped with a slate of usable applications, and Apple announced a program to enable developers to create custom server-side network applications based on web standards. After selling four million iPhones and a few million iPod touch units, Apple unveiled a full SDK supporting nearly identical development tools as those used in the desktop version of Mac OS X.
Steve Jobs Ends iPhone SDK Panic
iPhone 2.0 SDK: The No Multitasking Myth
iPhone 2.0 SDK: How Signing Certificates Work
iPhone 2.0 SDK: Video Games to Rival Nintendo DS, Sony PSP
Unlike Another Newton.
Apple's iPhone platform is everything the Newton wasn't: affordable, practical, complete, and popular. It also built upon the success of the iPod, rather than being a purely speculative new product without any proven track record. While Apple struggled to sell MessagePads ten years ago, it is now a retail powerhouse and has teamed up with mobile service providers who are motivated to sell the iPhone because they see it as being a key differentiator to gaining new subscribers.
While the Newton launch involved a two year wait, rushed development, and a weak launch, the iPhone went from presentation to reality in just six months and then set sales records that immediately rivaled the entrenched competition in smartphones. It also garnered rave reviews and awards that nullified the speculative criticism by pundits seeking to downplay its success before it even shipped.
In less than six months of sales, Apple sold more iPhones than it had ever sold Newton MessagePads; Apple only sold 100,000 Newtons in its first year and by 1996 was only selling 50,000 annually. In contrast, it sold 270,000 iPhones on its first partial weekend and nearly 4 million in the last six months of 2007. Analysts expect Apple to sell more than ten million iPhones this year, in addition many more millions of iPod touch units.
iPhone Grabs 27% of US Smartphone Market
The New Palm vs Another WinCE.
In many ways, the iPhone combined the sophistication of the Newton with the simplicity and affordability of the Palm Pilot, resulting in a sustainable, smashing success. Apple's PC rivals are largely following the failed strategy of Microsoft's WinCE. Rather than engineering and offering something that really competes, they're selling underpowered, impractical devices that aren't catching on.
Microsoft's own efforts have been to push UMPC, a failed effort to use Windows XP and then Vista as a stand in for the old WinCE on mobile tablets, clamshell mini-laptops, or PDAs. Those units are selling poorly because they are priced more like the Newton at $700 to $1500, they don't fit in a pocket, and they don't really do anything practical or very well. Microsoft's UMPC partners couldn't manage to collectively sell a million units last year, now deep into UMPC's second generation.
Last fall, Asus launched the EEE PC, a low cost mini laptop sold for around $300. The device was notable because it was introduced running Linux rather than Windows. However, despite lots of media attention, the device only sold 300,000 units last year across three months of holiday sales. While that device isn't directly comparable in functionality with the iPhone, the fact that Apple sold 2.3 million units in the same quarter indicates that Apple picked a far higher volume market to address with its $400 product.
Like the UMPC and Newton, the EEE PC isn't small enough to fit into a pocket, and is only practical for users who want a low powered laptop replacement for writing or other uses compatible with its limited capacity. HP and other makers are now rushing to offer products in this mini-laptop category, but it's not clear that there is any more demand for a mini-laptop than for the tablet/UMPC computers Microsoft has been unable to sell for the last decade.
ARM, x86 Chip Makers Fight to Ride Mobile Growth
CES: Fear and Loathing in Las Vegas
The Other Mobile Contenders.
Intel profiled the EEE PC along side its Classmate PC as an alternative to OLPC's XO, which does not use Intel's processors. Both the XO and Classmate PC are targeted at education markets in emerging countries, which is seen as a vast potential market, albeit struggling with very low prices and profit margins. That places them outside the commercial consumer market, and neither has really made any significant effort to sell to consumers.
Nokia is also selling Internet Tablets running Linux, which are larger than a smartphone but smaller than a laptop. The XO and current EEE PC models share a Linux foundation, primarily to avoid either paying the Microsoft OS tax or needing to develop a custom operating system.
Linux' Mobile Problem.
Neither Linux nor WinCE nor Windows XP/Vista were expressly designed to perform well on mobile devices. Linux has been shaped to run server applications for the last decade. Little Linux investment has been made in mobile or desktop applications because there is no business model for supporting that investment through the sale of support contracts, as IBM and Red Had do in the enterprise Linux business.
Nobody is going to buy a service subscription for maintaing Linux on their EEE PC. Additionally, Asus is going to do little to engineer mobile sophistication into Linux because first, Asus is not a software development powerhouse, but second because PC companies are afraid to invest in GPL software for fear that their competitors will pick up their required community contributions and use those against them. If Asus invested a distribution of Linux that excelled on mini-laptops, HP could swoop in and simply reuse the same technology.
That would be great for consumers, but offers no inducement for Asus or any other PC maker. Corporations rarely pursue profitless altruism because shareholders insist that their resources be used for the greatest return possible. Finding shareholders content with investing in a public service that fritters away their money for them is rather difficult.
Linux also faces death threats from Microsoft, both in terms of OEM licensing agreements with vendors that are punitive to any PC makers who sell Linux based PCs, as well as in Microsoft's more general political efforts to derail any efforts to use Linux. The company thwarted OLPC's Linux-based XO project and pushed the group to renounce its focus on open software and instead embrace a promised version of Windows XP cut down to run on future, fatter versions of the XO. Microsoft similarly pushed Asus to offer Windows on the EEE PC.
Mac OS X vs Linux on the iPhone and Mobile Devices
Microsoft's Unwinnable War on Linux and Open Source
Windows' Mobile Problem.
While Linux faces significant hurdles, it does actually work on mobile devices. Microsoft faces a bigger problem: WinCE has been rejected and scorned in the market even by Windows Enthusiast pundits from Mike Elgan to Mary Jo Foley. The full Windows XP requires higher resources that make it a poor competitor to Linux. Additionally, while Microsoft has invested billions into mobile efforts, it hasn't delivered in terms of power management, rapid booting, and a simplified interface suitable for use in mobile devices.
Microsoft has promised mobile versions of its now seven year old Windows XP for use on devices like the EEE PC and XO, but those products can only run slower with XP than they can running Linux. Windows also offers little additional value in mini laptops, because simple tasks such as writing, coding, and browsing the web do not require Windows or really benefit from it; it only adds expense to the product's bill of materials.
The Windows PC monopoly is held in place by a combination of markets Microsoft has successfully tied to its proprietary development efforts, such as the PC gaming market, the custom corporate apps market, and the vast consumer applications market. None of those are relevant in mini-laptop devices, offering few technical or marketing barriers to Linux or to Mac OS X.
Windows Vista, 7, and Singularity: The New Copland, Gershwin, Taligent
Apple's Mobile Solution.
In the mobile space, Apple is positioned to reap the benefits enjoyed by Linux and exploit the weaknesses suffered by Microsoft. Apple doesn't have to pay the Windows tax that other PC maker do, but unlike hardware makers such as Asus, Apple has its own operating system, allowing it to invest heavily in Mac OS X without worrying that another larger PC maker could take its software development work and simply outsell Apple.
Among mobiles, custom integrated software and hardware is even more important than in the desktop space because of the higher requirements in power management, dealing with thermal issues, and performance constraints due to limited resources. Apple has invested heavily in solving those problems, and the iPhone and iPod touch demonstrate an advancement well beyond other PC maker's efforts in mobile device integration.
Apple's iPhone offers broad appeal because it serves as a smartphone, but also a full featured media player and a mobile Internet device. This past quarter, smartphones and MP3 players sales shrank year over year in the US, but Apple maintained slight growth in iPod sales and continued strong sales of the iPhone. As the company further widens the utility of the iPhone and iPod touch using third party applications, its WiFi mobile platform will also begin to aggressively compete in functionality against general purpose, scaled down PC devices from mini laptops to tablets.
Economy Burns Cellphone Sales: Down 22% In Q1 – Silicon Alley Insider
Non-iPod media player sales are down
iPod Prepares the Way.
Apple's new platform is also reinforced by the brand strength of the iPod and the technology that has already been invested in it. Since its release, Apple built sync support into the iPod for PDA data, entertainment media, and most recently purchasing game applications. While the iPod's PDA features were seen as an impractical peripheral add on, they are critical to supporting the PC-integrated smartphone features of the iPhone.
Similarly, many observers saw no relevance in the iPod's simple games, but that secure application infrastructure in iTunes will be a critical component to selling and promoting iPhone software. Apple's retail stores, online media and software sales in iTunes, .Mac data syncing, and other foundational technologies will all play into the success of the iPhone, and serve as differentiators that are difficult for competitors to duplicate.
Nokia and Microsoft are both working to develop iTunes competitors, but there's lots of work involved in duplicating eight years of technology development, lining up media licensing contracts, and acquiring a huge installed base of customers all at once. It is particularly difficult to do all that now that iTunes is already snowballing into a major force in the entertainment industry and is being advertised for free on TV and by podcasters.
And so Apple's WiFi mobile platform is left targeting the most valuable sections of the market experiencing the greatest growth and offering the greatest potential for future demand both in developed markets and emerging markets. Mini-laptops will be important in education roles, but so far have not seen significant sales outside of emerging markets. Other specialized mobile device categories, from PDAs to tablets to media players to Internet web devices, do not look able to stand on their own against broadly attractive integrated devices that perform all those functions well.
Apple's iPhone Vs. Other Mobile Hardware Makers: 5 Revenue Engines
Filling the Unlocked iPhone Gap with .Mac
I really like to hear from readers. Comment in the Forum or email me with your ideas.
Like reading RoughlyDrafted? Share articles with your friends, link from your blog, and subscribe to my podcast! Submit to Reddit or Slashdot, or consider making a small donation supporting this site. Thanks!
Technorati Tags: Apple, iPhone, iPod, Microsoft, Software, the Media