Newton Again: iPhone vs the Mini-Laptop
May 19th, 2008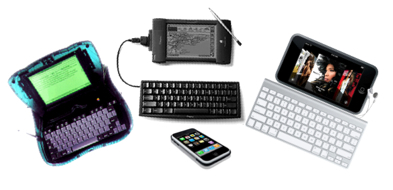 Daniel Eran Dilger
Apple's WiFi mobile platform, represented by the iPhone and iPod touch, appears to echo elements of the history of the company's Newton MessagePad from a decade ago. This time, as a decade ago, Apple engineered a highly specialized device and integrated software while the company's PC competitors lined up rival products that were largely gutless, impractical, instant eWaste units powered by software inappropriate for use in a mobile device. Here's a historical comparison of the mid 90s Newton with today's iPhone platform, leading up to what can be drawn about the future of Apple's mobile WiFi platform compared to the Asus EEE PC and similar devices.

The Newton Failure.
Apple's original Newton project was an ambitious undertaking directed by its late 80s CEO John Sculley, who had toyed with the idea of ubiquitous mobile devices related to the "Knowledge Navigator" concept. Worried that the new platform would eat into Macintosh sales, Apple decided to target it as a PC companion device that Sculley dubbed the "Personal Digital Assistant."
Apple developed a custom Newton OS with a unique development environment uniquely suited for a mobile device, and even pioneered the development of the ARM architecture as a mobile-savvy microprocessor with Acorn and VLSI Technology. The project ran late; originally unveiled in January 1992, it wasn't available for sale until nearly two years later, and components of its software were never fully finished.
Critics ridiculed its inability to flawlessly decipher handwritten text, and even after that feature was greatly enhanced in the Newton 2.0 software, the idea that it didn't work well enough lingered on. The device also cost $700 to $1000, making it a luxury purchase particularly given that it didn't do anything out of the box but look cool. It offered wide open potential to developers, but its tools weren't completed and the limited sales of Newton devices meant there was a limited market for selling Newton software.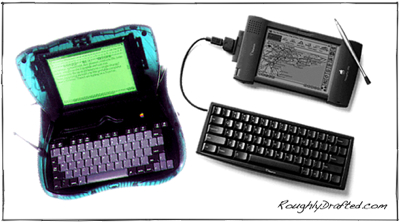 Newton Lessons for Apple's New Platform
Origins: Why the iPhone is ARM, and isn't Symbian
In And Out of Apple.
After years of increasingly disappointing sales compounded by mounting desperation at Apple, Steve Jobs returned with the acquisition of NeXT and put the Newton under a critical spotlight. In early 1997, Apple released a new Newton-based mini-laptop called the eMate along side a new more powerful Newton MessagePad. CEO Gil Amelio then spun Newton off into an independent company, called Newton, Inc., in July of 1997.
A week later, Amelio was ousted by Apple's board of directors, and Jobs was named Apple's interim CEO. On September 19, Jobs pulled Newton back into Apple. In a private email about the move, Jobs reportedly wrote, "The Emate has a bright future," and "sales of the current MessagePad are brisk. […] Don't worry, we are pulling this group back into Apple so that we can invest even more sales and marketing resources into these products, rather than dumping the products into a small spin-off which lacks such resources."
Newton vs Palm.
Apple then released the updated Newton MessagePad 2100 in the fall. However, by then the Newton was beginning to compete against the pocket sized, far cheaper, and more practical Palm Pilot. The Palm didn't have the power to offer real handwritten recognition and only ran basic apps under a much simpler operating system, but its wide market penetration created an excitement among developers and the market that sent Palm's market capitalization into the stratosphere.

Shortly after its March 2000 IPO, Palm, Inc. was valued at $54 billion compared to Apple at $20 billion, despite the fact that Palm had only earned $23 million on $435 million in revenues, less than a tenth of Apple's $353 million in earnings on $4.2 billion in revenue. The market went nuts over Palm because it was shipping something new that people were buying in significant numbers. That enthusiasm subsequently crashed along with the gadget market when the tech bubble burst, but Palm devices continued to be popular and sold relatively well for several more years, eventually evolving into the first crop of Treo smartphones.
In February of 1998, Apple announced that its Newton line was being discontinued. Apple didn't reenter the mobile market again until the iPod in 2001. That product benefited from some lessons taken from Palm; the iPod offered everything the Newton hadn't: pocket sized portability, very targeted and practical functionality, and a more appealing price under $500. While the Newton could potentially do anything, the iPod only attempted to do one thing very well: music. As a "pod," it was also designed to sync seamlessly like the Palm; the Newton never quite got its sync software finished.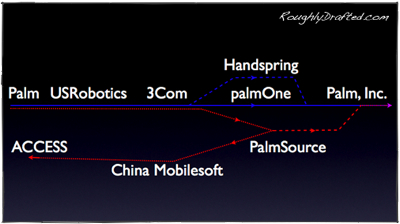 The Egregious Incompetence of Palm

Newton vs Handheld PC.
Bill Gates was also inspired by Sculley's late 80s ideas of a Knowledge Navigator tablet, and created a series of product visions that subsequently failed, including the Tablet PC, the mini-laptop Handheld PC, and the PDA-sized Pocket PC. Many versions never escaped the drawing board, but those that did turned into reference designs intended to be built by Microsoft's PC partners, following the pattern of desktop PCs sold with Microsoft's Windows.
Microsoft introduced Windows CE as the software to power new mobile devices just as Apple canceled the Newton in 1998. Microsoft's version, released half a decade after the first Newton, originally made no attempt to handle handwritten recognition, so critics had less to complain about. In fact, all the Handheld PCs really did well was run batteries dry. They combined expensive yet underpowered hardware with poorly engineered software, resulting in a product nobody bought. The original Handheld PC devices tried to cram the Windows 95 desktop into a tiny, low resolution screen, which simply didn't work at all.
As Palm devices rose in popularity, Microsoft began copying it instead of the canceled Newton, but Microsoft never outsold Palm until the PDA market collapsed and Palm shifted its resources into selling smartphone devices. Microsoft then began repositioning WinCE as a smartphone platform, but made limited progress in that direction, too. It eventually convinced Palm to begin selling its WinCE software on Palm's smartphone hardware, a move that did little apart from handing the dwindling market share of Palm's dying software business over to Microsoft.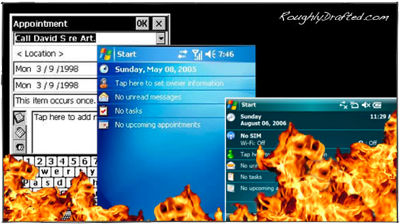 The Spectacular Failure of WinCE and Windows Mobile
OS X vs. WinCE: How iPhone Differs from Windows Mobile
Innovation: Apple at Macworld vs Microsoft at CES
CES: Fear and Loathing in Las Vegas
The next article will look at how and why Apple's iPhone launch was similar to that of the Newton, but far more successful. It will also look at how the mini-laptops being offered by PC makers compare in vying for attention in the $400 mobile device market.
Mobile EEE PC, UMPC, and Internet Tablets vs the iPhone
I really like to hear from readers. Comment in the Forum or email me with your ideas.
Like reading RoughlyDrafted? Share articles with your friends, link from your blog, and subscribe to my podcast! Submit to Reddit or Slashdot, or consider making a small donation supporting this site. Thanks!
Technorati Tags: Apple, History, iPhone, iPod, Microsoft, Software, the Media