iPod Game Console, Tablet at WWDC? Highly Unlikely
May 13th, 2008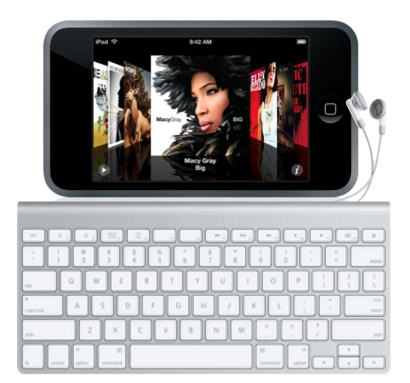 Daniel Eran Dilger
Inventory shortages of the iPhone appear to predict the launch of a new 3G model, long expected to be released this June around the first year anniversary of its debut. However, the rumor mill has recently kicked into overdrive to predict the arrival of another new device based on the same platform, either focused on gaming or serving as a tablet device. This is highly unlikely, for the following reasons.

iPhone: Black is the New II.
First, consider the circumstances of the relatively uncontroversial iPhone upgrade, which is apparently going to be called the iPhone Black, according to slips discovered on AT&T's website.
The current iPhone is now approaching its first year milestone, which has historically served as a good rule of thumb that a new revision from Apple is likely. New MacBooks, iMacs, Pros, and iPods all tend to roll out in somewhat predictable annual waves.
Details emerging from the iPhone's SDK have indicated support for new hardware features including the Infineon SGOLD3, a new processor with support for HSDPA networks running at 7.2 megabit per second spec, twice the speed of the 3.6 megabit access seen on most 3G networks.
Whatever the exact features of the next revision to the iPhone, recent announcements from carriers around the world suggest that there are lots of deals tied to the release of a new model. That leaves the iPhone Black all but officially confirmed in marketing, software, and partner deals. What about the rumored game console or tablet?
AppleInsider | AT&T now showing "iPhone Black" model in device listing
Marketing 8-Ball Says Unlikely.
Apple avoids selling lots of different product models. That in itself suggests a marketing reason why the company won't immediately split out the iPhone and iPod touch line into the new product categories of a game device or tablet.
Look at historical precedents: when Steve Jobs returned to Apple, his first action was to pare down the number of Mac SKUs the company sold. More than a dozen different models of different Performas, Power Macs, PowerBooks, Mac OS Workgroup Servers, and AIX Apple Network Servers were killed to make way for a very simple lineup of the G3 Mac, PowerBook, Server, and an All in One that became the iMac.
Apple then killed the Newton, and didn't begin introducing new differentiated models until sales built up to the point where those products made sense. The PowerBook sprouted a consumer iBook line and then itself branched into 15" and 17" varieties; the iMac split into a CRT eMac and flat panel iMac line; the G4 Cube was floated unsuccessfully, only to reappear as the Mac mini; and Apple got back into servers with the Xserve. Each new product introduction took a couple years to appear.
The same thing happened with the iPod. After its introduction in late 2001, the iPod saw two major revisions before the introduction of the first new model, the iPod mini in 2004. As with the successful branches in the Mac family, the iPod mini wasn't offered as a speculative gambit, but was instead intended to take on the growing, lower end flash-based MP3 player market that was ready to harvest.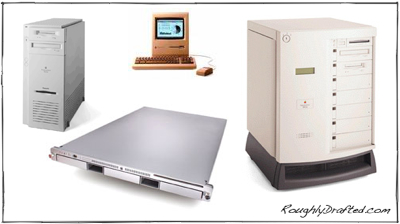 Steve Jobs and 20 Years of Apple Servers
Newton Rising: Is the Next iPhone Device a G3 MessagePad?
A Case of Too Many Products.
So based on Apple's past marketing strategies, an entirely new form of the iPhone and iPod touch isn't likely to occur for another year at least. And there's good reason for that. Remember when HP launched 39 new products at a star studded event during Fashion Week in New York last fall? Of course you didn't. However, most of the US probably does remember the launch of Apple's iPhone, the new iPods, the new iMac, Leopard, the new Apple TV software, the iPhone SDK, and so on. Those all got noticed and covered because they were targeted, specific, and metered out over a period of months so that individuals could keep them straight and they'd have impact.
Too many products splinters consumers' attention. That's why Apple killed the successful and popular iPod mini when it introduced the Nano. Most companies would have continued selling both, just as Microsoft kept selling its original boxy Zune after introducing two new models. Of course, in Microsoft's case, it also had nearly a million in inventory left to sell and no buyers, so its hand was forced.
Every product Apple sells demands marketing support. Apple recently surprised observers by discontinuing its Xserve RAID product and throwing its support behind a third party solution instead. That niche was apparently just not big enough to capture Apple's ongoing development and marketing resources. Apple's consumer focus means that products have to sell universally and in volume. That requires general purpose, worldwide products with a broad potential audience.
Why Dan Frommer and Scott Moritz Are Wrong on iPhone Sales
A Category Worth Addressing.
As noted with the iPod mini, Apple branched the iPod line once it was clear that full sized, hard drive-based MP3 players had limited additional potential for growth compared to the high volume flash-based market. Apple entered the flash market with a small hard drive player and quickly dominated sales. It then introduced the flash-based Nano and a simplified Shuffle. Each incrementally targeted a lower bracket of the market where there were ready new sales to grab.
This last year, Apple added a new direction for the iPod: higher end sales with the iPod touch. Having eaten up all of the easy low end sales, Apple began developing a market into a new product category that was already seeing some success, as indicated by the Nokia Internet Tablet line.
The iPhone itself could also be considered a branch of the iPod line into smartphones. Prior to its launch, analysts were worried that Apple's iPod line would be eaten into by smartphones gaining the ability to play song files. Just as the Mini and Nano targeted the larger low priced market, the iPhone targeted the much larger smartphone market, a category Apple needed to address, and one that was ripe for the picking.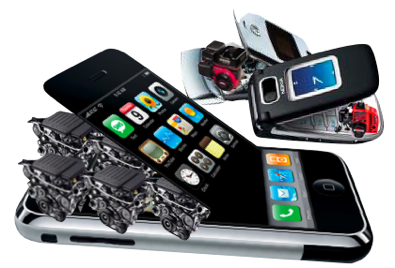 Apple's iPhone Vs. Other Mobile Hardware Makers: 5 Revenue Engines
Too Many Branches, Not Enough Roots.
However, adding further new branches to that model would make less sense for two reasons. First, there is no low hanging fruit in the handheld player or tablet device markets that Apple could snap up. Sony's PlayStation Portable, introduced back in 2004, indicated that there's limited demand for an iPod-priced, handheld games machine. Nintendo's GameBoy and DS are priced even lower, making handheld gaming a difficult category to profitably break into with a dedicated device. As for tablets, Microsoft has similarly demonstrated that there has been no volume demand for that product category outside of a few vertical applications in healthcare, warehouse, shipping, and other relatively small niches.
Second, creating a dedicated iPhone-like device to service those minor markets would splinter both Apple's focus and that of third party developers just as the Cocoa Touch SDK is preparing to usher in a first wave of applications. Those applications will already have the potential to push the existing iPhone and iPod touch into the gaming and handheld, tablet-associated markets. Why introduce specialty devices that only do one thing rather than stretch the applications of Apple's existing product lineup?
Would developers need to choose between developing games for the baseline iPhone and iPod touch, and a new gaming-centric model? Would they develop tablet applications that worked on both the existing devices with an installed base approaching ten million (5 million iPhones and as many iPod touches), or wait to see how well a larger format iPod tablet sold first?
Apple currently has two WiFi mobile devices with wide audiences, one has a cellular radio and the other doesn't. The fact that they can both run nearly all the same software means that Cocoa Touch developers will be able to target a wide installed base immediately, without having to choose between aiming at a lowest common denominator or a specialized version.
When Apple releases its improved iPhone Black model, it will run all the same software, it'll just have additional cellular networking speed. It's simply too early to start branching out the Cocoa Touch platform given that it hasn't had the chance to commercially sprout yet.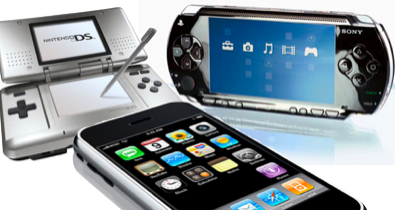 iPhone 2.0 SDK: Video Games to Rival Nintendo DS, Sony PSP
iPod vs Mac
Another problem with a tablet iPod is that it would rapidly begin encroaching upon Apple's bread and butter laptop line. Currently, Apple's $300 to $400 Cocoa Touch devices are well differentiated from its $1000 and up MacBook line. As the iPhone turned into a larger tablet, it would ratchet up into the $700 to $1000 price segment formerly occupied by the Newton and currently occupied by Microsoft's poorly selling UMPCs.
As a tablet touch bumped up into Apple's MacBook line, the company would risk cannibalizing its successful laptop sales. It would also face increasing pressure from other general purpose mini laptops such as the low cost Asus EEE PC. That device is currently hard to compare against the media centric iPod touch, but an iPod tablet would begin to look a lot like a mini laptop, sending Apple into competition on price with other devices in a market where there is currently little profit and relatively little demand.
ARM, x86 Chip Makers Fight to Ride Mobile Growth
Bulking Better than Branching.
The good news is that Apple doesn't need to release a dedicated gaming device nor a customized, enlarged tablet-style model. The existing iPhone and iPod touch already serve as a competent platform for handheld gaming, and both also make exceptional use of their relatively small screens to be very usable in many applications associated with tablet computers. Who would have thought it possible to browse the web on a 3.5 inch screen?
Over the rest of this year, the Cocoa Touch development platform will bust out in full force, fleshing out the most valuable markets and pumping resources toward the buds most likely to result in suitable branches. It seems unlikely that Apple will ever need to release a dedicated handheld gaming device; successive models of the iPod touch and iPhone might gain new features that make gaming better, but an iPhone with additional fire buttons would not seem to make any sense as a standalone product.
An iPod tablet might make some sense in the next year or two if markets develop that embrace the Cocoa Touch development tools. Conversely, it might make more sense for Apple to develop new mobile devices that instead build upon the MacBook Air, getting lighter and thinner while maintaining the processor power, full size keyboard, and display that make sense in a laptop but not in a pocket sized iPod device.
There's another reason why Apple doesn't need to release a Cocoa Touch game console: Apple TV. The next article will look at why.
I really like to hear from readers. Comment in the Forum or email me with your ideas.
Like reading RoughlyDrafted? Share articles with your friends, link from your blog, and subscribe to my podcast! Submit to Reddit or Slashdot, or consider making a small donation supporting this site. Thanks!
Technorati Tags: Apple, History, iPhone, iPod, Mac, Software