Climate Counts' Fake Attack on Apple
May 10th, 2008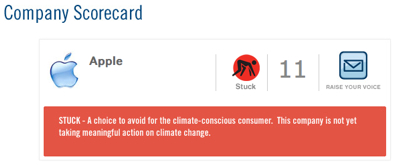 Daniel Eran Dilger
Copying the self-serving campaigns run by SVTC and Greenpeace, the group Climate Counts has made Apple, Inc. the core of its latest press releases. The group says Apple "is not yet taking meaningful action on climate change," and is a "choice to avoid for the climate-conscious consumer," but then points out that its "action" metrics are all based on ineffectual political posturing. And the reason for the tough critique: Apple elected not to join the Climate Counts consortium last year and throw money at the group's ineffectual efforts to "facilitate engagement."

A Low Score on the BS Meter.
In its company scorecard on Apple, the Climate Counts group assigned Apple a pitiful score of 11 out of 100. While it doesn't provide any specifics on how it arrives at point ratings for all of the dissimilar companies it rates, it does provide four weighted categories:
Review, worth 22 points, ranked whether the group was able to find any "publicly available information on Apple's efforts to measure its companywide impact on global warming (i.e., its greenhouse gas emissions or climate footprint)." The group couldn't, so it gave Apple zero points.
As a technology company, Apple could easily present fake numbers that delegate away the climate impacts related to all manufacturing to its partner companies. Apple itself doesn't run plants or drive many trucks around. So to ace Climate Count's test, all the company would need to do is blow smoke. Clearly, this portion of the test is a failure for Climate Count's methodology, an not any measure of any real action.
Reduce, worth 56 points, has some unspecified relation to the 'analysis of the impacts of a company's products' and its efforts to "engage" consumers, employees, and partners on the issues.
"Climate Counts has found that Apple has completed analysis of the impact that many of its products have on global warming while being used by consumers and has engaged with its employees and other companies on climate-related issues," but it then only gave Apple 8 out of 56 points.
"Engage" sounds like a fancy action word for more talk, but this category is as close to action as Climate Count's scorecard gets. Again, the real failure for this section is Climate Count's methodology.
Policy Stance, worth 10 points, looks for public policy statements that address climate change. The group didn't find any public pontification, so it gave Apple another zero. Climate Count's methodology again prevails over reality.
Report, worth 12 points, similarly ranks the company for the amount of "public information available on its efforts to address global warming." Climate Counts found "some," so it gave Apple 3 points.
Talk vs Action.
So while Climate Count's numbers are really based entirely upon how much talk each company does, it publicly called out Apple for "not yet taking meaningful action." Is crafting reams of policy statements "meaningful action?" Are Apple's really meaningful, industry leading actions irrelevant because they aren't always publicly advertised? Further, do the companies Climate Counts recommends to consumers over Apple actually follow their policy statements? And do their actual actions count for anything?
That certainly wasn't the case when Greenpeace blew out its nearly identical "greener guide" metrics last year and the year prior, both of which spent all their focus on whether or not staffers could google together commitments to stop using specific chemicals or to advertise takeback goals. Greenpeace ranked Apple poorly for not advertising what it had already done, and congratulated HP and Dell for promising to do those things in the future, even while those companies were putting out more toxins per computer, shipping out far more instant eWaste PCs with shorter usable lifespans, and recycling less of its own products. It then turned out that HP wasn't even living up to its vaunted commitments.
The Greenpeace Greener Guide was a complete joke. Rather than providing useful information to help consumers, it served up misinformation assembled by corporations that were shoveling money at Greenpeace. Further, the report's attack on Apple was based on false premises and statistics invented with poor methodology.
Both Greenpeace and Climate Counts know that they can say anything bad about Apple and get away with it. The details won't really matter, because the lazy tech media will simply post their "bad Apple" press releases without any critical review, as every media outlet is now doing. However, that doesn't make their respective campaigns any less deceptive and meaningless. Climate Counts isn't saving the planet, it's really only acting to secure its own funding.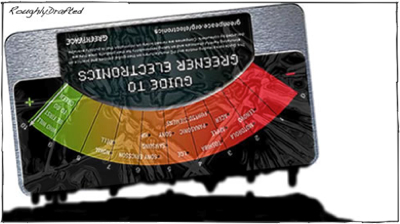 The SVTC's "Toxic Trash" Attack on Apple
Top Secret: Greenpeace Report Misleading and Incompetent
More Secrets: The Scandal of Green Computing
Greenpeace Apologizes For Apple Stink
Greenpeace Lies About Apple
Follow the Money Trail.
It's Climate Counts that is taking no meaningful action here. Or perhaps, its actions are lacking the meaning they suggest. Last year, the group shook down tech companies to create a funding consortium to maintain itself. Apple declined to participate, perhaps aware that the group's "action" would be lots of expensive talk.
Apple certainly knows something about joining talk groups–and the price of not joining–after previously turning down the SVTC in 2005 and Greenpeace in 2006. Climate Counts was the 2007 version. Just as with the two previous campaign groups, Climate Counts enacted its revenge by singling Apple out as a bad company based on meaningless, invented metrics. Apple didn't pay for expensive inaction, so it was fated to suffer the rage of an embittered consortium.
Intel, Microsoft, EMC, IBM, Red Hat, and Google all signed up. Erik Teetzel of Google, who serves as a spokesman for Climate Savers, reported, "We've talked to Apple and I believe Apple's response is that energy efficiency and green computing [are important] but Apple does not do consortia."
In other words, Climate Counts knows that Apple is taking action and is interested in taking a leadership role, it just isn't interested directly sponsoring a group that seems to specialize in ineffectually talking about action instead of accomplishing anything.
It would be interesting to see what Apple's score would have been had the company paid to buy into the Climate Counts policy engagement campaign.
Why is Apple shunning the Climate Savers?
I really like to hear from readers. Comment in the Forum or email me with your ideas.
Like reading RoughlyDrafted? Share articles with your friends, link from your blog, and subscribe to my podcast! Submit to Reddit or Slashdot, or consider making a small donation supporting this site. Thanks!