ARM, x86 Chip Makers Fight to Ride Mobile Growth
April 30th, 2008

Daniel Eran Dilger
Apple's acquisition of PA Semi appears to fit well into the company's plans to pioneer the development of a new WiFi mobile platform with the iPhone and iPod Touch. Apple is certainly not the only company to see the vast potential in mobile devices. The market for smartphones and mobile Internet devices is currently broad and diverse, with lots of competition both in the hardware components used and in the operating system and development platforms offered.
Today's growth in mobile messaging and computing devices bears some similarity with the explosion of desktop personal computing in the early 80s described in the previous segment. The difference is that today there is no big equivalent to IBM threatening to enter the market; all the existing, leading competitors in mobile devices are already large and established companies.
Unlike the 1981 IBM PC, which pushed the unremarkable x86 processor and Microsoft's copycat software ahead of superior technology, mobile devices today are being sold on their actual merits in terms of hardware and software. Of course, that doesn't mean there isn't anyone working to shoehorn the square pegs of x86 processors and Microsoft Windows software into the round hole of mobile devices. Here's a look at the state of chips in mobiles, and how PA Semi expands the options for Apple in the mobile market.
How Apple's PA Semi Acquisition Fits Into Its Chip History
Why Did Apple Buy PA Semi?

The Glut of Chip Designs Without Buyers.
Apple isn't the only company buying up fabless chip designers. Texas Instruments is rumored to be acquiring Wolfson Microelectronics, the Scottish company that developed most of the audio processing chips in the iPods until just recently. Apple was Wolfson's largest customer in MP3 player chips, which made up 24% of its business. The loss of iPod-related revenue was a major hit to the company. TI already holds a minority stake in Wolfson.
Sun also just bought up Montalvo Systems, a startup run by Matt Perry, the former CEO of Transmeta. Montalvo is working to develop low power x86 compatible chips for mobile devices. Transmeta attempted to do the same thing nearly ten years ago, but its attempt to break into the x86 market dominated by Intel and AMD was stymied by an inability to find enough customers for its highly efficient, x86 compatible Crusoe processor, despite the initial flurry of excitement around it.
Both Transmeta and Montalvo worked to emulate x86 code on top of more advanced processor architectures, with Transmeta using VLIW technology common to Intel's failed Itanium processor, and Montalvo (packed with Trasnmeta alumni and the developer of AMD's K6 processor) seeking to develop a design similar to the fabled Cell processor, jointly created by Sony, IBM, and Toshiba.
Add in the x86 compatible Intel Atom (used in the few UMPCs sold annually) and AMD Geode (used in the OLPC XO), and you have an awful lot of products in a small space, as nobody seems to be clamoring for x86 compatibility. Incidentally, both Intel and AMD have strapped the overhead of x86 compatibility on top of their core RISC processor designs to keep up with technology advancements while dragging along the legacy of the original PC.
The real problem for mobile devices has been finding a way to make them productive enough to be marketable in serious quantity. Microsoft hasn't been able to do that in a decade of trying with WinCE, and its parallel efforts to pack the regular desktop version of Windows XP/Vista into Tablet PC and UMPC designs hasn't been successful either.
CES: Fear and Loathing in Las Vegas
The Spectacular Failure of WinCE and Windows Mobile
Innovation: Apple at Macworld vs Microsoft at CES
Follow the Money.
In contrast to all the speculatively designed, low power x86 mobile contenders, the vast majority (around 70%) of today's mobile devices use ARM processors built by TI, Samsung, Marvell, and the various other ARM licensees.
In January, ARM announced the shipment milestone of ten billion ARM processors, with three billion now being shipped every year by the hundreds of ARM licensees. In comparison, UMPC devices and the XO combined didn't sell more than a million units last year. It's going to take more than a few miracle sales to turn the mobile tide in favor of any one of the various x86 designs, all of which are less mature and offer less flexibility in part sourcing than the wide range of ARM components available.
ARM is of course not x86 compatible, a significant problem for Microsoft considering that Windows XP/Vista is not designed with processor portability in mind. In contrast, Apple had no problem delivering its OS X operating system on the ARM-based iPhone. It's also had no problem selling millions of the iPhones and iPod Touch units within their first year on the market.
Will Apple Rescue Intel's Silverthorne?
ARM Achieves 10 Billion Processor Milestone
Origins: Why the iPhone is ARM, and isn't Symbian
Apple's Mobile Strategy.
Apple has paired its advanced Cocoa development platform and UNIX-based operating system with the ubiquitous ARM architecture in a bid to ride the vast economies of scale of that processor in the same way that Microsoft happened to be in the right place at the right time to get its clone of CP/M installed on IBM's PC. Again, the difference is that Apple's strategy has technical merits.
Additionally, Apple's mobile hardware will be far more difficult to clone, in part because it develops its own software platform rather than having delegated that task to Microsoft as IBM did, but also because it is far more difficult to do the tight integration work needed to develop a functional mobile device than it is to bang together a desktop PC clone.
That makes Apple something like the new IBM in mobile computing devices, except that Apple lacks any dependence upon a third party to maintain its software platform (which in IBM's case meant that Microsoft could license the same DOS software to competing hardware clone vendors), and it doesn't face the cloning problem that rapidly destroyed IBM's PC business. Rather than losing hold of the market it originated as IBM did with the PC, Apple appears poised to maintain control over its WiFi mobile platform and plot out its future with a lot of flexibility.
Apple has proven its ability to rapidly innovate and maintain extremely high popularity in consumer electronics with the iPod over the last seven years, a business naysayers repeatedly insisted would quickly fall to commodity MP3 makers. Not only has the iPod remained unchallenged as the market leader, but new models are rapidly leaving behind the simple MP3 feature set to become sophisticated handheld computers.
The company also has a successful online community and store in iTunes that has transcended the barriers of the Windows PC platform on the desktop level to become the world's largest retailer of digital media. That infrastructure is now being devoted to deploy mobile software for a secured platform where piracy and malware will be much easier to contain and prevent.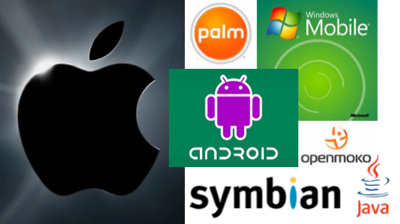 iPhone 2.0 SDK: How Signing Certificates Work
Apple's iPhone vs Smartphone Software Makers
Five Factors Shifting the Future of Malware and Platform Security

Problems for Microsoft in Mobiles.
Microsoft is currently working furiously just to strip down Windows XP to the point where it can run on small laptop devices like the XO and the Asus EEE PC, which uses a conventional low power Intel Celeron chip. For mobile devices smaller than a diminutive laptop, Windows XP is far less ideal and Vista is even worse.
In addition, the company is completely unprepared to further port its software to run on an entirely different processor architecture. Its previous efforts to deploy Windows NT cross platform failed miserably and were discontinued with Windows 2000. WinCE can run on ARM-based devices, but it isn't compatible with Windows applications, nor is it gaining broad adoption in the market as a mobile OS after ten years of trying. Microsoft even shunned WinCE in its own UMPC plans, the very application WinCE was expressly designed to fill.
The portability of OS X (inherited from its NeXTSTEP legacy) gives Apple the opportunity to ride the economies of scale in the ARM world, possibly partnering with TI (an investor in PA Semi) or its existing ARM suppliers Marvell and Samsung to design and build new ARM-based processors that push the state of the art in mobile efficiency while Microsoft, Intel, AMD, Sun, and Transmeta struggle with maintaining the x86 legacy required to support Windows compatibility on a class of chips that have seen only minimal interest in the marketplace.
Microsoft's Hardware Handicap.
Microsoft's repeated failures in mobile devices, from Handheld PC to Pocket PC to Windows Mobile Smartphone to PlaysForSure and Zune have demonstrated that without the direct leverage of a monopoly position it enjoys in the PC world, the company has no special capacity to sell products, particularly if there is any existing competition in play.
Even Microsoft's brightest star, the Xbox game console, has been a black hole in terms of profitability and a demonstration that that company's past success in desktop software doesn't necessarily transfer into hardware sales, even where there is some product tie in to Windows.
Ironically, the most successful applications of x86 mobile chips so far (the XO and EEE PC) have been designed to run Linux. That paints out an ugly future for Windows in mobile sales just as Microsoft's current monopoly on the desktop is crumbles as the growth in PCs shifts toward mobiles both here and in developing countries.
Video Game Consoles 2007: Wii, PS3 and the Death of Microsoft's Xbox 360
Why Microsoft's Zune is Still Failing
Microsoft's Unwinnable War on Linux and Open Source
Microsoft Behind Linux and OS X in the Battle for Mobiles.
And so the tables have turned. Microsoft's fortuitous rise on the back of one of the least suitable processor architectures isn't going to be duplicated, at least not by Microsoft. Mobile devices are exploding on top of the ARM architecture, and Apple's software is on two iconic brands, the iPod and the iPhone, which are both accounting for a significant chunk of mobile devices and currently leading the market in WiFi web savvy.
The front running alternative in mobile phones outside the US is Symbian, a convoluted software platform that's difficult to develop for and fractured among the three incompatible flavors specific to Nokia, NTT DoCoMo, and Sony Ericsson. Symbian frontrunner Nokia is itself investing in Linux as a replacement to Symbian while Sony Ericsson is dabbling with Windows Mobile to differentiate its high end phones. Those moves expose the great potential available to the iPhone's far more modern and capable OS and development platform, which unlike Linux is already polished and mature in the advanced smartphone and handheld WiFi web browser market.
The use of Linux and free open source software is being promoted by other hardware vendors and by Google, although Apple has an edge in platform control that will relate to security, interface sophistication and ease of use, as well as the tight integration supporting mobile software sales and distribution.
While the merits of the various FOSS mobile platforms and Apple's OS X can be debated, there will simply be no room in the mobile business for a proprietary monopolist to dominate the market with an inferior product launched by a large outside player the way IBM pushed the DOS PC. That's good for everyone, apart from, of course, Microsoft.
Readers Write About Symbian, OS X and the iPhone
Canalys, Symbian: Apple iPhone Already Leads Windows Mobile in US
Apple's iPhone Vs. Other Mobile Hardware Makers: 5 Revenue Engines
The Great Google gPhone Myth
Apple iPhone vs the FIC Neo1973 OpenMoko Linux Smartphone
I really like to hear from readers. Comment in the Forum or email me with your ideas.
Like reading RoughlyDrafted? Share articles with your friends, link from your blog, and subscribe to my podcast! Submit to Reddit or Slashdot, or consider making a small donation supporting this site. Thanks!
Technorati Tags: Apple, History, iPhone, iPod, Mac, Microsoft, Software