IBM's Strategic Interest in Macs Goes Beyond Pilot Program
April 18th, 2008

Daniel Eran Dilger
The Mac pilot program within IBM Research, outlined in the previous article, is only a small part of IBM's corporate efforts to diversify its computing platforms and push the adoption of Macs in particular. A number of internal sources wrote to provide additional details on IBM's current and future plans.

IBM Launches Pilot Program for Migrating to Macs
Macs at IBM and the Enterprise in General.
According to reports from IBM employees, the company's Mac@IBM intranet site, designed to offer support and assistance to Mac users within the company, now has over 1600 registered Mac users, a dramatic increase over the 930 users cited in the Research Division's pilot program documents originally prepared several months ago. That number still pales in comparison to the roughly 386,000 employees IBM supports worldwide. It does indicate two interesting things however.
First, comparing Apple's 6.6% US share of all PC sales, as reported by Gartner for the first calendar quarter of 2008, to the scant few thousand Macs currently at IBM indicates that Apple's sales are currently almost entirely outside of the corporate enterprise market. Whether officially subscribed to the support Intranet or not, there's not enough Macs at IBM for Apple to currently claim even 1% share. In other words, Apple's 32.5% unit growth in US Mac sales year over year for the most recent quarter is occurring almost entirely due to individual purchases and educational sales, not from any corporate adoption.
Certainly, many of those sales are ending up in business roles as executives and other employees bring their Macs to work. MacBook Pros get attention in business presentations; over a year ago, Mark Hurd, the CEO of HP, made news when he demanded to know why so many analysts were bringing MacBook Pro laptops to HP meetings. Retail executives at CDW have insisted that its partners not bring Dell computers to meetings on its premises, but welcomed MacBooks Pros because CDW sells them. However, beyond the showy mindshare of Macs used in business among executives, there's currently little market share for Macs, even among Mac-friendly companies like IBM.
The iTunes Vendor Lock In Myth
That indicates wide open potential for Apple to expand into business in the future. Currently, that segment isn't looking very hot. The PC vendors that supply the majority of enterprise desktop computers only experienced minimal growth year over year. That slow growth comes despite the fact that last year's overall sales were already disappointing in the first quarter, a lull many pundits blamed on the newness Windows Vista. An additional year of Vista patches hasn't helped. Dell only gained 15.7% year over year in the first quarter, and HP's sales actually shrank by 0.2%. Third place Acer saw its sales fall by a whopping 18.3%, and Toshiba, in fifth place after Apple, saw only 4.4% growth in US sales.
That indicates that Apple is currently targeting the most optimal markets in its push to deliver desktops and laptops that are desirable to consumers rather than attempting to rival HP and Dell in pushing out cheap, undistinguished boxes to the enterprise. While Apple has seen dramatic success in the consumer market, it has not made major inroads into business. One major reason for this is the overwhelming dependance upon Windows legacy applications in the enterprise, a factor that is much weaker in the consumer market.

AppleInsider | Apple snags 6.6% share of US PC market in first quarter
Opening the Floodgates to Macs in the Enterprise.
That's the second reason why IBM's interest in the Mac platform is far more significant than a hundred test laptops being put through the paces by IBM Research scientists and administrators, or the few thousand Macs scattered across IBM in general. As IBM works to accommodate cross-platform interoperability in its own software, the barriers that tie enterprise users to Windows will loosen, allowing Apple to promote Macs not just within IBM, but across the enterprise.
For its part, Apple is promoting standards-based web development and breaking down compatibility barriers with Microsoft's Exchange Server on the iPhone. IBM is promoting Mac support for Notes, adding support for Lotus Symphony productivity apps, and working to resolve other barriers that will not only make it easier for IBM employees to use Macs, but also make it easier for other IBM partners to adopt Macs as well.
Additionally, as the exclusive ties that bind users to Windows are severed, the enterprise will be free to adopt other products as well, including Linux on the desktop. This will promote the use of the best available hardware and software for a given task, resulting in dramatic costs savings for business users and new competition that will accelerate innovative development and new efficiencies of scale as open source software adoption increases. Cross-platform interoperability is good for IBM, good for Apple, and good for open source in general. It is bad for inefficient, anti-competitive monopolies.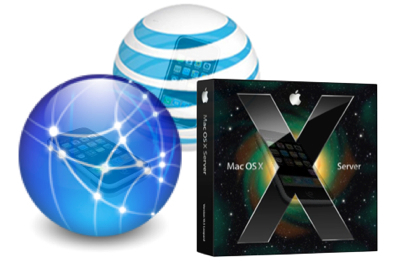 iPhone 2.0: Exchange vs Leopard Server
IBM's MacBook Pro-Motion.
The Research Division isn't the only group at IBM actively studying how to accelerate Mac adoption. IBM's Software Division has similarly initiated an incentive program to encourage its sales force to use Macs exclusively, according to sources at IBM familiar with the matter.
The objective of the program is pointedly to promote the use of Apple's hardware when demonstrating IBM software to IBM clients. That intent is compatible with the idea of IBM promoting cross-platform interoperability to its clients. It also serves to advertise Apple's hardware among enterprise users.
Participating employees return their Lenovo-manufactured (but IBM-branded) ThinkPad laptops and purchase a MacBook Pro. The company has negotiated special discount pricing from Apple on MacBook Pros for its employees. Additionally, IBM reimburses those employees who commit to using a Mac exclusively for 24 months with an upfront $750 rebate and an additional $750 payment for the second year.
IBM's IDS for Mac OS X Server.
In addition to its efforts to use Macs as client laptops internally, IBM is also promoting support for Mac OS X Leopard Server. Earlier this year at Macworld Expo, IBM announced that its Informix Data Server would ship for Mac OS X in May. The first beta of IDS 11 "Cheetah 2″ is already available for download.
Along with its existing support for Linux, Unix, and Windows, IDS 11 will provide online transaction processing (OLTP) data serving capabilities for the Mac platform. Terri Gerber of the IBM's Informix software group wrote that IDS 11 is "a great way to start building solutions requiring a blazing fast OLTP database that provides continuous availability and disaster recovery including delivering 99.999% availability."
A press release for the software noted that "IDS 11 will offer the high performance, low operating cost, scalability and data availability that have been the hallmark of IDS and the user experience Mac customers have come to expect. IDS provides continuous availability and disaster recovery, including support for multiple secondary servers."
At the announcement, Apple's vice president of Worldwide Developer Relations Ron Okamoto issued a statement saying, "We're thrilled that IBM is joining the growing number of Mac enterprise application developers by bringing its powerful enterprise-class IDS database to the Mac."
IDS fits well into Apple's server business at the intersection of the enterprise and education markets. As Ben Bassett, the VP of Software and Services at Jenzabar, described, "Our higher education customers have been well served by our partnership with IBM throughout the years and they appreciate the reliability and low cost delivered by IBM Informix Dynamic Server, in combination with the Jenzabar Total Campus Management solution. Jenzabar continues to be encouraged by the strong commitment IBM has made to IDS, as demonstrated by this extension of IDS support to the Mac platforms. IDS on Mac OS X will provide a robust database and development environment for the higher education market."
IBM – Informix Dynamic Server (IDS) 11
IBM Informix Dynamic Server to Deliver Support for Mac OS X » Soft32.com
The Future of Windows.
While Apple's profile rises in the enterprise as a significant and worthy competitor to Windows, Microsoft's position appears to be following the course of a significant IBM partner that nearly faded into obscurity in the mid 90s. The next article will examine this historical parallel, and what it means for the future of Windows.
How Microsoft has become the Beleaguered Apple '96
I really like to hear from readers. Comment in the Forum or email me with your ideas.
Like reading RoughlyDrafted? Share articles with your friends, link from your blog, and subscribe to my podcast! Submit to Reddit or Slashdot, or consider making a small donation supporting this site. Thanks!