Using Back to My Mac… to Catch a Thief!
April 15th, 2008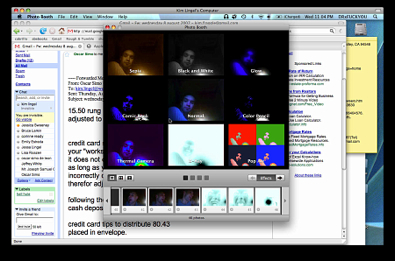 Daniel Eran Dilger
After a burglar broke into her truck and stole her iPhone and MacBook, a woman in Santa Cruz teamed up with a friend to use Mac OS X Leopard's "Back to My Mac" screen sharing feature to track and identify the thief for the police.

Back to My Mac
The owner had multiple accounts on the MacBook, and at least one of the administrator accounts was tied to Apple's .Mac service. That enabled the pair to locate the stolen MacBook using Leopard's new Back to My Mac, a feature that advertises the location of a registered machine to its owner whenever it is connected to the Internet, enabling easy remote access.
The stolen laptop has popped up several times as the thief has connected to various WiFi signals. Even without an ideal network connection, the owners have been able to start screen sharing sessions, access their files, remove sensitive data, change passwords, and even take pictures of the thief using Photo Booth.
It seems the stolen laptop user has a lot of time on his hands, as he sits in front of the laptop for hours on end, and keeps himself busy ripping DVDs and browsing Limewire for downloads, ranging from Apple's Final Cut Pro to Adobe Photoshop. Despite his changing the primary account and password on the laptop, the owners were able to continue tracking it using a secondary account linked to .Mac.
Ten Myths of Leopard: 5 "Back To My Mac" Security Panic!
A Global Upgrade for Bonjour: AirPort, iPhone, Leopard, .Mac
Thief Identity
Within a couple days, the owners were able to assemble a full profile of information on the stolen laptop user as he signed into a hookup sites, read his Gmail messages, and shopped on eBay for… a police scanner. They discovered his birth date, mother's maiden name, email address, Comcast IP address, and were able to use Photo Booth to take a snapshot that was clear enough to read the lettering of his tattoos.
Santa Cruz police have initiated a warrant and subpoena process, and hope to bag the burglar and return the stolen equipment shortly. A detailed accounting of the their progress is being documented by Joey, the laptop tracker, in a LiveJournal blog.
I really like to hear from readers. Comment in the Forum or email me with your ideas.
Like reading RoughlyDrafted? Share articles with your friends, link from your blog, and subscribe to my podcast! Submit to Reddit or Slashdot, or consider making a small donation supporting this site. Thanks!