iPhone 2.0: Exchange vs Leopard Server
April 8th, 2008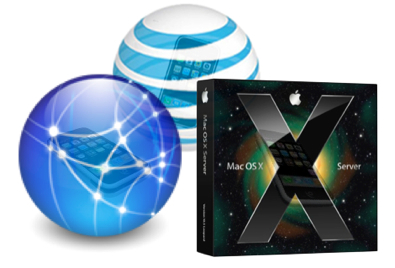 Daniel Eran Dilger
Is Apple's announcement of Exchange Server support in the upcoming iPhone 2.0 software an admission of failure for the company's apparent plans to push its own Exchange alternative in Mac OS X Leopard Server? Reader Pete Wann asked the question; here's what I think about it.

Is Leopard Server Being Pushed Aside to Support Exchange?
Mac OS X Leopard is, Wann wrote, "clearly targeted at small and medium sized business who are looking to achieve some of the functionality that Exchange provides, but without dropping the major coin required for Exchange and client licenses. It seems to me that Apple is missing the killer app for selling more Xserves, more iPhones, and getting their foot in the door of medium sized enterprises that might be looking to switch to Mac if they don't offer similar functionality on OS X Server as what's being created for Exchange."
Wann notes that "so far, Apple has not indicated that OS X Server will offer any of the over-the-air push e-mail (although it does support IMAP idle, and so presumably push e-mail), live calendar updating, or live contact updating functionality that will soon be available with Exchange."
"Doesn't it follow that making this functionality available to small and medium-sized enterprises would make Apple a much stronger player in that space, since the inherently lower cost of implementation of OS X and Xserve (in licensing costs alone) would be a pretty strong value proposition when compared against Exchange and/or Exchange+Blackberry Enterprise Server?"
Leopard Server's Assault on Expensive Server Software.
Apple does offer a major cost savings over Windows, particularly in the server realm. In the desktop arena, Apple sells Mac OS X Leopard for $130 at retail, compared to Windows Vista, which retails for $320. Most users don't pay for Windows however; its simply on their new PC at no obvious additional cost. Microsoft raised Windows' prices across the board with Vista, but soft retail sales forced it to discount those prices.
In the server arena however, Apple's Leopard Server, which retails for $499 and $999 in its 10 client or unlimited client versions, is bundled at no charge on Apple's Xserve hardware. PC makers can't bundle Windows Server for free or include it at an invisible OEM price. On top of the server hardware costs, which are roughly the same between PCs and Apple's Xserves, Windows Server 2008 costs an additional $1000 for the base OS licensed for five users. Every additional server user requires another Client Access Licenses, which cost $700 per 20 user pack.
Windows Server doesn't include email though. You'll have to add another $700 for the standard version of Exchange Server 2007, and buy additional Exchange Client Access Licenses for each user; they cost $1340 per 20 user pack. Just to serve files and email to a hundred users costs a Microsoft shop $12,400 in software alone. Adding another 100 users costs $10,700 more.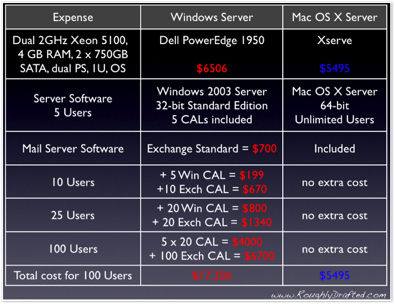 Apple's Open Calendar Server vs Microsoft Exchange
Inspiring Server-Side Switchers.
Adding database or web hosting services cost additional fees for the server and for client access licenses for a Microsoft shop; Upgrading to a new version of any Windows Server requires buying upgraded client access licensees as well. Apple bundles email, calendar, database and web application services at the same price, and doesn't charge client access licenses.
That huge difference in software prices is pushing IT staff to look at the alternatives. Shani Magosky, the chief operating officer at Jaffe Associates, a 25-person marketing and public relations firm, was cited in a report examining the costs Microsoft shops face.
Magosky's company was evaluating a move to Microsoft's SharePoint. The cost of the server, software licenses, and support would have cost $100,000. "They nickel and dime you," Magosky said of Microsoft, before outlining that her company is moving to Xserves and Mac clients, in part to escape client access license fees on the server side, and in part to get better built client hardware that doesn't suffer from "the tons malware" in the Windows world.
Microsoft does offer volume licensing discounts, but its software licensing costs still add up rapidly anyway you slice it. Apple markets Leopard Server as a reason to buy its server hardware, and markets the vast savings over a Microsoft-based solution as a compelling reason to Leopard Server in place of a PC server that costs roughly the same in terms of hardware.
A more enterprise-friendly Apple? Reseller News
Priorities and Potential.
However, Apple is relatively new to the enterprise business market; it has been focusing primarily upon home, small office, and education users that have historically been Apple's core business. The majority of Apple's server business is in higher education institutions and in companies related to video production, rather than the medium and larger businesses that buy into Exchange Server, IIS, BizTalk, SQL Server, ISA Server, and other Windows products, each of which involves its own small fortune in per user client access license demands.
Apple's ability to push into the cubical office has been limited by a number of factors. With so much low hanging fruit in the poorly served desktop and consumer electronics arenas, Apple has had little reason to prioritize its efforts to reeducate IT staff and convert sales of enterprise customers from Windows to Mac. Apple has explained its consumer-centric strategy in comments that point out that not only is the consumer market larger than the enterprise in terms of hardware sales, but that Apple can more effectively reach individual consumers with the information that will cause them to decide to investigate alternatives.
In enterprise markets, buying decisions are made by a small number of influencers, many of whom Microsoft has indoctrinated into a close following and are loath to investigate any alternatives, no matter what the advantages in cost, security, reliability, or simplicity Apple could offer them. Really, Apple's best bet to push its way into the enterprise is to appeal to executives as individuals, who then pressure their companies to make changes and support Apple's products. The Mac and iPhone have been successfully making progress along those lines, particularly over the last year.
Investment and Payback.
Ideally, Apple could focus its efforts on linking up Leopard Server with the iPhone and offer a cost effective package that offered over the air calendar and contact syncing, push email, and remote revocation features of its own, without requiring Exchange Server. There are five market realities that burst this bubble of potential however:
1. Apple has limited reach into enterprise markets. As already noted, Apple only has a significant large scale presence primarily in education institutions. Even among those customers, few have the freedom, interest, or ability to buy into a new messaging server architecture based upon Leopard Server. Most are already running Unix-based email services, Lotus Notes, Exchange Server, or some other proprietary messaging service, making migration to any new system a tough sell at any price.
2. Leopard Server isn't a functionally complete alternative. While Leopard Server offers some clear advantages over Windows Server in cost, it also has some disadvantages in maturity, particularly with its brand new Calendar Server. It also is still developing its Open Directory infrastructure related to directory services. Apple's growing influence in higher education along with Apple's own internal corporate use are helping to fill out Leopard Server as a product, but it still can't be viewed as a flawless drop in replacement for Windows Server deployments across the board.
While the company's efforts have been focused on delivering a highly competitive desktop system to drive Mac sales, the greater barriers faced in enterprise sales have prevented a similar investment and focus on its server product. Apple is rapidly catching up in several respects however. Leopard Server is now certified as Unix, making it an attractive (and salable) alternative in government markets; it leads Windows Server in its implementation of 64-bit computing, offering direct compatibility with Linux, IRIX, and other commercial Unix servers; and Apple has proven its ability to deliver both major and minor updates more frequently than Microsoft within the server market as well as on the desktop.
There's still progress to be made. Apple has described its server platform as a building in progress. Over the last several releases, Mac OS X Server has established a foundation for new services. Starting with Leopard and continuing in future releases, Apple is now building upon that foundation with services relevant to its business customers. In Leopard, that includes both the new Calendar Server and Podcast Producer for managing video production workflows. Even so, businesses that have invested big in Exchange Server can't simply drop it to plug in an Xserve running Leopard Server.
3. Leopard Server iPhone integration would take significant effort. The newness of Calendar Server means iPhone integration would still be a ways out, even if the company focused on delivering it as a priority. Given the small market immediately available to Leopard Server, the small installed base of Leopard Server users desiring iPhone integration, and the scant number of iPhone users needing Leopard Server integration, setting that as a priority makes no sense. Continuing to work on its own tools while first supporting Exchange does.
Using iPhone: iCal, CalDAV Calendar Servers, and Mac OS X Leopard
4. Exchange Server support is a popular feature demanded for the iPhone. In contrast, there are lots of Exchange Server installations in Mac-heavy businesses and in higher education. Conversely, iPhone users are more likely to run into problems in accessing corporate email due to Exchange's reliance on proprietary email protocols rather than Internet standards such as IMAP. Many Exchange administrators even view IMAP as a security problem due to Microsoft's weakly supported implementation.
Microsoft encourages its users to instead use ActiveSync to talk to mobile devices, since Palm and Windows Mobile devices supporting ActiveSync pay Microsoft licensing revenues it would not earn were it to support open industry standards. There is also no proprietary leverage available when supporting interoperable open standards such as IMAP.
In itself, this makes Apple's support for ActiveSync important to its customers. I noted earlier that Apple already offers some support for Exchange Server synchronization in Mac OS X's Address Book and in Mail. However, Apple's licensing of ActiveSync and implementing Microsoft's proprietary conduits on the iPhone directly gives Windows Enthusiast IT administrations the safe feeling that they are buying a Microsoft approved product. It also lulls to sleep the Windows Enthusiast pundits like Rob Enderle, who are crying out about imagined crises facing any mobile users who do not have some tether to Microsoft's products.
Why Dan Frommer and Scott Moritz Are Wrong on iPhone Sales: It'll Be the Death of You
5. Exchange Support uses Microsoft as an ally against RIM. In the messaging server space, Microsoft trails RIM in terms of push email. Microsoft's own attempts to enter and take over the business of push messaging has largely been a failure. That has resulted in a desperation that pushes Microsoft to tie its own, fledgling push email services to its established Exchange Server business as a "first one is free" loss leader product. Once ActiveSync gains the upper hand, expect licensing fees to follow.
RIM sells its BlackBerry Enterprise Server as an add on that installs on an Exchange Server (or other email servers) and relays messages to BlackBerry devices via its Canadian Network Operations Center. RIM charges annual licensing fees for BES, and also charges companies that use its relay service per user. That licensing and service revenue is what's delivering RIM phenomenal profits. RIM's NOC outages are also outing its business model as full of weak links with single points of failure.
Since Microsoft owns Exchange, it can integrate its own solution that talks to mobile devices directly; that's what ActiveSync does. It borrows Exchange Server's Outlook Web service to push messages to mobiles as well as issue remote wipe and revocation commands in the case of theft or other loss. The product would also neatly cut RIM out of the push email relay business, if only it could find wide adoption.
For Apple to partner with RIM, it would have to pay the company fees to push messages to iPhones. However, with Microsoft's simpler ActiveSync, Apple can instead talk to the server directly using the iPhone 2.0 software, and not incur any relay service fees. Microsoft is delighted to have iPhones using its direct system, as it serves as an endorsement for ActiveSync from North America's most popular smartphone and delivers a competitive dent in the business RIM has and which Microsoft wants to monopolize.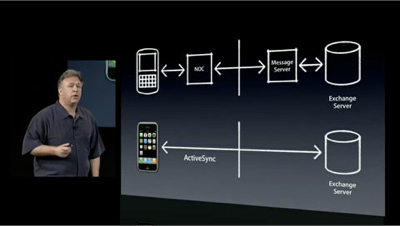 AppleInsider | Apple's iPhone takes on the Enterprise
The Dangerous Dance of Partnering With Microsoft.
Those factors all add up to make it obvious why Apple is prioritizing its investment in Exchange Server support over its own Leopard Server product. However, such support isn't exclusive, nor it is dependent upon Microsoft. As noted in my historical overview of the relationship between Apple and Microsoft in software, Apple has regularly found itself at the wrong end of Microsoft's leverage at critical points.
Apple's contracting with Microsoft to deliver AppleSoft BASIC for the Apple II resulted in Microsoft demanding that Apple later kill its own MacBASIC product or risk having its ongoing contract terminated at a very inopportune time.
AppleInsider | An Introductory Mac OS X Leopard Review: Developer Tools
Apple's partnering with Microsoft to premier Excel on the Macintosh resulted in a shotgun deal that forced Apple to give Microsoft a free license to copy the Mac's unique desktop innovations. Microsoft then used that to port Excel to IBM's PC using a copycat desktop environment called Windows.
Office Wars 3 – How Microsoft Got Its Office Monopoly
Office Wars 4 – Microsoft's Assault on Lotus and IBM
Reliance on Microsoft to provide the Mac's productivity software allowed Microsoft the ability to cut off Apple's oxygen supply in 1993 just as Windows 95 was ramping up, diverting Mac Office users to Microsoft's own platform. Microsoft didn't release a new version of Office until Apple compelled it to commit to doing so in 1997, using leverage of its own involving the suit against Microsoft's earlier theft of QuickTime technology related to San Francisco Canyon.
Mac Office, $150 Million, and the Story Nobody Covered
Microsoft's Plot to Kill QuickTime
Partnering with Microsoft to deliver the Mac's web browser worked fine until Microsoft satisfied its own goal in sinking Netscape. After that, Microsoft lost interest in further development of Internet Explorer for Mac and let the product fall into obsolescence, prompting Apple to develop Safari as a browser it could maintain itself.
Apple in the Web Browser Wars: Netscape vs Internet Explorer
The Web Browser Renaissance: Firefox and Safari
So is Apple's Exchange Server partnership with Microsoft on the iPhone going to lead to similar disaster? In each of the earlier cases, Apple relied on Microsoft to deliver software. Here, Apple is writing its own, only licensing official support from Microsoft. Imagine if Apple had the foresight to instead license the functionality of Excel from Microsoft (or VisiCalc) rather than giving another company the enormous leverage of trust it did in charging Microsoft with the task of writing key software for its platform.
Because Apple controls and owns the software on the iPhone that interacts with Exchange Server, it can later add support for additional messaging server systems, from IBM's Lotus Notes to its own Mac OS X Server. That flexibility puts the power in Apple's hands, not Microsoft's.
iPhone 3.0
In fact, as Apple develops its own Mac OS X Server integration with the iPhone, and develops tight integration with its own .Mac services on a subscription basis, it can wean iPhone users from Exchange Server toward its own products using the powerful incentive of much lower infrastructure and per user costs. However, there won't be any customers to entice if the iPhone doesn't first ship support for Exchange.
Filling the Unlocked iPhone Gap with .Mac
By rolling out broad support for a popular messaging server deployed in small and medium sized businesses and many large installations, Apple can break down a major barrier between the iPhone and corporate users. Once it cracks its way into the enterprise market, it can offer its standards-based web platform and its custom iPhone SDK as ways to develop internal applications, further promoting not only Apple's new mobile WiFi platform in the iPhone and iPod Touch, but also its Cocoa development tools.
That in turn will shine attention upon the Mac as an alternative hardware platform for delivering custom enterprise applications. At least some of those customers will also see value in shedding their tremendous software expenses related to Windows-based solutions and consider a migration to open email and calendar services hosted on Mac OS X Server. So rather than spelling the death of Leopard Server, Apple is giving its server products a shot in the arm by supporting their competition first.
I really like to hear from readers. Comment in the Forum or email me with your ideas.
Like reading RoughlyDrafted? Share articles with your friends, link from your blog, and subscribe to my podcast! Submit to Reddit or Slashdot, or consider making a small donation supporting this site. Thanks!