Filling the Unlocked iPhone Gap with .Mac
April 5th, 2008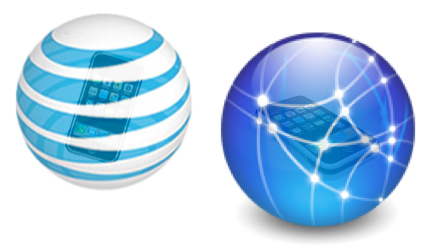 Daniel Eran Dilger
As Apple struggles to adapt its retail store inventories to account for sales flowing out of the country, the company has hinted that it may adopt other business models to target markets outside of the US. Apple COO Tim Cook has said the company is not exclusively married to the carrier revenue sharing model it began with AT&T, and which it also maintains in varying degrees with T-Mobile, O2, and Orange in Europe. Here's how Apple could diversify its revenue options by integrating .Mac services into its mobile WiFi platform.

iPhone .Mac Subscriptions
One alternative to seeking revenue from carriers would be for Apple to tie iPhone sales to .Mac subscriptions, creating an ongoing revenue stream independent from the mobile carrier. Reader Erik Ableson sent a link to an Infrageeks blog entry describing the idea.
In exchange for the service revenue from a .Mac subscription, Apple could provide iPhone users with a variety of services, many of which are largely already in place. The iPhone already provides automatic setup for .Mac email and can directly posts photos to a .Mac Web Gallery. The new IM client demonstrated by AOL has a natural affinity for using a .Mac account, and subscribers already get an IM security certificate to encrypt their messages over the AIM network. Secured IM conversations on the iPhone would be a differentiated security feature other phones don't match.
Podcast and RSS news feed reading on the iPhone is already provided by an online service Apple offers at no cost, hosted from the .Mac domain. On top of these features that already exists, Apple could also boost .Mac integration on the iPhone by rolling out a series of other features:

Network Data Synchronization: direct .Mac calendar synchronization over the network, along with .Mac bookmarks and address book contacts. Keep everything in sync without requiring an Exchange Server account, or a direct cable connection with iTunes.
File Access and Sharing: Add a specialized web interface (or custom iPhone application) for browsing files on a user's iDisk. That would give iPhone and iPod Touch users a simple and efficient way to access files without actually storing them on the device. It would also afford a simple mechanism for sharing files with other users that doesn't require sending emails with attachments.
Back To My Mac: Add a similar interface for accessing files shared from a home computer using Mac OS X 10.5 Leopard's Back To My Mac feature, which would allow mobile devices to look up the location of the home machine sharing files via AFP and directly access the files. Extend this to iTunes and iPhoto sharing, and users could access their home media library and albums.
Blogging: When I asked Steve Jobs if Apple would add simple text blogging to its .Mac Web Gallery, allowing iPhone users to post updates to their .Mac hosted site remotely, he blew me off with the suggestion I learn Cocoa and write the app myself. Presumably, I'd also need to be approved for Apple's development program. Was Jobs bluffing to take attention away from the company's future plans, or does the company not really think the iPhone users have an iLife that might involve text? Does Jobs fear that users won't be able to type anything significant using the iPhone's multitouch keyboard? If so, he could release Bluetooth support for his company's keyboard, and sell more keyboards while providing users with a valuable new feature.
Apple's .Mac service has been ridiculed and held in disdain by web pundits for years, but it also represents a vast potential, not just for sneaking some extra revenue from users buying a new Mac, but also as a subscription plan that will offer Apple's mobile WiFi users a highly differentiated level of features that other phone makers and service providers have no ability to match.
Back in 2006, I wrote a series of articles outlining how Apple could dramatically add value to its .Mac services. The same ideas would also add value to iPhone and iPod Touch users.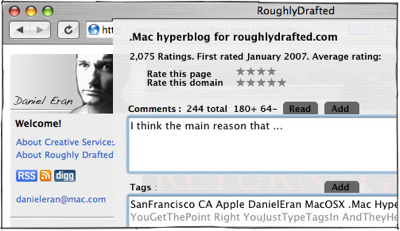 1. Hyperblogging: add ranking and comment tools to Safari so that users could tag articles or entire websites with metadata tags, from "kid friendly" to "mature content," or "sensationalist garbage," "phishing/spyware/fraud alert," "harvested content for search engine spamming," or "insightful commentary." The same tools could support and interact with external sites that report phishing scams, SEO fraud, and malware sites.
Because user generated ratings and comments would be linked to their .Mac account, there would not be a problem with anonymous vandals or bots posting automated junk messages, a problem that prevents most meta-blogging tools from being very effective (or exposes them to lawsuits).
The same principle can be applied to email to allow users to report spam, which would allow Apple to intelligently and effectively create blacklists, or quarantine items, or adjust their gateway spam and virus scanning heuristics to catch messages like it, or from the same spammer.
Fixing .Mac – Idea 1: Hyperblog the Web
2. A .Mac Reputation System: integrating its support discussion boards, iTunes comments, and other web properties, most of which are already tied to an Apple ID (such as a .Mac account), Apple could enable comment input from the iPhone's WiFi store, add custom discussion board access for browsing support issues, and link the usefulness of member's submissions to a reputation rating that followed them from their desktop to their mobile.
Fixing .Mac – Idea 2: A Reputation System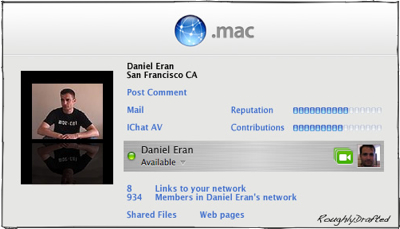 3. Macster – Community Profiles: Apple is dogged by pundits insisting that the company should enter the profitless world of MySpace and Facebook. While it probably makes more sense for the company to continue to partner with existing companies rather than trying to build a public community site of its own and chase after the ad revenue that isn't going to ever support such sites, Apple should throw .Mac users a bone and set up a way for members to advertise themselves with a profile that supports relationship links with other members, presents their hyperblogging content and reputation ratings, and showcases their blogs and Web Gallery links.
Unlike the adware supported community sites, Apple's would be supported by .Mac subscriptions. That would not only keep out the riffraff, but result in .Mac profiles being more serious and useful. Even with a .Mac profile system, the iPhone would still receive support from Facebook and MySpace, both of whom are courting the device as the hot mobile for their demographic.
Fixing .Mac – Idea 3: .Macster!
4. Secure Identity Services: Apple already vends security certificates for .Mac that automatically set up secured IM in iChat, but these could be expanded to provide signed and encrypted emails right from the iPhone, and to centrally manage VPN certificates. This would help differentiate the level of security iPhone users would enjoy over less secure mobile platforms.
Additionally, using the same tools being built into iPhone 2.0 to support Exchange Server's remote revocation and wiping services, Apple could provide home users with the tools in iTunes to remotely kill and delete their phone in the case of loss or theft. Or alternatively, lock it down over the network so it wouldn't do anything apart from displaying a return address and "report this iPhone found" phone number. Imagine the value of having a phone you could terminate yourself, and likely get back in after losing it.
Fixing .Mac – Idea 4: Secure Identity Services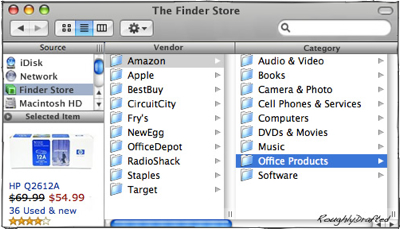 5. .Mac Marketplace: I've been harping for a while now that Apple should start offering a storefront within the Finder to sell online stuff from books to toner carts to software titles. Integrated into .Mac, the store would provide centralized accounting. Lately, I decided it would make more sense to add such a store to Safari and offer it cross platform in the style of iTunes' media offerings.
On the iPhone, a link to .Mac would consolidate shopping information just like iTunes' WiFi Store and the forthcoming App Store, so users could make purchases directly from their account without pulling out a credit card. Apple needs to link up with Amazon and other online retailers to allow users to make purchases from their mobile and have them shipped to addresses stored in their account.
Partnering with Amazon could make more sense in the market for that company's ebooks that its own Kindle book reader. For Amazon, it would only mean additional media sales at a higher margin, because the company wouldn't have to subsidize users' EVDO network links as it does with its own hardware.
The same principle of mobile ordering fits into Apple's patented ideas related to retail sales and its Starbucks integration. By enabling retail stores and restaurants to publish a menu to nearby iPhones within WiFi range, users could place their own orders and pick them up without having to deal with employee interaction or wait for service, just as banking users have been using ATMs for decades.
By combining its hardware mobile technologies with the centralized information in members' .Mac accounts, users could make purchases without handling cash and without even presenting a credit card. They'd also not need to stand in line or wait for available staff to take their order. After the transaction, they could even rank the service they received and the quality of the product as a hyperbloging comment others could tap into just like any other product review.
Fixing .Mac – Idea 5: A .Mac Marketplace
Something in the Air: Anticipating Macworld 2008: The Finder Store

6. Privacy Management: balancing the benefits of having shipping, billing, and preference data associated with their .Mac account, Apple could provide identity management tools to .Mac to allow mobile users to, for example, send anonymous email messages using a disposable email account.
Fixing .Mac – Idea 6: Add Privacy Management
7. Enhance and Encourage Sharing: a .Mac membership would enable mobile users to share blog comments, photos, calendar events, contact information, and hyperblogging comments and ratings with other users either without restriction, or provisionally. Add in iDisk and Back to My Mac integration described above, and Apple's mobile users could have and securely share access to gigabytes of files without storing any of it on the device itself.
Fixing .Mac – Idea 7: Enhance & Encourage Sharing
8. Subscription Music: I suggested that Apple offer .Mac users additional free content from iTunes on a regular basis to induce sales. Recent rumors suggest that Apple is investigating the idea of bundling music access for a set upfront premium on new iPhones and iPods. A separate music subscription tied to .Mac might raise less ire from competitors like eMusic, and make .Mac more attractive to a wider audience.
Fixing .Mac – Idea 8: Subscription Music
Integrating .Mac services into its iPhone and iPod Touch mobile platform would not only make the devices more valuable and competitive, but would also add a layer of ongoing subscription revenue that would enable the company to more profitably sell unlocked iPhones at regular prices in emerging markets where demand is off the charts.
Rather than paying a smuggler $800, Apple could sell customers the iPhone at the regular $399 price, bundled with a two year .Mac subscription for another $99 a year. This would rapidly develop Apple's software service revenue and allow the company a significant budget for investing to keep the services up to date and valuable for users.
iPhone 2.0: Exchange vs Leopard Server
I really like to hear from readers. Comment in the Forum or email me with your ideas.
Like reading RoughlyDrafted? Share articles with your friends, link from your blog, and subscribe to my podcast! Submit to Reddit or Slashdot, or consider making a small donation supporting this site. Thanks!