Does the iPhone Shortage Herald an Impending 3G Release? Probably Not
April 4th, 2008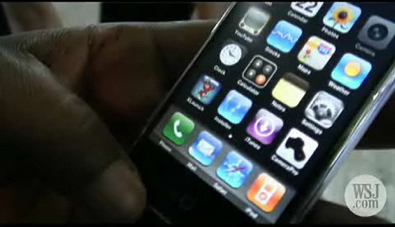 Daniel Eran Dilger
Apple Stores across the US are running out of iPhones, resulting in the rumor that Apple is allowing inventory levels to dry up in advance of the release of a new 3G model. While this commonly does happen prior to the release of a new model, the current iPhone shortage appears to be a artifact of unpredictably high demand from foreign markets rather than an artificial supply shortage, here's why.

All the King's Horses.
Writing for the New York Times, Saul Hansell reported the views of various analysts on the subject. Gene Munster of Piper Jaffray was cited as saying the shortages mean there is an "80 percent chance that a new version of the iPhone is coming earlier than anticipated." While Apple hasn't officially released a date, most observers' estimates suggest that the 3G iPhone is likely to arrive no earlier than June. 3G UMTS service is considered an important feature necessary for growth in Europe and is required to bring service to Japan, which lacks GSM service.
A.M. "Toni" Sacconaghi Jr., of Sanford C. Bernstein & Company disagreed, saying "An inventory shortage of Apple products often signals an imminent product refresh, but in this case, the stock-out seems too selective: Apple's distribution partners would likely be extremely upset if Apple managed the product transition only for its own stores. In addition, the 3G iPhone would arguably be more important for the European market; yet the current-generation phone remains widely in stock in Europe."
This led Hansell to speculate along the lines of Sacconaghi's earlier "missing iPhone" analysis, which assumed that Apple was shipping its iPhone supply to AT&T and other European partners in order to stuff the channel with inventory and create the illusion that it was selling more units that it actually was in order to cover up a demand shortage. Hansell wrote that this creative inventory theory might help Apple release better-looking sales figures for the second quarter ending in March, as Apple doesn't count its own store's inventory as sold, while units shipped to partners such as AT&T apparently are.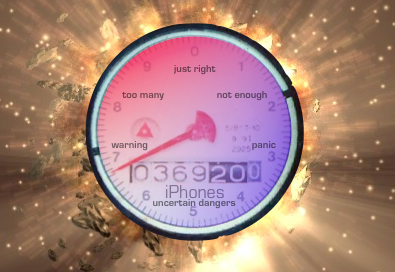 Toni Sacconaghi Alert: Excessive iPhone Demand Reason to Panic
The iPhone Shortage – Bits – Technology – New York Times Blog
The Problem With Channel Stuffing.
Such a strategy wouldn't work very long however; Microsoft was only able to successfully stuff the channel with Xbox 360s throughout 2006. After that, the plan backfired, resulting in a huge year over year drop in reported sales of 360 consoles in 2007. Fortunately for Microsoft, the media didn't care about the discrepancy and has instead focused on the limited growth of iPod sales that appears to exist when sales of iPhones are excluded from the sales figures.
The ironic twist is that demand for the 360 actually is waning, while iPod sales are both expanding in unit sales and in profits, and at the same time also branching out into the smartphone market with the iPhone. International demand for both iPods and the iPhone are both strong and growing. In fact, international sales are growing too fast for Apple to manage flawlessly. The inventory hiccups are showing up primarily in Apple's US retail stores, due to a number of interrelated factors that Apple would rather not talk about.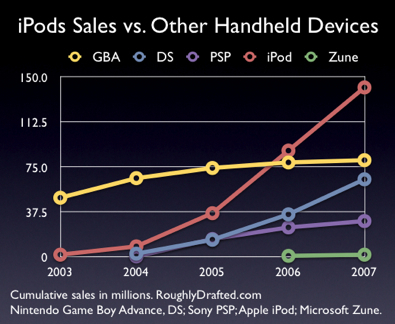 The iPod Crisis Myth
Video Game Consoles 2007: Wii, PS3 and the Death of Microsoft's Xbox 360
Nothing to See Here, Please Move Along.
In a prepared statement to the media, Apple representative Steve Dowling told the New York Times, "we are working to replenish iPhone supplies as quickly as we can. Our stores continue to receive shipments almost every day."
Hansell asked for more clarification on the demand Apple was seeing in its retail stores and on its web site, whether the company was suffering component shortages in manufacturing the iPhone, if the company was preparing to release a new model, and if there were any accounting reasons for shipping supplies to AT&T rather than its own stores. Predictably, Apple didn't comment further.
Foreign iPhone Demand is Causing Domestic Inventory Supply Problems.
The most reasonable analysis of what's causing the iPhone inventory problems at Apple's US stores came from an anonymous source identified as Tantrum, who posted a comment outlining why foreign demand for the iPhone was showing up in Apple's US stores, forwarded to me by reader Angus Wong.
"Demand for iPhones outside the United States, particularly in emerging markets, is out of control and has reached the point where it has started to impact Apple's normalized supply chain projections," Tantrum wrote. "It's okay to have a delta of, say, 100,000 units or so per year between actual and forecast. International demand is driving that delta upwards of 1 million. That's a whole different ball game for component sourcing, quality control and production ramp-up and some things are starting to come unstuck, even for a finely managed company like Apple."
Tantrum noted five factors driving iPhone demand outside of the US, resulting in ripples of inventory problems for Apple's stores in this country. "What's driving this?
1. Free, out-of-the-box ready, GUI-based network unlock solutions like Ziphone and iLiberty. Confidence in these unlock systems has grown significantly over time as technical expertise required to use them has fallen.
2. A large, very organized procurement mechanism for iPhones, particularly into Russia, Eastern Europe, India and China. There are people who go from store to store buying iPhones and aggregating them for export to 'resellers' overseas.
3. Proliferation of Wi-Fi penetration and the recognition that in GSM countries, iPhone works simply and well enough. Wi-Fi hotspot usage is growing significantly around the world and the iPhone's superior web browser is taking full advantage to maximize customer experience. It's the right product at the right time for the macro-trend.
4. The iPhone is relatively cheap to emerging market customers used to paying $500 for a BlackBerry and a cheap US Dollar makes it an even better deal. For example in Russia, at $499, a 16GB iPhone translates to around 12,000 Rubles. An 8GB Nokia N95 costs $815 or 20,000 Rubles. The value-for-money perception with iPhone is absolutely huge.
5. Zero or minimal compatibility issues on GSM Networks. I have used my iPhone with SIM cards from 32 different networks in Europe and developing countries. It works seamlessly. The iPhone is a quad-band GSM phone, meaning that it supports all four major GSM frequency bands, 850 and 1900 MHz bands which are used in the Americas, and 900 / 1800 MHz bands used in most other parts of the world, making it compatible with all major GSM networks worldwide. 2 billion people around the world use GSM phones."
The Scope of iPhone Demand in Emerging Markets.
"To give you an idea of international demand: there are Nigerians shipping more than 500 phones a week from New York to Lagos, and Nigeria is a third world country. The EDGE internet works perfectly, albeit just as slow, there and data is very, very cheap at $5 per 100 MB of usage," Tantrum said.
There's big money in emerging markets that American analysts aren't recognizing, Tantrum says. "'Data-driven' analysts like Munster and Sacconaghi get misled by the laziness of long-distance US-chauvinist analysis into making market projections based on perfunctory GDP per capita statistics and 'population living on less than dollar per day' figures. They look at the wrong data because they think the world works in the same way everywhere. This weak analysis disregards latent middle and upper income demand in developing countries. Income distribution in many emerging markets is extremely lopsided.
"If you define a potential user as someone who can afford (or is used to) paying twice as much for an iPhone and double what an AT&T subscriber pays per month, there are at least 7 million potential iPhone users in Nigeria, 9 Million in South Africa, 80 Million in India, 25 Million in Russia, 25 Million in Brazil, 8 Million in Indonesia and 100 Million in China. Not all of them will be users but just 5% of this number is way more than 10 million. Considering mobile phones are some of the most universally adopted products on the planet, a good GSM phone reaches Iran and Iraq much faster than people on Wall Street can ever imagine. I predict iPhones will be available to elites in Cuba (which has both GSM and TDMA) within the next 30 days.
"From research I'm conducting. we have conservative numbers of grey market as follows:
Russia 2000 to 4000 phones/week
China 4000 to 6000 phones/week
"Demand from Western Europe is substantially slower but still significant, averaging anything from 2000 to 3000 units/week from New York and other big cities with international airports. Now, not all the phones shipped from New York are bought in NYC but the export pattern is clear and very strong.
"I have completely ignored the cash-flush Middle East where Dubai has always been a world-leading port in grey market clearing and forwarding for consumer electronics. Conservatively speaking, something is sucking 15,000 to 20,000 iPhones per week out of the United States. If this phenomenon is coinciding with steadily growing adoption among US customers, suddenly the slack Apple had is drying up."
Scraping the Channel Dangerously Clean.
In its most recent conference call on first quarter earnings, Apple reported that it seeks to maintain four to five weeks of iPhone inventory, the same as with its Macs. In the winter quarter, the company reported maintaining iPhone inventory within those numbers, but said Mac inventory fell below plan because of unanticipated, record demand. The same thing is now happening to the iPhone due to foreign demand. It is in Apple's interests to maintain healthy inventory levels, as sold out stores are potentially losing customers just as Nintendo is losing potential sales on the hard to find Wii. Of course, the iPhone actually isn't nearly as hard to find, and there are ready supplies in alternative outlets, including AT&T stores.
Keeping its own stores stocked is becoming harder because of the increasing demand channeled through organized grey market resellers, who prefer to target Apple's US stores rather than standing in line at AT&T and dealing with a more complex sale. That dries out the channel at Apple's flagship stores located in cities such as New York and San Francisco, which serve as easy access hubs to international traffic, while leaving normal inventory levels at Apple's partner stores, particularly in Europe where a stronger currency offers a less attractive price.
"Many of the millions of visitors coming to the United States every month are going back with a packed iPhone in their luggage," Tantrum noted. "It's one of the things people are expected to buy when they come. Foreign nationals are not very likely to buy iPhones at an AT&T store because the requirements are inconsistent (some stores requiring SSNs, existing phone numbers and/or activation), queues are long (non-starter for people with a limited window to get back to the airport), lack of other Apple products (iPods etc) and accessories and simply, AT&T stores are not landmarks."
Apple's partner stores in Europe aren't seeing the same kind of demand for multiple reasons, including the extreme weakness of the US dollar. Tantrum also noted that the organized grey market has become efficient enough to make speculative iPhone profiteering by individuals difficult. "The reason why used iPhones will begin to show up on eBay and other consumer-to-consumer sites in Western Europe is because individuals who speculatively buy an iPhone to resell are up against 'organized unofficial' suppliers and 3G is a big deal there. In emerging markets, you're much more likely to buy a phone from an 'expert hacker supplier' if you worry about fixes and other things. And yes, the parallel market is showing budding signs of getting sophisticated at providing some of the support Apple won't provide."
A Hot Deal At Any Price.
Tantrum concluded, "Bottom line: Apple has produced a product that is promising but short of the mark in 3G Western Europe, reasonably good for the US but a smash hit in emerging markets." Underlining that fact are ads by a Singapore outlet run through Google AdSense (pictured below), unabashingly offering unlocked iPhones for just $715.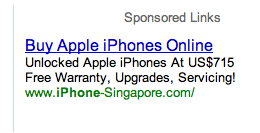 Along similar lines, reader Payman sent in a link to Andy Jordan's Tech Diary, a video blog published by the Wall Street Journal. In the episode "One Night in Bangkok," Jordan walks around the tourist markets in Thailand, noting that iPhones sell for around $734 and tourists from various countries are snapping them up for nearly $800. A family from Guinea in West Africa bought four, and an Australian couple are excited to buy two.
In contract, a visitor from the Netherlands was shopping for a new phone that costs 200 Euros there, but would cost 600 Euros back in Holland. Australians are buying DVD movies for $3 each. Yet the iPhone is selling for twice the price as in the US. It's no wonder why the grey market is funneling units out of the States at a rapid pace that's throwing Apple's retail store inventories for a loop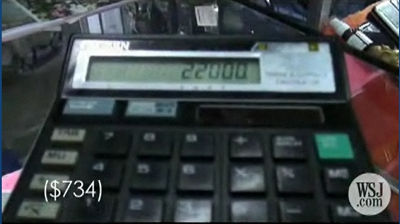 Immediate 3G iPhone Release Unrealistic.
Echoing the same outlook, Royal Bank analyst Mike Abramsky said in a note to investors that it was "unrealistic" to think that iPhone inventory shortages were sign of the imminent release of a 3G model, and that Apple is more likely to have just underestimated demand.
Rumors have insisted that Apple dialed back production by as much as 50% in the first quarter, fearing that demand would drop sharply after the holiday. In reality, iPhone sales have remained steady, Abramsky said, pointing out that Apple has run into problems estimating iPhone demand at several points, including the surprising number of unlocked devices that appear to be related to sales headed to emerging markets.
In contrast to the pundits worrying that unlocked iPhone sales are a vexing problem for Apple, Abramsky said the company "probably feels like the dog that caught the car." While Apple doesn't earn carrier revenue shares on unlocked iPhones, it still earns a manufacturing and retail profit on the hardware sale, and such sales expand the company's market share and the installed base of iPhone and iPod Touch devices, floating worldwide interest in Apple's mobile development strategy, and by extension, Cocoa development on the Mac.
AppleInsider | RBC on shortage; Apple vs. Big Apple; T-Mobile's 99 Euro iPhones
There are other ways Apple can earn replacement subscription-style revenue on iPhones sold to users in emerging markets outside of its exclusive service partners, as the next article will examine.
I really like to hear from readers. Comment in the Forum or email me with your ideas.
Like reading RoughlyDrafted? Share articles with your friends, link from your blog, and subscribe to my podcast! Submit to Reddit or Slashdot, or consider making a small donation supporting this site. Thanks!
Technorati Tags: Apple, Bloggers, iPhone, iPod, Mac, Microsoft, Software, the Media