Are iPhone Sales Limited to Apple Fans? Apparently Not.
April 2nd, 2008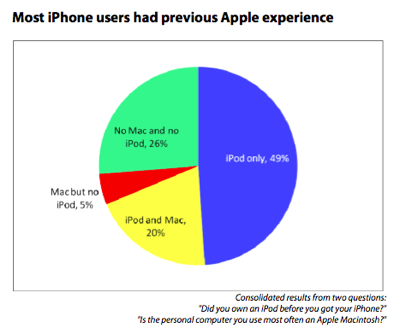 Daniel Eran Dilger
Michael Mace of Rubicon Consulting interviewed 460 iPhone users–0.01% of the installed base, all users in the US–and published the results in a white paper. Here's the more interesting bits Mace reported, with a look at how the tech media has worked to sensationalize some of his findings, particularly the unsurprising concept that most iPhone buyers are already familiar with Apple's products.

Who is Mace?
The report comes from the same man who declared last summer that the "[Palm] Foleo is the most significant new consumer PC platform introduced in the US since the Macintosh."
In the same context, Mace also stated that "[Palm's term] 'mobile companion' is perilously close to 'PC Companion,' one of Microsoft's early terms for Windows CE devices. The phrase gives me hives," and he concluded, "as a standalone mobile data device, the Foleo is uninspiring. As a potential challenger to the notebook PC, I want to believe, but the proof will be in the third party apps."
As it turns out, Palm killed the Foleo before ever shipping it, a move that likely saved the company further losses and considerable embarrassment. So while Mace seems prone to excited hyperbole, he also appears to provide a realistic and reasonable background for his observations.
Mobile Opportunity: Palm Foleo: It's a PC, dummy
Apple Can't Expand!
One data point from Mace's research extrapolated to comic effect by the media is the comment that "at least 75% of US iPhone users are previous Apple customers — they used either iPods or Macintosh computers." W. David Gardner of InformationWeek subsequently wrote about the report under the flashy headline, "Survey Reveals Most iPhone Users Were Already Apple Customers," suggesting that Apple is stuck serving only a faithful minority of customers.
In reality, report actually stated that, "At this point, [the iPhone] appears to be selling mostly to Apple's installed base. About three out of four iPhone users were previous Apple users. One quarter if [sic] iPhone users were Mac users, and another half had previously owned iPods. A quarter of the iPhone users did not have iPods and did not use Macs as their primary computers."
The figures are clarified by a chart presented in Mace's report (below), which shows that only 20% of iPhone users reported having both "owed an iPod" and that they most often use an Apple Mac as their primary PC. A scant 5% were Mac owners that didn't have an iPod, and nearly half of the respondents were iPod users at some point since 2001. Over a quarter reported never owning an iPod and not using a Mac.
Perhaps the fear that the iPhone "can't reach beyond Apple's existing customers" is really a reflection of the fact that the iPod already has. That Apple could find roughly a million buyers who hadn't ever owned an iPod and sell them an iPhone within the first six months of its going on sale is pretty amazing. The report concluded, "Apple's large and very loyal installed base makes it much easier for the company to branch into a related market."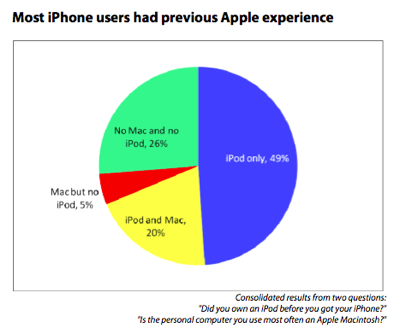 Rubicon Consulting – The Apple iPhone: Successes and Challenges for the Mobile Industry
It Needs a Chicklet Keyboard!
Another point entertainingly embraced by wags was the idea that, in answer to questions about how they used their iPhone, the greatest number, over 70%, noted they read email daily where the number of those who reported composing emails on a daily basis was slightly below 60%. "It's not at all surprising that the iPhone is used less often for composing e-mail than reading it since the devices lacks a physical keyboard," the report concluded.
Pundits nearly unanimously agreed that this has to mean that users are stymied in their ability to type by the iPhone's multitouch keyboard. However, it's not hard to understand that reading emails is the easiest and most valuable thing one can do from a mobile. There was no breakdown in frequency of use between sending or receiving SMS text messages, which ranked roughly the same as reading email.
Further, the numbers for people listening to music, connecting to the Internet via WiFi, and checking their calendar and contacts were all pretty much identical to the numbers for those composing emails. If writing email was really being impeded by the lack of a physical keyboard, why did it rank equally as high in frequency of use to the other most popular features of the iPhone? Less than nine percent said they never composed email, only slightly higher than the roughly 5% who reported never checking email.
Features ranked lower in terms of daily use, such as watching Internet videos, using Google Maps, reading RSS feeds, listening to podcasts, and playing games, all still ranked well above 70% in the rather broad definition of "less than daily but more than never" use. Even buying things from iTunes ranked above 70%, or in other worlds, fewer than 30% replied they never bought anything from iTunes.
Frequency of use also does not necessarily relate to the importance of a feature, nor the ease users find in using it. A better measurement of the suitability of the non-physical keyboard used in the iPhone relates to how many people report being satisfied with it overall, and how many people actually use it push data around.
We already know the iPhone has earned record levels of very high satisfaction from users (a finding echoed in Mace's report), and that the phone has grabbed a majority 71% share of mobile web browsing, despite having a 27% unit share of the market.
That suggests that users aren't actually experiencing problems with or upset by the lack of a fold out micro-keyboard. For people who want to use the iPhone as a touch typing laptop replacement, there's hope Apple will soon release support for pairing the iPhone with Bluetooth keyboards, which makes far more sense than attaching a ridiculous HTC-style flip out keypad with microscopic keys that are worthless for both touch typing and thumb tapping.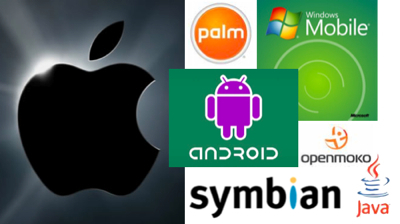 Apple's iPhone vs Smartphone Software Makers
Canalys, Symbian: Apple iPhone Already Leads Windows Mobile in US Market Share
iPhone Grabs 27% of US Smartphone Market
The Case of the Missing iPhones.
Just over a fifth, 21%, reported receiving their iPhone as a gift. That may help explain why a significant number of iPhones are sold without immediately being activated. Only 13% reported using their iPhone unlocked for use with a carrier other than AT&T. The sample focused on US users, who have less reason to unlock their phones than users overseas in territories without an official iPhone service partner, where unlocking is required.
About 40% of iPhone users reported that it replaced a smartphone, while nearly half said it replaced a conventional mobile. "About ten percent didn't replace anything, meaning either that the iPhone is their first phone, or that they carry it in addition to a second phone."
Despite roughly half of iPhone users upgrading from a basic mobile without a data service plan, the average rise in users' monthly phone bills was only 24%, from an average of $78 to $97 per month. A typical data plan costs more than that, and AT&T's iPhone data plan costs less than typical users would have been paying. That indicates that while around half of iPhone users upgraded to pay $20 for a new data service plan, most smartphone users actually saved money over their old data plan by switching to the iPhone.
More than three quarters of iPhone users agreed that they do a lot more web browsing on the iPhone than they did on their previous phone.The report also noted that "iPhone users reported household incomes that are about 40% higher than the US median. This is normal for new consumer technology products." The reported median household income for iPhone users was roughly $65,000.
Nearly ten percent of iPhone users in the study reported also carrying a BlackBerry. Adding in Palm and Windows Mobile devices, nearly 20% of iPhone users carry an additional smartphone, presumably related to their work. The report notes, "As Apple adds Microsoft Exchange compatibility to the iPhone, it's possible that some of the dual users will discard their Blackberries." Across the installed base of the iPhone, that suggests around a million competing phones may be handed back after the release of iPhone 2.0 software in June, most of them to RIM.
A Good Deal for AT&T?
Nearly half of iPhone users, 47%, report switching carriers to get it. The report concludes that "it looks very likely that AT&T made a good
decision" in partnering with Apple on the iPhone, despite being criticized "for making too many concessions to Apple."
The report also noted that "the success of the iPhone in getting people to switch operators in the US shifts power away from the operators and toward handset companies that can demonstrate the ability to generate demand. However, Apple's type of product design is incredibly difficult for most other companies to imitate, because they don't have expertise in tying together OS, user interface, online services, and hardware design. The path to success in smartphones is clear, but it's not clear how many companies have the skills to walk it."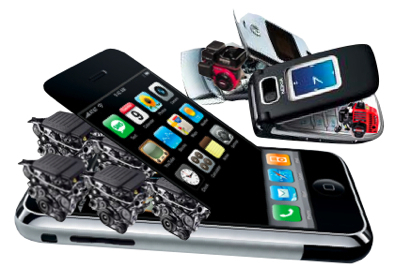 Apple's iPhone Vs. Other Mobile Hardware Makers: 5 Revenue Engines
How AT&T Picked Up the iPhone: A Brief History of Mobiles
The Market for Mobile Software.
About half reported adding additional applications to their phones, but the question didn't clarify if users would understand this to mean they they performed a jailbreak and installed unsupported apps, or if they were only using web apps.
The report noted, "the caution for developers is that current iPhone owners are tech-loving early adopters, the most likely people to demand new software. Even among those users, a third showed at best lukewarm interest in adding new application. That percentage will probably increase as Apple reaches out to more mainstream customers."
The report didn't note that jailbreaking one's phone is currently a significant barrier to adding applications, particularly given the risk of being left with a corrupted firmware problem after updating the unit's software. The numbers suggest that demand for and interest in adding apps is still very high; an easy to use, cost effective App Store would find even greater demand.
Does the iPhone Shortage Herald an Impending 3G Release? Probably Not
I really like to hear from readers. Comment in the Forum or email me with your ideas.
Like reading RoughlyDrafted? Share articles with your friends, link from your blog, and subscribe to my podcast! Submit to Reddit or Slashdot, or consider making a small donation supporting this site. Thanks!