Engadget: iPhone Lookalike BlackBerry 9000 is "Sexy." Umm, not so much.
March 31st, 2008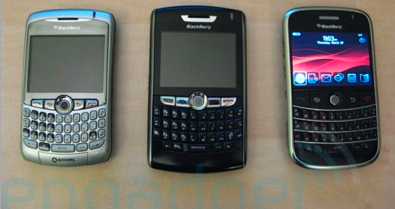 Daniel Eran Dilger
Engadget profiled RIM's new iPhone styled BlackBerry 9000 (above on the right, aping the iPhone's chrome and black style but lacking its touchscreen), calling it sexy and praising its "beautiful user interface, which has been totally revamped from the ground up; gone is the cartoonish look and feel of the current lineup, replaced with a modern, warm theme with wireframe icons and slick animations."

I'm So Sexy That It Hurts.
In reality, the new interface is a frankenstein combination of a quasi-Mac OS X-like Dock, which leads to a grid of abstract iconic mysteries navigated by the phone's tiny joystick, which leads to another Dock-like menu, which leads to a circa 2005 iTunes-style textual listing in the case of, say ringtones.
Beautiful? Slick animation? Looks like more cartoony icons in a sea of deeply nestled hierarchy of bad user interface ideas.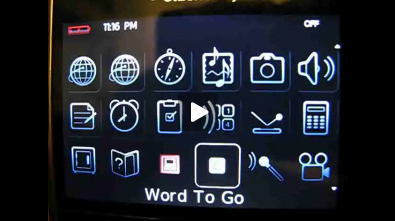 Check out the video they posted, if you dare: BlackBerry 9000 in the wild – Engadget Mobile
Ughs! If this is the best RIM can offer to defend the future of its BlackBerry platform against the encroachment of the iPhone 2.0, who is going to offer Apple any real competition? Nokia, and its future vision of a phone that looks exactly like the iPhone? Chinese cloners who poop out devices that look like the iPhone but stop working at random intervals?
While the BlackBerry 9000 looks fleetingly like a Chinese clone of the iPhone from the front, it looks like the typical nerd phone from the side, and pretty much every other angle. We were hoping for a better RIM job on the BlackBerry. This one stinks!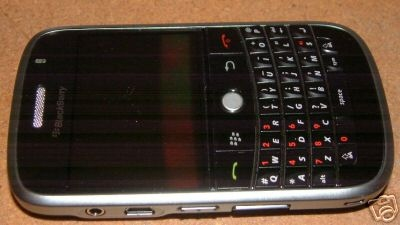 BlackBerry 9000 series spy shot revealed? – Engadget Mobile
I really like to hear from readers. Comment in the Forum or email me with your ideas.
Like reading RoughlyDrafted? Share articles with your friends, link from your blog, and subscribe to my podcast! Submit to Reddit or Slashdot, or consider making a small donation supporting this site. Thanks!